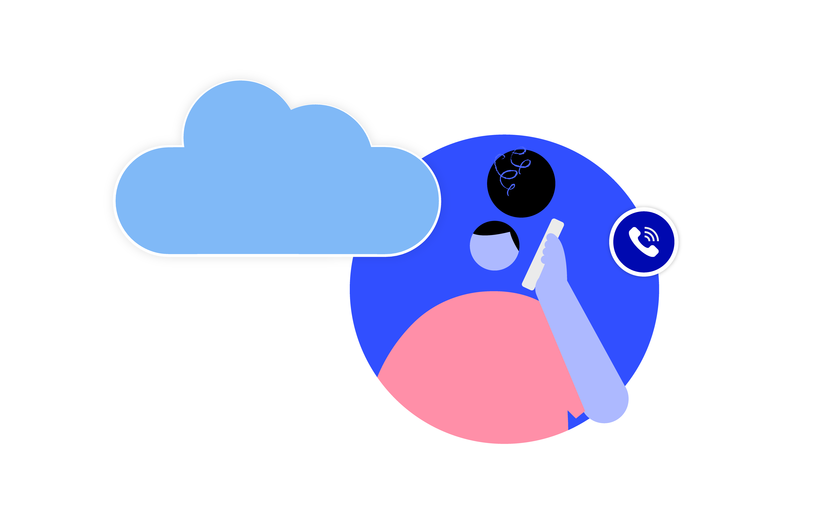 December 23, 2020
Business leaders around the globe make calls through internet-based communications solutions and participate in group videoconferences. If you haven't yet, you run the risk of getting left behind by technology.
Just as cell phones took the place of old-fashioned landline telephones, a growing majority of businesses now use cloud communications in place of expensive and limiting dealings with telephone companies. And in just a few years, business owners and household residents alike will laugh at how little they were able to accomplish before they looked to the cloud.
Cloud communication technology is rapidly evolving as it gains in popularity, with forward-thinking companies integrating new features and concepts that can increase productivity, reliability, and efficiency into daily interactions from across town or across the globe.
Looking ahead to the future, cloud communications advancements are exciting and worth tracking as business owners recognize the value of technology to improve productivity — and in turn, the bottom line.
Communication + Collaboration in One
Modern businesses, especially those with remote workers on staff, have come to rely on cloud-based collaboration tools such as Microsoft Office 365, G Suite, and Slack. But it's often a two-part process. Employees will chat on the phone, email, or direct message about a task before switching over to another app to update deadlines or responsibilities.
Cloud communications provide businesses with the opportunity to collaborate at the same time they are communicating. This increases the company's ability to be flexible and mobile, working and improving no matter where the team is in the world. Real-time features combine tasks to make it easier to stay organized and make sure everyone is on the same page.
Leveraging AI
Artificial intelligence (AI) and machine learning are quickly becoming some of the most important tools in analytics and workflow management for many competitive business teams. But many leaders have trouble recognizing the value of AI simply because utilizing its capabilities demands innovation and creativity.
However, cloud communications that use AI make it easy to weave state-of-the-art tools into daily life. For example, Voice Intelligence can transcribe entire conversations and provide access to the notes to all involved. These notes could have action items highlighted, so each individual involved is clear on the next steps.
Machine learning helps automate many time-consuming tasks so that company owners and team members can focus on growing the business.
Advanced Video Conferencing
Video conferencing has taken the place of in-person meetings at many companies, as remote work has grown to become the norm. Team members can live anywhere in the world, yet come together online through a cloud communication platform to collaborate and learn. But anyone who's used video conferencing software knows of the inherent frustrations that can result.
Evolving technology will create advanced program features to make conference calls more user-friendly and effective. Speakers will be able to create and share engaging content with a larger group, all while being heard and seen clearly without distraction.
Customizable Features
If you need your phone system to do something more, you can't expect the phone company will ever have the capability or will to improve its technology. Customization is another reason why cloud communications have been gaining popularity. Over time, you can expect that top platforms will evolve with the dynamic needs of your business.
Cloud-based systems can provide all the applications and requirements needed for the different areas of your business, including:
Accounting
Payroll
Legal
Compliance
IT
Customer service
You can already customize your system for the number and types of users — allowing some to access more information than others, as well as differentiating among various circumstances, projects, and more. It's all about working smarter, not harder — and you need the right tools for your unique business to make this happen.
Seamless Integrations
No one likes dealing with bureaucracy or the inner quirks of programs that increase the learning curve and result in confusion and inefficiency. Cloud communications make business processes streamlined and simplified by unifying the multiple software platforms you need to make your day run smoothly.
Some of the most-used business apps and third-party services can work directly through the best cloud communication platform:
For example, customer service representatives can know who is calling, along with their call history and concerns, even before the caller shares anything. Without the common excuses, you'll be able to build customer loyalty from an omnichannel perspective.
Or perhaps you need videoconferencing capabilities that allow you to provide documents and screen share without having to download large files. Cloud communications make this a reality now, and experts expect it to improve as business owners express and refine their needs for success.
In the future, as more software-as-a-service (SaaS) applications replace old systems for different industries, there will be even more seamless integrations. This will help to streamline workflow and improve efficiency and productivity.
Learn More About the Cloud
Many business owners and IT teams haven't yet switched to cloud communications because they fear it's a burdensome task requiring downtime that the company just can't afford. However, forward-thinking unified communications platforms like Dialpad make it as simple as downloading apps on your devices.
Dialpad offers solutions for a full range of business communication needs, including an AI-powered business phone system, contact center, and video conferencing. Everything is built on the Google Cloud Platform which allows for unmatched security and reliability regardless of scale.
Join more than 60,000 innovative businesses worldwide that use Dialpad's seamless integration technology to improve their productivity and collaboration. Try it out for free for 14 days to see if the tools can work for your business communication needs. Get started today!