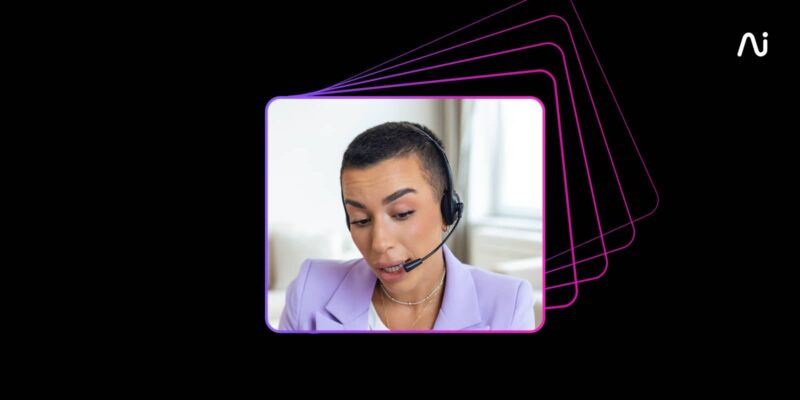 If your business has a website and a very busy customer experience or customer support team that hardly has time to answer all the live chat messages you get, then good news. They don't have to.
Well, they'll still have to answer some of the trickier live chat questions, but a conversational AI platform can actually take care of most of the routine questions they get on a daily basis.
But how do you choose the right artificial intelligence software for your business or industry? What do machine learning, NLU (natural language understanding), and NLP (natural language processing) have to do with it?
Having built a conversational AI platform, we've seen how startups and companies in a variety of industries, from ecommerce to healthcare, have used AI technology to improve the customer experience, automate tasks, and empower their agents.
Now, Gartner has its own top picks when it comes to conversational AI platforms, and even though Dialpad has a very robust and unique product, it's still relatively new. So, below, we'll look at a comparison of some of the best conversational AI platforms and how they stack up against each other.
Let's start by looking at why you might want to use a conversational platform that uses AI for your business.
Why businesses leverage conversational AI platforms
If you've ever used voice assistants like Alexa or Siri, then you've probably already got a rough idea of why these conversational experiences are becoming so popular. If not, here are three big reasons.
It improves customer satisfaction
The most obvious one: Conversational AI platforms can help businesses improve customer service. There are a few ways it can do this. First, it helps businesses automate customer service tasks, such as answering FAQs, or frequently asked questions. (Learn more about conversational AI for customer service.)
This frees up your customer support agents to handle more complex issues and customer interactions. Think about it. Would you rather have your support agents answering a question about what your business hours are, or handling an irritated customer who has a complicated pricing question?
Why not just let your virtual assistant handle the easy stuff?
Second, conversational AI can help businesses provide 24/7 customer service, even outside of traditional customer service hours. This is because conversational AI can handle customer inquiries at any time of day or night.
It reduces operational costs
On a related note, conversational AI platforms can also help businesses reduce customer support costs. The more you can use self-service options like these virtual agents to automate repetitive, low-value tasks, the more efficiently you can resource your contact center team and get them to focus on only the tasks that really need their help.
It helps you sell more
Finally, a good conversational AI platform can act as an extended member of your sales team and help you increase sales. Think of your customer journey. Say you're an ecommerce company (this is mainly relevant for businesses that sell their products or services online).
How many of your potential customers are dropping out during the checkout process? How many of those people drop off because they're concerned about shipping fees or your refund policy? A well placed customer service chatbot here can answer questions about these topics right on the screen as they're checking out. And the best part is, it fully automates this step—you don't need someone monitoring your website's checkout page 24/7 to catch these questions.

❓ Question:
What's the difference between chatbot platforms and conversational AI platforms? Not much, really. They do pretty similar things—you might make the argument that chatbot platforms are less sophisticated, but that's mostly because most people still perceive chatbots as this robotic, outdated type of automation that can only handle basic, preset questions. As we'll see in just a bit, this is no longer the case.

The most common problems conversational AI solutions solve
Conversational AI solutions can help businesses with a huge variety of tasks throughout the customer lifecycle.
We've talked through a few of the common use cases above, but here are a few of the most common issues that you could solve with a conversational AI platform. If any of them sound familiar, it might be time to consider one of the options below.

Human agents wasting time or working inefficiently because they have to answer repetitive FAQs from customers or prospects

Lack of round-the-clock customer support

A worldwide customer base that tends to try to contact your business at all hours

Low conversion rates on your website's checkout process

Customers who are frustrated from waiting on hold for a long time
Looking for the best conversational AI platform software ? Here's what to look for
If you're looking to invest in a conversational AI platform for your business, there are a few key factors you should keep in mind. Here are a few key features to look for.
Robust AI capabilities
First things first: The artificial intelligence technology itself has to be good. This includes the speech recognition and machine learning engine, and also how "smart" the chatbot is. For example, does it just provide preset answers to preset questions? Or can it crawl your company's help pages and other documentation to find answers to a wide variety of customer questions?
Dialpad's conversational intelligence functionality can do exactly this, and on top of that, there are a few other interesting use cases for it too. For example, it can transcribe calls and video meetings—in real time:


It can also do live sentiment analysis, which makes it easy for supervisors who are overseeing big teams of agents to quickly see if a call is going south:
And finally, Dialpad even has an industry-first Ai CSAT feature that solves one of the biggest challenges with CSAT scores: the fact that not a lot of people actually fill out those surveys. Usually only the angriest—and happiest—customers actually bother to respond to these surveys, which means your CSAT answers are likely to be very skewed and not representative of how your customers feel overall.
Dialpad's Ai CSAT feature can infer CSAT scores for 100% of your customer calls thanks to its hyper-accurate transcription feature. The result? A much more representative sample size for CSAT scores, and a more accurate understanding of how satisfied your customers really are: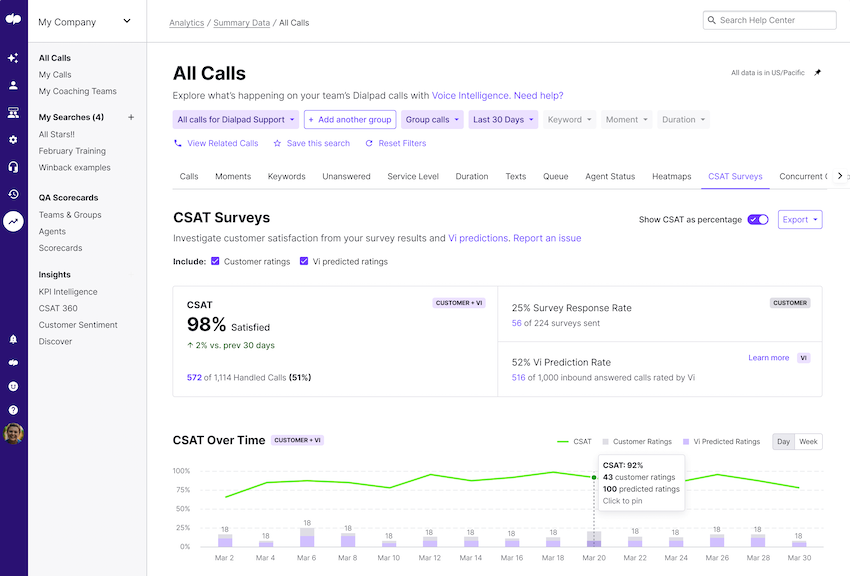 Easy set-up
The platform should be easy to use, with a clear conversational interface—for both your agents and your customers. Your customers should be able to easily find the live chat or chatbot window on your website and start a conversation. And your agents should be able to easily create conversational flows from your contact center software or conversational AI platform.
For example, with Dialpad's AI contact center platform lets supervisors or agents can use the no-code drag-and-drop builder to quickly put together a chatbot response flow: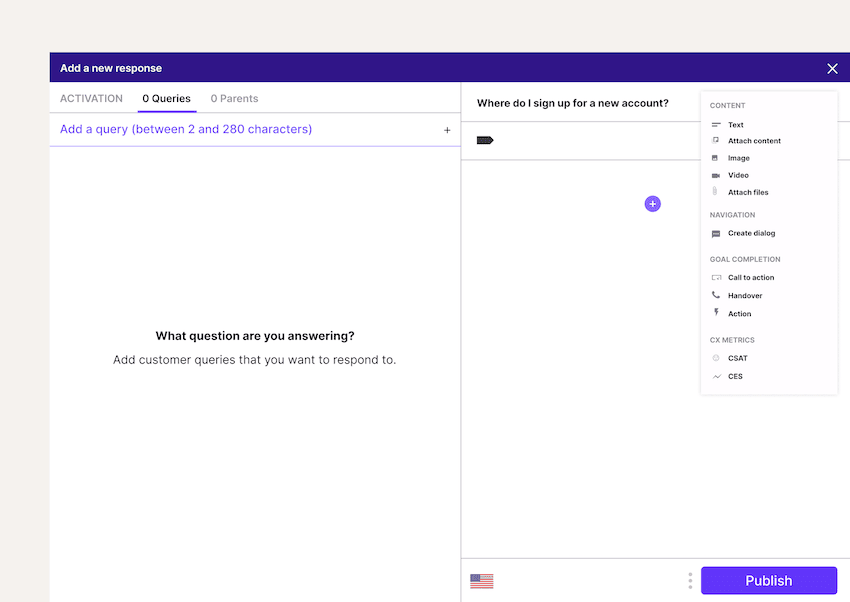 Omnichannel communications
Your customer support and sales team are probably using different channels to talk to your customers and prospects. Which means your conversational AI platform shouldn't just be a messaging platform.
If a challenging question comes up, could your customer easily escalate a chatbot conversation to a voice or video call with an actual person on your team? They should be able to! This is one of the most frustrating things about most chatbot user experiences—automation is good, but don't make it so hard for people to get in touch with a human when they need to.
Diverse integrations
Your team is likely using many other business apps and software. Your conversational AI platform should integrate with those! Not only can these integrations save a lot of time and work for your agents, they can even help you streamline your business processes and consolidate your tech stack.
For example, Dialpad's contact center platform comes with conversational AI functionality built right in. Instead of having to buy (and manage) two different pieces of software, you'd only need one. Actually, there are a few other tools you can consolidate because of how robust Dialpad is—I'll show you how in just a bit.
How the 12 best conversational AI software providers compare
In this list, we took some of the top conversational AI platform providers listed by Gartner, and compared them to Dialpad Ai Contact Center, which does come with its own chatbot functionality. Even though it's a relatively new product in the conversational AI space, we thought it's worth seeing how Dialpad really stacks up against more established leaders.
1. Dialpad
Dialpad is a fully integrated unified communications and contact center platform—and yes, it comes with conversational AI functionality.
Features
At a basic level, the unified communications solution lets the average office worker make phone calls, send SMS/MMS and instant messages, and host and join video meetings, all from a single app: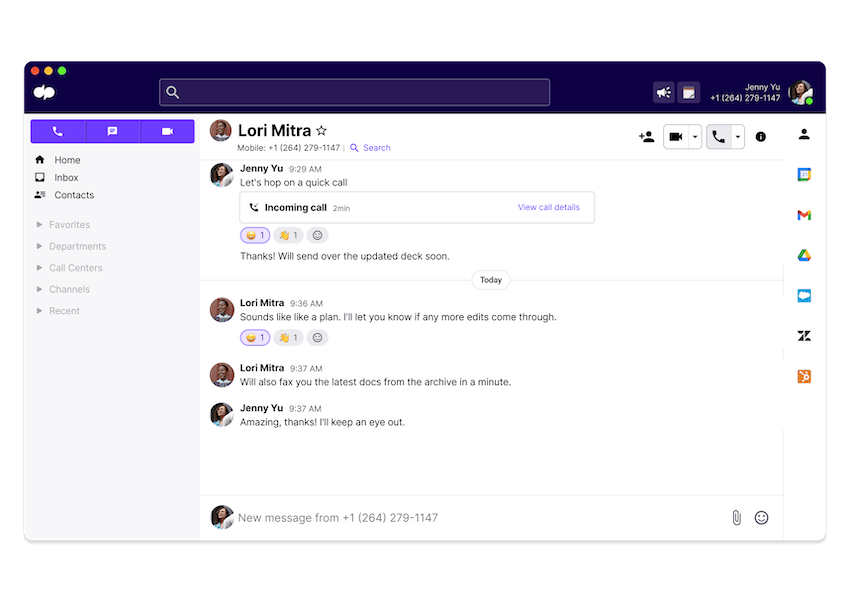 But if you happen to have a customer support, sales, or other contact center team, you can also use Dialpad Ai Contact Center, which is designed specifically for teams that have to handle high volumes of external communications on a daily basis.
From your essentials like call routing and IVR, to customer engagement features like CSAT surveys, Dialpad comes with it all:

And because it's a fully omnichannel contact center platform, that means your agents can handle not only voice calls, but also social media channels like Facebook Messenger and digital channels like WhatsApp messaging, all from a single dashboard: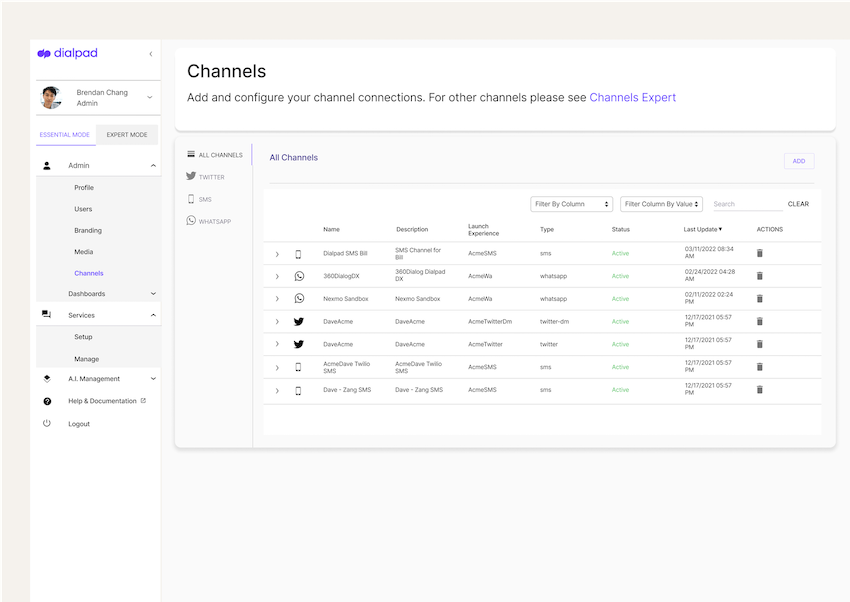 More importantly, since we're talking about AI, Dialpad has its own artificial intelligence technology, which we call Dialpad Ai. It can transcribe calls in real time using speech recognition and natural language processing, and more importantly, lets you build conversational AI workflows with the no-code drag-and-drop builder.
What's unique about Dialpad Ai is that it doesn't just provide preset answers to basic questions—it can also crawl unstructured sources of data, like FAQ pages, documents, and even past customer conversations to find answers to customer questions... And continuously improves with deep learning!
Finally, Dialpad integrates with a wide range of popular business tools, including CRMs, everyday productivity tools like Microsoft 365 and Google Workspace...


And if you want to build your own integrations, you can do that with the API. It's truly a robust, well thought-out ecosystem that gives you everything you need for both external and internal communications in one place.
See how Dialpad's omnichannel contact center platform works
Why buy a separate conversational AI platform when it can come included in your contact center platform? Get a demo to see how it works or take a self-guided interactive tour of the app on your own!
2. Boost.ai
Boost.ai is another conversational AI platform with a Slack-like user interface, that promises to let you build a custom conversational AI platform in "just a few days." Like Dialpad, it has a "self-learning" AI that learns and gets better over time and can determine intent from a question.
Listed as a Gartner leader, Boost.ai talks about NLU quite a bit on its website and looks pretty solid. The only thing is that it's solely a conversational AI solution—which means you'd have to purchase this separately and add it to your contact center team's tech stack, as opposed to a unified communications + contact center platform that comes with all that functionality in one comprehensive package.
Pricing
You'll have to contact their Sales team for a quote.
3. Cognigy.AI
Another Gartner favorite, Cognigy.AI is different from the other solutions on this list in one pretty significant way: it's low-code, not no-code. You'll need to have some knowledge of coding (or be friends with the developer team) to really get the most out of Cognigy.AI.
Like Dialpad, Cognigy.AI lets you automate conversations on voice and text-based channels. It does support over 100 languages, and does real-time translation, which is pretty neat, and gives its Gartner leader title some added merit.
Pricing
Reach out to their Sales team for a quote.

4. Kore.ai
As a conversational AI platform, Kore.ai seems quite powerful. It lets you create virtual assistants for both the customer experience and employee experience. What's interesting is that Kore.ai markets themselves as having a contact center platform, but there's no mention of telephony or how voice calls are billed on their pricing page.
(Typically, a true contact center platform should come with the ability to handle phone calls, video calls, SMS/MMS messaging, live chat, social media channels, and so on.)
Pricing
The Standard plan charges you $0.01 "per user request"—which, if you're handling high volumes of customer conversations, can really add up. There's also an Enterprise plan, which you'll have to get a custom quote for.1
5. NTT Data's eva
"eva" is NTT Data's conversational AI platform, which has gotten high marks from Gartner. Like the other options on this list, it lets you create virtual agent chatbots that can be deployed across different digital channels like your website, WhatsApp, SMS messaging, and more.
One good basic functionality that it also has: eva lets your customers change communication channels midway through a conversation (in case they need to escalate to a call, for instance), and has a drag-and-drop builder.
Pricing
Reach out to their Sales team for a quote.
6. SurveySparrow
As its name suggests, SurveySparrow is a conversational AI platform that has conversational surveys primarily, along with a few other features like NPS software, a no-code chatbot, and even 360 employee assessments. The use cases seem a bit scattered, and what's not clear from their website is whether they have their own AI and NLP engine.
If you're just looking for a way to optimize workflows for running employee and customer surveys, the SurveySparrow would be a good option—but if you want an omnichannel contact center or customer engagement platform, then it's probably not your best option.
Pricing
Their lowest paid plan starts at $99 per month, with a maximum of two users. The next level up is $499 per month.2
7. Yellow.ai
Yellow.ai is a conversational AI platform used for CX automation. It's built to handle conversations in over 100 languages and tonalities and across multiple channels and departments, such as customer support, engagement, conversational commerce, voice, and text. It also includes insights and analytics for further insights into customer behavior and satisfaction.
Pricing
You'll have to reach out to their Sales team for a quote.
8. Avaamo Conversational AI
Avaamo is a conversational AI designed for contact centers, virtual assistants, and cognitive search. Its solutions cover customer experience for industries like banking, education, and insurance, as well as HR and IT across industries. Customers can build virtual assistants for their businesses using a suite of industry-specific skills, including multi-turn dialogues, training data, and deep integration code to simplify the process of building a conversational AI.
Pricing
Reach out to their Sales team for a quote.
9. Amazon Lex
Naturally, Amazon is getting into AI as well. Consumers are familiar with Alexa, but businesses can also use Lex to build chatbots with conversational AI. Lex is designed to understand intent, maintain context, and perform simple tasks across channels, while working with other AWS services seamlessly. If you're already relying on AWS for your business, Lex could help add conversational interfaces to your applications, but if you're not all-in on Amazon, it might not integrate as easily.
Pricing
Amazon Lex charges based on the number of speech or text API requests processed by the bot, starting at $0.004 per speech and $0.00075 per text. Because of this, prices will vary greatly depending on usage.3
10. Wotnot
WotNot is a no-code chatbot platform made for conversational marketing. Its live chat AI also lets agents and managers monitor the conversations in real-time, so they can step in when a human touch is required.
The company itself helps customers build a pipeline of qualified leads and automate their support, making it a popular choice for businesses that lack the manpower or experience to create their own conversational flows. However, it does only handle chats, so those in need of conversational AI for voice calls might not find what they're looking for.
Pricing
WotNot has a free trial, after which they offer a plan for startups at $99 a month, or $499 a month for other businesses. Enterprises can get custom pricing based on their needs and usage.4
11. KAI
KAI, the conversational AI platform from Kasisto, is used for Intelligent Digital Banking Assistants. It helps manage up to 90% of conversations without the need for human intervention across voice, IVR, and web channels, as well as several third-party channels. KAI can be run from the cloud or as an on-prem deployment, and features API integration points to help companies use it with their existing tools and solutions. However, it's built primarily for financial services, so companies outside that industry may be better served elsewhere.
Pricing
Reach out to their Sales team for a quote.
12. Clinc
Clinc is a conversational AI made primarily for banks. It uses natural language processing with an AI that learns to recognize slang and contextual clues for a more human conversation, and retains customer history to keep the context of each interaction. Clinc comes with a pre-built virtual assistant to help customers quickly deploy their chatbots, and is designed to work across a number of apps and devices.
Pricing
Reach out to their Sales team for a quote.

Upgrade your customer support with the best conversational AI platform
If you're looking for a conversational AI platform, there are many options to try out and get demos of. The thing to keep in mind is to start your search by knowing the answer to one fundamental question: Do you want a solution that's already fully integrated into your communications platform (i.e. your phone system or contact center software)? Or do you want something that you'll be paying for (and administering in the back-end) separately?
For most companies, the more convenient—and cost-effective—option is the first one, and if that's the case, you might consider something like Dialpad. Otherwise, there are some very niche tools on this list as well, like SurveySparrow, that you can add on to your tech stack. (Just be mindful of bloat.)

Looking for a conversational AI platform?
See how Dialpad's AI-powered customer intelligence platform works. From an intuitive conversational AI chatbot builder, to true omnichannel functionality, it can help you handle all your external and internal communications!
FAQs about conversational AI platforms
What is a conversational AI platform?
A conversational AI platform is software that lets you build, train, and deploy chatbots or "virtual agents." These platforms usually use machine learning, natural language understanding, and/or natural language processing to understand the intent behind questions that customers or prospects ask you, and provide answers to those questions.
Many conversational AI platforms come with pre-built components that you can use to build your chatbot or conversational agent without needing to know how to code. These components can include things like templates, pre-built workflows, and so on.

What is an example of conversational AI?
Is chatbot a conversational AI?
1kore.ai/platform/pricing/
2surveysparrow.com/pricing/#business
3aws.amazon.com/lex/pricing/
4wotnot.io/pricing/