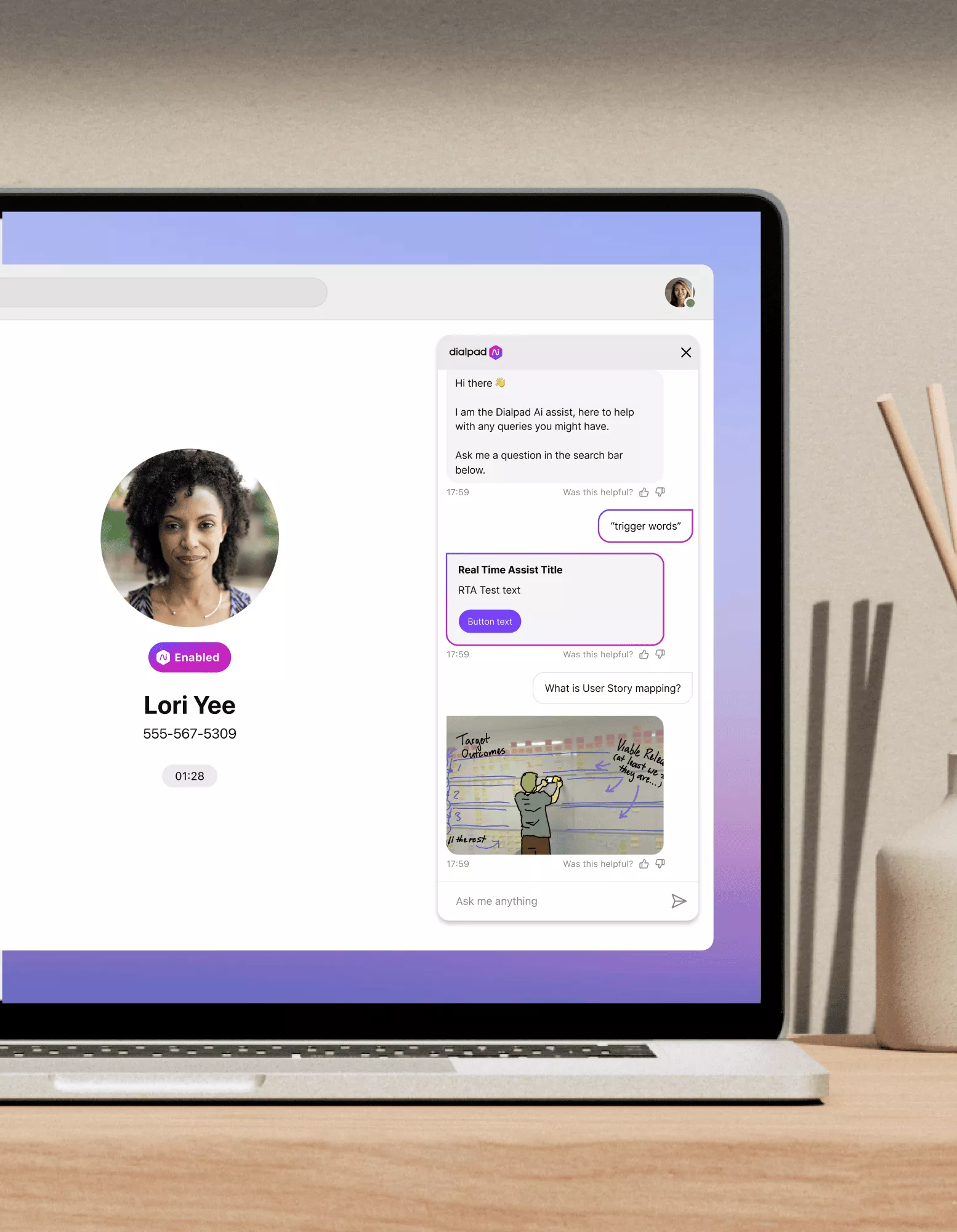 Enterprise live chat software
Connecting with customers is the key to improving customer satisfaction—and if your customers regularly reach out to you through your website, having enterprise live chat software is essential. See how you can do this with Dialpad's AI-powered customer engagement platform now.
What is live chat software?
Live chats traditionally happen between a customer and a customer service representative on a company's website. They can also technically be carried out by a chatbot or virtual agent, with a human stepping in if the bot can't resolve the customer's question.
The best live chat services use AI and pop up for website visitors as a chat window or live chat widget that people can type their questions into. The AI then picks up on keywords in those queries and provides appropriate responses (or escalations) to help customers solve problems.
While it's possible to purchase live chat software separately, it's typically more cost-effective (and easier for IT teams to manage) to have a robust contact center platform with an integrated live chat solution.

Enterprise software features that go much further than live chat
For example, Dialpad Ai Contact Center essentially comes with built-in live chat software. Not only do you get all your unified communications functionality, like phone calls, video meetings, and team messaging in one place, your agents and supervisors can also manage live chat—from the same platform.
Why buy a separate live chat tool when you can have a comprehensive enterprise customer engagement platform?


Omnichannel communications
With Dialpad, you get a live chat platform that's integrated into a full unified communications solution. Not only does this streamline your tech stack, it also makes it easier for agents to manage live chats, social media messages (like Facebook Messenger and WhatsApp), SMS messages, phone calls, video chats, and more. All in one beautifully designed app.

No-code chatbot builder
You can also easily create self-service automations like a customizable chatbot in Dialpad to let customers resolve their queries without needing to speak to a live agent. And to provide a better customer experience, you can also add an option for customers to escalate to voice or video chat when more complicated problems come up.

Real-time transcriptions
Dialpad Ai, which comes included with all of our contact center pricing plans, can transcribe your customer interactions—in real time. This helps agents and supervisors quickly search through past calls and chat histories to do QA, and also troubleshoot challenging conversations in real time as the conversation is happening.

Real-time agent assists
Another way that Dialpad helps improve customer satisfaction? Supervisors can create RTA (Real-Time Assist) cards with tailored notes to pop up automatically on agents' screens when certain keywords are spoken. And beyond that, Dialpad Ai can even search unstructured sources of data including FAQ pages, knowledge bases, and past customer conversations to automatically pull information to help chat agents as they're talking to customers!
Not just enterprise live chat software
With Dialpad Ai Contact Center, your agents can manage every channel, from phone calls to video chats, to live chats and social media messages—all from a single, unified view. See how it works with a demo, or take a self-guided interactive tour of the app!

24/7 customer support globally
Live chat solutions are often a failsafe that needs to be available 24/7 to provide support when agents aren't available or online. With Dialpad, you get customer support on live chat and phone, 24/7 worldwide. There's also an online knowledge base if you want to find answers on your own time.

Built-in call analytics
With Dialpad, your support team can track important metrics, keep an eye on retention, and get real-time data on things like average speed to answer and missed calls. It's all available at your fingertips, no need to contact IT or tech support.

A wide range of integrations
Most businesses are already using a large variety of plugins, CRMs, and other support software. Dialpad offers integrations with many popular tools like HubSpot, Zoho CRM, Slack, Zendesk, and Salesforce. Want to build a custom integration with a niche tool? You can do that too with the APIs!

Easy setup
Good live chat software should be easy to set up. It takes just minutes to get started with Dialpad—all you need is to create your account online and you're pretty much ready to start providing a great customer experience across all your channels. Want to add phone numbers and accounts for new agents? You can do all that from Dialpad's online dashboard.

Coaching playlists
Some of the best agent training comes from seeing real interactions between customers and agents. That's why it's important to be able to create playlists of past communications to use as teaching moments. Dialpad lets you do this with any interactions that have taken place, so your agents can get all the exposure to real interactions they need.

Robust security
Enterprise live chat software solutions need enterprise-level security. Dialpad helps organizations stay GDPR and HIPAA-compliant, and comes with a range of in-meeting security controls.
Why use live chat software for your enterprise?
Being able to provide proactive chat support is crucial, especially if you're running a booming ecommerce or Shopify business where the main channel that customers use to contact you is your website.
Here are a few other reasons to invest in live chat software that's designed for enterprises.
To meet your customers on the channels they prefer
Many customers try to reach businesses through a combination of channels including phone calls, live chat support, and social media.
To provide a good experience, your agents need to be able to see all these different customer interactions and pick up the threads of past conversations smoothly without making customers repeat themselves constantly.
An omnichannel contact center platform will help them do that by centralizing all those different channels into one place.
💡 What's the difference between multichannel and omnichannel?
Multichannel contact center platforms let you handle different channels, but don't necessarily sync all the data between those channels to give agents and supervisors a consolidated view. That's the major difference between multichannel and omnichannel platforms—the latter does centralize all that data so that an agent can see, for example, if a customer has had a phone call and a social media conversation with your business previously, and what happened in those past conversations.
To automate your sales and inbound lead generation
No company can thrive without a steady influx of leads, but in large-scale enterprises, generating those inbound leads manually can be both time-consuming and work-intensive.
Thankfully, live chat is one automation tactic that can help with that workflow. For example, you could have a live chat or chatbot on your website's checkout page to anticipate questions about things like shipping and refund policies to alleviate concerns and help guide customers through that checkout.

💡 Quick tip:
Don't over-rely on automation though! Many businesses make this mistake—they build automations into every single part of their customer experience and completely eliminate the human touch in order to "be more efficient." The thing is, sometimes customers have complicated questions or issues that can't be automated away. Always give them the option to talk to a person if needed.
To reduce call and email queues
Customers want quick and effective service, and one of the biggest benefits of having live chat software is because it can help solve long on-hold times.
When chatbots take care of the simpler queries and help customers find out what immediate steps they can take in the short term, they're also taking those customers out of the waiting lines for calls and emails.
At the same time, providing a new channel of communications in the shape of live chat will split your incoming traffic of customers. It's like adding a lane on a highway—with more places to get routed to, fewer cars (or customers) have to attempt to crowd into just one or two lanes.
What's the best live chat software for your enterprise?
For enterprises, it's important to have an all-inclusive communications platform that enables them to connect with customers across all channels, while also giving access to instant messaging for business, built-in analytics, and an extensive selection of integrations.
Not only is it more cost-effective than stacking multiple tools and apps on top of each other, it's also easier for your sales teams and customer support agents to manage because they can handle all their customer conversations in one app instead of constantly toggling between different tools.
Not only does Dialpad's desktop and mobile app work across PC, Mac, Android, and iOS devices, it also lets your agents provide omnichannel customer service more efficiently and effectively with its built-in AI functionality.
See how Dialpad can make life easier for your agents and supervisors
Book a product tour to get a firsthand look at the live chat and chatbot functionality!
FAQs about enterprise live chat software
What is enterprise live chat software?
Enterprise live chat software is an application that is designed to help large businesses connect with their customers via real-time text-based chat on their websites.
It's often used to give customers access to self-help options or customer support via the written word rather than a call, and can significantly improve response times when used correctly.
What technology does live chat use?
How do I integrate live chat?
What are some chat tips for agents?