Back to Blog
The 10 best business texting services, ranked (+ use cases)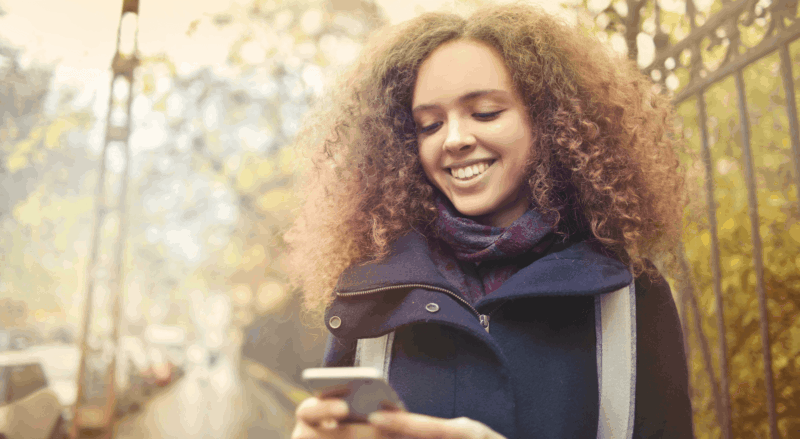 Today, many businesses are using SMS texting to communicate with not only other team members, but also customers and prospects.
So, how do you find the best business text messaging app for your specific business or team?
In this guide, I'll walk you through some of the key features to pay attention to when you're shopping, along with a breakdown of some of the best business text messaging tools out there today.
What does "business text messaging" mean?
Most people think of business text messaging services as just SMS/MMS messaging, but we can think of messaging as a medium that covers both internal and external communication.
Internally, text messaging allows colleagues to collaborate with each other, whereas externally, it also lets you interact with your customers and prospects—through a channel that more and more people might actually prefer.
The 2 main types of business texting services
External
Businesses need to be able to reach customers, clients, suppliers, and vendors at all times of the day. The reality is that not every situation or environment is suited to a phone call. External texting lets you reach important people outside the business in a convenient way for both you and the recipient.
Many sales people, for example, find that prospects are more responsive via texting than other channels like email for follow-ups.
Internal
Of course, sometimes you might just need to text your teammates—maybe you're on good terms or are even friends with a coworker. In these cases, internal business text messaging could be the best tool for the job.
What are the benefits of using a business texting service?
Prospects and customers are more responsive via texting compared to other channels
Sure, live chats, social media, and video meetings can be good ways to handle customer and prospect interactions. But sometimes something as simple, direct, and convenient as a text message is better.


For many businesses, email does the heavy lifting as an external communication channel, but there are other elements to consider. Gartner has found that SMS open and response rates are as high as 98% and 45% respectively—a huge improvement over the corresponding email figures of around 20% and 61%!
It can be automated
With business text messaging services, companies can perform application-to-person messaging, also known as A2P messaging. This technology allows businesses to send automated messages to clients, customers, or employees. This makes it easy for organizations to send out bulk text messages for a variety of needs.
With A2P messaging, SMS marketing campaigns, reminders, important notifications, and more can all be automated. This lets you plan and schedule messages ahead of time and also frees up your team for other more important tasks.

👉 Dialpad tip:
A2P texting is changing. Modern technology changes will put your mass text campaigns at risk of being categorized as spam. Dialpad gives your business a carrier-verified A2P texting solution to safely implement your SMS marketing campaigns!
Some will integrate with your existing tools, like your CRM
Many of the best business texting services will integrate with your CRM or other existing business tools.
With a solution like Dialpad, you get hundreds of integrations that connect seamlessly to your other software. Built-in CRM integrations with tools like Salesforce, Zoho CRM, and HubSpot allow for syncing of customer details and automatic logging of activities like calling and SMS messages sent and received: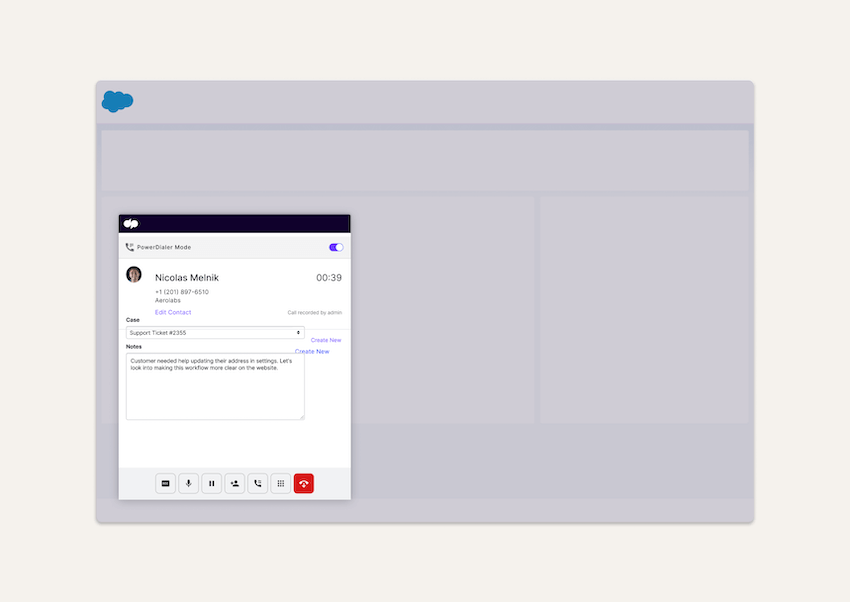 A few use cases: Texting services for business
Business texting services can be useful in quite a few different ways. Here are some of the most common use cases for text messaging.
Send deals and discounts
Text messaging services are great for sending out bulk SMS discounts en masse to your subscription list. Since mobile phone users spend nearly three hours on their devices daily, there's no chance they will miss out on a deal they would be interested in.
Offer sneak peeks into new products or services
Sending out a text to your prospects and existing customers can be a great way to keep them updated on new products and service upgrades. You can send out custom links to let a limited number sign up for early sneak peeks or test phases. This makes it easy for you to gauge interest before launch and prepare stock accordingly.
With Dialpad, you get SMS and MMS (multimedia image, sound, and voice) text messaging capabilities: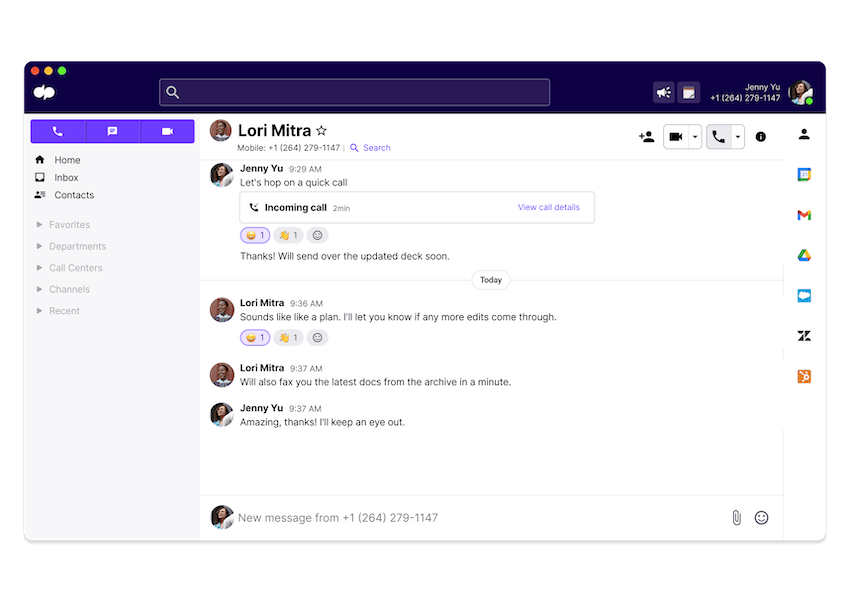 This means you can send out new product previews with video and audio demonstrations that garner more engagement.
Provide order updates
As shopping continues to shift online, customers are expecting more from order tracking. This includes email updates and live tracking with browser and device apps. But as we discussed earlier, a text is more likely to be open and read. This helps to avoid customer frustration due to a missed update.
Automatic updates sent via text can also help save your CS team from having to handle order status calls. You can also include links to order status emails or live tracking apps for convenience.
Target past customers with news updates
Customer segmentation of your marketing campaigns and messaging isn't limited solely to email. With business texting, you can send targeted messages specifically to those who have purchased from you in the past. Sending them a short text with news on products relevant to their purchase history can be a great way to gently nudge past customers back into the funnel.
Send appointment or reservation confirmations
Text messaging is an effective and non-intrusive way to gently remind your clients about upcoming appointments and reservations. Links can be sent in the message to make canceling or rescheduling easy.
With Dialpad, for instance, you can send an invite to a screen share or video meeting through an SMS message—and the other person can join from their web browser without downloading anything!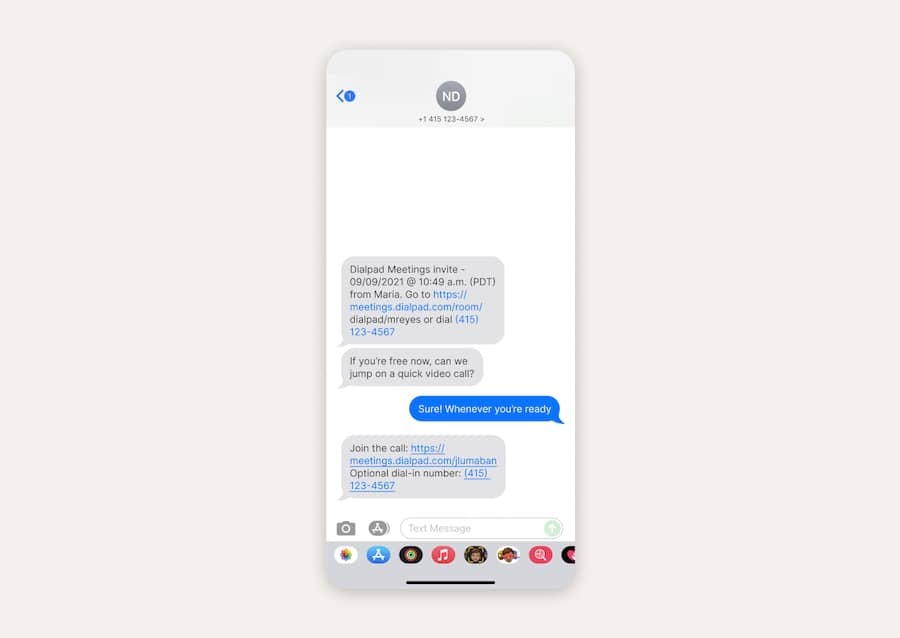 With Dialpad, you can send out reminders for things like scheduled video meetings with only a few clicks. And if your clients don't want to bother with downloading software, they can simply click on the link to join the meeting when it's time.
The 10 best business texting services, ranked
There is a seemingly endless supply of texting services for businesses to sift through today. Here, we've compiled a list of the 10 best solutions for business texting.
We've split the 10 into two categories. The first, Category A, consists of robust, versatile platforms with a range of everyday communication features, including video conferencing and even contact center features along with business texting functionality.
The second, Category B, consists of more niche bulk messaging tools that are specifically designed for SMS marketing or other mass communication campaigns.
Category A: Robust platforms with business texting among other features
1. Dialpad: The most robust unified communications + contact center platform around

Dialpad is a unified communications platform that lets you make phone calls, have video meetings, send instant messages, and yes, send SMS text messages too—all from the desktop or mobile app.
But it's a lot more than just a calling and texting app.
Device-agnostic meeting reminders
With Dialpad, you can send meeting reminders via SMS texting. Not everyone wants to download software packages or apps to join your video meetings—if you're in a client-facing role like sales or customer success, this is a convenient way to let your prospects or customers join conference calls from their web browser, just by clicking a link in a text: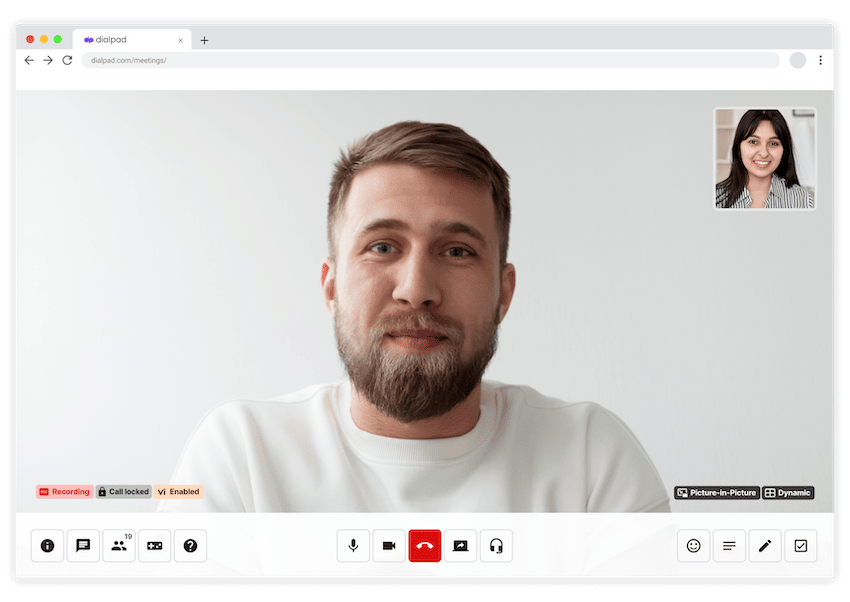 Easy setup
Setting up the business communications platform couldn't be any simpler. In a handful of minutes, you can add phone numbers, create ring groups, set your business hours, and be up and running. This can all be handled in real-time with just a few clicks from your online account.
Keep your existing number
When switching or upgrading your business communication technology, you can't afford to lose your existing phone numbers. Instead, keep the equity from your existing business phone number. Dialpad lets you add advanced features like call recording to any existing line with seamless and interruption-free number porting.
For any US number, porting is free and supported for both local and toll-free numbers. So, you can rest assured that your team will be able to message your customers without confusion. And your customers will be able to respond and reach out to you without fear about long-distance texting costs.
Fully integrated CCaaS solution
Beyond a calling and messaging app, Dialpad's platform has a fully integrated contact center solution too to let customer support and sales teams handle high volumes of communications with prospects and clients.
From Real-Time Assist cards for agents to keyword tracking, Dialpad Ai can make life easier for agents and supervisors in a wide range of different ways: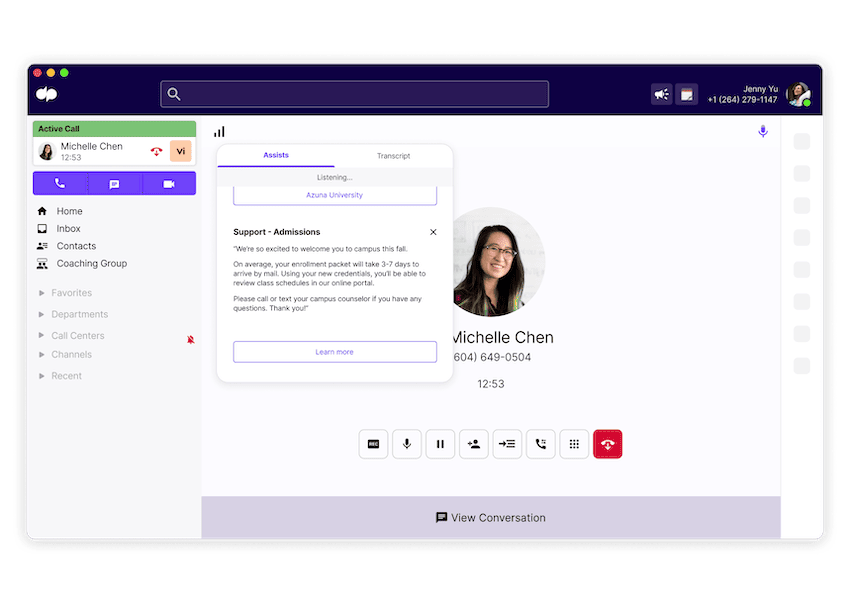 Integrations with your favorite apps
Dialpad comes packed with integrations that connect to other important business software and streamline workflows for your team. These app connections include Google Workspace, Microsoft 365, Salesforce, Zendesk, and much, much more.
For example, with HubSpot, your sales team can tie calls to existing deals from within the Dialpad interface and gain quick access to dispositions, tagged deals, call summaries, and action items. With Google Workspace, administrators can automatically provision Dialpad licenses and users right from the online dashboard.
Customize your caller ID
Dialpad's customizable caller ID makes sure your customers or clients always know who is contacting them—even when you're calling from your personal cell phone. Plus this protects your own personal phone number and privacy:


Dialpad also includes mobile and desktop apps with support for Mac, Windows, iOS, and Android. You can also use Dialpad with the Chrome extension from within your web browser.
Other things you can do with Dialpad's texting service:
Chat history search

Archive a chat

Copy and paste messages including multimedia

Delete a single comment or the entire chat history
For how robust and easy to use it is, Dialpad makes a strong case for being the all-around best option for business communications today. Want unlimited calling in the US and Canada, unlimited outgoing and incoming messages, and much more—all starting at just $15 per user per month?

Try business texting with Dialpad now
Sign up for a free 14-day trial to take it for a spin. It takes just a few minutes and you'll be set up with a virtual business number too. Or, take a self-guided interactive tour of the app on your own!

Podium goes further than SMS capabilities. The platform lets businesses manage and respond to customers across multiple channels such as Facebook, Google, Instagram, and text messaging.
Podium also gives users one centralized inbox to receive and handle all messaging. This makes it easy for your team to filter, search, and prioritize all correspondence with customers and ensures your agents and reps will be armed with a full conversation history regardless of the messaging channel. Plus, anyone can read and respond on the go via the use of mobile and desktop apps. The native website chat widget is another tool included with the platform that lets you automate conversations with customers when out of hours.
Other features include the ability to process payments via SMS reviews, opt-ins, and analytics.
Podium can work for businesses that want business text messaging and customer engagement features. But, if you're looking for a true omnichannel solution that gives you other communication channels as well, something like Dialpad might be better. Pricing starts from $189 per month for 1,000 contacts and up to three team members.1

3. Thryv

According to their website, Thryv is an "end-to-end client experience software" that's designed for growing small businesses.
The app interface starts with an all-in-one inbox and from here, users can check their daily calendars which automatically sync with Google Calendar, iCloud, Outlook, and other tools. Client-specific threads let you transition between channels like SMS messages, email, and Facebook Messenger. You can also book appointments directly from these threads.
A few other features of Thryv's SMS marketing service:
Contact management with a built-in CRM

The ability to send invoices and process payments

Automatic reminders and receipts

Reputation management for sites like Google, Yelp, and Facebook

Marketing campaign automation

Document storage and file sharing

Connect to your social media channels including LinkedIn, Instagram, and Twitter
Thryv can be a useful solution for freelancers and small businesses that have a high volume of clients. But the app doesn't come with advanced features or other basic communication channels like video meetings, team messaging, or CRM integrations. And for pricing, you need to get in touch with Thryv to get a quote for your business.
Category B: Bulk messaging tools
Now, let's look at some more niche tools. (Note that many SMS marketing services operate on credits and pay-as-you-go pricing plans.)
4. Textedly

The Textedly platform is built to help marketers implement and boost their text messaging efforts. This is accomplished through a fairly intuitive and easy-to-use dashboard. From this central space, users can find customization and advanced texting features.
Bulk text messages can be sent with the click of a button. For subscriber segmentation, you can help your customers help you by using text keywords. Customers text you a custom keyword and they are automatically subscribed to a unique group.
Textedly also makes it straightforward to schedule a text for your marketing and support teams, which can be sent individually or to groups. Pre-planned messages can be set to send once or repeat by the hour, day, month, or yearly. The scheduling function can also be used to set time-delayed text messages to subscribers for automated drip campaigns.
Other features include:
Auto-reply texts

Built-in link shrinking

Picture messaging

Email address capture tool

Name personalization

Instagram texting
Textedly is a fair solution for businesses that need a tool for mass text message marketing. Pricing starts at $24 per month for 1200 messages.2 Unfortunately, this platform cannot help with internal messaging or team conversation threads.
5. SimpleTexting

SimpleTexting's app lets users switch between one-to-one text messaging and full-on SMS marketing campaigns from the same space.
Every SimpleTexting account also comes with an attached toll-free number at no extra cost. You can use this number for both two-way and mass SMS messaging. Additionally, they offer a text-to-landline service so that you can send and receive messages from your existing and local business numbers.
The provider also offers an interesting pricing model. Instead of signing up for specific services, you instead pay a monthly fee for credits. You then use these credits to send SMS and MMS messages—incoming SMS texts are free.
Other features include:
Autoresponders and templates

Shortcodes

SMS keywords to create subscriber lists

Web templates for opt-in forms

Team messaging

Multiple numbers can be attached to a single account
SimpleTexting offers a business messaging service with a wide range of pricing options. However, many businesses may find that flexibility comes at the cost of value when compared with other more robust communications platforms. (Also, make sure to pay close attention the pricing plans and possible hidden fees.) Listed pricing starts at $29 per month for 500 credits.3
6. TextMarks
TextMarks is a cloud-based solution for business SMS text marketing. You can send bulk messages, alerts, news updates, and reminders. The platform has group messaging features like keyword groups and scheduled alerts. You can send texts from your mobile device or via the web-based app dashboard.
The platform comes with an open API that gives businesses flexibility in how to implement SMS marketing with other business processes. There is an availability of client libraries to work with including PHP, Java, and Python. The service's customer support team can also help you build custom and white label solutions.
TextMarks is a good choice for businesses that want an open API SMS marketing platform but don't need any other communication channels—outside of bulk messaging, the service is pretty limited. Pricing starts at $219 per month for up to 10,000 messages.4
7. EZ Texting
EZ Texting is a business texting solution with a heavy focus on visual marketing. You can create engaging MMS campaigns with things like mobile coupons to boost sales and campaign performance.
The app comes with an image editor, which is pretty unique—it helps you create branded promotions and announcements. You can upload images or choose from a range of royalty-free Shutterstock images that are available to subscribers.
EZ Texting's other features include:
Text message design templates

Dedicated shortcodes

Two-way texting and text-to-landline capabilities

A reporting dashboard to monitor metrics
EZ Texting is a good solution for small to medium businesses that are looking to streamline visual MMS campaigns and not much else. You may also find the features and keyword customization quite limited. Pricing starts at $19 per month for one user and one text-capable phone number. Every plan comes with 200 credits per month but you can add more for a fee as needed.5

8. Zingle
Medallia Zingle is a customer messaging portal solution for businesses, which comes with a range of both basic and advanced features that will appeal to various industries, but especially healthcare and hospitality. Zingle's other features include:
Two-way SMS channels

Scheduling and automation tools

Reporting and analytics capability

The ability to send customer surveys and direct them to reviews at places like TripAdvisor
For messaging, the platform supports connection with WeChat, WhatsApp, and several other apps. (Learn more about providing omnichannel customer experiences.)
Medallia's app has a well-documented API, and there is a range of third-party and custom integration possibilities. This makes it easy for businesses to connect their messaging portals to business systems like a CRM.
Bottom line, Zingle is a niche solution for medium to large businesses that need a performance-boosting customer service portal. Most businesses that need a more flexible business text messaging platform would likely need to look for a UCaaS (Unified Communications as a Service) platform. You have to get in touch with Zingle to request a free trial and learn more about pricing.
9. Tatango
Another niche solution, Tatango is built for political groups, charities, and other non-profit organizations. The app helps businesses send out text messages on a massive scale for tasks such as fundraising and gaining actionable support for things like voting. Messages can be scheduled or immediately sent out at the speed of up to six million texts per hour.
After that, you can track your campaign results like open rates, click-throughs, average donation, and total donations. You can connect Tatango to many business applications. However, the platform features built-in integrations for over 20 of the leading email marketing and CRM tools. It also provides full customer support.
If your organization needs text support for mass messaging and huge contact lists, Tatango can be an option to look into. You have to get in touch with the Tatango team to get a custom quote.

10. SlickText
SlickText is a platform that is primarily designed for marketing via text messages. The service features a user-friendly UI, and the company also provides step-by-step video tutorials to hand-hold new and unsure users.
The platform features many channels for grabbing customer opt-ins, including via text, web forms, link and QR codes.
While the app's two-way text messaging lets your team stay in touch with your customers, it's really made for mass text messages. Custom subscriber fields make it easy for you to segment your customer base however you want. You can create surveys, contents, and even send user-specific unique coupons.
However, there are some things to be aware of. Managing contacts can be slow and cumbersome and the customer support can be lacking when it comes to canceling or changing your subscription. And, while SlickText comes with integrations for Shopify, Zapier, and many email marketing tools including MailChimp, it lacks the omnichannel capabilities of platforms like Dialpad. It's a cost-effective mass text solution for businesses but not much more.
You can try it for free for 14 days and pricing starts from $29 per month for 500 texts per month.6
Mistakes to avoid when using online texting services for business
Sending too many text messages
The power of text messaging is often overlooked by businesses. But that doesn't mean you can't have too much of a good thing! A 2021 study found that 60% of consumers say too many text messages are the top reason they would unsubscribe from a company's alerts.
How many messages are too many? While that depends on several factors including the product, customer segment, and business type, most will want to stay in touch with their SMS subscribers on a monthly or biweekly basis. Anything beyond this is likely too much.
For alerts and appointment reminders, a good rule of thumb is to send a text at the time of booking and 24 to 48 hours before. However, depending on your type of business, you may find that additional reminders sent at X time will be effective in preventing missed appointments and/or late cancellations. This may require some testing and fine-tuning.
Sending uninvited messages
Never send a text message to customers or prospects who haven't given you their permission. You may have grabbed a customer's number from an email signup or a checkout form. But just because you somehow got someone's cell phone number doesn't give you permission to contact freely as you wish.
No business is exempt from adhering to the Telephone Consumer Protection Act (TCPA) and the CAN-SPAM Act. Always make sure your business text messaging is legal by getting customer preferences and permissions for all of your marketing activities.
Lack of personalization
Consumers these days aren't very responsive to marketing messages they perceive as generic and impersonal. Use segmentation to send announcements and offers that are relevant to the recipient. This includes sending out text messages based on past purchase history or preference indications obtained from online forms.
Many marketing tools will let you put simple touches like adding a first name greeting that can go a long way towards getting a response.
Using jargon or slang
With text messaging, it's best practice to keep things clear and concise. With SMS messages limited to 160 characters, it can be tempting to lean on abbreviations. And so can using jargon and slang to add flavor and enhance brand recognition.
But because space is tight, it's better to stick with messaging that one hundred percent of the recipients will understand. Misunderstood terms or abbreviations will cause confusion and annoyance for your subscribers. If they find they continually fail to understand your messages, they will quickly send that STOP code or hit that unsubscribe button.
Not incorporating calls-to-action
In attempts to come off as not overly aggressive or too sales-y, many businesses neglect the power of calls to action (CTAs). Big mistake. Every text message you send should be viewed as an opportunity to engage with your audience. Because of this, each SMS should include a CTA.
CTAs don't necessarily need to be asking for customers to reach for their wallets. Instead, try sending links like "read more" or "watch this". Discounts and offers will be used more often when customers are instructed to use the code and "save now."
For bookings and appointment reminders, you can ask them to view more information and click to confirm or cancel. By asking recipients to take action, you will better engage with customers and nurture leads.
Looking for the best business texting service?
Maybe it's time to think a bit bigger and consider a unified communications platform instead.
Not only can it be more cost-effective and robust, it's also easier to admin from an IT perspective and can consolidate your team's tech stack. (If like many companies, you're experiencing tech bloat from having too many apps, this is huge.)
With Dialpad, you get much more than a business texting service. It's an all-in-one business communication solution—and while text messaging may be the best method of contact in some situations, having diverse options will cover you in every situation. This includes team messaging, unlimited inbound and outbound calling, conference calls, and video meetings.
Plus it has local and toll-free number porting, which means you can bring over phone numbers from your existing provider (free for the US). It also comes with other advanced features in the most basic plan, like call recording, extensions, custom routing, and a multi-level auto-attendant.
And if you have a customer experience or support team, there's a fully integrated cloud contact center platform too (which works on both desktop and mobile app).

Take Dialpad for a test drive
Dialpad's pricing starts at just $15 per user per month, and comes with unlimited calling in the US and Canada, amongst other advanced features. Sign up for a free 14-day trial to try it out! It takes just a few minutes and you'll be set up with a virtual number too.
1podium.com/pricing/
2textedly.com/pricing/
3simpletexting.com/pricing/
4textmarks.com/front/pricing/
5eztexting.com/pricing
6slicktext.com/pricing