Back to Blog
5 benefits of cloud-based business phone systems (and why you should switch)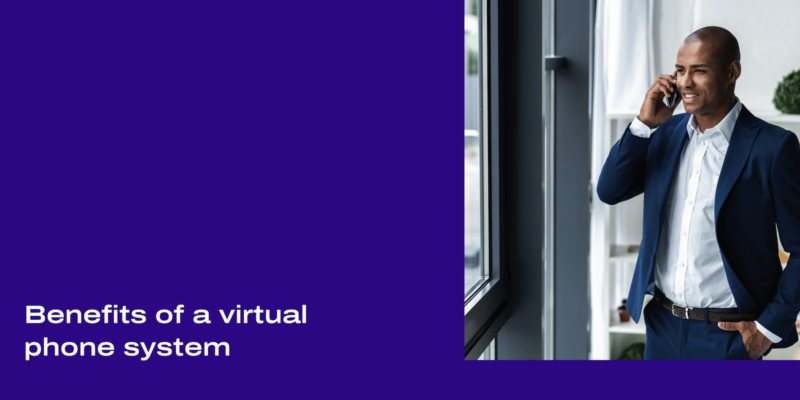 With a predicted 23% CAGR, the digital transformation movement is growing at a rapid pace, and even if your company doesn't have a clearly outlined digital transformation strategy (which it should), chances are you've already started down that road by using cloud-based applications such as Google Workspace, Salesforce, Dropbox or something similar.
The next logical step is moving your legacy phone system to the cloud. If your company is still using desk phones and landlines to make phone calls, and relying on a mix of various messaging, conferencing and call center software (even freeware!) stitched together as your approach to a communications strategy, this move particularly critical and timely.
With more than 89% of companies reporting adoption of digital-first strategy, those that don't include the business phone system—and the communications platform as a whole—as part of the migration to the cloud, will be left behind.

Challenges that a virtual phone system can alleviate
In the communications market, the shift to the cloud has been happening for nearly 20 years, as providers of traditional on-premises PBX hardware and software virtualized their infrastructures by moving servers from office locations to single-tenant data centers.
There were legacy providers who stuck to on-premise hardware (so as not to disrupt their large user bases), but for the last decade plus, haven't delivered the innovation to those products like what we see in cloud-based communications platforms. If you're still using a phone system you bought 15 or 20 years ago, chances are very little has been done to keep pace with modern business challenges, even despite your regular software upgrades.
Let's take a look at some of the challenges that on-premises phone systems users are facing, and see if you can relate:
1. Complex and expensive communications setup
On-prem phone systems have always been classified by IT groups as a capital expenditure (CAPEX) line item, meaning it requires a large capital outlay upfront for the hardware, software, devices and professional services to get the system up and running.
IT departments and companies as a whole have to financially plan years in advance to carry out this type of expense. And because software on these units tends to require updates (usually every 8 to 10 years), that adds another CAPEX line item to the IT budget, as well as downtime in order to perform the upgrades.
As companies expand, these systems also get more complex and hard to manage. Consider a company that grows by acquisition and brings on geographically dispersed offices, each with a different approach to the phone system. Central IT is then burdened with making all of these systems work together, and the result is usually the opposite—each office working in isolation on a different communications platform.
2. No unified phone system and contact center
Some companies look at the term "contact center" and blow it off, thinking that because they don't have a room full of agents answering ringing phones all day that they can't take advantage of call routing software.
But the truth is that if you take any kind of inbound interaction, say for service, sales, dispatching, and so on—or if you interact with your customers digitally using chat, video conference, or any social media or live chat messaging tool—then you effectively have some version of a contact center.

At the very least, you'll want to future-proof your business and consider how contact center technology can integrate into your operations as you continue to grow. Most modern contact center software is 100% cloud-based to allow for flexibility and scalability, and doesn't integrate well with 15-to-20 year old technologies.
The best cloud contact center software exists on the same unified platform as your cloud phone system, and allows for data sharing between both your knowledge workers and contact center agents—and also better sharing of customer information to improve experience and CSAT scores.

According to Metrigy Research, 62% of companies surveyed have integrated their unified communications (UC) and contact center (CC), but they aren't necessarily on a natively integrated platform from a single vendor, which results in potentially different user interfaces, custom code, and inconsistent feature sets. They also found a 37% improvement in agent efficiency by integrating UC and CC with a single vendor, giving employees across the business better tools and access to improve communication and collaboration.

Whether it's shifting to a contact center approach to managing your customer interactions, moving to a multi-tenant cloud-based strategy for storage and development, or looking to develop and integrate best-of-breed software tools on the market into your tech stack via APIs—this is all only possible with a cloud-based communications approach. The good news is, once you're not tied down by old, outdated hardware at each office location and working 100% in the cloud, the sky really is the limit as to how far you can take your new communications platform. For example, you can add and assign agents with just a few clicks: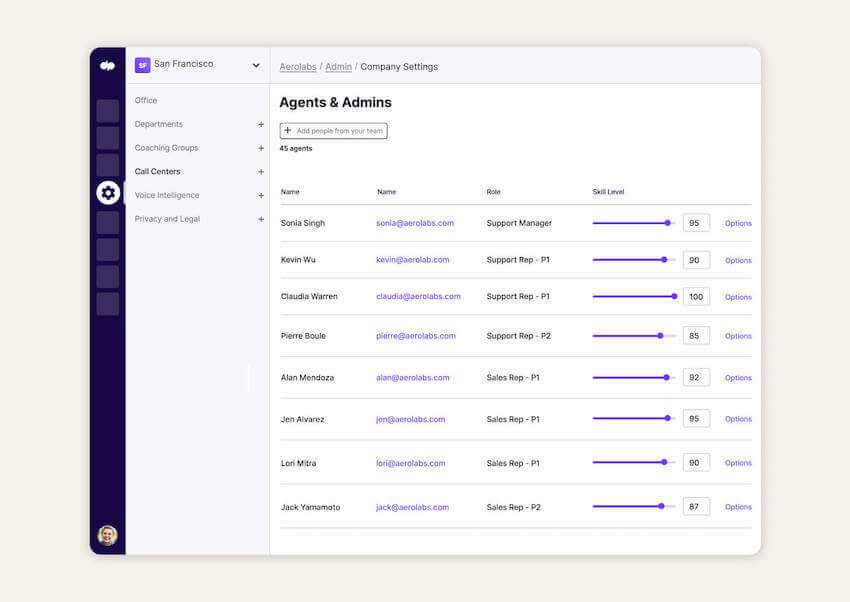 Let's take a look at some of the real and quickly achievable benefits you can expect from taking a cloud-based approach to your company's phone system and overall communications platform.
5 key reasons to switch to the cloud

1. Cost savings
On-prem technology vendors are notorious for nickel-and-diming businesses on installation costs, voice features, and even basic integrations with other systems. Let's face it—the hardware sitting in your closet isn't doing your budget any favors.
Need call recording and voice transcription? Connection to the PSTN? Integrations with other apps that you count on for your business, like Salesforce, HubSpot, even Google Workspace? No problem... As long as you're willing to shell out some serious cash.
Cloud solutions on the other hand, require no hardware purchases, maintenance or upgrades so your total cost of ownership (TCO) significantly decreases. Your teams can work from the devices you already own. And most importantly, the money you used to spend on your IT closet goes right back into your business.

2. Scale at your own speed
While it's not impossible to scale with on-prem solutions, the process is usually very complicated and involves a lot of guesswork. Whether you're scheduling business around installation downtimes, calculating additional hardware costs, or simply trying to coordinate between your staff and your service vendors, there are a lot of unknown variables at play.
And that's just for scaling up. If you ever have to scale your team down, for example during an offseason, you'll be stuck with the unused hardware until you're able to staff up again.
Scaling with the cloud, on the other hand, is easy. You only pay for the licenses you need, when you need them and the uptime is practically instant.
For example, with Dialpad, you can add or remove users, manage phone numbers, and more—all from your online dashboard: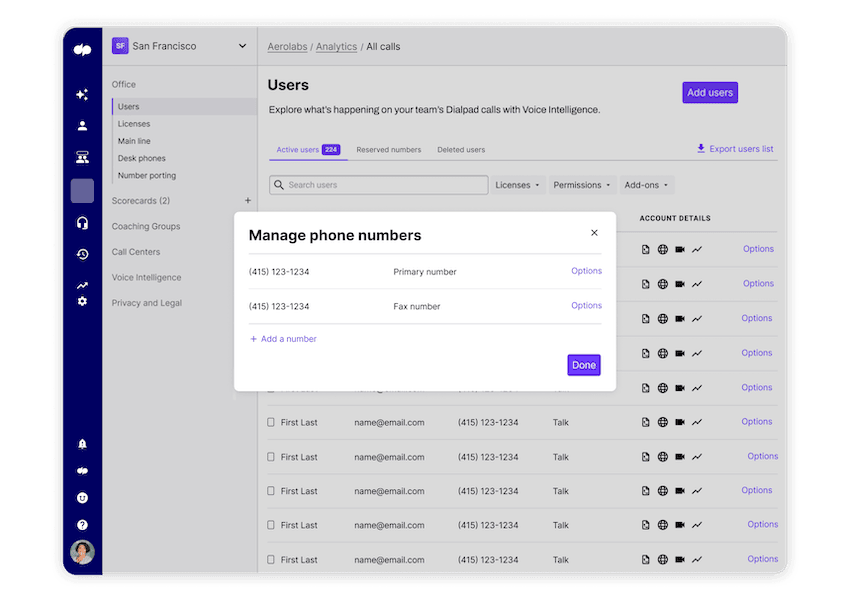 3. Your apps are better when they work together
Why invest in a business tool that makes it harder for you to actually get work done?
While there are on-prem phone systems that integrate with tools like Salesforce or Zendesk, businesses are typically looking at high licensing fees and installation headaches.
Virtual phone systems are designed with open and extensible platforms, so they're already ahead of the game when it comes to integrations. Plus, some also have integrations that make it possible for your business phone system to sync and pass data between software like Salesforce, HubSpot, and Zendesk without any extra workarounds or paid add-ons (and in the case of Dialpad, many of your favorite apps are natively integrated right within your platform):


Dialpad also has an API that lets you build custom integrations with homegrown tools and more niche software.
4. It gives you more mobility
One of the biggest downsides of being tethered to all the hardware that comes along with on-prem phone systems and call center software is that it ties agents to their desks and devices. So the idea of mobility, flexibility, or simply having the freedom to work in the best environment for your team's productivity goes right out the window.
The beauty of the cloud is that you can work from everywhere. Calls can ring your phone and computer simultaneously, and if you're not at your desk? No worries—take the call on your cell and then switch over to your laptop (or even desk phone) in one click:


👉 Did you know?
Dialpad is the only major cloud-based telephony company on the market to be created after the launch of the iPhone, a release that changed how we view mobility. Dialpad is 100% mobile-first—we build all of our software assuming you're going to take it on-the-go. And since all interactions technically occur on our cloud-based platform, it doesn't matter which device you choose to use Dialpad. You can even flip calls between devices without having to worry about the call dropping or being interrupted.
5. Happier employees, happier customers
If you're the administrator of your business phone system, chances are you're helping your employees with juggling between answering calls, updating IVRs and call queues, managing help desk requests—all across different apps or platforms.
And if you're a customer on the other end of all that... Well, it isn't pretty. How many times have you been passed around to different agents on a service call and had to repeat your information?
With cloud-based business phone systems, employees don't have to scramble to find the right answer or toggle between tabs since they can integrate with CRMs and help desk software.
With Dialpad, for example, you even get powerful built-in artificial intelligence-powered functionality embedded right in the platform, which can transcribe your calls in real time, log action items, and more. (Imagine a Real-Time Assist card popping up on a customer support agent's screen with pricing information when a customer mentions "price" or "pricing" on a call—now that's powerful.)


With a good virtual phone system, you can empower your teams to not only be more productive, but also provide a better customer experience.
Want to see the benefits of a virtual phone system firsthand?
Better customer experiences are calling. It's time to answer on a platform that works like your team does—from anywhere, on any device.
If you're interested in learning more about Dialpad's virtual phone system? You can see, try, and buy it right now:
👉 See: Check out our new Demo Center to watch the Dialpad Talk Demo, or experience a click-through demo of our actual interface and all it can do
👉 Try: Sign up for a free 14-day trial and experience a full version of Dialpad Talk!
👉 Buy: Ready to make the move? You can buy Dialpad right now, or talk to one of our advisers to guide you to the right product.