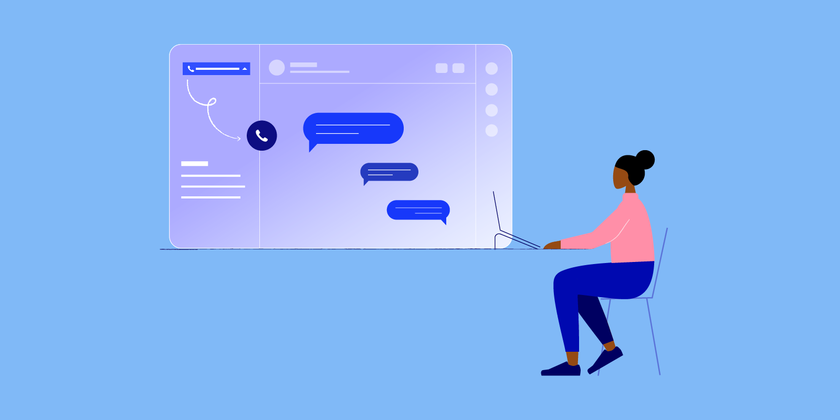 February 24, 2021
Business looks very different today than it did ten, five, or even two years ago. It's no longer the assumed norm that everyone in a company reports to the same building every morning or that when you call someone on their business phone, you reach them in their office.
According to ADP, about 44% of companies now offer flexible working policies, including the option to work remotely. That's an increase of 20 percent in the past year alone. Companies have to adapt their telecommunications accordingly, which means switching away from phone systems that depend on a central location.
Virtual phone systems solve this problem while simultaneously integrating with the digital communications tools you already have in place. The result is a connected business without the usual hassle.
Still not sure? Here are some of the benefits you can expect from a top-notch virtual phone system like Dialpad.

1. No Hardware Required
When you set up a traditional phone system, you usually have to pay for the hardware. But those clunky black desk phones take up a lot of space and can get expensive, especially if you need one phone per desk for a large team. What's more, if anything goes wrong with the phone or the system, you have to call the phone company and pay potentially high repair costs.
Virtual phone systems eliminate these costs because they don't require separate physical telephones. Instead, they offer browser-based or downloadable applications so you can make phone calls from an existing internet-enabled device.
Not having to pay for additional hardware means that it's easier and less costly to set up a new virtual phone system, versus a traditional phone system. You can still get desk phones if you want them, but on an opt-in basis so you only pay for what you need.
It's also exponentially more scalable. With a virtual phone system, you can add a new user with just a couple of clicks in your admin portal. No more waiting for the phone company to arrive and set things up for your new team members!
2. Use Any Device, Anywhere
Another major advantage of a virtual phone system is its ability to be used on any device. The "bring your own device" (BYOD) model means you can make and receive virtual phone calls from different work devices — including laptops, desktops, tablets, or smartphones.
With a system like this, you don't have to worry about out-of-office voice messages or giving business cell phone numbers to customers. No matter where you are, your business phone will ring.
3. Keep the Same Business Phone Number as Needed
One of the biggest concerns when you consider switching services is what the impact might be on customers. If you switch phone systems, will you lose those customers who try to call you on your existing number?
Getting a virtual phone number relieves you of that worry. With Dialpad, you can easily port your business phone number from your existing provider to your virtual phone service provider. That includes local and toll-free numbers, so no matter how your customers get in touch with you, they can continue to do so without interruption.
4. Quick to Implement, Set Up, and Add Users
If you've ever had to wait for a traditional business phone system to be set up, you know how long it can take and how disruptive it can be to operations. With virtual phone systems, especially cloud-based ones like Dialpad, you can set up your business phone system in just a few steps and start calling within minutes.
Dialpad offers a user-friendly interface that makes it easy to customize your phone system. From your admin portal, you can add users, assign them phone numbers, set permissions, and help them sync their contacts. Traditional phone systems don't offer this kind of self-service setup or system editing, and the difference is huge for any business that wants to scale.
5. Latest Technology and Upgrades Free of Charge
Communications technology is constantly evolving, and today's businesses need a telecommunications system that can keep up. Using a virtual system means that you don't have to pay extra for upgrades or wait for the latest fully featured desk phone to come out. Updates and upgrades come to you as part of the cloud-based service.
That goes for performance features as well as security and privacy features. Traditional analog phone systems can never be entirely secure, but your calls and call data are as safe as possible when you use a virtual phone system. You also get user-end security features like customized permissions and access, as well as advanced encryption for your calls, recordings, and analytics.
6. Robust Features
Most traditional phone systems aren't competitive in terms of today's hyper-connected workspace. Emails can connect to customer relationship management (CRM) software and integrate with sales tools, but legacy phone systems are inevitably disconnected. You might be able to get a recording, but attaching it to your CRM takes a lot of time and effort.
With virtual phone systems, you can be as connected as you need to be. You get automated call recording and transcriptions you can actually use, thanks to advanced machine learning technology.
Take Dialpad's Voice Intelligence (VI), for example. VI can distinguish between different voices, so your transcriptions read like dialogue. Plus, Dialpad integrations work with commonly used business tools like Google Workspace, Microsoft 365, Salesforce, and more, so you can store your recordings where you need them to access them easily.
A virtual phone system also gives you access to value-added features like business SMS, spam blocking, and customized call routing. The system can send a call to a live operator, team member, automated attendant, or voicemail, depending on the settings you specify.
For example, if you want all calls from Pacific time zones to go to your LA team unless it's after business hours, in which case they go to voicemail, you can make that happen with just a few clicks.
Get Started With Your Virtual Phone System
As with any major tech upgrade, the best way to understand the difference a virtual phone system can make for your business is to try it yourself. Once you experience cloud-based calling from your choice of device, complete with recording and analytics, you'll wonder how you got by with regular analog calling.
Start your 14-day free trial with Dialpad and experience the difference today!