Frequently Asked Questions about Vi
Voice Intelligence: Data Usage and Security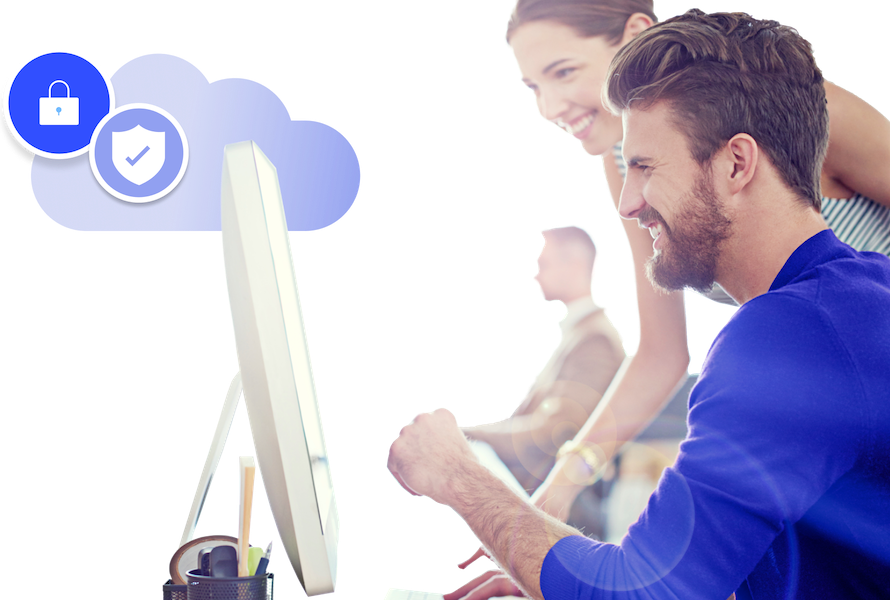 What is Voice Intelligence?
Voice Intelligence, or Vi, is Dialpad's combination of automated speech recognition (ASR) and natural language processing (NLP) to help you get more value out of phone calls. Because Vi is built right into Dialpad's cloud-native VoIP phone, we can offer the industry's only real-time transcription, call coaching, talking points, and call analytics to make for better business conversations. Whether it's tracking competitor mentions, call sentiment, just in time answers to common customer questions, or flagging calls for manager intervention, Dialpad's cloud telephone service makes for better calls, and Vi makes for better conversations.
Is Vi transcription different from voice recording?
It's both similar and better. We recommend that you obtain the same permissions from the other callers to have Vi transcribe a call as you would to have Dialpad record the call. Transcripts are not the same as recordings because they are not always word-for-word accurate, but they are faster to read and search, and having text transcripts allows for many of the powerful Vi analytics.
So does that mean my reps need to notify the customer if they're just using Vi, not recording the call?
That's the best practice. Let's be clear: The law on transcription isn't clear. Call recording laws were written in the 20th century, long before smartphones, let alone real-time transcription and analytics, and they differ from state to state and country to country. Many of them don't distinguish between recording, transcription, and interception. Dialpad's services include detailed settings so you can customize Vi in a way that works for your business.
Can I use Vi without recording the call?
Yes, Vi works when call recording is off. If you only want a transcript without saving a call recording after completion of the call, just turn Vi on and leave recording off. We still recommend users treat transcription like a call recording when notifying other parties to the call, even if you're not actually recording the call.
Does the usual notification of "This call is being recorded" cover Vi?
Yes. Standard phrasing and good training allows your company to use call recording in a way that is effective and compliant, and using Vi is just as easy. At Dialpad, our outbound sales agents make it part of introductory pleasantries and find that business contacts are accustomed to this approach. Inbound customers are equally accustomed to an automated notification.
How do I enable or disable call recording and Vi?
You have control over what calls Dialpad records, transcribes, or analyzes. Company admins can enable or disable call recording or Vi company-wide, for specific call centers, for coaching groups, or leave it up to individual users. If enabled, users can toggle recording and Vi on or off for all calls from the settings menu, or directly within a specific call through buttons in the call window.
Can I stop or pause recording or transcribing in the middle of a call?
Yes. Whenever call recording or Vi are activated, you'll see the red "recording" button and the blue "Vi" button lit up. If you need to pause recording or Vi transcription—such as to take down payment information—just hit the appropriate button. You can resume whenever you like by pushing the same button.
Can we disable Vi for certain users?
Yes. Your company's Dialpad admin can disable Vi for departments or individuals from the admin dashboard, or set a retention policy on how long data is held for. For more information or to set a retention policy, contact support@dialpad.com.
Where is Dialpad customer data stored?
All permanent data, such as contact lists, call records, recordings, and transcripts, are stored in the United States via Google Cloud Storage. This cloud-native approach to customer data ensures that your data is backed up, distributed, and protected against loss and outage even in the event of widespread disasters.
How is my data secured when using Dialpad?
Data transferred within applications is encrypted with Transport Layer Security (TLS), the same encryption that protects your web browser. For telephony, Dialpad uses Secure Real-Time Transport Protocol (SRTP) to encrypt and authenticate data transfer during live phone calls and video. Data at rest is encrypted with AES 128-bit ciphers and the encryption keys are managed using Google's encryption management with 90-day key rotations.
How can I delete my data?
Dialpad users can delete call data like a call log, recording, or transcript for individual calls from right within the Dialpad app. Company admins can request bulk deletion for an individual user, a whole company, or any level in between by contacting support@dialpad.com. And of course users in certain jurisdictions like the European Union or California may, if they prefer, use the Data Subject Access Request portal.
How long do you keep transcriptions and call audio?
Data saved in Dialpad is available until you delete it, until deleted according to your retention policy, or you close your Dialpad account.
What compliance tools does Dialpad offer when using call recording and Vi?
Dialpad products can automatically provide a call recording notice at the start of a call, or when a new user joins. If you prefer to give the notification live, or use a custom pre-recorded notification, you can do that in our Support and Sell products. Recording and transcription can be paused at any time to ensure that sensitive data like payment information isn't captured. You can also identify specific individuals, offices, or call centers to exempt from company recording and Vi settings. Call recordings and transcripts are stored securely in the United States on the Google Cloud Platform using AES 256 encryption. Additionally, Dialpad Enterprise customers can create customized retention policies.
Can Vi be used by health industry customers?
Yes. Vi benefits from the same HIPAA-compliant security and privacy features as all of Dialpad's products, including encryption in transit and at rest,, single sign on (SSO) capabilities with authentication and provisioning, and rigorous security assessments (SOC2 Type 2 and CAIQ). Health industry customers must sign a Business Associate Agreement (BAA), which also sets a 30 day retention policy to ensure that no patient health information (PHI) is saved past the point it is required. See our HIPAA
HIPAA brochure
for more information.
Can Vi be used in California?
Yes, you can use Vi transcription and other features in California just like you would use it in other states. The California Consumer Privacy Act (CCPA) addresses data usage generally and doesn't have any provisions specific to Vi. All of Dialpad's products and features, including Vi transcription, are compliant with CCPA. Dialpad's California Addendum to the Privacy PolicyCalifornia Addendum to the Privacy Policy explains the categories of information that we collect and provides a link to our data subject access request process. Dialpad maintains strict confidentiality of customer data: We never sell any customer information collected through Vi, and we never use it to sell ads.
What countries is Vi available in so far?
Vi is currently available in the United States and Canada. We're working on expanding our capabilities to include the beautiful accents of Australia, New Zealand, Ireland, and the UK in the near future, with Japan and other languages coming soon after.
Is Vi available in Europe?
Vi is not ready for use in European Union countries yet. We need to build in additional language and accent support, plus features to ensure that customers can tailor their use of Vi to GDPR and national laws. Don't worry, our engineers, lawyers, and data scientists are hard at work on bringing Vi to new countries, and new languages, too.
How does Dialpad use my call audio for science?
Very carefully! The transcriptions, insights, and real-time assistance features that Vi provides, come from comparing your call to others like it. So when you're drawing these insights, you're also helping to contribute to them. Here's how it works: On calls that you're using both call recording and Vi, Dialpad will save audio or transcript data—removing identifying metadata like username or phone number—and make it available for Vi to compare to other calls to improve our ability to understand spoken words and the meaning of words in context. We never record calls without consent of the parties, we never sell the data, and only use Vi-derived data for improving Vi.
Can I opt-out of human transcribers seeing my data?
Absolutely. Almost all Vi improvement is accomplished via automated processes. Only about 0.01% of call audio or transcripts ever get seen by a human transcriber, when we need a human to help making sense of unusual words like industry terms. When data is shared with human transcribers, we take additional steps to remove metadata and other identifying information, and it is presented only in brief snippets called "utterances", about a sentence long. To opt-out, contact support@dialpad.com.
How can I prevent calls from being used for science?
Only calls where you're using both call recording and Vi are used for improving Vi. You can stop or pause call recording and/or transcription at any time, or toggle Vi off entirely for any call, either of which remove that call from eligibility. By default, we don't use any calls from health industry clients, regardless of settings. Your company's Dialpad admin can also exempt departments or individuals, or set a retention policy on how long data is held for.
Vi is not available in my language yet. Can my company help make that happen?
Yes! Dialpad can work with eligible company customers to compile the local language or accent data needed to bring Vi to your country. If you are interested in "donating your calls to science", contact your company's Dialpad representative or legal@dialpad.com to learn more.