Guide
A Guide on Screen Share and How to Make Use of It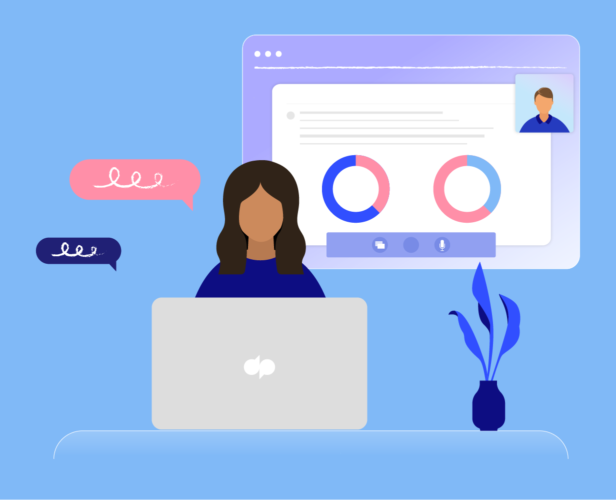 Now that so many people work and meet remotely, screen sharing has become a critical collaboration tool for meetings. It connects customers to service reps, investors to entrepreneurs, and colleagues to one another. A screen share closes the collaboration gap in many different ways, and you don't need much tech experience to use it.
But like any new tool or feature, screen sharing can intimidate people who haven't used it much before. If you've been holding back on using screen share in your virtual meetings or you're not sure you're maximizing its capabilities, don't worry — you're not the only one.
In this guide, you'll learn everything you need to know to get the most out of the screen share feature for the video conferencing tool your team uses. You'll find out what screen sharing is, how you can use it in your professional life, and what benefits it offers you, your team, and your company. Finally, you'll learn the ins and outs of screen sharing etiquette.
You can start using screen share like a pro in no time. But first, let's cover the basics.
What is Screen Sharing?
When you screen share, you make it so that the other participants in a video conference call can see what you see on your computer screen. You can share the entire screen or just part of it — a specific window, application, or tab, for example.
Some screen sharing tools may also let you share control of your screen. You want to make sure to use this feature with utmost caution because when you give someone that permission, they will have remote access to the device you are using and can interact with the shared material. This means they can click, annotate, and even type on your screen, and everyone in the call will be able to see their contributions.
What Are Some Screen Share Use Cases?
Screen sharing can enhance almost every kind of virtual meeting, from weekly team stand-ups to formal investment pitches.
Sales Pitches
According to Microsoft, two-thirds of companies have been using web conferencing for sales pitches since before 2020. Screen sharing improves the experience by allowing the companies to demonstrate their product to their leads.
Investor Meetings
Screen sharing lets you engage current and potential investors in ways you couldn't before. You can share financial reports, give multimedia presentations, and demonstrate new product features — all with more engagement than you could get by describing your company and its momentum with just text or audio.
Remote Team Collaboration
With screen share paired with a shared document or tool, an entire team can work together as though they were in the same room. No more asking people to change this or edit that, then waiting for them to send you the edited version. One person can share their screen while the rest of the team accesses a shared document so everyone can see the changes happen in real-time on their screens.
Take brainstorming sessions, for example. You could brainstorm in a virtual meeting without screen sharing, but people wouldn't be able to see the list of ideas to build on. You can easily use a shared document or Kanban board like Trello, have each individual add ideas, then come back as a group and a designated person can share their screen to go over the ideas.
With screen sharing, brainstorming can be as exciting as if you were all in the room. You can also annotate ideas to further develop them together.
Employee Interviews, Onboarding, and Training
In many industries, the interview process requires the candidate to show what they can do. That might mean going through a portfolio, making a sample sales pitch, or completing a coding task, among other options. With screen sharing, all of that becomes easier and more effective than it is over the phone.
Similar benefits are applicable when onboarding new employees or training existing ones. Companies can show the same training presentation to a large group of new hires, no matter where those hires are located.
Screen share also lets you take a previously one-sided training program and make it interactive. Want to ask people what they'd do in a particular situation? Let them record their ideas on a shared mind map or flowchart. Need to quiz them on a training video? Have them vote and discuss their answers for better retention.
Technical Support and Service
In the realm of business IT, few struggles are more frustrating than trying to explain your computer problem to a tech support provider who can't see what's going on. With screen share, the support rep can look at the issue as it's happening. They don't have to interpret what the caller is saying. The rep can try fixing the problem and aid the caller along the way to make sure they are on the same page. That means:
The device owner doesn't have to take the machine somewhere to be fixed.
The rep and device owner know right away if the fix will work.
The device owner sees how to fix the problem if it happens again.
If you've ever been on the receiving end of this process, you know what a relief it can be. Using screen share like this works for customer IT support just as well as it does for internal troubleshooting.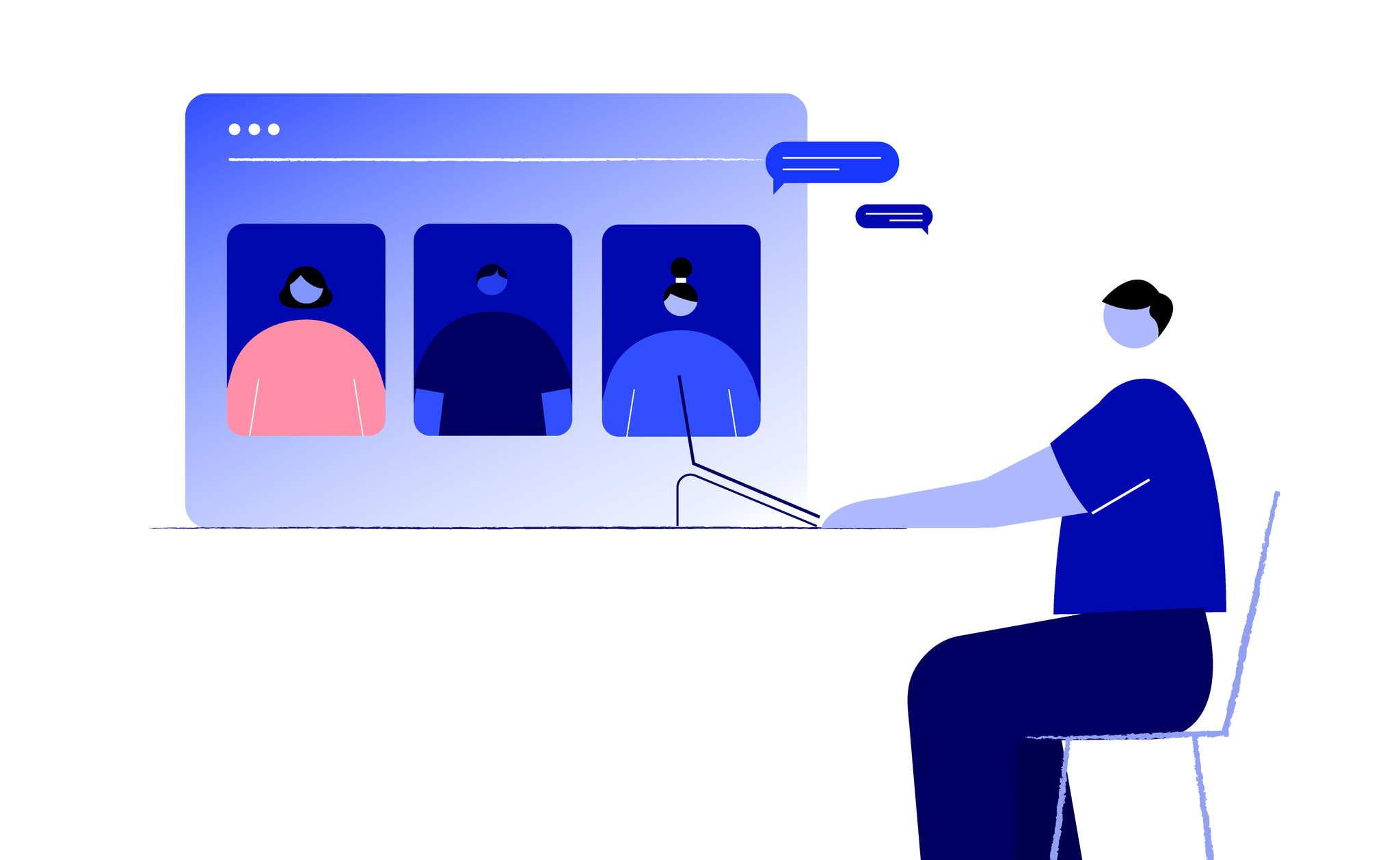 What Are the Benefits of Screen Sharing?
Any way you implement it, screen share ups the engagement and productivity factors of your virtual meetings.
Get More Done
Up to one-third of America's 11 million daily meetings are unproductive, and that unproductive time can cost upwards of $37 billion a year. With screen sharing, you can get things done faster in meetings. No more wasted time as everyone turns to page 10 in their PDF files or tries to navigate to a particular page on your site. Screen sharing allows meeting attendees to easily show what everyone else needs to see.

Enhance Focus
Before screen sharing was available, if you wanted people to view the same document or file during a virtual meeting, you'd have to send out copies and have people follow along. It's difficult to know if they got distracted and lost their place. With screen share, you can keep everyone on the same page — literally.
Encourage Interaction and Engagement
Screen share makes team conversations more dynamic. Team members can comment on what they see on the shared screen. They may also share their screens if they have something to contribute, and help people feel more engaged.
Collect Real-Time Feedback
You can email a document to your team and ask them to share what they think, but there wouldn't be an easy way for the various team members to discuss and talk with each other. And if you have to ask follow-up questions, you have to wait for their reply. Screen sharing solves these issues.
Improve Customer Satisfaction
When you use screen share to provide customer support, especially if you're in the tech or software-as-a-service (SaaS) industries, you can resolve problems faster and with less stress on the customer. It can even help you bring up your customer satisfaction (CSAT) score and other important customer service metrics.

Screen Share Etiquette: How Do You Do It Professionally?
As with any meeting tool, there are rules of etiquette involved in using screen share. Mostly, it comes down to respecting other people's time and keeping your private material out of your screen share.
Here's what you need to know before screen sharing:
Do a test run beforehand. If you've never shared your screen on a particular platform or haven't done it in a while, practice before the meeting to make sure you know how to do it. That way, attendees won't have to wait for you to remember where to click.
Have the media you want to share ready. You should get to anything you need for the screen share in three clicks or less. Planning to share videos, audio files, or presentations? Make sure you can play them before the meeting starts. Need to talk over the videos or presentations? Confirm that you can do so without interrupting the shared audio.
Clean up your desktop. If you're planning to share an entire screen, get rid of visual clutter. Close or minimize irrelevant windows. If you're sharing a particular window, pull out the tabs you don't need and put them into another window that you can minimize.
Mute notifications or close other programs. Think about what notifications you get on the device that you'll screen share from. Silence them so they don't interrupt your screen sharing.
Help attendees to prep. If you plan to use screen share in your meeting and your team isn't familiar with the process, send out a how-to link or guide. Encourage everyone to try out the tech beforehand so things go smoothly.
Start Screen Sharing Today
Screen share does great things for your meetings, and it's easy to learn too. With Dialpad's video conferencing solution, you can share your screen with a single click and decide what you want (and don't want) to share. Help your team stay engaged and your customers get the support they need.

Beyond just screen share, our product also helps you assign and create action items in real-time so that no task is forgotten. We also have built-in Voice Intelligence to help capture meeting notes and help you can focus on your conversations. You can also refer to our blog post for more tips and best practices for video conferencing.
Take your virtual meetings to the next level with Dialpad!