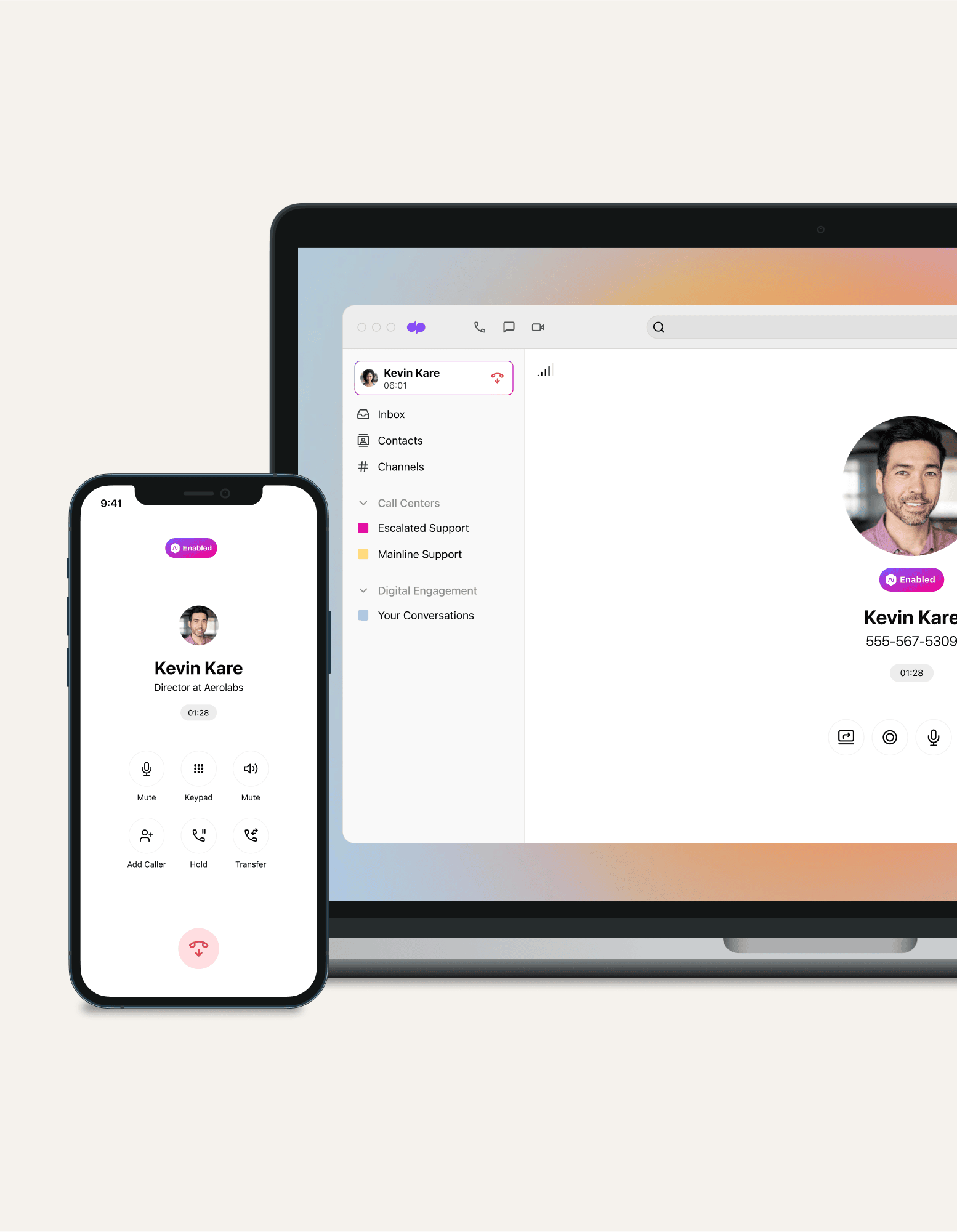 Enterprise unified communications
Need help managing your communications? Dialpad is an AI-powered collaboration platform that can handle everything from voice calls to video meetings to messaging. Book a product tour to see how it works!
Any large company aiming to thrive in today's competitive marketplace needs to have complete control over its internal and external communications. Harnessing the power of an enterprise collaboration solutions or unified communications (UC) platform one way to achieve this goal.

We're going to take a closer look at these platforms and the communications technology behind them to provide you with all the information you need to make informed decisions. This guide is aimed at enterprises, so we're going to discuss each point from that perspective.
What does "unified communications" mean for enterprises?
Unified communications generally means that most of an organization's primary communication methods (except email) are handled by a single cloud service. This includes voice and video calling, messaging, and sometimes SMS/MMS. Ideally, the UCaaS platform would handle all incoming and outgoing communications for the entire enterprise organization.
"But wait," you might ask. "Aren't contact centers part of the organization, too?"
Yes, they are! The way that contact centers operate demand specialized functions and technologies, which is partially how Contact Center as a Service (CCaaS) came about.
Yet despite the differences, the communication channels used to talk to your teammates and customers don't vary that widely. Phone calls, video calls, team messaging, live chats, social media messaging—those cover pretty much all the commonly used channels.
And so in an ideal world, any enterprise with a contact center should be able to enjoy both UCaaS + CCaaS functionality, in the same app—right?
The unfortunate truth, however, is that most UCaaS or unified communuications providers only whitelabel or partner with CCaaS products from third-party vendors and vice versa. This can give basic functionality, but often leads to an inconsistent and disjointed user experience.
Still better than no UCaaS product at all, right? Maybe (we'll explain below).
✨ Learn why Gartner® named Dialpad a Visionary
Learn why Dialpad was named a Visionary in the 2022 Gartner® Magic Quadrant™ for Unified Communications as a Service!
How enterprises benefit from unified communications
Hybrid and remote teams collaborate more effectively
Enterprise unified communication platforms have only become more useful (and widespread!) in the wake of the pandemic as more organizations are turning to hybrid or remote work.
An enterprise unified communications system is typically considered to be cloud services, and it'll rely on VoIP (Voice over Internet Protocol) technology, which allows calls to be made over the internet. The main benefit of enterprise VoIP is that it allows your teams to communicate seamlessly from anywhere in the world with nothing more than a softphone app and a computer or cell phone:

You can also benefit from video conferencing in place of in-person meetings to enhance remote and hybrid collaboration. For example, you can host meetings that your employees can join from anywhere, including on their mobile devices, helping them feel connected and improving their productivity as a group.
Good UC and collaboration platforms will come with tools like screen sharing, call transcription, virtual whiteboards, and file sharing (either as a standard feature or available through native integrations), and thus creating a digital workspace for your global team. Some UC platforms can also be accessed from any device, so employees can connect with each other whether they're using a PC, Mac, iPhone, or Android phone.
Delivers cost savings on multiple fronts
One major advantage that comes with modern UC tools is the fact that you're not reliant on hardware.
Let's put that into perspective. If your office uses traditional desk phones to cover your telephony needs, you'll need to pay for a new phone every time you expand or bring on new hires. You'll also likely need to pay to have that phone set up with your company network.
On the other hand, UC solutions work on any device; for instance via softphones on PCs or laptops. That means you don't need to pay for installation or new hardware. What's more, some on-premises PBX solutions charge extra for basic functionality like conference calls. UC solutions, however, almost always fold all of that into their pricing plans.
With UC platforms, you don't have to pay for maintenance and repair costs. Your service provider is responsible for keeping your platform up and running, which saves you the expense of upkeep and updates.
Able to scale up or down as needed
The ability to add extra users without complex and costly hardware installations makes scaling much simpler and faster. Enterprise UC makes it possible to spin up a new office in minutes, and the technology also enables an entirely remote workforce on a global scale.
On the other hand, you might want to scale down your operations when business is quiet, and UC solutions let you do that just as easily. You can typically do all the adding and removing yourself from a central dashboard or portal, without having to call in the IT team.
Dialpad's collaboration platform, for example, lets you both add and remove many users with just a few clicks. This means that if you need to spin up a new office or onboard a hundred new employees, you can do that easily—even if your IT team is remote:

Analytics that can track and measure call length, volume, and more
It's crucial to measure your key metrics to see where improvements are required. A good UC enterprise platform will include analytics and reporting, allowing you to measure things like missed and abandoned calls:


Dialpad, for instance, even has AI-powered real-time transcription and sentiment analysis, so you can spot if a call's going south or if a particular agent needs extra training.
Simpler management and maintenance than on-premises solutions
We've touched on this already, but enterprise UC management is considerably simpler compared to on-premises solutions. With a UCaaS solution, you don't have to worry about maintaining servers or wiring, because you don't have any! Your provider owns and maintains the entire system, including updates and upgrades which are rolled out automatically (with no disruption to business).
You might choose to buy VoIP desk phones from your vendor, but they're typically easy to set up—just plug in and go. Or you could have your employees access the system through a softphone app from their own devices.
Must-have features for enterprise unified communications solutions
Now that we've covered the basics of UC enterprise technology, we're going to show you which features you should look out for when you're searching for your own unified communications solution.
The bare necessities: Call forwarding, call routing, and voicemail
Let's start with the nuts and bolts. No UC solution should leave you short on fundamental features like call forwarding, routing, or voicemail.
Your UC solution of choice should, among other things, act as your enterprise phone system. That means it's got to come with the kinds of features you'd expect from an enterprise PBX system—and then some.
UC systems that let you forward calls create a better user experience for both your teams and anyone contacting them. That's because callers can dial your main phone number, and reach you wherever you are—even if you're not in the office. Whether on your cell phone, at another business location, or at home, you'll never miss a call again.
Here's how you can easily add forwarding numbers in Dialpad, for instance:

For contact centers, you'll want to keep an eye out for fully customizable call routing. Routing calls should come standard for a contact center-focused solution, because call routing makes it possible to work with large teams of agents, each of whom have specific specialties and are assigned to specific products or services. It also helps with mapping the customer journey, since you can see exactly to where customers were directed.
It can also be useful for out-of-hours calls because you can direct those to active agents and/or automated services with self-help advice.
Your employees aren't always going to be available to answer the phone, though. This doesn't need to be a problem—that's what voicemail is for.

Your UC solution should make it easy for employees to access their voicemails without having to enter long passcodes, and better yet, it should offer transcriptions for voicemails, making it easier to see what's been said.
Security features and compliance measures
The bigger your company, the more potential cybersecurity risks you face. The complexity and size of your systems simply make more room for possible vulnerabilities. That's why enterprise-grade security is an absolute necessity when it comes to any software solutions you adopt.
Your communications should be secure and private at every step. Enterprise-level encryption using TLS (Transport Layer Security) protects your calls and other communications, while features like role-based access and single sign-on will give you more control over your system's accessibility.
Cloud-based admin
Your system admins might choose to work remotely sometimes, and with cloud-based admin, that's no problem at all.
The big advantage of anything cloud-based is that it's easily accessible from anywhere. When you extend that same rule to system administrators, it becomes much simpler to manage a UC system regardless of where you're located.
That also means that out-of-hours emergencies are much easier to fix. Admins don't have to travel to the office to implement emergency measures; they can just do it from their mobile device, from the comfort of just about anywhere.
Fully integrated contact center
Enterprises are likely to have at least one contact center, and often more if they're multinational. If you have a fully integrated customer engagement solution, your contact center teams will be able to connect with customers just as easily as with other internal employees, and from the same platform. This improves productivity by reducing time spent switching between apps.
Browser-based application
As useful as it is to have a dedicated app for your UC solution, sometimes you won't be able to access that app for any number of reasons.
That's what a browser-based application is for.
Browser applications should be just as feature-rich as in-app alternatives. In other words, employees shouldn't have to do without any features just because they're not accessing their accounts from the official app. It should be easy to log in so that no one's discouraged from using the browser version.

Built-in AI
Artificial intelligence is increasingly used in business communications, so if you want to future-proof your company, look for a solution that has AI features built in.
AI can give you features like real-time transcription of calls and meetings, visual voicemail, and live coaching. Dialpad Ai, for instance, provides all of these AI capabilities and more, such as Real-Time Assist cards that pop up to help agents, triggered by keywords:
It also does sentiment analysis on customer interactions, which helps managers to spot tricky calls and jump in to help if needed.

4 questions to ask before your enterprise moves to a unified communications platform
It can be daunting to jump straight in with a new solution, particularly if you're not sure yet whether it's the right move for your enterprise.
Don't worry though. Simply ask yourself these four questions, and you'll quickly see whether switching to a unified communications platform is the best choice for your business:
How much is your budget?
How much room do you have in your budget, and how flexible is that space? You'll have to know the answer to this before you can move forward.
It's always a good idea to be as clear as you can be about your budget upfront. This prevents you from choosing solutions you can't afford, or perhaps even worse, skipping out on add-ons because you didn't realize you could easily fit the extra charges within your budget.
Once you've figured out how much you can spend and how flexible that amount is, you can start looking more closely at how realistic a UC solution is for your business.
What's in your current communications tech stack?
Consider your tech stack closely and critically. Do you have a lot of communications apps that fill a similar niche? (For example, do you have a separate IVR or Interactive Voice Response system from your phone system platform?) Are your communication channels split across a lot of different applications, and if so, does it cost your business extra to pay for each individual one?
It's not uncommon for enterprises to have hundreds of apps—many of which go unused—so these are the kinds of questions you'll want to ask, not only yourself, but also every org in your company.
Also, knowing what sorts of communications tech you've got already will help you figure out what you need from a prospective new solution. That's always helpful when it comes to configuring your ideal UC solution.
What's in the rest of your tech stack, and can the new platform integrate?
This question carries over from the previous one. You've probably got tech for other purposes besides communication, so what does that tech look like? Does each app "talk" to each other, or do they exist independently?
You'll need to know all about how your tech tools operate in the context of your business to figure out the best fit for your new platform.
Once again, you might find that the UC platform you choose needs to have interoperability. If you've got specific CRM software, for example, you may be able to integrate that content into your UCaaS solution if you opt for a provider that offers lots of integrations and endpoints.
For example, Dialpad integrates with a range of enterprise business software like Microsoft 365, Salesforce, and more. The Salesforce integration not only embeds a dialer directly inside the CRM, it also automatically logs activities and calls to reduce manual data entry work for sales reps and support teams:

What's your biggest pain point?
In most cases, you're not choosing a UC platform just because it's nice to have—you're aiming to solve a particular problem in your business. For instance, you want to break down silos and enable teams to collaborate more easily. Maybe your CSRs are struggling with their PBX phone system. Maybe you want more visibility into call performance.
Basically, you'll want to pick the UC that has the right features to solve your biggest pain point. If it can do other things besides, so much the better! (Of course, Dialpad helps you solve a raft of problems in one go).
Integrate unified communications into your enterprise
Enterprise unified communications empowers your teams to connect with each other and customers alike—across all channels. They make it easier than ever to work collaboratively, including for remote and hybrid teams. This makes UC solutions ideal for all kinds of enterprises, including multinational ones.
And with Dialpad, you get to take advantage of everything UC solutions have to offer.
Dialpad is a user-friendly collaboration and customer engagement platform that caters to all your business needs, from communications to customer intelligence. Thanks to its built-in Ai technology, Dialpad can do a live transcription of your call, derive real-time insights from conversations, and much more.
Put simply, Dialpad is designed for enterprises that want to find a single platform for all their communications, conferences, and even customer engagement. See how it works for yourself!

Looking for an enterprise unified communications platform?
Discover first-hand how Dialpad can help future-proof your business communications and enable better team collaboration. Book a demo, or take a self-guided interactive tour of the app on your own!

More enterprise collaboration resources

Frost & Sullivan Hybrid Workplace Report

The 2022 Gartner® Magic Quadrant™ for UCaaS
FAQs about enterprise unified communications
How does unified communications work?
Unified communications brings all your communication tools and channels together into a single cloud-based platform. That means you get access to standard telephony features, video calling, and text-based communication channels like messaging and email. This makes it a modern replacement for on-premises communication solutions, like PBX.
With the right solution, companies can also benefit from unified communications in contact centers. That's because truly unified communications combines UCaaS and CCaaS capabilities to help both customer service representatives and their managers be more effective at their jobs.
What are the 3 main components of unified communications services?
What channels does unified communications cover?
How does unified communications contribute to collaboration?