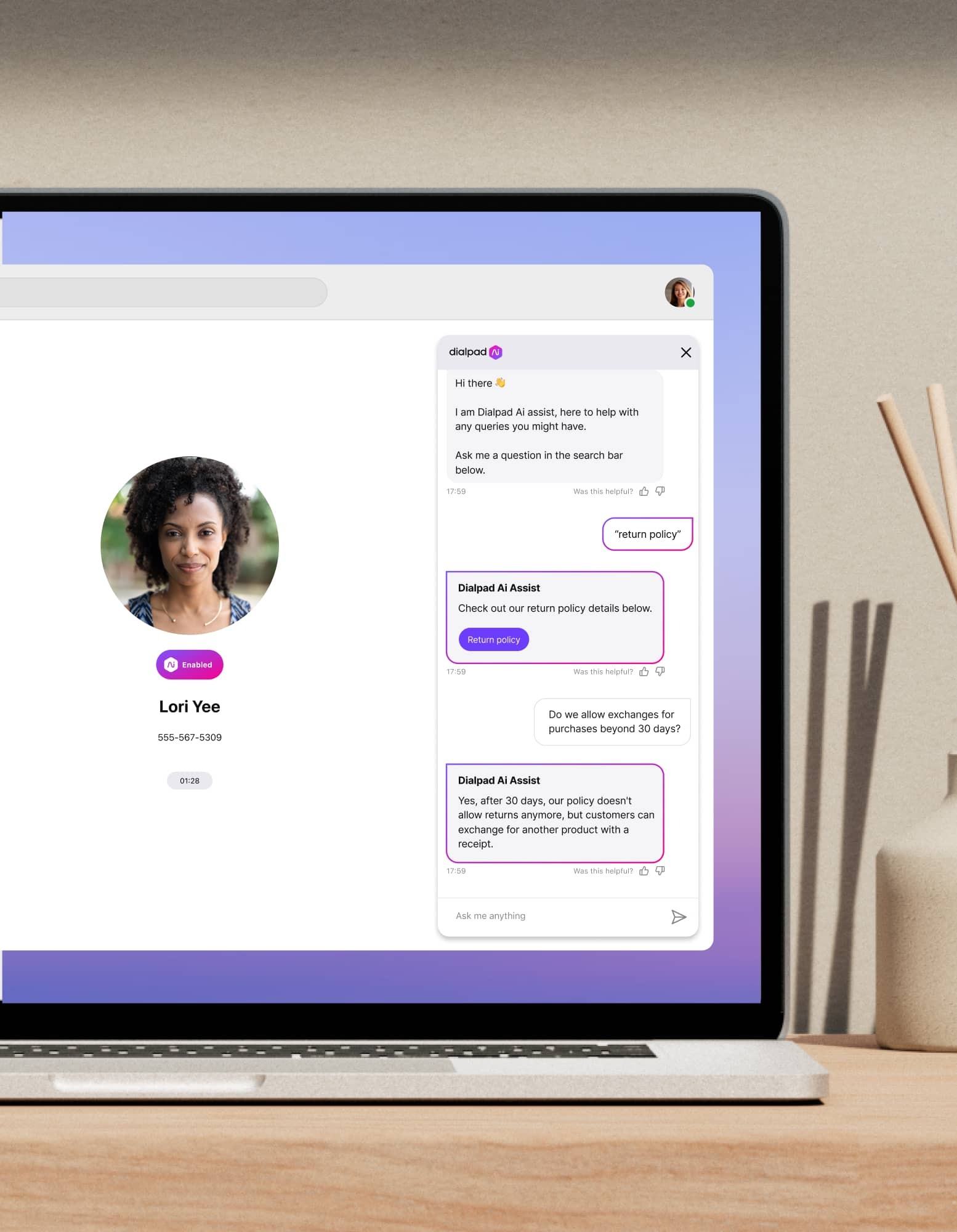 A Guide
Digital customer service
What do businesses need in order to provide a high level of digital customer service? Which social media channels should they cover, and how can AI make things easier for agents and supervisors? Keep reading to learn more. Or, take a product tour of Dialpad's AI-powered customer engagement platform to learn how businesses are using it to provide better service online!
Are your customers calling you with questions?
What about social media? Are they messaging you (or posting on your page) on Instagram, LinkedIn, Twitter, and so on?
Chances are, you aren't just getting phone calls anymore when it comes to customer service inquiries. That's why digital customer service is such an essential part of providing a great customer experience today.
Most businesses with digital-savvy customers have to monitor their website's live chat and social media pages too, while still providing a seamless, efficient, and personalized customer service experience. It's a tall order.
In this guide, we'll show you what you need to achieve this, including the tools you'll need, how you can empower your customer support agents, and how AI can make a lot of this much, much easier on you.
What is digital customer service?
Essentially, digital customer service is a way of providing troubleshooting support and answers to your customers who need help through online channels. This can include everything from self-service options on your company website to live chat and even social media.
Here's a quick overview of these examples of digital customer service channels:
Self-service
An online way for customers to find answers to their questions without having to contact your support agent. You've probably used this digital customer service channel before—these include online knowledge base and FAQs.
A decade or two ago, customers self-served on the phones too—through an IVR menu. ("Select 1 for store hours, 2 for refund policies…")
Live chat
Don't want to wait on hold? Some companies' websites have a live chat window where you can start a chat with a live agent. Typically, the wait is shorter (there are still queues for live chat!), and some people find this a bit more convenient than waiting on the phone.
Social media
Many customers today will also try to connect with a company for customer service on social media platforms like Twitter or Facebook. If they're nice, they'll direct message you privately. If they're not—or if they want to apply more pressure because the company isn't being responsive—they might make public posts so that everyone can see their complaints.
How can businesses build a better digital customer service strategy?
Here are a few things to keep in mind and/or do:
1. Clean up your website
First, it's important to have a clear and easy-to-use website that provides all the information that your customers need.
Now, if you run a mom-and-pop shop or sell crafts on Instagram, you may only have a social media page and not need a website at all. But for most businesses of a certain size, you'll need a website as your "online headquarters."
It'll be helpful to at the very least have an FAQ page (or a more robust Help Center) if you have more complex products or services, and a conversational AI or chatbot to help deflect questions.
With Dialpad, for example, you can set up an Ai Virtual Assistant on your website with the drag-and-drop builder—no need to code:


2. Monitor your social media profiles
If your customers are active on social media, you should also make sure you're responsive to customer questions on whichever platforms they (and you) use. It's important to prioritize here—if your customers don't use Facebook to communicate with you (or not enough to justify you monitoring it), then don't.
If your customers tend to just use LinkedIn or Twitter to talk to you, then focus your agents and resources there. Not every company has the budget and bandwidth to monitor every single social media channel, and unless you run an enterprise social media team, you'll be able to provide better customer service by focusing your efforts.
If you are monitoring multiple channels, use an omnichannel contact center solution that consolidates all these conversations in one place for you. This way, your agents won't have to toggle between four or five different windows and apps to check every platform's messages.
Dialpad, for example, lets customer service agents see all their chats, from voice calls to digital and social channels, in one place:


3. Optimize your self-service experience
One of the keys to a productive and effective team of contact center agents is to make sure they're not overworked and overwhelmed.
No matter how skilled your agents are, if they have to handle 1,000 chats an hour, they're going to underperform—and burn out, fast. Make sure you have deflections built strategically into your digital customer service strategy.
Is your FAQ or online Help Center thorough and clearly laid out? This will help the bulk of your customers answer their own questions instead of coming to your agents for help. What about your phone menu? Your auto attendant or IVR menu should similarly be well designed so that customers can find the information they need quickly on their own.
Once you've done this, you can go one level deeper on your website with a chatbot or conversational AI to add another layer of deflection so that customers have another source of information they can turn to.
In the next section, we'll dig deeper into why AI solutions (like conversational AI) are so crucial to success.
What can AI do as part of digital customer service software?
In recent years, artificial intelligence (AI) has become increasingly prevalent in customer service solutions. Its application can be seen in a number of digital channels such as live chat, virtual customer assistants, and even social media monitoring.
But besides providing timely automated answers for customers, there's a lot of other things that AI can do too. Here are a few examples.
Uncover more insights, more efficiently
One of the key advantages of AI is its ability to ingest large volumes of data quickly and help you take advantage of this data and customer feedback.
For example, one of your most valuable sources of data as a business is your everyday customer conversations. But listening to each call recording from beginning to end is way too time-consuming. How can you pick out the useful nuggets quickly?
AI can help. With Dialpad's AI-powered customer engagement platform, you can create "Custom Moments" to track specific keywords and topics that come up in customer conversations. Say you want to see what customers are saying about a new feature, "Feature X." Just create a Custom Moment for Feature X, and Dialpad will help you track every time it gets mentioned:


Then, if you notice any anomalies, you can dig into the transcriptions or call recordings to get more context.
Another useful thing that Dialpad Ai can do is solve one of the biggest challenges that customer service teams have when it comes to collecting CSAT scores: the fact that not a lot of people actually fill out those surveys.
In fact (depending on the industry and specific business of course), we've found that on average only about 5% of customers actually fill out CSAT surveys. On a related note, usually only the angriest—and happiest—customers actually bother to respond to these surveys, which means your CSAT answers are likely to be very skewed and not representative of how your customers feel overall.
Dialpad's Ai CSAT feature is designed to solve exactly that—it can infer CSAT scores for 100% of your customer calls thanks to its hyper-accurate transcription feature. The result? A much more representative sample size for CSAT scores, and a more accurate understanding of how satisfied your customers really are:


Improve real-time assistance for agents
AI can also give agents information in real time when tricky questions come up. You've probably heard of call pops, Real-Time Assist cards, and so on—these are typically all just different variations of this concept.
Dialpad, for instance, has an Ai Agent Assist feature that does this, but what's unique about it is that it automatically searches all connected knowledge sources—even unstructured sources like PDFs and past customer conversations—for answers:


Not only that, Dialpad Ai can also suggest where there are gaps in your knowledge sources based on customer questions!
Automate tasks
Finally, AI can automate tasks for agents and supervisors that would typically require quite a bit of manual work and time, like data entry or answering super simple questions.
This is particularly beneficial in digital customer service when the business has to deal with a high volume of calls and inquiries on a daily basis.
For example, as we mentioned before, Dialpad Ai pulls up information for agents automatically—and it can even help supervisors by automating QA scoring, live coaching, and more!
What are the benefits of digital solutions to customer service challenges?
Being able to provide a high level of digital customer service gives your business quite a few advantages:
Increased customer service satisfaction
First and foremost, it's better for customers. It's more convenient for those who don't want to call you or talk to someone on the phone, or who might be busy during work hours when your support team is online. Many customers prefer getting digital customer service simply because they have busy schedules and don't want to wait on hold..
Digital channels like chatbots and website FAQs are available 24/7, meaning that customers can get help when they need it.
Greater operational efficiency
Digital customer service is often less expensive for businesses than traditional methods like phone support because typically, an agent can handle multiple chats but just one phone call at a time.
It gives your business more options as well—it's probably unwise to get rid of phone support completely (depending on your industry), but having more cost-effective support options can still bring down your overall support costs in the end..
That's especially if you're using automated forms of digital customer service, like online FAQs and chatbot support, which will free up customer service agents to focus on more complex queries.
Better information on customer engagement
Finally, digital engagement on channels like live chat and social media can make it easier for you to collect and uncover valuable insights about your customers' needs and pain points.
With phone calls, traditionally supervisors would have to listen to the recordings from beginning to end, take notes, and gather customer intelligence that way. With AI, that process becomes quite a bit easier because AI can transcribe calls and even note down key highlights:


With live chat and social media conversations, you can also get these searchable transcripts, which can be analyzed by AI to give you customer insights that are easy to sort through and use, straight from the source.
Provide a better digital customer service experience
If your business' customers are reaching out to you online—whether it's live chat on your website, social media, or WhatsApp—your agents need to be there to answer those questions.
Instead of making them use a disparate bunch of software and tools to manage all those different conversation threads, why not give them one centralized platform where they can get a birds-eye view of everything in one place? Not only will it make them more productive, it'll also help supervisors and your executive team get a clearer understanding of how your customer service is performing because you won't have to do digging for data in different solutions.
See why businesses like RE/MAX and Randstad are using Dialpad to provide excellent digital customer service!
Want to provide better customer service online?
Book a demo of Dialpad's AI-powered customer engagement platform, or take a self-guided interactive tour of the app on your own!