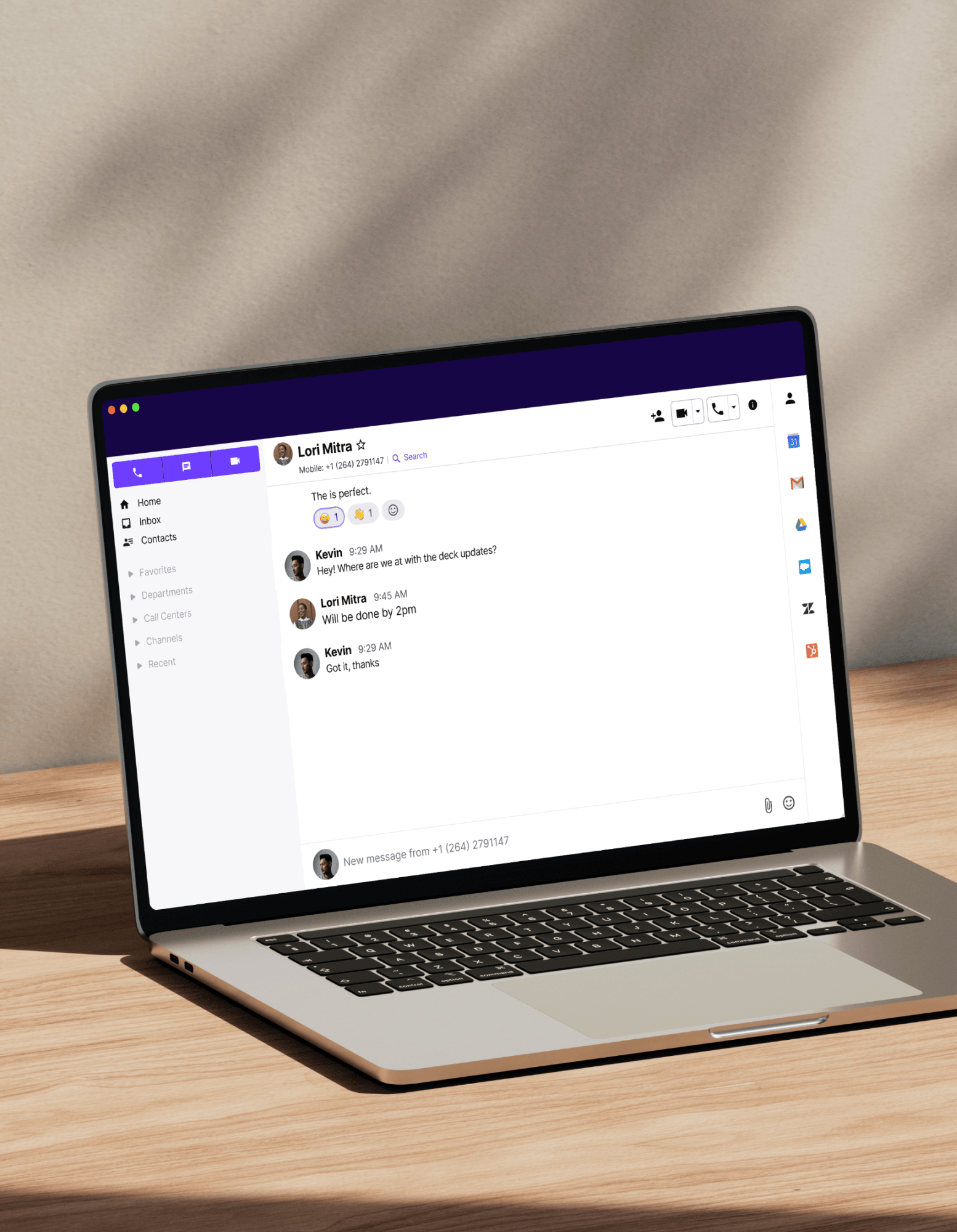 SMS recruitment
In today's world, SMS recruitment is one of the most popular and effective ways to reach candidates. Sign up for a free trial to get set up with a virtual phone number and see how Dialpad's AI-powered customer engagement platform can help empower your recruitment strategy, or take a self-guided interactive tour of the app first!

How does SMS recruitment work?
SMS texting is a convenient and efficient way for employers to reach out to job seekers. It's also a great way for job seekers to stay up-to-date on new job opportunities and connect with employers.
The first step in SMS recruitment is to find potential candidates. This can be done by searching online job boards, social media (e.g., LinkedIn), and resume databases. Once you have a list of potential candidates, you can start screening them by sending them a text message.
The next step is to schedule and conduct interviews. Sending another text message to the candidate to set up a time for a phone or video call can do this. During the interview, you can ask questions about their experience, skills, and qualifications.
With Dialpad, employers can use SMS to send mass recruitment texts, schedule interviews, send updates and interview reminders to candidates, answer candidates' questions, and even send job offers.

Job seekers can reply to these texts to express interest in a position and communicate quickly and easily with the recruiter.
The benefits of using SMS for recruitment
Faster, more direct candidate communication
Bulk SMS is a great way to reach a large number of people quickly. And because SMS is a more personal form of communication, the recipient is very likely to read and respond to a message that comes directly to their phone.
Higher open rate and response rate than emails
The average person checks their phone over 96 times a day, so you're more likely to reach them with a text message than an email. In fact, SMS has a 98% open rate, while email has only a 20% open rate.
Reduces both outbound and inbound phone calls
With SMS, you can reach a large number of people with a single message, and the response rate is usually very high—inherently reducing both outbound and inbound phone calls. (This makes SMS recruitment more cost-effective as well!)


Customize your caller ID
By default, your outbound caller ID is set to your primary, direct Dialpad number. But that doesn't mean you can't tweak it for one-off calls, or even globally. For example, you may want to customize your caller ID to your company name so candidates can recognize who's calling.

Keep your existing number
Switching to Dialpad doesn't mean you'll lose your phone number and recognition. Porting allows you to change service providers while keeping your existing number (and the trust of the job candidates who have it saved).


Truly unified communications
Dialpad brings all the recruiting technology and channels you use to communicate with candidates—calling, texting, video conferencing, and screen sharing—together into a single, unified platform. Not only does this help streamline recruiting efforts, but it also helps save time since all a candidate's details are laid out in one location. And if you need to search for past communications, they're so easy to find… All you have to do is type in someone's name and everything is right there.

Integration with your favorite tools
Dialpad integrates with other hiring tools like your CRM, staffing or recruiting software (e.g., Recruitly and Bullhorn), calendar, and email, so work happens in one place. No more app switching—just streamlined workflows. Or, build a custom integration with the open APIs.

3 ways to use SMS recruitment to improve the candidate experience
Send applicants updates
Texting candidates can be a great way to give them real time updates on the status of their job application, next steps in the process, or to let them know when new positions that match their qualifications become available. These notifications can help keep them engaged in the process and reduce the number of applicants who drop out throughout the recruitment process.
SMS updates can be sent automatically using an applicant tracking system (ATS), or they can be sent manually. When sending updates manually, it's important to personalize the SMS message and avoid using generic language. It's also important to consider the timing of when SMS updates are sent, as sending them too often can be overwhelming for applicants and lead to them opting out of receiving future updates.
Interview scheduling
Scheduling interviews via SMS saves time and ensures that your interviews are conducted promptly. SMS interviews also allow you to keep track of your interviews in one place, and they can be easily shared with other members of your team.

When scheduling an SMS interview, be sure to include the date, time, and location of the interview, as well as the name and contact information of the interviewer. It's also a good idea to send a reminder message to the interviewee a day or two before the scheduled interview.
Answer candidates' questions
You can use SMS recruitment to quickly and easily answer any questions that candidates may have about the job posting, interview, or hiring process.

What's the best SMS recruitment platform?
It might be Dialpad, which gives you a fast, efficient, and convenient way to find and screen candidates for job openings. If you're looking for a new way to recruit, try SMS recruitment with a free trial of Dialpad or take a self-guided interactive tour of the app!
FAQs about SMS recruitment
What is SMS recruitment?
SMS recruitment is the process of using text messages to communicate with potential candidates about job openings. This process can be used to find candidates, screen them, and schedule and conduct interviews.
SMS recruitment is a relatively new recruiting method, but is quickly gaining popularity because it's fast, efficient, and convenient.

What is a good recruitment text message?
How do you write an SMS interview?