Back to Blog
Recruitment technology: Trends, benefits, and choosing the right tools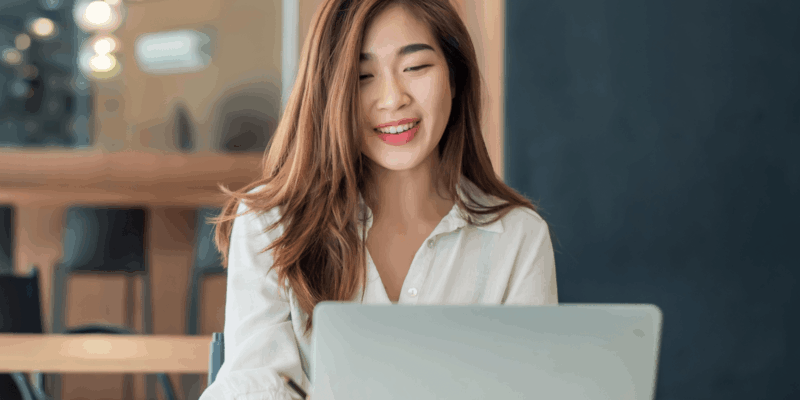 Recruiting the right candidates for a business can be a difficult and time-consuming process, but with the right technology, it doesn't have to be.
Leading a Talent Acquisition team here at Dialpad, we've got some innovative and pretty unique tools at our disposal when it comes to recruitment technology.
In this blog post, I'll walk you through these tools, some of the top trends we're seeing in recruitment, and ways to streamline and improve your recruitment process.
What is recruitment technology?
Recruitment technology refers to the tools and software that help recruiters manage their workflows, from sourcing candidates to scheduling interviews and getting feedback from internal stakeholders (or clients, if they work in a recruitment firm).
These tools can do a wide variety of things, from automating manual tasks (such as posting job ads), to collecting applications and making it easy to track candidates through their application journey.
What types of technology are useful for recruiting?
Here are some of the most useful types of technology for recruiters:
Applicant Tracking Systems (ATS)
An ATS is a piece of software that helps recruiters manage job applications, review resumes, and track candidates throughout the hiring process. This makes it easy to keep track of who you need to contact and when, as well as quickly identify qualified candidates from your pool of applicants.
Greenhouse is one example of an ATS:


Unified communications platforms
Communications are another key part of a recruiter's everyday work. From making phone calls, to having video interviews, to texting candidates with updates, a recruiter needs to be able to access multiple communication channels easily.
Our team uses Dialpad to do all these things from a single app:

With this one recruiting tool, our recruiters can conduct live interviews with candidates over video calls, send text messages, and call internal hiring managers with updates without having to toggle between three or four different apps.
On top of that, Dialpad Ai can also transcribe calls in real time, log any follow-up tasks, and send the call summary to attendees afterward:
If your recruitment firm does a lot of cold calling or high volume outreach, you may need a sales dialer or power dialer too. These can help automate part of that process and help recruiters connect with more candidates in less time.
For recruiters who make a lot of calls, they also likely end up in voicemail quite a bit—Dialpad's voicemail drop feature lets them drop a pre-recorded message into the call with just a click instead of having to recite the same voicemail message every single time:
It may not seem like much, but over the course of a week, this can save recruiters hours of time.
Real-time recruiter coaching tools
Whether you're ramping up new recruiters on the team, or just want to be able to provide a consistently excellent candidate experience, real-time coaching tools can be very helpful.
With Dialpad Ai Sales Center, for example, our recruiters can easily get real-time insights and visibility on performance metrics like call volumes, call duration, and more:

Dialpad Ai can also analyze the sentiment of calls in real time, which means a supervisor or manager can quickly spot if a call with a candidate is going poorly, and scan the live transcript to get more context before deciding if they need to jump in and help the recruiter:
Not only that, when recruiters do have great conversations or interviews with candidates, we can use those call recordings to create different playlists. This is super helpful for onboarding new recruiters, since we can easily build playlists of examples of "good" candidate calls that new hires can listen to and learn from at their own leisure:

Conversational AI
One of the biggest benefits of using recruitment chatbots or AI self-service tools is that either method can automate repetitive tasks in the recruiting process, such as answering candidate questions, scheduling interviews, and sending reminders.
Recruiters are often busy and can't always respond quickly to candidates. By providing quick and efficient responses to questions, conversational AI can help with candidate engagement and create a positive impression of your company for potential employees.
If you invest in a conversational AI like Dialpad's Ai Virtual Assistant, there is even a way to escalate from a self-service interaction with the AI to speak with someone live if you can't find an answer to your question. It's easy to set up a conversational flow with the drag-and-drop builder—it takes just a few clicks:


This will lead to good reviews of your hiring process on popular third-party career sites like Glassdoor and LinkedIn—which widens your talent pool and can lead to more applications for open positions in the future.

Job boards
Job boards are websites dedicated to listing job openings from various employers. You're probably already familiar with them—they range from generalist sites like Indeed or Glassdoor to specialized niche sites like Stack Overflow or We Work Remotely for those looking for remote work opportunities.
A good recruiter will have these job boards' sites bookmarked so they can quickly update job postings there.
Top recruitment technology trends
Recruiters have more options than ever before when it comes to finding and hiring top talent. Here are a few key trends to be aware of when considering which technologies to use in your recruitment process.
Automation
Automated processes are becoming increasingly important for recruiters looking to streamline their operations.
AI-powered tools can automate tedious tasks like responding to basic questions, which allows recruiters to save time while being able to vet more candidates.
Instead of having to manually take notes, for instance, our recruiters have AI-generated transcripts and summaries ready for their review after every candidate call:


Remote-friendly processes
Video interviews are becoming an essential part of the hiring process for many companies, allowing recruiters to conduct initial interviews without having to meet candidates in person.
These remote interviews can save recruiting teams a significant amount of time and money while still allowing them to do a comprehensive evaluation of the potential hire.
Today, with more and more companies hiring distributed teams, remote-friendly communication tools are essential. We use Dialpad to do this every day as we've expanded hiring globally, and it's easy to both host and join virtual meetings, even from a web browser:

"Hidden" talent networks
Sure, there are many job boards that people commonly use, like LinkedIn, Glassdoor, and so on.
But for many specialized roles, there are also Slack communities and other social channels or websites that also allow jobs to be posted (often for a fee). There are UX and Design-specific websites, Content Marketing Slack groups, and many, many more.
The benefit of using these groups is that you can unlock niche communities of highly specialized candidates—these Slack communities are often built around knowledge sharing and support, with job postings being just one channel of many others on different topics. Depending on the roles you're hiring for, these hidden talent networks can be a way to find qualified applicants without the competition of posting on, say, LinkedIn. (Get more recruiting tips here.)
Looking for the right technology for recruitment? Some tips to consider:
Does this technology fit into your existing workflows?
First, it's important to make sure that the technology you select fits into your existing workflows and systems. If you're using other software already, for instance, it should be easy to integrate together with the rest of your software stack.
For example, we use Google Workspace (Google Calendar, Gmail, etc.), so it helps that Dialpad integrates with Google Calendar to automatically populate meeting invites with the link to join the call:


Can this technology scale with you as your company grows?
The other question to ask is whether the technology can scale with your team as you grow. For example, if we needed to add a few more contract recruiters, we can easily set them up with phone numbers and accounts in Dialpad from the online dashboard:


But for recruiting teams using older on-premises or landline-based phone systems, setting up new accounts like this would take quite a bit more time (and resources).
Know what problems you're trying to solve
It's also important to make sure that the features of the tool work for you and meet your specific needs. There's a wide, wide variety of recruiting technology out there today, and if you don't start with some idea of your goals in mind, it's easy to get overwhelmed by all the possibilities.
Do you need something that can help manage job applications? Or do you need something to help you conduct video interviews? Be sure to take into account not only your team's needs now, but also where your company wants to be in terms of growth goals a year or two down the line.
Streamline your recruitment communications with Dialpad
From remote-friendly communication solutions to Applicant Tracking Systems and niche job boards, there are many tools at your fingertips today that can help you get more qualified candidates in the door.
At Dialpad, not only does our own Talent Acquisition team have the luxury of using an AI-powered solution that makes our everyday activities easier, we also have some of the biggest recruiting firms in the world, like Randstad, as our customers.
See how your recruitment firm can source, interview, and hire more efficiently with Dialpad!
See what kind of recruitment technology Randstad uses
From interviewing candidates to keeping clients up to date, Randstad uses Dialpad for its day-to-day communications around the world. See how your recruitment firm can do the same with a demo, or take a self-guided interactive tour of the app first!
Recruitment technology FAQs
How has technology changed the hiring process?
In the past, recruiting was a slow and tedious process. Recruiters had to manually review resumes, conduct interviews, and coordinate with hiring managers. This process required a lot of time—and resources.
Today, recruiting technology has revolutionized the hiring process. Automation tools can help recruiters quickly source qualified candidates by scanning resumes for keywords. Video interviews make it easier to conduct initial screenings without having to meet up in person, saving both time and money on travel costs for recruiters. Together, these recruiting technologies are empowering talent acquisition teams to work productively from anywhere, while providing an excellent candidate experience.
What is AI technology used for in recruitment?
How is technology used in sales recruitment?