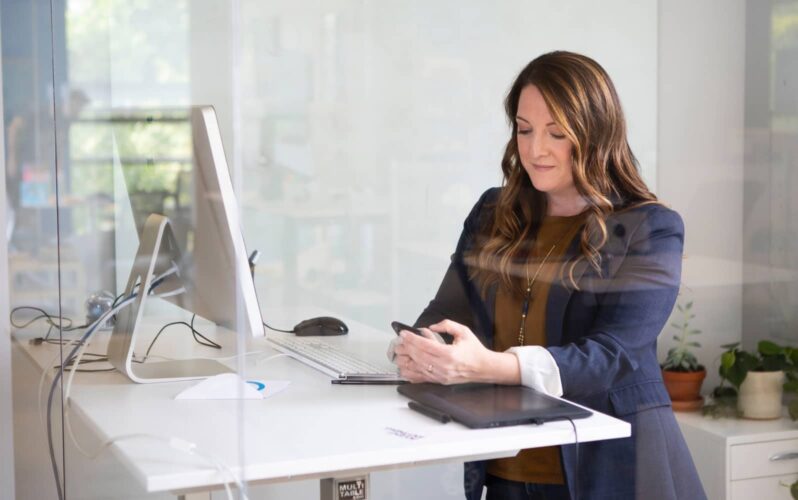 Segment
Industry
Integrations
---
Parkway Solutions is an accounting firm that helps small and mid-sized businesses with all their accounting and payroll needs. They have only a small team of three, but each month they assist over 30 clients all around the US, which requires communication over the phone, text, and email.
How do they do it?
For a while, Parkway Solutions was facing a communications problem. Matthew Fulton, CTO of Parkway Solutions, was tired of the poor audio quality and difficult setup their existing platform provided. He was also not happy about having to give out his personal cell phone number to clients.
So he began looking at different solutions, but either they lacked some important features he was looking for, or they were frustratingly difficult to set up and scale.
"
Your phone is like your first point of contact between you and your customer, and if you don't show up with your A-game, you might not get hired. Dialpad made it very easy for us to show up—on every call.
"
Matthew Fulton
Chief Technology Officer
"It took 20 minutes and we were good to go"
There were a few key factors that Matthew considered when looking at communications platforms. First was the call quality, because if the call doesn't get through or the conversation is muffled, clients won't be happy and you're going to lose business. So Dialpad's immediate rollover numbers and high uptime made it an appealing option.
Another key factor was ease of use. With Dialpad, Matthew can pick up his desk phone, cell phone, or computer and make calls through the app. He can even take business calls on his personal cell phone through a business number, so he never has to give out his personal cell number again:

"
It took 20 minutes per location and we were good to go.
"
Matthew Fulton
Chief Technology Officer
Another important factor was the ability to scale. Parkway's team can easily make adjustments to their workflow as well as add new seats and phone numbers in Dialpad:

This has helped keep Parkway's employees and departments connected as they grow without missing a beat, and they could even quickly customize the call routing flows themselves.
"
When we first got it set up we didn't have an administrative assistant, so we used the virtual tree to easily route people. Then when we brought the administrative assistant in, we turned that off so that a human could take the phone calls and direct them to the right person, because that human interaction is so important.
"
Matthew Fulton
Chief Technology Officer
A clever way to use SMS messaging
Fun fact: Parkway uses Dialpad for more than just voice calls—agents can get in touch with clients through video calls and SMS/MMS messaging too.
They can send messages from their phone or computer—and it's Matthew's preferred way to communicate:
"
I hate email. With a passion. If your language in an email isn't just right on the dot you can come across wrong. A text message is way less formal and allows you to give a quicker response too.
"
Matthew Fulton
Chief Technology Officer
Plus, Parkway Solutions found a clever way to use Dialpad's text messaging as part of their business processes. Whenever they need to use two-factor authentication for business accounts, they can use a Dialpad number that's created specifically for receiving authentication messages. That way, it's available to whoever needs it.
"
We've actually done something quite unique with Dialpad, and it has to do with multi-factor authentication. Dialpad was one of the only solutions that's a VoIP system that also has text messaging. So we set up a special phone number in Dialpad (which cost basically nothing) that became our security line for multi-factor authentication.
"
Matthew Fulton
Chief Technology Officer
Now, whenever Parkside needs to access an account with multi-factor authentication, the code is sent to the shared authentication number. It's made their workflow so much easier. "No matter who it is that needs it, we all have access to that same number to get the text message. This actually solved a major, major pain point for us," says Matthew.
As for video meetings, not only do they provide crystal clear video and chats at a moment's notice, they come with plenty of helpful features (and some fun ones, too). For instance, their team can set up their own waiting room music to play before calls start. Matthew decided to go with Rick Astley's "Never Gonna Give You Up," because he gets a laugh out of the idea of getting "RickRoll'd" while waiting for a call. (And who can blame him?)
Whenever a call comes in, they can also quickly see contextual information about the caller. What emails did they send? What files are attached to them? It's all available for the agent. And they can quickly search call transcripts, text messages, and email conversations to find important information whenever it's needed.
"
There have been numerous times where I knew that somebody had said something to me in a text and needed to find the exact message. I could search for it and find it across the entire ecosphere of our Dialpad platform.
"
Matthew Fulton
Chief Technology Officer
Real-time transcription and sentiment analysis, just a tap away
Dialpad makes life easier for Parkway's team not only during the call, but after as well. During each call, Dialpad's artificial intelligence, Dialpad Ai, automatically transcribes the conversation, including highlighting questions, action items, and other key details. So when the call is done, they can easily go back and pull anything they need from it.
The Dialpad Ai transcripts have also been great for identifying caller sentiment in real time—and after the call, they can use those cues and other information to help with training, so agents are better equipped to land their deals:
"
Having the ability to go back through those transcriptions and see the emotions—talk about buying signals! And if you have a call center, you can use that information for training and recognizing different buying signals or when clients would be unhappy.
"
Matthew Fulton
Chief Technology Officer
Each call provides valuable insights, and Matthew and the rest of the team at Parkway can access analytics for their calls any time.
"I love the analytics," says Matthew. "The way we use it is probably less 'formal' than others, because I don't use it to judge a person's output. I look at the number of calls that come in, the number of calls answered, the number of calls missed (very important) and then the time of calls and average amount of time, as well as text messages."
All this information and more is readily available from a user friendly dashboard:

When it's all said and done, Matthew has simple advice for anyone considering a hosted communications platform: "You absolutely need to check out Dialpad. I love the fact that I can pick up my phone, my computer, or my cell phone, and I'm still reachable anywhere, even while keeping my personal number off my business card."
Managing an accounting or professional services firm?
Book a personal walkthrough to see how Dialpad can help you provide a better customer and sales experience, or take a self-guided interactive tour of the app first!