Customer Stories
How Dathic connects with clients across North, South, and Central America
Artificial intelligence (AI) is seeing more innovative uses every day, from AI-powered speech identification to digital marketing. One company making the most of the power of AI is Dathic, which uses an AI-powered data platform to help brands and retailers tailor their sales strategies and digital marketing campaigns to Hispanic consumers.
Laura Rocha, CEO of Dathic, realized that the company needed a better unified communications platform to streamline their business communications—Zoom and regular phone lines alone weren't cutting it.
Why? Well, without the ability to communicate with leads and clients across North, South, and Central America, Dathic was missing out on business opportunities up and down the continent. And because they couldn't track their sales reps' performances, they couldn't tell where to improve. (Plus, international calls were expensive, so using personal phones and Skype accounts wasn't very cost-effective.)

"We wanted to centralize the phone system so the whole team could communicate with clients in different locations without dealing with extra charges or too many phone lines."
Laura looked at a variety of communications platforms. Surely there was something out there that could provide voice and video calls from anywhere, detailed analytics, and affordable international calls… Right?
International calls, insights, and more
When Laura was looking for communications platforms for early-stage companies, she discovered Dialpad and the Dialpad for Startups program. There it was: a solution that was easy to use across countries, opened up direct lines of communications with international clients, provided analytics and insights, and was even within the company's budget.
The fact that it was accessible from anywhere, on a phone or computer, was a bonus.

"Local and international communication is so easy with Dialpad. We love that we can easily use it on our phones and laptops."
After a quick onboarding, Dathic was ready to go.
Now, Dathic uses Dialpad to connect with clients around the world. They can call directly or set up conference calls, and even flip calls between devices if they need to move from a computer to a cell phone (or vice versa):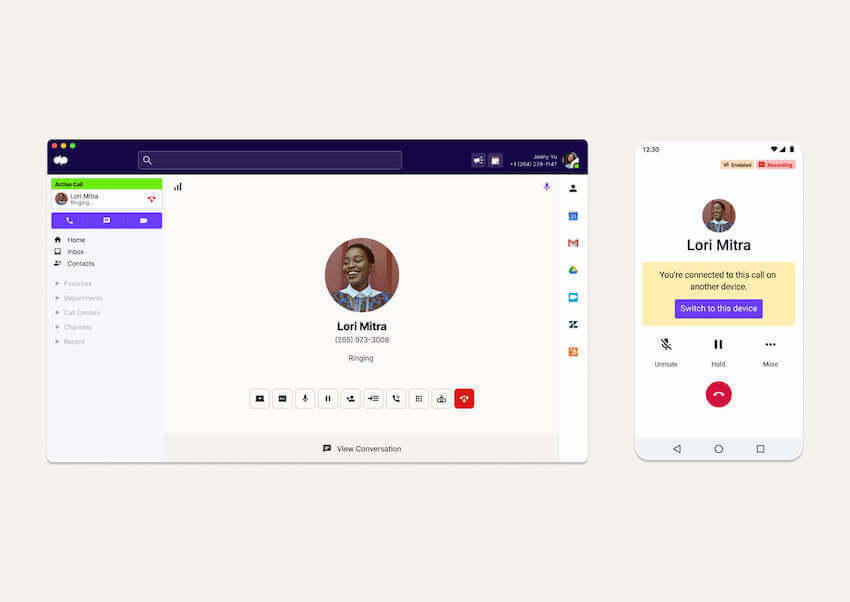 "With Dialpad, we're able to better serve our clients as they optimize their businesses. This has been essential for our business growth, as well as that of our clients."
"We're scaling faster than we ever could have before"
After switching to Dialpad, Dathic has been able to reach more leads and provide a more personalized customer service experience.
"As a startup, agility is of the utmost importance and with Dialpad we've been able to bring in more clients looking to reach Hispanic customers in the U.S. at a scale faster than we ever could have before."
Now, Dathic can set up virtual phone numbers for agents across the Americas. International calling is much cheaper too, since they can set up international numbers and make calls over the Internet. This helps keep Dathic's team connected with clients—and each other—no matter where they are.
In fact, since Dialpad allows Dathic's agents to contact clients across voice calls, video meetings, and messaging, it's easier than ever to get in touch. Imagine—no more having to schedule calls weeks in advance.

"Using Dialpad, it's easier to contact decision makers directly. Sometimes it's difficult to get Directors or VPs to jump onto a Zoom call, but with Dialpad we can reach them easily through SMS."
Oh, and there's also the cost savings. The Dialpad for Startups program made it incredibly affordable for Dathic to use Dialpad. (How affordable? How about a year of Dialpad for free?)
More insights, shorter sales cycles
What about analytics? Well, Dialpad's robust call analytics can delve into everything from the busiest times of the day to individual call lengths and customer satisfaction.
Now, it just takes a few clicks to see how agents are performing and provide help if they need it: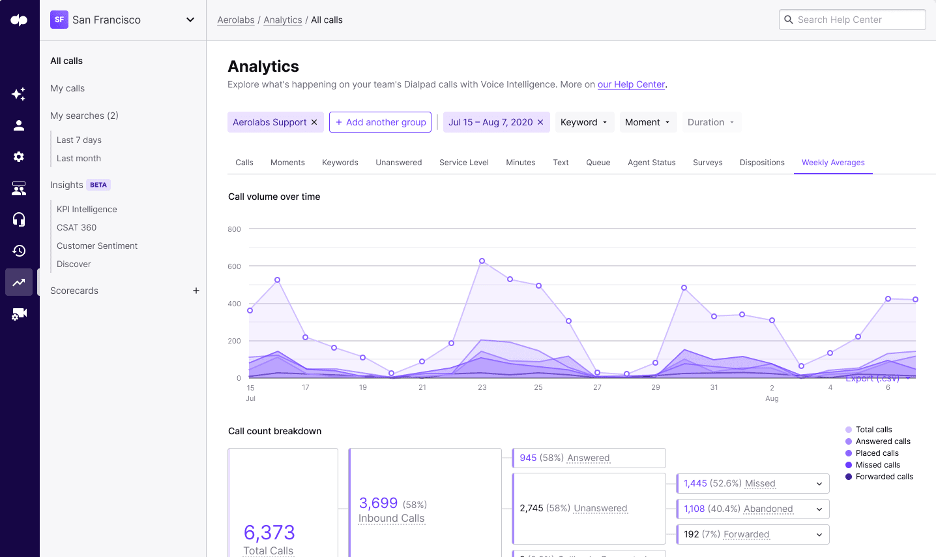 Thanks to the analytics, Dathic has been able to shorten its sales cycle. The team can look at how many calls they get each week and see how many are from new callers and how many are follow-up calls—then use those insights to guide their sales strategy.
Game recognizes game: AI-powered voice for an AI data company
Of course, as an AI-driven company itself, Dathic knows the value of artificial intelligence. So it's no surprise that they recognized the value of Dialpad's AI-powered artificial intelligence.
With Vi, they can get automatic insights into every call, so they can share and track the most important issues callers are discussing. In fact, they can watch Dialpad Ai transcribe conversations in real time, highlighting important questions, action items, and more as it goes: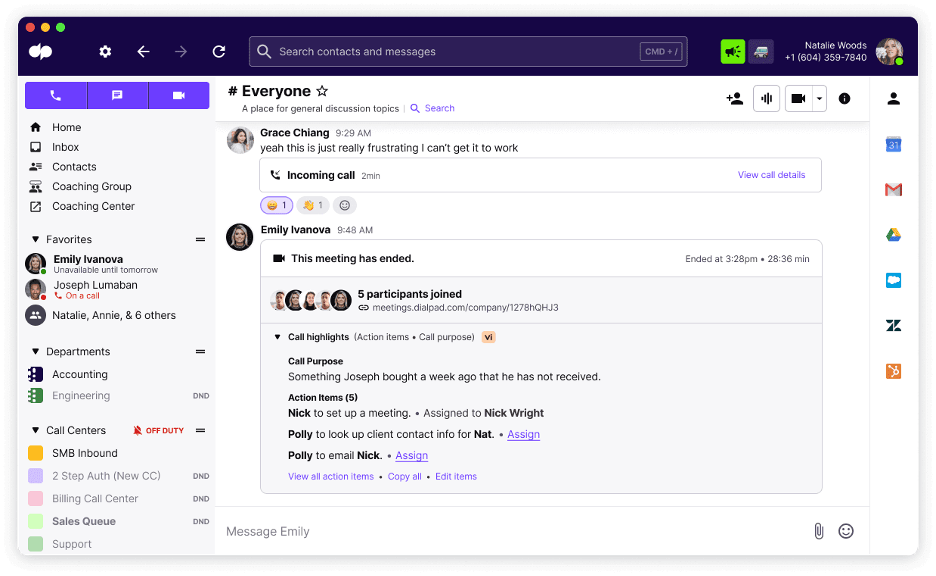 And if they do need any help, immediate (and human) customer service is just a call or message away.
Is it time to empower your business with enterprise-grade communications at a startup-friendly price? You can get started today. Check out Dialpad for Good, and apply to the Dialpad for Startups program.