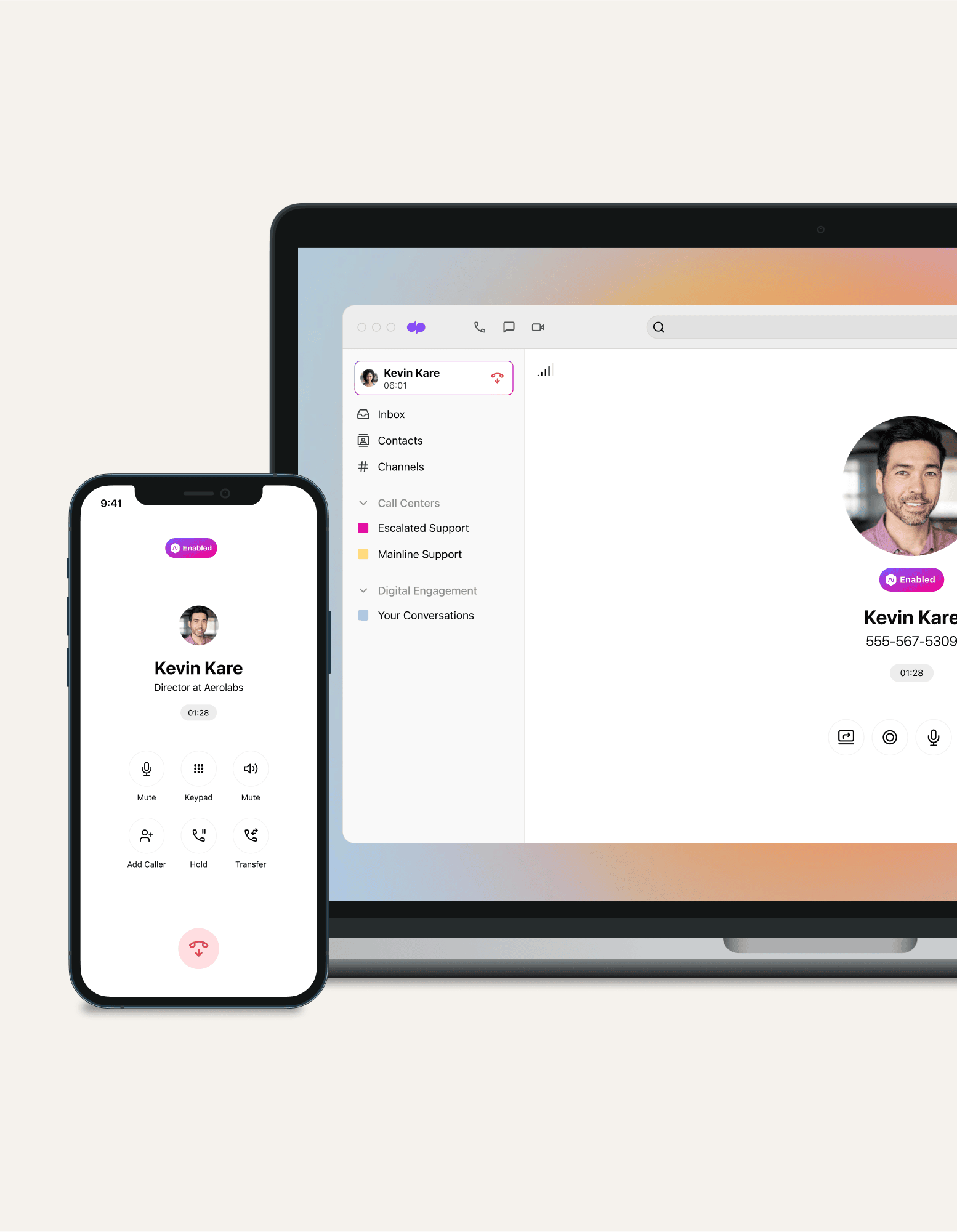 Which is better?
Dialpad Ai Voice vs. Verizon One Talk
A quick snapshot of what you get with Dialpad:

Truly unified communications—make phone calls, have video meetings, and send team messages from a single app
Salesforce integration comes included with all Pro and Enterprise plans
Industry-leading AI that powers real-time transcription, Ai Agent Assist, and more
Sign up for a 14-day trial to get set up with a virtual number and see how it stacks up against One Talk!
Sign up for a free 14-day trial!
So you've been tasked with deciding which communications solution / business phone system is best for your org. No pressure. Except there is! With the number of options out there, each with different pricing plans and perks.
The good news is you've come to the right place to figure it out. Keep reading to learn more about how Dialpad Ai Voice and Verizon's One Talk compare.
A Dialpad vs One Talk comparison
| FEATURES | | |
| --- | --- | --- |
| Price | Starts at $15/user/month when paid annually | Starts at $15/user/month [1] |
| Calling | | |
| Team Messaging | | |
| Video Conferencing | | Available through BlueJeans partnership [2] |
| Contact Center Functionality | | |
| Artificial Intelligence | | |
| Integrations | Hundreds of integrations and an open API | Some, but no details on pricing page as to what these are [3] |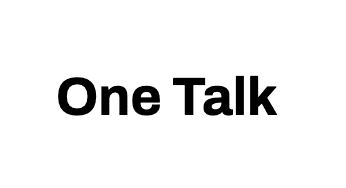 Price
Starts at $15/user/month when paid annually
Starts at $15/user/month [1]
Video Conferencing
check
Available through BlueJeans partnership [2]
Contact Center Functionality
Integrations
Hundreds of integrations and an open API
Some, but no details on pricing page as to what these are [3]
What do Dialpad and One Talk have in common?
Dialpad and One Talk are both cloud-based communications platforms that let you make phone calls and have video meetings with customers and teammates.
(However, if you want more UCaaS or Unified Communications as a Service features like team messaging in a single app, Verizon's "UCaaS" bundle might be a better fit.4)
That's really where the similarities end—keep reading to learn about some of the major differences between Dialpad and One Talk.
How are Dialpad and One Talk different?
One of the most noticeable differences is that there doesn't appear to be an internal messaging solution with One Talk. That means that if you communicate with other team members or customers using instant messaging, you'll need to pay for (and manage) separate apps and tools:


Dialpad is also built on the Google Cloud Platform, which allows us to do neat things like minimize downtime and release new features every week—not quarterly like most other platforms.
So, if you're looking for something that'll help you close more deals, manage a contact center team, and communicate with anyone from anywhere over the phone, video, or messaging—then Dialpad would be the better choice.

Or... Don't feel like reading?
No problem.
Book a product demo to see how Dialpad Ai Voice stacks up against One Talk. Or, take a self-guided interactive tour of the app on your own!
💪 Dialpad tip:
At Dialpad, we build our own software—both the UCaaS and CCaaS products—and own every bit of its code, letting us create a more integrated user experience.
Room for all your favorite apps
When it comes to integrations, Dialpad has significantly more options to choose from. Beyond just the major CRMs, Dialpad also integrates with sales tools like Outreach and Mixmax, and your essential everyday tools like Google Workspace and Microsoft 365.
The Google Calendar integration, for example, automatically populates your meeting invites with a link to join the meeting:

No need to ask, "Can you hear me now?"
When choosing a business phone system, call quality is super important. One Talk is on Verizon's network, and Dialpad also leverages VoIP technology to provide internet calling.
Dialpad's unique dual cloud telephony architecture and global voice network are designed specifically to provide excellent call quality ,worldwide.

🧠 Dialpad tip:
Want to nerd out? Dialpad has "split" the logic and routing from voice calls in its architecture, which means our data centers are full of purpose-built, bare metal servers whose only job is to handle calls. Our "brains" in Google Cloud handle all the decision making, routing, and call flows. (It's pretty unique.)
Call analytics reports: No math degree needed
From One Talk's pricing page, there don't seem to be any reporting or call analytics.5 Dialpad does offer call analytics, even in its least expensive $15 plan:

So supportive, you can lean on us anytime… Literally
Again, it's not clear what type of customer support you get with One Talk from its pricing page, but Dialpad offers 24/5 web and chat customer support on the least expensive Ai Voice plan, and the next tier up unlocks 24/7 phone support as well.
But don't take our word for it. Here's what our customers say:

Even though Dialpad's customers run the gamut from solopreneurs to organizations with 10,000+ people, you won't be able to tell.
That's our goal. And that's also why we've designed Dialpad to be so easy to use without IT help. It should just work. And in the rare cases where something does come up (because, well, technology), our team is here at all hours of the day or night to help you with 24/7 support on the Pro and Enterprise plans. We don't run a traditional 9-to-5, and most of our customers don't either.
And let's be honest, the easier we can make it for you, the less stressed our Customer Support team will be.

And our secret sauce: Dialpad Ai
Everyone talks about AI. But no one really talks about how it works or why you'd even want it in your phone system or cloud contact center platform.
So here's what Dialpad Ai does for you. Not only does it automatically transcribe your voice conversations—in real-time—it can also detect customer sentiment on calls based on the words they use, and pick out keywords and phrases so you can track them:
For example, if your customers are bringing up a competitor's name or asking a lot of tricky questions about price, you'll know.
Having analyzed over five billion minutes of proprietary voice and messaging data, Dialpad Ai is purpose-built for business conversations. And not only can it transcribe your voice and video calls in real time, Dialpad Ai also integrates with ChatGPT to automatically generate a call summary with a short recap in friendly, natural language after every meeting:

How much does Dialpad cost?
Dialpad Ai Voice starts at only $15 per user per month and includes unlimited call recording, unlimited video meetings, and real-time transcription, just to name a few.

How much does One Talk cost?
One Talk's pricing also starts at $15 per user per month, then up to $29 per user per month on the most expensive Pro plan.6 Besides "Premium CRM integrations" though, it's not clear if you get features like an auto attendant or real-time transcriptions included.
See how Dialpad stacks up against One Talk
Try it out with a free trial, or book a demo to get a hands-on Dialpad vs One Talk comparison!
1, 2, 3, 5verizon.com/business/products/voice-collaboration/unified-communications/one-talk/

4verizon.com/business/products/voice-collaboration/unified-communications/unified-communications-and-collaboration-as-a-service/