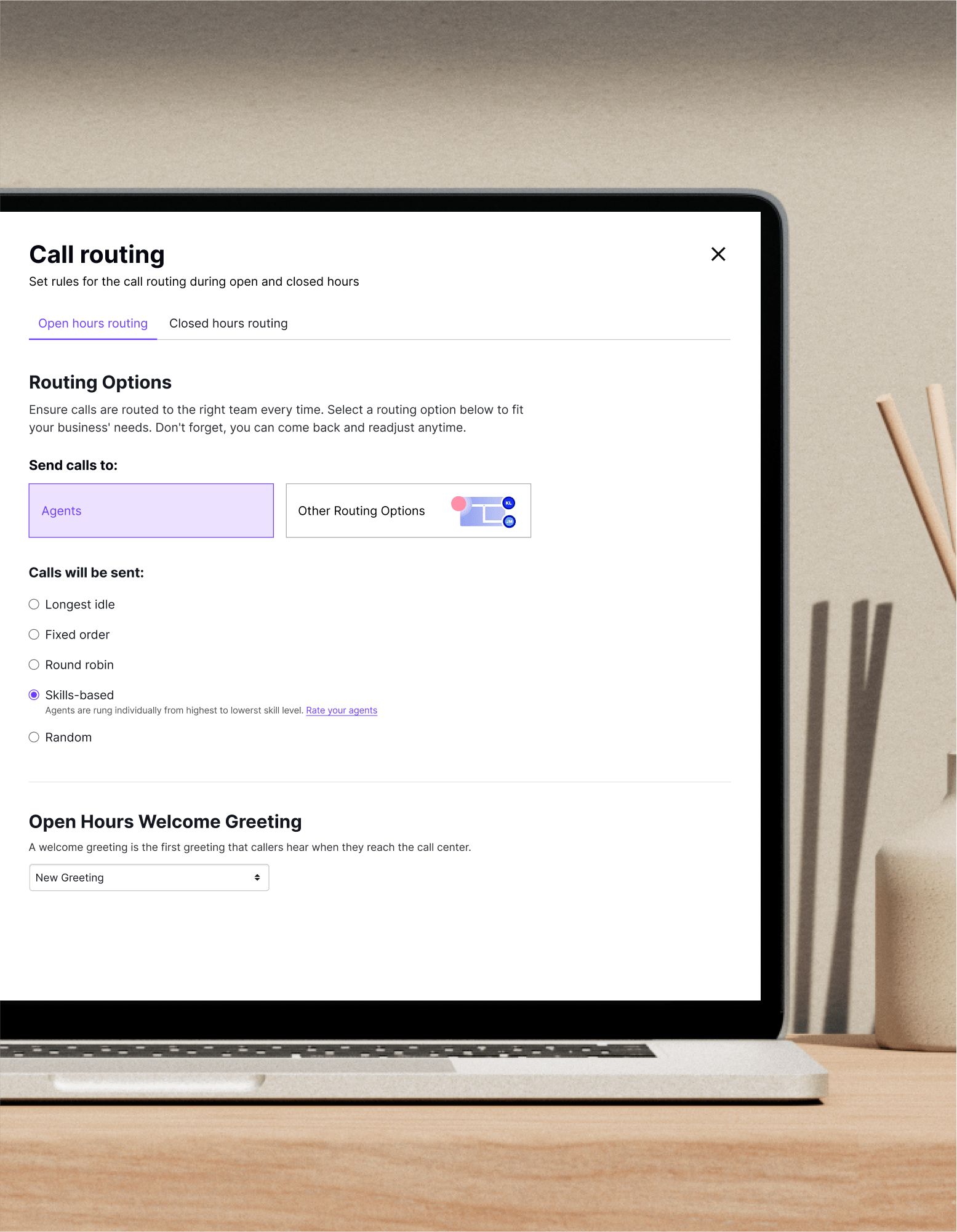 a guide
Call flows
Getting lots of phone calls to your business or contact center? Agents getting overwhelmed? A call flow can help. Learn more below—or, take a product tour of Dialpad Ai Contact Center to see how easy it is to adjust your call routing!
Any contact center is bound to see a lot of inbound and outbound phone calls each day.
In an ideal scenario, customer support agents handle each incoming call perfectly, resolving customer queries on the first try, and clearing the call queue in no time. Outbound calls would all result in conversions, or otherwise move leads along the acquisition pipeline.
The question is: How can you get as close as possible to that ideal world? In this guide, we'll walk through the ways you can use call flows to do just that.
What is a call flow?
A call flow is essentially a type of road map that lays out how phone calls get routed through a company or contact center. These flows are designed to help agents resolve as many queries as possible on the first call.
This is important because not only does it help make your agents' lives easier, but it also speeds up first call resolution and improves customer satisfaction.
Why call flows are important in a call center
A well-designed call flow is especially important in call centers and contact centers because they receive such a high volume of inbound calls.
And often the types of calls you'll receive will vary widely—you might get questions about pricing, troubleshooting, or other basic topics like "what are your business hours?"
Having a call flow set up will help direct these callers to the right person for each question, instead of just driving everyone to your company's main line. The result is generally a much better customer experience, since your customers can get answers more quickly this way.
(And for your potential customers, this creates a better first impression too.)
3 ways to improve your call flow process
1. Have a phone system or contact center platform that makes it easy to update call flows
You need to be able to make changes to your call flows easily, for a variety of reasons. Sometimes you'll have new features or products come out that people might be calling in about. Maybe you've updated your pricing lately and it's a hot topic for your customers.
Your customer interactions will change over time, and your call flows need to reflect those changes. For example, if you haven't updated your call routing in a year but have recently added an option to pay invoices over the phone, you should probably update your IVR (interactive voice response) to let customers know they have that option now.
Ideally, your phone system or contact center software will make that easy to do without having to contact support or get IT help. Dialpad's unified communications platform, for example, lets you configure and make changes to your call routing with just a few clicks from your online dashboard: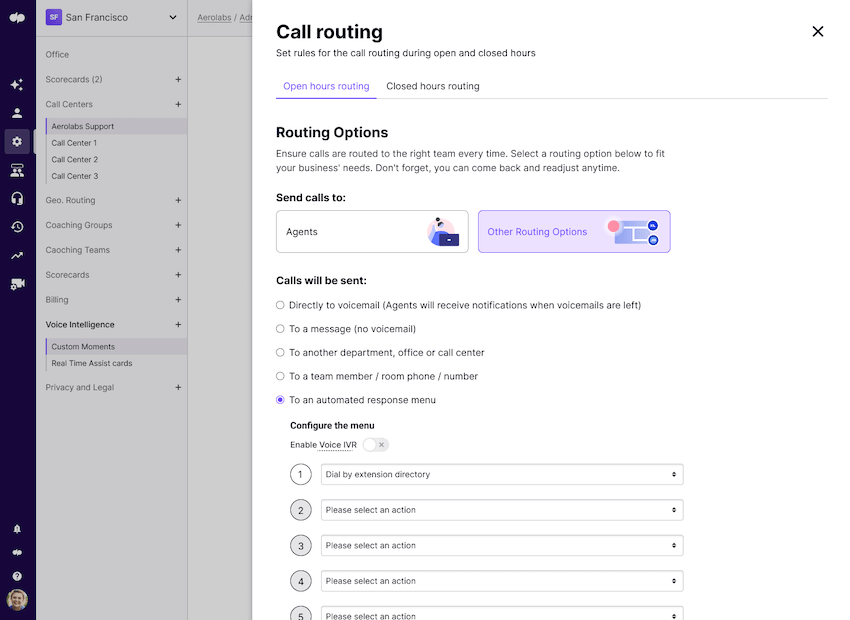 And fun fact: Dialpad also has built-in IVR analytics that show you which of your IVR options callers are actually using (and which ones they aren't) so you can continuously optimize that call flow experience:

(It also lets you track other metrics like number of inbound calls, missed and abandoned calls, and more.)
2. Have alternate communication channels
If you're noticing that your business or contact center is getting overwhelmed by the number of inbound calls, look into other channels you can support.
For example, can you communicate with your customers through live chat or text messages? Those channels tend to be cheaper (since one agent can message with multiple customers simultaneously, but can only be on one call at a time), and some customers also just don't like phone calls.
If your call flows are getting to be too much, this is something to consider. You will likely need an actual contact center platform instead of a phone system, but there are unified platforms out there that give you all of this functionality in one package.
For example, Dialpad lets you not only make phone calls, have video meetings, and send text messages from the same app, it also has omnichannel and self-service features too. That means you can manage digital channels like your social media messages, live chat messages, and even create a chatbot for your website—all on Dialpad:


3. Have a regular training plan
Training and development should be ongoing! Your products, pricing, as well as your industry, are constantly evolving, so your training should too.
Whether it's refreshing scripts or templates, or cleaning up your CRM, it's good to have a quarterly or annual cadence for updating your call flow process.
Dialpad Ai Contact Center has a few unique features that are designed to help with this. Want to spot potential trends in the types of customer questions and topics you're getting?
You can create "Custom Moments" to track these. Say you're getting lots of calls about an issue with Feature X, but you're not sure exactly how many. You can create a Custom Moment to track every time "Feature X" comes up on a customer call, and dig into the transcripts or recordings to get more context:


Not only that, Dialpad helps with training itself too. To continue the Feature X example, say some of your agents are struggling with how they talk about Feature X and its issues. With Dialpad, you can create Real-Time Assist (RTA) cards with tailored notes on specific topics and set them to trigger automatically on agents' screens when those keywords are spoken.
In this case, you could create an RTA card with talking points about Feature X, and set it to pop up on your agents' screens every time Feature X is said on a call:

This way, supervisors don't have to personally sit in on every call, but your agents can still get the information they need to resolve questions for customers quickly.

"
One thing that I love in Dialpad is the call journey feature, where you can see where calls were routed, forwarded, and changed. It's beautiful, and brought a lot of peace of mind to our call center operations—there's no more wondering where a call came from or how someone got it.

"
Sahil Farooqi
Head of Customer Care at Rently
Potential problem areas to watch out for in your customer service call flows
Callers having to repeat themselves constantly every time they get transferred between agents
Nobody enjoys having to recap their problem four or five times in a single call. But callers often get transferred from one agent or department to another, and this happens a lot. (The worst is when they finally get sent to voicemail and have to repeat their question for a final, frustrating time.)
There are two things you can do to help alleviate this.
First, it really helps if you have the right contact center software—bonus points if it's integrated with your CRM platform. This will let your agents get full contextual information and past interaction history for each customer or prospect they're talking to, even if it's their first time talking to that person.
For example, Dialpad integrates with CRMs like Salesforce and HubSpot to not automatically sync this contact data, but also embed a dialer inside those CRMs so you can make phone calls without leaving that platform: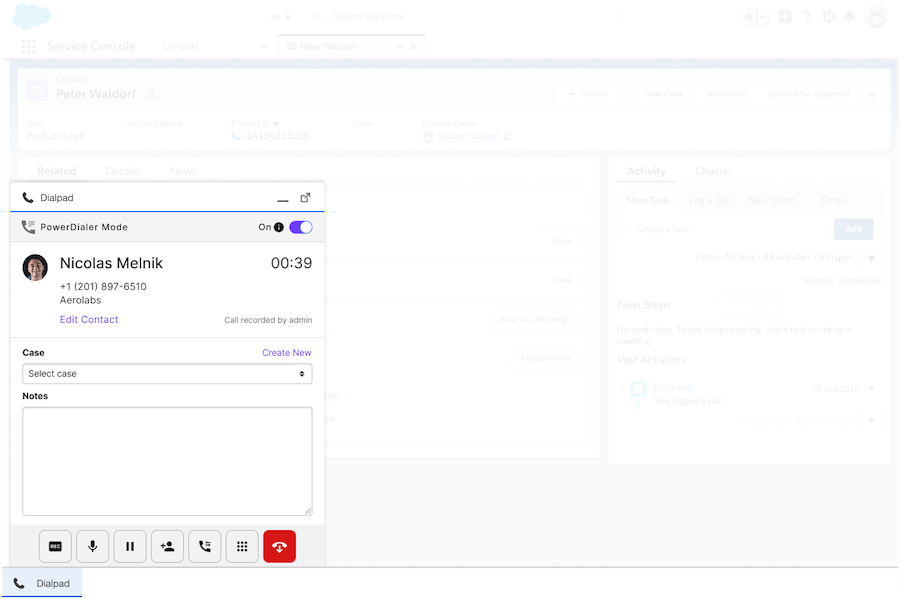 Dialpad also has call recording functionality, which lets call center teams review customer conversations and find ways to improve and do agent training:

Contextual / conversational data not being carried through different channels
On a related note, whether customers contact you via SMS or phone calls, their information should always carry through to any other channel they might use to reach out.
This is one of the hallmarks of an omnichannel customer service approach (as opposed to a multichannel approach). It directly impacts whether your agents will be able to get that past conversational data from different communication channels, and also affects your metrics and data hygiene overall.
There's no point in having all that insightful customer intelligence if it's not easily accessible!
Not being able to update call flows easily
A call flow that works very well now might still need to be updated later on. Whether it's because of changing attitudes in your customers or because of new trends, you may need to make changes to your call flows at some point—and it's better to know that you can do that easily instead of during a crisis event when things are much more urgent.
If everything is going well and things are chill right now, then this is the perfect time to check and make sure that you can easily update your call flows. Ideally, you should be able to do this on your own in real time, without having to contact a support or IT team, or wait hours for the changes to be implemented.
Again, this is super easy to do in Dialpad, and beyond basic call routing, you can also set up queue prioritizations, in-queue callbacks, and more.
Do you have an intuitive call flow for your customer service team?
If you're running a business or call center that gets a decent number of calls on a daily basis, you need to have good call flows to manage hold times and keep customers happy.
And you don't need to buy separate call flow software either—most phone systems and contact center platforms will have some kind of functionality that lets you do this.
If you're looking for a unified solution that lets your team handle not only call flows but also every other communications channel in one place, why not give Dialpad a try?

Update your call flows anytime with just a few clicks
With Dialpad Ai Contact Center, you can make changes to your call flows in minutes, without any IT help. See how it works with a demo, or take a self-guided interactive tour of the app on your own!
What steps should there be in a call flow?
Every company's call flow is different, but generally most call flows will have these steps: greeting (say your hellos and small talk), authentication (make sure the caller is who they say they are if any important information is going to be exchanged), and troubleshooting or answering the question.

What does a good call flow look like?