Back to Blog
Workflow orchestration: How to streamline tasks and empower agents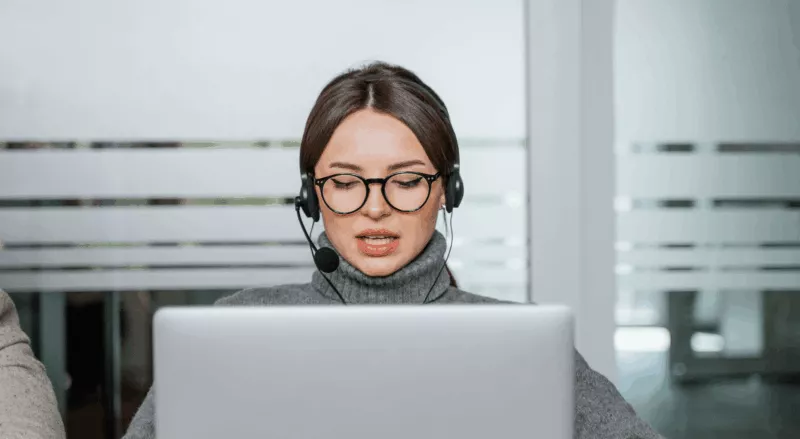 Let's face it, some contact center tasks are just tedious. Data processing, logging calls, looking up information in the knowledge base. They all take up time that would be better spent actually talking to customers, solving problems, and closing sales.
With workflow orchestration, contact centers can streamline and optimize agents' workflows, while empowering them to be as efficient as possible. Most crucially, when you simplify your workflows in this way, it also allows you to deliver a better customer experience.
In this guide, I'll walk you through what exactly workflow orchestration means, a few use cases, how you can make it work for you, and how Dialpad can help.
What is workflow orchestration?
The best way to explain workflow orchestration in a contact center setting is with an example. Let's say you run a chat-based contact center. At the most basic level, one of your contact center's main goals is to connect each customer or prospect with an agent—as quickly and efficiently as possible.
Maybe you want agents to be available 9 to 5, Monday to Friday. Or, maybe you'd prefer them to be available 10 to 6, Monday to Sunday. On the other hand, you might want a main live chat service available 9 to 5 and then an automated chatbot service to pick up the slack outside those hours.
Workflow orchestration is the means by which a business establishes those rules and flows of how they service customers, using data science, process automation, and machine learning (or AI, more generally).
Think of it kind of like automated call routing, but at a hyper-expanded level.

👉 Fun fact:
Dialpad Ai Contact Center's intelligent routing comes with a built-in relationship view, which lets you reference a customer's entire conversation history during calls—so you can personalize every experience.
What are the benefits of workflow orchestration?
AI can continue customer conversations without manual input
Let's extend the above example of a customer asking for your returns policy. With the most advanced AI-driven orchestration, you could have a workflow that delivers far more than a simple answer to that customer. All still without any need for input from an actual human.
The most advanced chatbots can continue the conversation, establishing things like when a customer bought an item they wish to return, for what reason, and if it's still under warranty. Based on those answers they can then invite them to upload a receipt and check its veracity.
From there, the AI engine can seamlessly transition to even order and ship a replacement to the customer—if appropriate—all without escalation to an agent ever being required.
For example, Dialpad Ai Contact Center's conversational AI functionality goes beyond just providing preset answers to preset questions. It can also crawl unstructured sources and formats of data, like PDF documents and even past customer conversations, to find answers to a wide variety of customer questions. And all easily customizable with the no-code drag-and-drop builder:


It's a whole new level of data ingestion—and possibilities for your customer experience.
Not only does this kind of automation empower contact center agents, it also completely frees them up for the work that only a human can. According to Gartner, by 2023, 40% of I&O teams in large enterprises will use AI-augmented automation—and it's easy to see why.
AI-driven tech is also often used in sales automation for things like power dialers, automated reminders for follow-ups, and transcript creation and analysis of calls. For example, Dialpad automatically logs sellers' activities in your CRM through its integrations with the likes of Salesforce, HubSpot, and even other productivity tools like Microsoft 365 and Google Workspace (you can also build custom integrations with its APIs):

Ability to extend support outside business hours with chatbots
For most businesses, contact center agents can't be online 24/7. Workflow orchestration that incorporates AI chatbots into your service offering picks up the slack. At the simplest level, it can provide customer support when your staff aren't available.
Sometimes, customers contact you with queries that don't really require human input. For example, they might simply want to know your returns policy. An AI chatbot can recognize this as a scenario where it can automatically provide an answer or treatment.
It can display a relevant template answer instantly with, to extend the above example, your company's returns policy in full. With ML models, too, the bots can learn and handle more and more complex interactions, which then frees up agents to deal with other tasks.
AI can act as a failsafe when an agent doesn't know the answer to a customer's question
Agents don't always have all the answers. If a customer asks a tricky question over the phone, they might find themselves on hold while the agent looks up information or asks a manager. But with the kind of AI-driven automation associated with workflow orchestration, you can have a virtual supervisor to chime in with answers and even offer live coaching.
For instance, Dialpad's RTA (Real-Time Assist) cards automatically pop up when agents need extra help, triggered by the words the customer uses. Dialpad's Ai also tells you if you're talking too fast or using filler words, analyzes sentiment, and alerts a manager to join the call if necessary:


The limits of workflow orchestration
Workflow orchestration has many benefits, such as increased productivity, but it also has some limitations. There's a learning curve for users as everyone gets used to the new technology, and here are a few other things to look out for.
Complexity doesn't limit orchestration—unstructured processes do
As I mentioned, workflow orchestration software is able to handle complex processes thanks to big data and AI. However, the system has to work a lot harder if the required data is scattered around a variety of different IT systems which struggle to talk to each other.
This can mean gaps in the data pipelines, which leads to teams working in silos with incomplete information. It's essential to get organized by working out what the workflow needs to achieve, then set and assign tasks so that everyone knows what they're meant to be doing.
The system should be capable of interpreting results and notifying you of problems. It definitely helps if your systems and processes are aligned and all your tools are in one place, which is what you get with Dialpad.
What's more, some unstructured processes themselves are unsuited to self-service automation. Take, for instance, a discussion or negotiation with a prospect. This, by necessity, requires quick human decisions powered by empathy and forethought, among other things. Right now, that's something you'd probably rather a human agent take care of.
Less ability to treat the customer in a personalized way
Automation is great for efficiency, but it doesn't always allow for personalization—and that can leave customers feeling like mere statistics. It's important that your workflows gather as much customer data as possible, so you can use it to make them feel valued. That includes details of previous interactions, preferences, and behaviors.
For instance, if you're sending mass emails about a special offer, at least make sure your system adds the customer's own name at the top—and preferably tailors the offer to them. Cart abandonment email sequences are an example of a workflow that's automated but personal.
Machines can't be held accountable for certain issues
You have to decide which tasks and queries should be handled by automated workflows, and which require human intervention. For example, it's best for live agents to deal with sensitive financial transactions or serious complaints. There's no accountability if someone goes wrong when no humans are involved.
Your system shouldn't deploy a chatbot for such issues, for instance—it must be programmed to direct them to a senior agent. Security settings are also crucial—an automated message should never ask customers to supply details like passwords.
5 workflow orchestration best practices
1. Identify and reduce average wait time and average handling time
Customers don't want to wait—and keeping wait times and average handle times acceptable should be part of your SLAs. Workflow orchestration can pull in the data to help you identify the average speed and spot any problems that are causing delays. You can then modify things like call routing rules and IVR menus to mitigate these issues.
Dialpad's cloud contact center platform comes with built-in heat maps that show you this data at a glance. For example, here's the heat map showing a contact center's average speed to answer:


2. Manage the predictable processes you can take off the agents' plates
Workflow orchestration is ideal for automating those repetitive, predictable processes. You know the kind—where it would take 15-20 minutes for an agent to execute the process step by step, but automation could do it in seconds (without any errors). Think looking up customer details, logging calls, and updating the inventory after a sale.
Let's say the different products sold by your company are listed in a manual, which gets refreshed regularly. Agents can't be expected to remember all the details, so they have to physically look them up when a customer calls. But a workflow orchestration engine could be programmed to pull up the information instantly.

3. Satisfy customers' concerns as quickly and efficiently as possible
Customers are an impatient bunch. They don't want to wait on hold while an agent steps away to ask a manager, especially for urgent issues. That's why it's important to have an orchestrated workflow that covers a wide variety of questions and can instantly pull in information like customer data, product pricing, or technical explanations.
Of course, there will be times when you can't pick up a call immediately—so it's good to have a virtual assistant or IVR menu at hand. AI will recognize that there's no agent available and offer the customer a callback or the option to leave a voicemail. It can also direct them to FAQs or tutorials to solve a problem themselves, rather than having to wait around.
4. Target the improvement of first contact resolutions
First contact resolution is always the goal, whichever method of communication the customer is using. Apart from keeping them happy, it's also rewarding for agents—and it gives productivity a significant boost. Improving the percentage of queries that are resolved first time is definitely something you'll want to focus on, and workflow orchestration can help.
When you're monitoring metrics like this, it's helpful to have a single pane of glass (a unified user interface that integrates information from various applications and environments without the need to switch back and forth). As truly unified communications platform, Dialpad provides exactly that:


5. Monitor and improve the dropout rate
It's not all about the processes and rules that apply once a customer connects with you, either. What's also important is to monitor the rate at which customers drop off from your channels before getting the help they need.
Keep across these metrics and you'll be able to tailor your workflows to make it simpler—and quicker—for such customers to get the answers they need. That, in turn, should improve your dropout rate.
In a similar vein, contact centers have always had a high turnover of agents, but automating tedious tasks and streamlining workflows can help make the job less stressful or monotonous for them. That can help you keep your team members on board. And, of course, the extra efficiency also improves customer retention.
In both cases, you can use analytics to evaluate the agent and customer experience—as well as collecting data to see how well the newly automated processes are working.
Get started with workflow orchestration in 3 steps
Most orchestration tools enable you to build workflows without knowing code such as Python or SQL. Dialpad lets you design visual, no-code workflows and personalize them based on your own criteria. Some businesses use open source workflow orchestration tools such as Kubernetes or Apache Airflow, or even AWS (Amazon Web Services). Whatever you use, here are some tips for getting started.
1. Organize the essential responses to customers' concerns
First, you need to find out what your customers' concerns are. Does it take too long to answer calls or resolve queries? What are the most common questions and issues? Is there a glitch with your website or payment process?
The relevant data can be found in customer feedback such as surveys, net promoter scores (NPS), customer effort scores (CES), and via sentiment analysis.
Once you've figured out what needs to be addressed, you can design an orchestrated workflow that eliminates or reduces these problems, and assign business priorities to the tasks. It's important that you have visibility into what's being done, as well as the results. For instance, the workflow should generate notifications if a step is taking too long or has timed out, and you can set it up to retry the task in the event of an error.
2. Integrate valuable customer data into the workflow
Many companies have a variety of different data sources, including legacy systems, cloud-based tools, and data warehouses or data lakes. You may opt to keep it this way for security reasons (the concept of not keeping all your eggs in one basket), but it typically leads to silos and prevents you from making the most out of your data.
Migrating previously siloed data to a single location is a big task, but it's worth the effort because it enables you to automate and streamline data-driven decision making. Orchestration tools automatically send customer data (and metadata) to the tools that your company uses day-to-day. You can also use a data workflow orchestration service.
Once your data is housed in one place, you can integrate important customer information into your workflows. Dialpad's unified communications platform makes this easier, as all interactions are viewed and stored in a single interface. Plus, the CRM integrations will automatically pull in contact info and log call details during a call for agents:


3. Determine the metrics to keep an eye on
As I mentioned, visibility is important for effective workflow orchestration, and your tools need to provide you with results that help you measure the things that matter most. In a contact center, that would include average speed to answer, average handle time, first-contact resolution, and system downtime.
Dialpad brings automation to your analytics, delivering regular reports straight to your email. You can set the users or groups to target, and determine the datasets and metrics to include in each report. Track call volume, top moments, and sentiment to better understand agent performance.

Automate your processes with workflow orchestration
Don't let your agents' time waste away on repetitive, low-value manual tasks—you'd be surprised at how many of them can be automated with a little help from AI and ML. And when you coordinate and streamline that process with workflow orchestration, you'll see the benefits of increased efficiency, productivity, and cost savings.
It goes without saying that you also need great communication and collaboration, so choosing a unified communications platform like Dialpad makes a lot of sense. With all your data housed in one central hub, and pulled in from multiple integrations, you'll have all the information you need to start building and orchestrating your workflows (which you can also do in Dialpad).
As well as advanced automation, you also get all the benefits of a cloud service (including affordable pricing and scalability), plus 100% uptime for Enterprise plan customers and top-notch security. See how it works!

See how Dialpad Ai Contact Center can support your agents and supervisors
Book a personal walkthrough of Dialpad or, take a self-guided interactive tour of the app!