Back to Blog
Virtual office hours: Benefits & best practices for teachers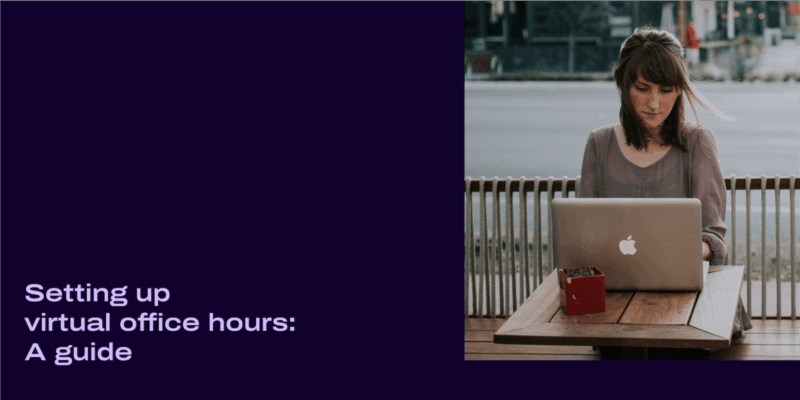 Online learning has existed for years, though it's become far more popular of late. But as any teacher (or student) will be able to tell you, there's a lot more to online courses than just hosting (or attending) lectures and webinars.
We're going to focus in particular on one aspect of virtual learning that's essential to both the student and teacher experience: Online office hours.
Before we do, let's take a step back and start at the beginning.
What are virtual office hours?
Office hours are times when teachers make themselves available for students to get in touch outside of class, lectures, or seminars. They're pretty flexible—a teacher might have many office hours per week, or they might have one specific time or day set aside for them.
The "virtual" aspect comes from the fact that these office hours happen using video conferencing software rather than face-to-face as with traditional in person office hours.
In a remote learning environment, where faculty and students can't speak in person, virtual office hours are a great way for teachers to stay connected with students.
Why might teachers or professors want to offer office hours virtually?
When you offer online office hours, you take the virtual learning experience one step closer to the in-person one that most students are still somewhat used to. It helps provide the same level of education online as in a classroom, which is something that over 20% of students think needs work.
Here are a few of the other benefits of offering online office hours:
It provides more flexibility
The trouble with webinars and lectures is that they're generally going to happen at a particular set time—and that time might not be convenient for every student.
With virtual office hours, it's easier to find time slots that work for every (or almost every) student.
All they have to do is click a link, and they'll be taken directly to the teacher's virtual office. That's much more flexible than having to make a physical appearance at an office location, especially when they could live anywhere in the world.
Physical barriers are no longer a factor
This one's especially important to students with physical disabilities, or those who live far away from any campuses.
When your office hours session happens online, anyone with access to the Internet can join. That means that regardless of the physical barriers students face, they have the chance to benefit from one-on-one time with their professors.
Quick tip: To truly make your virtual office hour sessions accessible to all kinds of students, make sure you've picked video conferencing software that lets students with a meeting link join calls using either desktop or mobile devices—and for added flexibility, make it possible for students to join from web browsers too. Not everyone can or wants to download an app:

It helps build rapport between students and teachers
When students and faculty members have the chance to speak directly to one another, it becomes much easier for them to build rapport and understand one another better.
That's especially important in the context of virtual lessons. Without the chance to speak to students face-to-face, it can be difficult for teachers to build the necessary connection to provide an effective teaching experience, especially for upper-year courses.
Virtual office hours help bridge the gap between teachers and students in the context of online learning.
It gives you another avenue for real-time instruction
Virtual class sessions have become so popular that most higher education institutions are planning to keep using them at least to some extent, even with in-person teaching available, telling us one thing quite clearly: online teaching is a viable avenue for instruction.
Staying updated on student progress
Again, this is more for upper-level courses than for first-year courses, but it's generally easier to keep up to date with students' progress when you're checking in with them often, and that's exactly what virtual office hours help teachers do.
This is especially important when it's impossible to see those students in person—or when students are scattered across multiple locations and campuses.
Types of virtual office hours
There are a few kinds of virtual office hours that teachers and educators can provide for their students. Broadly speaking, they fall into two categories: synchronous and asynchronous.
Let's take a closer look at both of those, as well as the subtypes of the synchronous model.
Synchronous
Meetings that happen in real-time are called synchronous meetings. For example, if you're hosting a virtual office hour and speaking directly to one or more of your students, you'd be holding a synchronous session.
There are three main kinds of synchronous sessions: drop-in, scheduled, and hybrid office hours. The difference between them lies in the way they handle who gets to join a meeting.
Drop-in
Drop-in office hours are the kind where a teacher makes themselves available for a set period of time, then waits for students to come to them.
In a virtual context, that means providing an open invitation link to all class members.
This approach is particularly convenient for supervisors for long-term projects, like dissertations and/or experiments that take multiple weeks, because students don't need to know in advance that they'll want to see their teachers.
In other words, when a problem or question suddenly arises, they can simply drop in spontaneously, without booking a slot ahead of time. And for teachers, they only have to block off one or two time slots every week instead of trying to maneuver around different time slots and possibly having to adjust other meetings to accommodate their meetings with students.
Dialpad actually has a Clubhouse-inspired Sidebar feature that lets teachers and students have ad hoc voice chats inside a messaging thread—without booking meetings in advance: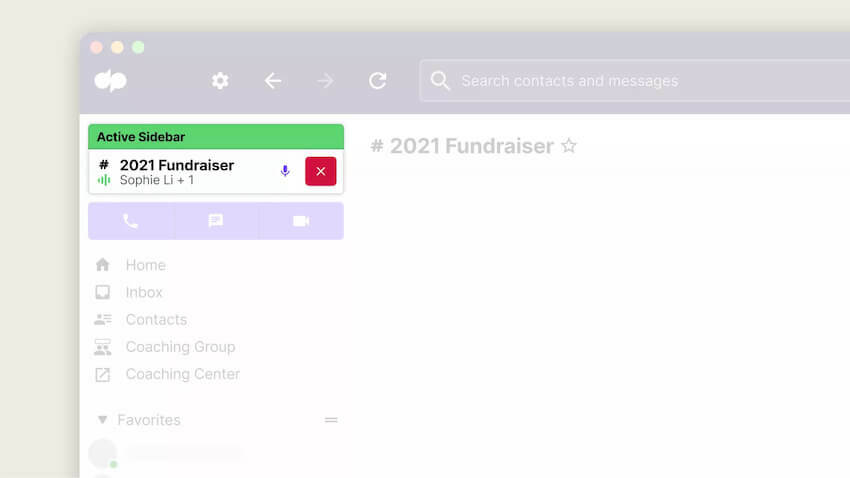 Scheduled
If the 5-10 minute long meetings with individual students during your office hour are penciled into your Google Calendar at least a few days before they happen, chances are you're using a scheduled approach.
Scheduling office hour sessions means you'll be guaranteed to have time for every student who's made an appointment to see you. This lowers your flexibility, but in return, it's easier to make sure everyone is able to meet with you.
Hybrid
This approach involves mixing the other two together.
Hybrid office hours will generally be partially scheduled, with some time set aside for drop-in sessions. Teachers still get to plan for some sessions, while providing that extra flexibility for the students who need it.
Asynchronous
Asynchronous office hours are fundamentally different in a few ways. Firstly, they don't happen "live"—that is, they don't consist of video meetings where both parties are online at the same time. Instead, they often take the form of students posting in discussion forums at their convenience and getting replies whenever their teachers have time. The most common form of asynchronous communication, though, is probably email.
Many students prefer an asynchronous approach, and it's particularly useful when it comes to time management and self-efficacy, since students can access the material they need at their own convenience.
Asynchronous office hours are a great way to mitigate the challenges of mentoring students in different time zones, or with exceptionally busy schedules.

📚 Looking for a remote-friendly communications platform?
Learn about the top features and functionality to pay attention to when your post-secondary institution is putting together RFPs (request for proposals) with this checklist!
6 best practices for virtual office hours
1. Use reliable software and technology
Beyond having a good webcam, you also need reliable software that lets you host your online office hours. In most cases, a phone system and a video conferencing solution would be enough.
Video conferencing apps
Great video conferencing software and apps should be quick and easy to set up, so that you never have to waste time fumbling or trying to figure out how things work. In other words, your video conferencing apps should be intuitive.
It's even better if your video conferencing platform has phone system functionalities integrated into it, like Dialpad does. That way, you get to unify your communications and make calls from the same platform that you use to hold video meetings.

Phone systems
Not everyone is comfortable being on camera. It's important to be prepared to give your students the option of connecting with you using audio-only means.
Again, Dialpad lets you manage not only phone calls and video conferencing, but also instant and SMS messaging, all from the same app. This makes it much easier to keep track of all your conversations and past meetings, without having to switch back and forth between different apps:

2. Decide how frequently you'll have virtual office hours
No professor can be available 100% of the time. You've got to balance your office hours with the other items in your schedule so your students can reach you often enough, without burning yourself out in the process. This also ties into the next point.
3. Set clear guidelines for students
If you've got a limit on the amount of time you can spend talking to any given student, make this clear to all of them. Likewise, if you're only available at certain times, ensure your students know when those are.
The clearer you are about your guidelines, the more productive the office hour sessions will be for both you and your students.
4. Follow up on appointments
After your appointment with a student has concluded, it's a good idea to check back in with that student.
That way, you can see how projects are coming along, check whether issues you discussed together have been resolved, and monitor real-time developments in students' learning experiences.
On a basic level, this also just shows your students that you care. Dialpad is actually designed to help you stay on top with follow-ups, since it not only transcribes meetings in real time, it also automatically suggests and logs action items as your virtual meeting is happening: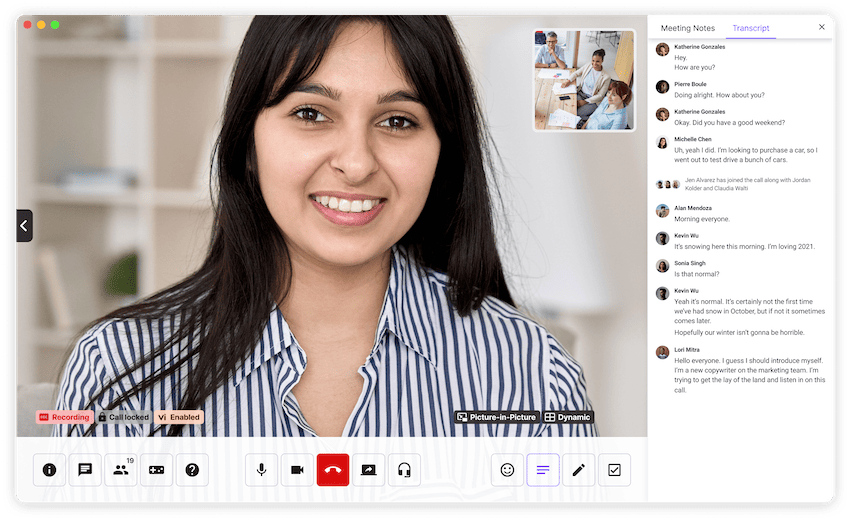 And after the meeting, you can send the student the meeting summary, which includes the recording and transcript, to make follow-up even easier.
5. Create a virtual waiting room
A designated virtual waiting room can help you keep your students organized. It also helps you decide whether to speak to a group or an individual next, as well as giving you an idea of how long you should make each meeting.
That's especially helpful for drop-in sessions, where many students might show up at once. You can direct those students to the waiting room, then see them on a first-come first-served or urgency-based basis.
With Dialpad, you can create a virtual waiting room (with hold music!) and admit students one by one as you're ready: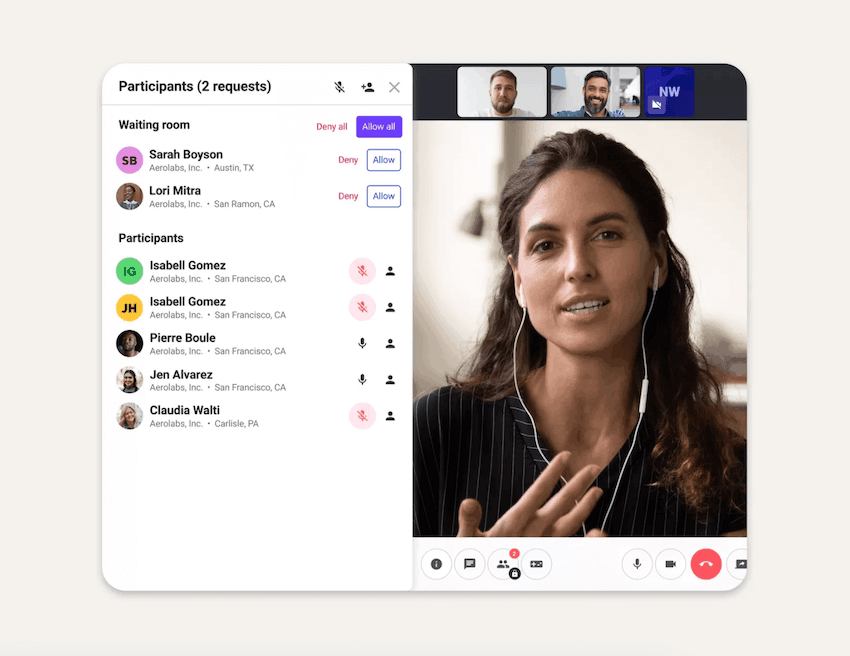 6. Ask for student preferences
Some people prefer to speak to their teachers one-on-one, while others are more comfortable in small groups. It's often difficult to guess what someone's preferences are without asking them directly.
Dialpad has an in-meeting chat that lets students engage with each other and with you during an online meeting and ask questions without interrupting the speaker: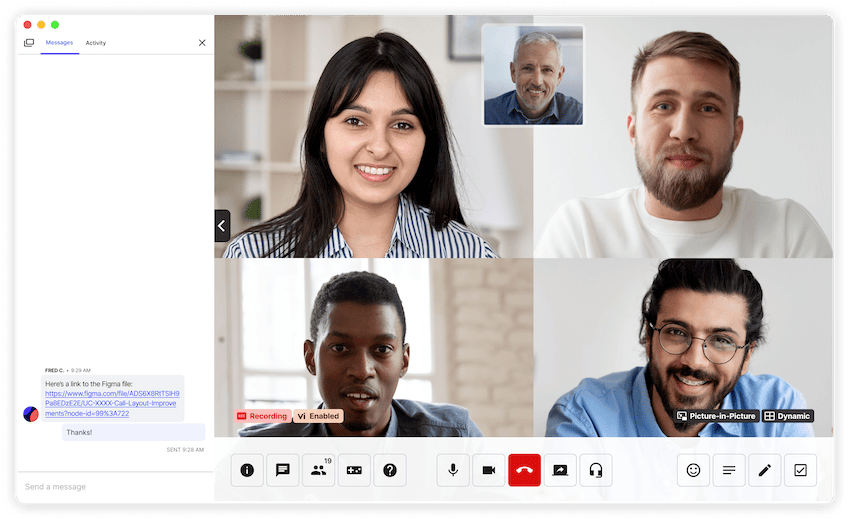 Alternatives to virtual office hours
Not everyone can provide in-person synchronous office hours. But, that doesn't mean they should abandon the idea altogether.
Here are some alternatives to virtual office hours (alongside the asynchronous options we've already mentioned) that are worth considering:
Recorded instruction
Pre-recording your sessions and maybe even a short video about course content like your syllabus and FAQs could be a great way to provide asynchronous support to your students. They can access the recordings at any point, allowing you to help them without the need for virtual office hours.
(And if you're worried about forgetting to hit that record button, you can always enable automatic call recording if you're using Dialpad.)
Virtual whiteboard
Virtual whiteboards are a great alternative to office hours, especially for asynchronous learning. That's because they can be left open for comments and notes, then checked on by all members of the class, at any time.
Dialpad integrates with Miro, an intuitive and easy-to-use whiteboard app, to let students brainstorm with each other and you as if everyone were in a room together: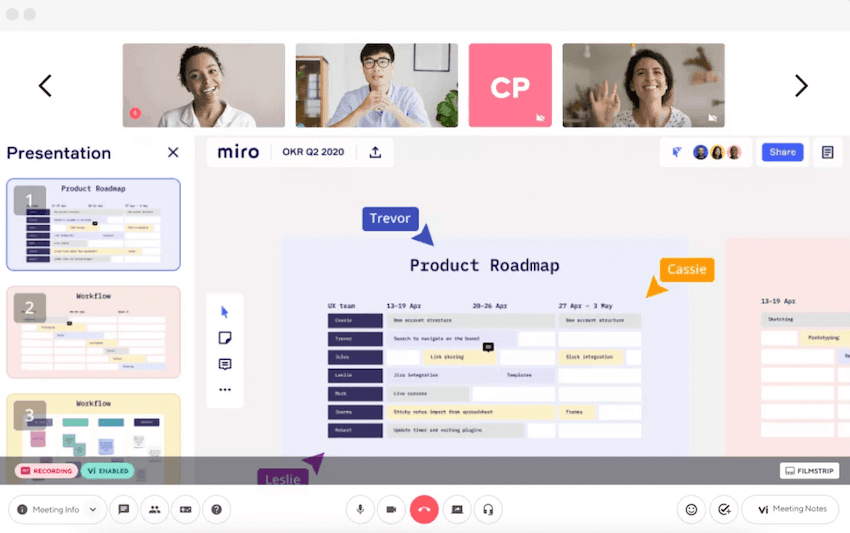 Group office hours
These are the kinds of office hours where you'd speak to larger groups of students at a time. They're especially useful right after you give your students an assignment, when many students are likely to have the same questions.
Group office hours save you time, and allow you to address students on a personal level without repeating yourself many times in the same day.
Assistant instruction
This is a great way to give your assistant(s) some practical teaching experience while still supporting your students.
Simply provide your assistant(s) with the necessary materials, then let them provide students with some supplementary instruction.

Breakout rooms
Instead of virtual office hours, you can always incorporate regular use of breakout rooms into your seminar structure. This lets your students work in small groups, as well as giving you the chance to check in on groups or individuals.
This approach is essentially all about integrating some of the best parts of virtual office hours into your regular teaching.
Create more avenues for engaging students with virtual office hours
Virtual office hours are a great way to supervise, mentor, and teach students in ways that would be difficult during regular classes. They're a tool that's just as helpful to students as it is to teachers—and to top that off, they're versatile and adaptable.
Whether you'd prefer to opt for synchronous or asynchronous office hours, they're all useful tools to increase the amount of supervision you can offer your students.
As an added bonus, both types of office hours can be hosted from the comfort of a UCaaS solution like Dialpad. It helps connect teachers and students via all means of communication.
Looking for a communications platform to host virtual office hours?
Take a self-guided tour of Dialpad's cloud communications platform and see how you can host and join video meetings from anywhere, on any device. Or, chat with our Sales team!