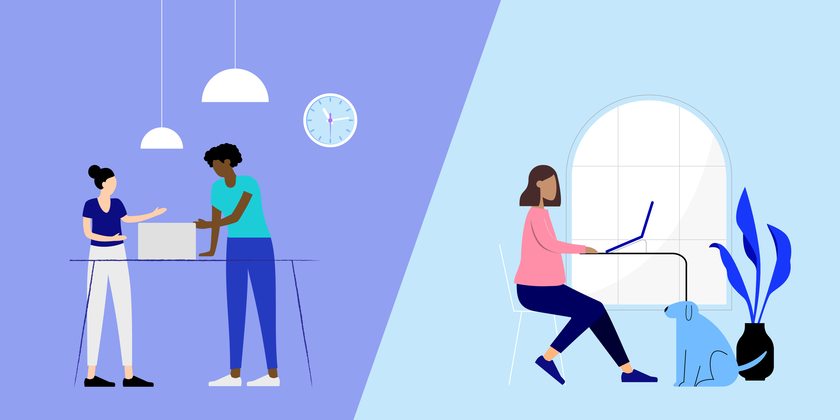 April 16, 2021
At least 153 countries around the world have started administering the COVID-19 vaccine and in the United States, 33% of the population has already received at least one dose. People are starting to see a light at the end of the year-long tunnel, so with increasing vaccinations, employers and employees are wondering when they'll be able to return to the office, and how work will have changed after the shift to the remote workstyle.
While the thought of being able to congregate around the water cooler again is reassuring to many, there are still factors that businesses need to consider before, during, and after the transition back to office environments. In fact, many businesses will likely adapt a hybrid workstyle, where remote and office workers continue to work together through a unified communications platform.
With that in mind, let's consider the challenges ahead during the return to the office, and what the post-pandemic workstyle may look like.

Returning to "normal"
While vaccine availability is opening up for adults of all ages around the country, it will still be some time until everyone can be fully vaccinated. During that time, some employees will be able to return to the office, while others have to wait for their vaccination appointments. This is when a hybrid workforce, combining office and remote workers, will begin to take off. Yet even afterwards, a hybrid workforce will still be essential for many businesses.
There are companies that have been hiring remote workers throughout the pandemic, knowing they're too far from any offices to commute once conditions are safe. They have already invested in training and onboarding remote employees, to let them go once everyone else returns to the office would be letting go of money - not to mention how it would affect the workers. Instead, businesses should evolve their communication platforms alongside the shifting workforce to keep remote workers engaged and productive.
Similarly, the rise of remote work during the pandemic has proven very helpful for employees with disabilities, many of whom have been asking to be able to work remotely since before the pandemic began. The increase in remote work opportunities has made it easier to find jobs with telecommuting options and manage their existing jobs remotely. Now that we're used to working remotely and have the infrastructure in place, this is the perfect opportunity to ensure employees have the option to work from home, especially when it's necessary for medical reasons. This helps with accessibility and inclusion in the work environment, just by utilizing the unified communications infrastructure you're already using.

What a hybrid workforce looks like
If your business already has more than one office, you already have experience with the basics for a hybrid workforce. Instead of communicating and collaborating across multiple locations, the new hybrid workforce will include a combination of employees working from the office and working from home.
This may result in offices seeming more empty than usual, or businesses even abandoning large office buildings for smaller and less expensive alternatives to support a more disparate workforce. Even meetings may seem smaller, as more people join in remotely rather than inside a conference room.
Yet despite appearances, companies will continue to grow. The remote work environment opened up new opportunities for remote work that will continue with the hybrid environment, allowing businesses to hire the best people for the job regardless of distance. There will be less pressure on employees to relocate for their job, and being able to work from anywhere can mean less time stuck in rush hour traffic. Remote work even saves employers and employees money, in addition to improved morale and productivity from the extra time and frustration saved from commuting.
While the office buildings may be smaller or less occupied, and there may be fewer people to grab lunch with, businesses can continue to thrive and employees can find new opportunities to connect and work together, thanks to the power of unified communications technology. Dialpad, for instance, continues to keep employees connected remotely through randomized "coffee meets" that utilize our video meetings to create face-to-face connections, as well as built-in features like "Buzzword Bingo" to keep employees engaged during remote meetings.

Technology needed for a hybrid workforce
While the combination of in-office and remote work is on its way, it will still require a powerful unified communications platform. While many businesses have already adopted this technology to remain productive during shelter in place, they will continue to be essential as the hybrid workforce grows.
One of the most important tools for making remote and hybrid work successful is having clear communications. Cloud-based voice calling will help employees stay in touch however they want. Even if their wired phone lines go down, cloud communications will let them keep connected as long as they have an internet connection.
This becomes even more important when it's time for a conference. A good communications platform should enable video calling and conferencing to ensure meetings are accessible from anywhere. Being able to join conferences via video, send messages and links, share screens, and access call logs is essential for staying in the loop and productive while working remotely. Enabling video conferencing helps keep employees engaged and an active part of the meeting, as they can still see the other attendees and remain visible when it's their turn to speak. If calls and meetings are backed up with AI-powered notes and insights, like with Dialpad's artificial intelligence (Dialpad Ai), then the employees will be all the more empowered.
The need for communications extends beyond calls and meetings. Email and messaging are essential aspects of daily workflows, so a good platform should integrate with them. This is what makes a unified platform so powerful: all of a person's communication needs, from email to calling, are available in one place. It helps eliminate the need to toggle between multiple tabs, keeping everything simple for the employee on the go.

Changes we can expect to see
As larger swaths of the population get vaccinated, we can expect to see a slow return to the office in the coming months. Yet the offices will not be quite the same. We may be seeing fewer people working there, as more opt for a remote workstyle, others alternate between working in the office and working remotely, and others still are too far to telecommute.
Companies should prepare for this by ensuring they have a communications platform built for the hybrid workforce, allowing them to utilize unified communications whether an employee is in the office or halfway around the world. At the same time, this can help improve productivity by integrating the applications your teams use and features like Dialpad Ai.
This will not only help keep employees connected as some return to the office faster than others, but will also boost communications and productivity with those who remain remote or alternate between office and remote work.
Whether you'll return to the office or continue telecommuting when the pandemic is over, work environments will seem significantly different than they were before. Yet this is a good change, one that can enable productivity and a more flexible workstyle for employees and employers alike. We're entering the age of the hybrid workforce, and there's no better time to prepare for it.