Back to Blog
A guide to call log templates (with 10 templates included!)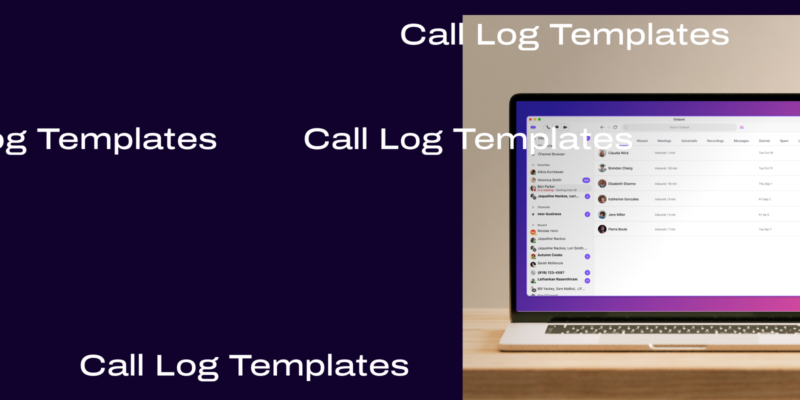 Whether you're a small business or a larger enterprise, if you have a lot of incoming or outgoing calls each day, you know how important call logs or communication logs are. They let you keep track of who you spoke to, how long the call went for, and often even client information.
In the case of sales teams and contact logs are especially important for keeping track of prospect and client information, any changes in client relationships, and other important data that can directly impact their customer experience.
In short: call logs are important.
But not all call logs offer the same information you need across roles, industries, and fields. The phone call log template or worksheet you use makes a big difference in determining what information you save.
With that in mind, let's take a closer look at call log templates, why they matter, and a few examples of call tracking and call log templates that can be used for different purposes.
What is a call log template for?
First, what is a call log, and what are call log templates for?
Call logs are, as the name suggests, records of when phone calls are made and who they were with. Years ago, it wasn't uncommon for companies to have printable call logs or log forms—nowadays though, using Google Docs or Google Sheets is probably more common.
Call logs (and call log templates, by extension) can include a range of valuable call information for both your incoming calls and outgoing calls:
Where calls came from or went to

How long the calls were

When the calls occurred

The network the calls used

Details of the call
A good call log should show timestamps for your calls, how long they lasted, and who the calls were with:


Dialpad, for instance, also logs your call recordings and transcripts in the app for easy access. These call logs allow you to go back and check calls for reporting, training, and records.
Now that we've established what a call log is, the next question is: what should it look like? Call log templates will vary across industries and departments, so you'll need to have one that matches your specific needs.
Do you interact with customers? You'll want a call log template that keeps track of who they are, what you spoke about, and any pertinent information from the call, as well as transcripts and recordings. If you're in the medical field, you'll also want to include the issues patients call about and what you recommended for them. Each industry will have different details to log.
Your call log template needs to include all the information you and other team members need for daily work and calls, conveniently arranged in a way that's easy to search and manage.
10 free call log templates for different purposes
What does a good call log look like? What kinds of call details should you include? You can find some examples below for sheet templates ranging from basic everyday use cases to healthcare and contact center-specific templates:
1. Simple call log template
Name, role, and phone number

Company

Incoming or outgoing call?

Date and time of call (start and end time if needed)

Duration of call

Notes and any follow-ups if needed
2. Sales call log template

Prospect/client's name and title

Company

Contact information

Date and time of call

Duration of call

Callback number

Action items

Notes/history
3. Client call log template
Name and title

Company

Date and time of call

Field

Accounts

Call topics

Action items

Notes/history
👉 Want these templates for yourself?
Download all 10 free call log templates to use here!
4. Daily call log template
Name and title

Company

Incoming or outgoing call?

Date and time of the call

Duration of the call

Topics

Action items

Notes
5. Employee call log template
Name

Role

Department

Date and time of call

Call duration

Action items

Notes
6. Telemarketing call log template
Person called

Time and date of call

Product or service pitched

Action items

Notes on prospect feedback (e.g. did they have questions about pricing?)
7. Patient call log template
Patient name

Time and date of call

Reason for call

Recommendation

Action items

Notes
8. Contact center call log template

Caller

Date and time of call

Time to answer

Call duration

Question/issue

Was the issue resolved?

Action items

Notes
9. Customer service call log template
Customer name

Company

Department

Date and time of call

Subject

Was the issue resolved?

Action items

Notes
10. Monthly call log template
Name

Company

Date and time

Call duration

Action items

Notes
Is there a better way to log calls than using Microsoft Excel or Google Sheets?
When you log telephone calls, you don't want to just manually jot them down, and adding them to log sheets can be time-consuming and frustrating. The best way to log calls is with a communications platform that automatically logs calls for you.
A good platform can capture, manage, and log call information automatically. If you use a customer relationship management (CRM) app, you'll want it to integrate with your communications solution to instantly log calls in the app, based on your call log template and key information.
Once you capture the data, it's also important to be able to search and filter them easily—this is something you can't usually do on a spreadsheet. However, the right solution can let you filter calls by duration, keyword, time, and more. Businesses often find this essential for analytics, as it helps them figure out what calls have the longest durations so they can focus on improving how they handle them.
Dialpad, for instance, automatically logs calls for easy searching and organizing, complete with caller ID, call analytics, and transcriptions powered by Dialpad Ai. Anyone can access their call logs from any device, while supervisors can also access their team's call logs to make sure everything is running smoothly.
And if you use a CRM, like Salesforce or HubSpot, you can also integrate it with Dialpad to automatically log calls to your templates, capture key information, and automatically pull up information connected to the caller (like past interactions or notes).


In short: call logs are vital, but you need to make sure you're logging the right information with a call log template catered to your needs. It doesn't have to be a manual note-taking process either—the right tools can make sure your call logs are detailed, accurate, and automatic.
Automatic call logging for your business
With Dialpad, you no longer need to manually log your calls. Sign up for a 14-day trial and test out our call logging features. It takes just a few minutes and you'll be set up with a virtual phone number too. Or, take a self-guided interactive tour of the app first!
How do I create a call log in Google Sheets or Microsoft Excel?
If you have to do it manually (as in if your contact center platform or phone system doesn't log your calls for you), creating a call log in either Google Sheets or Microsoft Excel is pretty simple.
For both programs, start by creating a new spreadsheet. In Google Sheets, this can be done by clicking on the "+" icon in the lower right-hand corner, while in Excel, you can click on the "File" tab and then select "New."
Once you've created your new spreadsheet, add headers for the various columns of data that you want to include in your call log. A few common headers are "Date," "Time," "Name," and "Phone Number." Add these headers by simply typing them into the first row of your spreadsheet. Once you've added your headers, you can begin entering data into your call log. Be sure to include the date and time of each call, as well as the name and phone number of the person you spoke with. You can also include additional information such as the purpose of the call or any follow-up actions that are needed.
That's all there is to creating a call log in either Google Sheets or Microsoft Excel!
How do I keep a call log?
What should be included in a call log template?