Back to Blog
AI for CROs: A guide to AI-driven revenue growth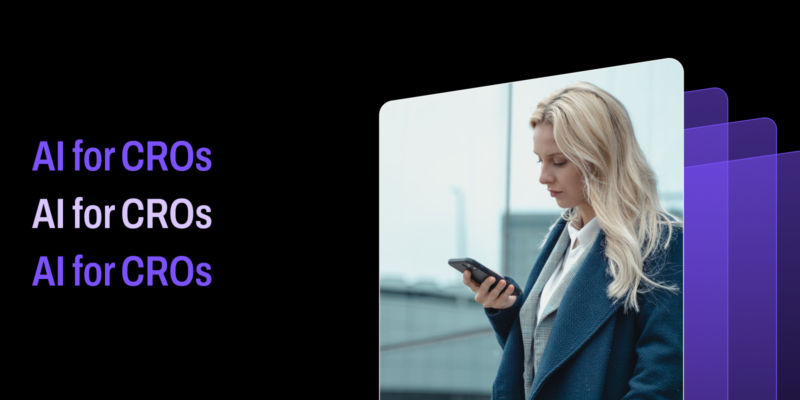 The nearly meteoric rise of artificial intelligence (AI) in the business world means it is rapidly making its way into every area of organizations. And with good reason—used well, AI is proving to enhance the way work gets done. In fact, it's quite likely that knowing how to take advantage of AI will soon be necessary to maintain a leadership position.
As Dialpad's Chief Revenue Officer, I'm fully aware of the power of AI to improve sales results—my team of sales professionals uses our AI technology daily to do just that.
Since we CROs are responsible for driving their company's revenue growth, it's important that we quickly grasp all the ways AI can help better achieve our goals. But that can be tough to figure out with all the noise about AI online. This post will help CROs like you zero in on applying AI in the most strategic—and tactical—ways.
5 ways CROs can use AI to drive revenue growth
The beauty of AI is that you can use it to empower everyone on the sales team to perform their jobs—and generate revenue—more efficiently and effectively.
1. Sales process optimization
In addition to using automation to free up your teams from time-consuming admin by streamlining coaching and everyday sales tasks, AI helps you improve customer interactions.
Note-taking
Real-time transcription eliminates the need to take notes. Instead, a searchable transcript and action items are automatically generated after each call. Some products enabling this can even provide helpful tips during the call, like telling your reps to slow down if speaking too fast.
Assistance with FAQs, objection handling, and competitive battle cards
Imagine helpful information automatically popping up for reps as they're talking to a customer. Dialpad's Ai Agent Assist can do just that. It searches all Dialpad's connected knowledge sources (even unstructured sources like PDFs and past customer conversations) to instantly pull the right answers for a rep.
Automatically-generated call summaries (with CRM integration)
Instant and automatic call summaries featuring a synopsis—such as with Ai Recap—put an end to lengthy call reviews and outline next steps after every call or meeting.
Moreover, some customer intelligence and communications platforms like Dialpad enable you to log this summary to your CRM via a native Salesforce integration.

DIALPAD TIP:
Dialpad integrates with a wide range of CRMs including Salesforce, HubSpot, Zoho CRM, and more. Plus, Dialpad's Salesforce integration works beautifully on mobile—not just on desktop!

2. Sales enablement
A number of sales enablement tools can help your sales team do their job more effectively and efficiently. For instance, conversational AI provides real-time sales support, answers questions, and provides product information—on multiple platforms and even outside of business hours.
AI can even help your reps successfully knock down objections. Using Custom Moments within our platform, for instance, you can track common prospect questions and objections. Then your sales leaders can create Ai Agent Assist cards with tailored notes akin to objection handling scripts and set them to trigger on Dialpad screens in real time whenever that question or objection is mentioned on a call. Your sellers get in-the-moment help handling objections without managers coaching every call.
With Dialpad, you can even make a "best of sales" call library and share call playlists with your team, so they have an audio template they can reference when planning for future sales calls:

3. Customer retention
No matter what type of business you're generating revenues for, retaining customers is equally important as winning new customers. And for companies that rely on subscription services and recurring revenues, it's even more important. So how can you use AI to boost customer retention?
AI-powered customer analytics can identify churn risk factors, enabling proactive customer retention strategies. Dialpad's Ai CSAT lets you gauge how your customers really feel about your organization by inferring their satisfaction—automatically. Simply put, you can understand and analyze customer behavior and preferences without requiring them to fill out a survey.

Pair this with data from your CRM—such as through Dialpad's Salesforce integration, for example—to see purchase history. Doing so makes it possible to identify upsell or cross-sell opportunities while enabling your organization's marketing team to run targeted campaigns (such as with our Outreach integration) in support of these sales efforts.
4. Engagement + sales performance management
AI can help you measure engagement, like the # of participants, talk time, emails opened, and attachments opened among your agents. It can also enhance how your sales leaders drive the best rep productivity and outcomes by providing real-time performance insights, identifying top-performing salespeople, and highlighting areas for improvement. AI-powered sales coaching tools can analyze sales calls or interactions and provide feedback to sales representatives in real time (such as via our Ai Scorecards).

AI technology like Dialpad Ai can also analyze the sentiment of each call, letting sales managers see how all live calls are going at a glance. This helps them know when to proactively jump in and assist a rep. It also makes things easier for reps since they don't have to worry about messaging for help since they know their manager will see if they're struggling on a call.


5. Analytics-driven forecasting
Forecasting is critical to enabling your organization to deliver what you sell and ensure a robust bottom line. Sophisticated AI—such as Clari's AI-powered revenue forecasting engine—can help your sales managers accurately forecast revenue. As a result, you know what to expect—and can proactively take steps to protect and even beat your numbers.
AI is the future of sales—are you ready?
While AI might still seem futuristic, sales teams use it every day for transcription, rep assistance, coaching, CSAT, QA scorecards, insights and analytics. In fact, adoption is projected to increase dramatically in the next few years. It's no wonder: Research by Salesforce found that high-performing teams are 4.9 times more likely to be using AI than underperforming ones.
Knowing the power of AI for sales, it's smart to start integrating AI into your everyday workflows. Start with the five ways outlined in this post, and you and your team will be primed to deliver better results and outperform the competition.

See why sales teams love Dialpad Ai Sales Center!
From voicemail drop to real-time coaching for sellers, Dialpad provides a range of features designed to help sales teams drive revenue. Book a demo to see how, or take a self-guided interactive tour of the app on your own!