Back to Blog
Everything you need to know about contact centers for utilities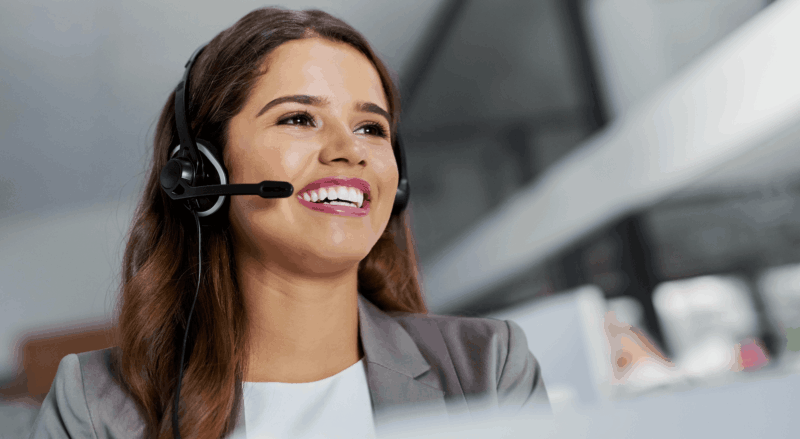 I don't know how you feel, but when I need to talk to a utility service, I don't expect to have to hang around on the phone for hours. I want to get in contact via the method of my choice, get the issue resolved and move on with my day. I expect to be able to contact them using social media, SMS or chat, instead of waiting on the phone listening to hold music.
That's why, whether it's gas, hydro, or electricity, companies in the utilities industry are turning more and more to the use of contact center software. Not only can these platforms let their customer service agents manage all their communication channels in one place, they can also centralize all customer information and interactions so that agents don't have to dig through different apps to find important information.
💡 Quick note on utility contact centers vs utility call centers:
If your utilities company is only dealing with inbound and outbound calls, then you're likely running a call center. But if your customers are reaching out through other channels like social media, SMS messaging, and live chat as well, then you'll need to have an omnichannel approach to customer service and become a contact center.
Contact centers for utility companies: Requests that agents need to handle
While there are many reasons for customers to reach out to utilities providers like Enova Energy, the majority of these fall into one of three categories:
Setup or moves,
Maintenance, and
Payment
Set up or moves
Let's say someone has just moved into a new property and needs to set up a contract with a water company. After researching the options available in their area, the next step for many people would be to get in touch with one of their local water companies.
In this case, call center agents need to be knowledgeable about the specifics of the service and able to initiate the set-up. This includes taking and verifying billing information and coordinating the new contract with the relevant local water authorities. Some contact center platforms have built-in automations so that customers can do these things themselves, with an option to fast-track them to an appropriately trained agent if they run into complications.
Another common use case is moving. Urban dwellers in the United States move as often as once every few years, often to another home in a nearby location. Utility companies that automate this moving process using conversational IVRs (interactive voice response) or messaging chatbots can deliver a superior customer experience and retain their customers while cutting costs at the same time.
Maintenance and outages
Many utilities will often have to send technicians to customers' homes or neighborhoods for maintenance or outages. For example, if you had a gas leak, you'd want to be able to call a special phone number or hotline to get your service provider to dispatch someone to make repairs right away. At the very least, utility companies should consider proactively notifying affected customers via SMS messaging and providing information like expected time to restore service and/or precautions that affected customers should take in case outages do happen.
Another example: When their internet is down or phone line cuts out, most people's first response will be to get in touch with their service provider. In the event the problem is localized to a specific customer, a chatbot can be very effective in helping the customer troubleshoot the problem and potentially restore service on their own—with access to a technical specialist being provided on a priority basis in case self-service doesn't resolve the problem. Because prompt and effective maintenance is the key to good telecoms' service delivery, contact centers serve an essential role in making sure customers receive any technical assistance they need.

Dialpad Ai Contact Center, for instance, is an omnichannel contact center platform that not only lets utilities provide call center services to customers, but also allows agents to manage all communication channels—including phone calls, messaging, and even chatbot response flows in one intuitive platform: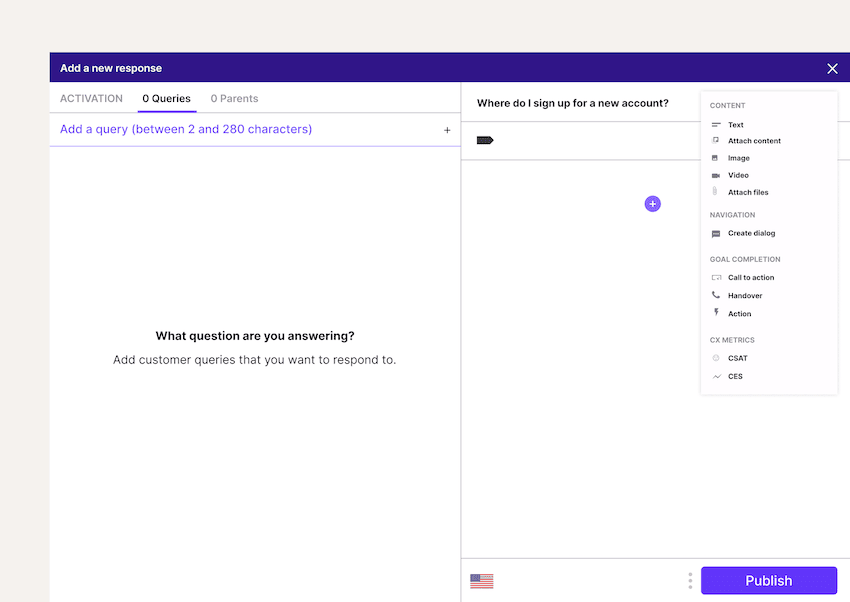 Payment arrangements
For most utility bills, direct debit is the most popular payment option. While this takes much of the hassle out of paying bills and reduces the burden on contact centers since they don't have to manually process customer's payments, there are still plenty of payment requests that do require the service of a contact center team or omnichannel contact center software.
Here's a case study example: Say you've got a gas customer whose direct debit has bounced. Rather than simply cancel the contract and leave the customer without this essential utility, gas companies can use automated emails or SMS notifications to tell the customer to update their payment info before using an outbound contact center to reach out directly to resolve the issue.
Even regularly scheduled payments can be streamlined. For example, a utility company can send an SMS text (with a link to a payment webpage) to the customer when their bill is due. This lets the customer take care of the payment with a few clicks on their mobile device—or click through to a live chat agent if they have questions about the bill.
Common challenges that utility contact centers face (and how to address them)
Proactively diffusing situations and helping frustrated customers
Because life without essential utilities can quickly become unbearable, companies that provide essential services need to be especially sensitive to any difficulties their callers might have paying bills or using their service.
The best way to avoid upset or frustrated customers is to ensure they can always talk to a live agent if they need to, and that agents can easily escalate difficult situations to a manager if needed. Some contact center platforms, like Dialpad, have AI technology built in that can monitor and flag negative sentiments in real time when a call is going poorly. This lets supervisors quickly see which calls they might need to jump on to help the agent: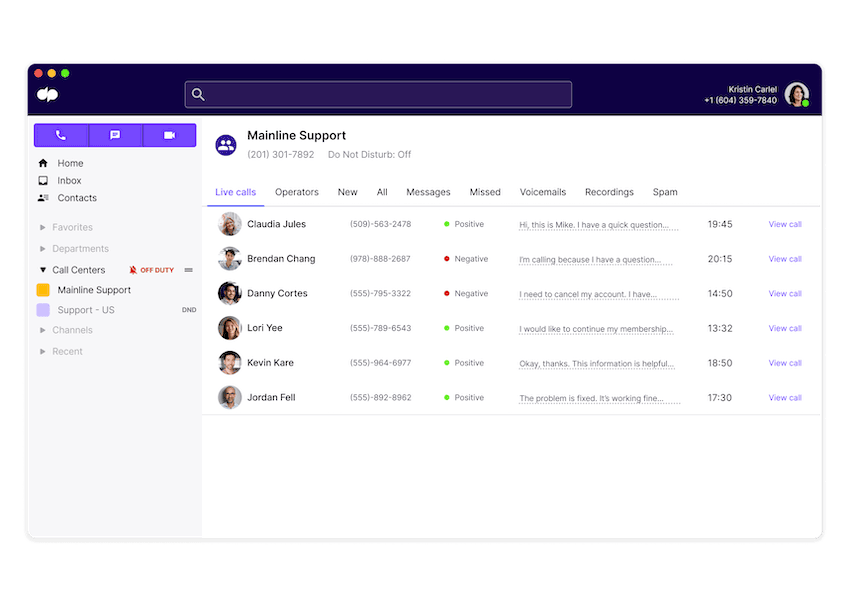 Sending technicians to customers' homes unnecessarily
For utilities that routinely send out staff for maintenance and repairs, unnecessary dispatches can lead to inefficient staffing and end up diverting technicians from other important work—which ends up being very expensive.
Avoid unneeded trips by prompting contact center agents to carry out remote trouble-shooting and implementing processes. For example, one unique thing Dialpad Ai can do is pop up Real-Time Assist (RTA) cards for agents with helpful notes on specific topics.
Say you're a manager in an internet service provider's contact center. Your agents get lots of technical support questions about how to fix their internet when they get disconnected. You could set up an RTA card with Dialpad Ai Contact Center with troubleshooting tips, and set it to trigger automatically on agents' screens whenever "disconnected" or "internet is down" is spoken on a call: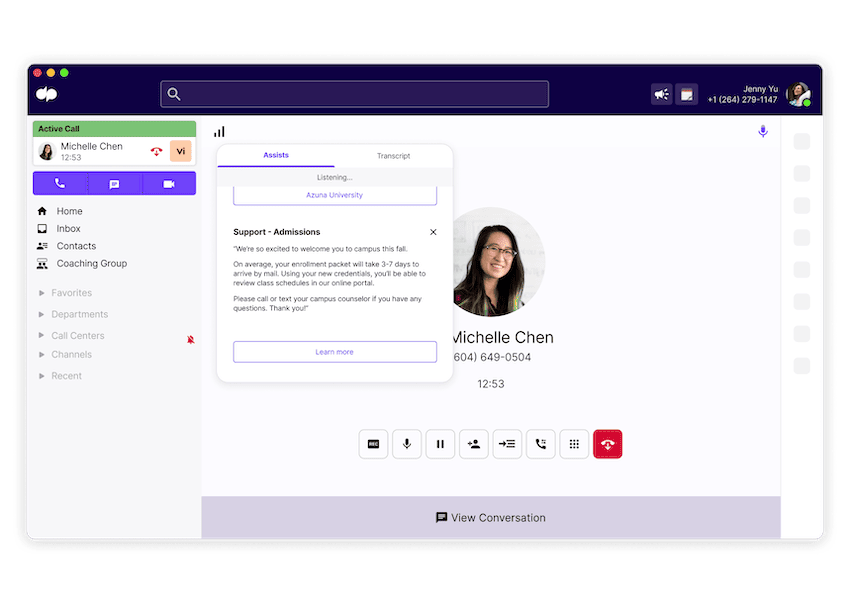 This way, managers don't have to personally coach agents on every single call, but agents can still get the information they need to help customers with tricky questions.
Setting up services for new customers
Getting new customers up and running is one of the most important tasks utilities companies face.
Some contact centers choose to have dedicated teams for customer onboarding, with agents trained to deal specifically with this challenge. To streamline the process, you can set up your IVR menus to automatically route inbound calls from new customers to those agents (or even automatic systems) best equipped to get them set up as fast as possible.
Unpaid bills and sending accounts to collection
A common issue that utilities companies need to address via their contact center teams is the collection of unpaid bills.
One way to mitigate these situations is to set up automatic SMS reminders or missed payment follow-up emails to remind the customer to resolve outstanding payments or offer solutions such as payment plans without you needing to get a customer service agent to call them.
Of course, this can't resolve 100% of issues, but it can deflect many of them and reduce the burden on agents.

Key metrics for utility contact centers to track
While there are countless metrics that utility companies use to assess their performance, some stand out as especially useful. A good contact center will automatically monitor each of these indicators of customer service—and quickly flag any underperforming areas.
CSAT
Just like other industries, utilities companies need to collect survey data to evaluate agent performance and overall customer satisfaction. Dialpad Ai Contact Center, for example, has a customer satisfaction survey feature that lets contact center teams create a CSAT survey that automatically triggers after a phone call: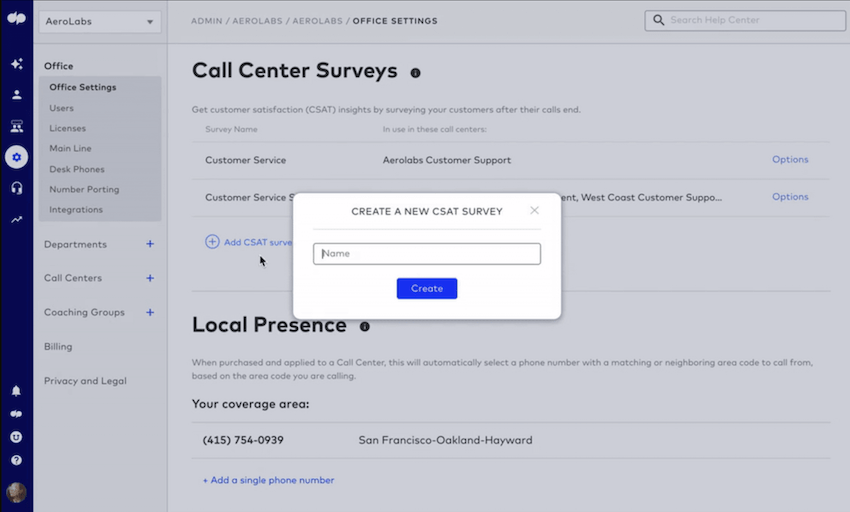 One of the biggest challenges, however, with CSAT surveys is that not a lot of people actually fill out those surveys.
In fact (depending on the industry and specific business of course), we've found that on average only about 5% of customers actually fill out CSAT surveys. On a related note, usually only the angriest—and happiest—customers actually bother to respond to these surveys, which means your CSAT answers are likely to be very skewed and not representative of how your customers feel overall.
Dialpad's industry-first Ai CSAT feature is designed to solve exactly that. Not only can our Ai transcribe calls and analyze sentiment in real time, it can also infer CSAT scores for 100% of your customer calls thanks to its hyper-accurate transcription feature. The result? A much more representative sample size for CSAT scores, and a more accurate understanding of how satisfied your customers really are: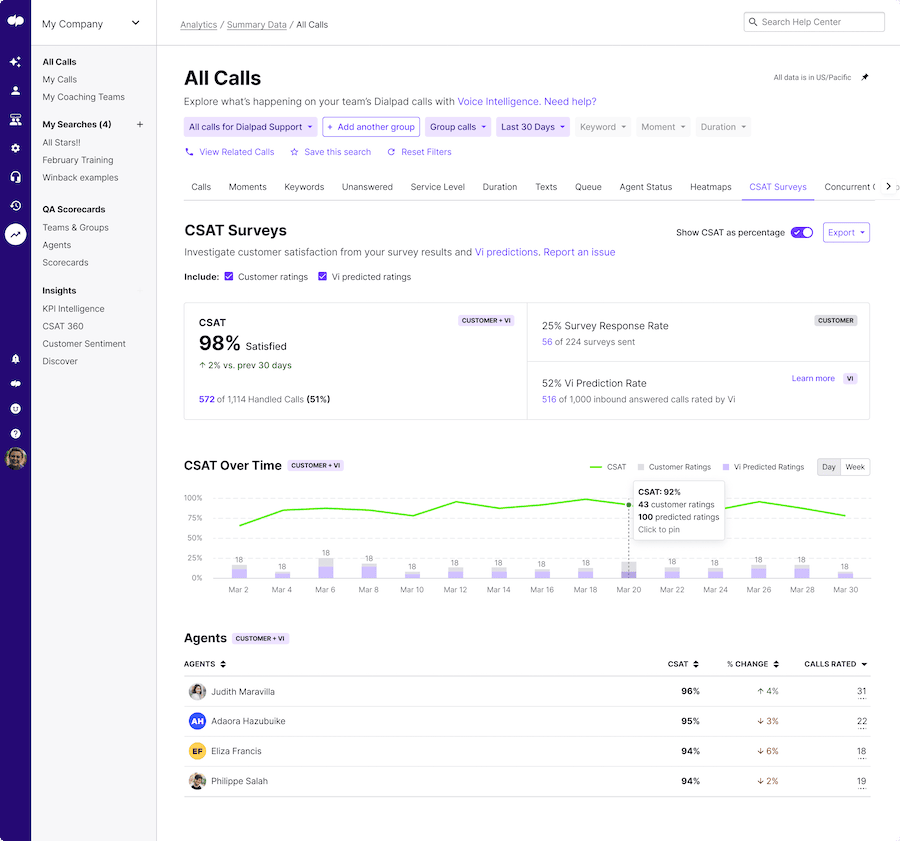 Response time
Response time is a fundamental metric for measuring how fast customer support teams respond to customers, and can cover response times for different channels like phone calls, live chat, and SMS answer times.
Our own contact center team uses Dialpad Ai Contact Center's wealth of built-in call analytics, including heat maps that show call volume patterns and also average speed to answer: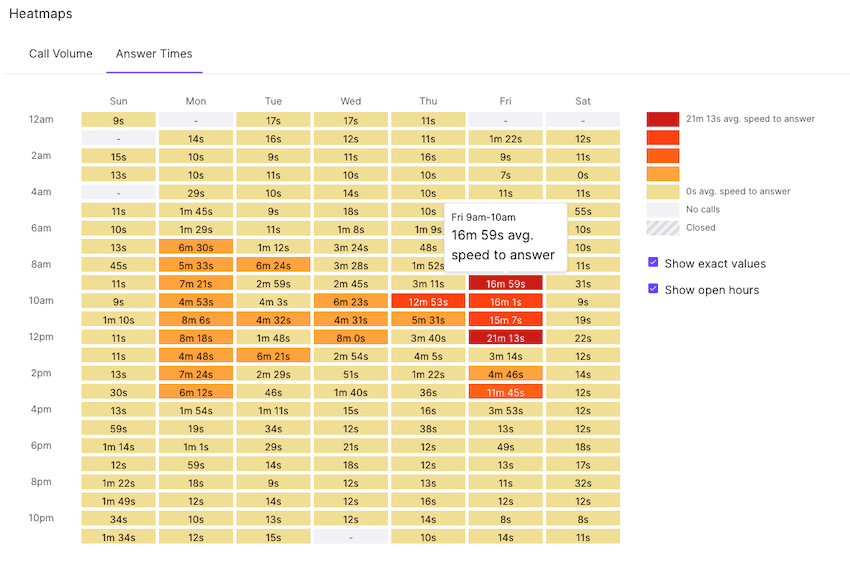 First call resolution (FCR)
First call resolution rate, also known as a first contact resolution rate, measures a contact center's ability to resolve a customer's question, problem, or need from the first time they reach out for that specific issue.
Self-service success rate
Thanks to increasingly intelligent IVR menus and chatbots, many contact centers are able to process routine customer requests or inquiries without the customer ever having to speak to a human agent. Self service success rate refers to the percentage of customer contacts that are dealt with using self-service options.
Ready to improve customer care for your utility customers?
For utilities providers, a good contact center team isn't just an answering service—it plays a key role in the customer journey and can be the reason that customers stick around for years.
Whether you're running a small business-size utility or considering call center outsourcing, you should be aware of the cloud contact center solutions out there—know which ones can give your customers self-service options, which ones let you provide omnichannel support, and so on.

Learn more about Dialpad Ai Contact Center's features and pricing!
See how your utility's contact center can provide a better customer experience with Dialpad by taking a product tour!