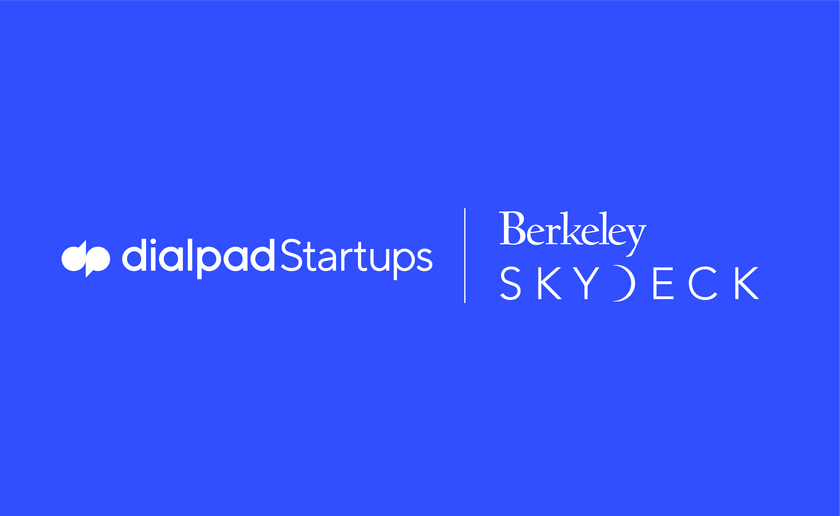 June 18, 2020
We're passionate about making it easy for startups to operate successfully and scale up their businesses. Since launching in January 2020, Dialpad for Startups has helped hundreds of early-stage companies get up and running and grow their businesses with free business phone numbers and unlimited video conferencing.
The program partners with VCs, incubators, accelerators, and advisors that support companies in their first few months. We recently partnered with UC Berkeley's SkyDeck to make Dialpad for Startups an official program offering to the participants in their incubator and accelerator cohorts.
"We've been helping founders and early-stage companies innovate and reach their full potential since 2012," said Jun Jiang, the Global Innovation Partner Program Manager of Berkeley SkyDeck. "And working with partners like Dialpad is a key way in which we're able to help our startups succeed."
When a startup gets accepted into one of SkyDeck's programs, they are given a resource packet that lists all the exclusive offerings for founders. From there, the startups can choose which offerings they'd like to take advantage of to help grow their business. "Dialpad for Startups has been very helpful in providing local phone numbers for employees and interns," said Steve Hwang, founder and CEO at Lunchable, a SkyDeck startup. "It adds a little more legitimacy when I provide a company phone number for the employees to use."
Lunchable is one of the several startups from Berkeley SkyDeck that are currently enrolled in Dialpad for Startups and leveraging Dialpad to legitimize and expand their young companies. "The process of signing up for Dialpad for Startups was simple and I was able to easily add and assign phone numbers to my team." said Hwang. "I also like the mobile app and how I can use it to make business calls on my Dialpad number, from my cell phone. The call quality is great too!"
We're proud to empower the most promising entrepreneurs around today, from UC Berkeley SkyDeck and beyond. "It's been great to offer Dialpad for Startups to our founders and have them take advantage of such a great resource." said Jiang.
Visit Dialpad for Startups to become a partner of our program or to see if your startup qualifies.