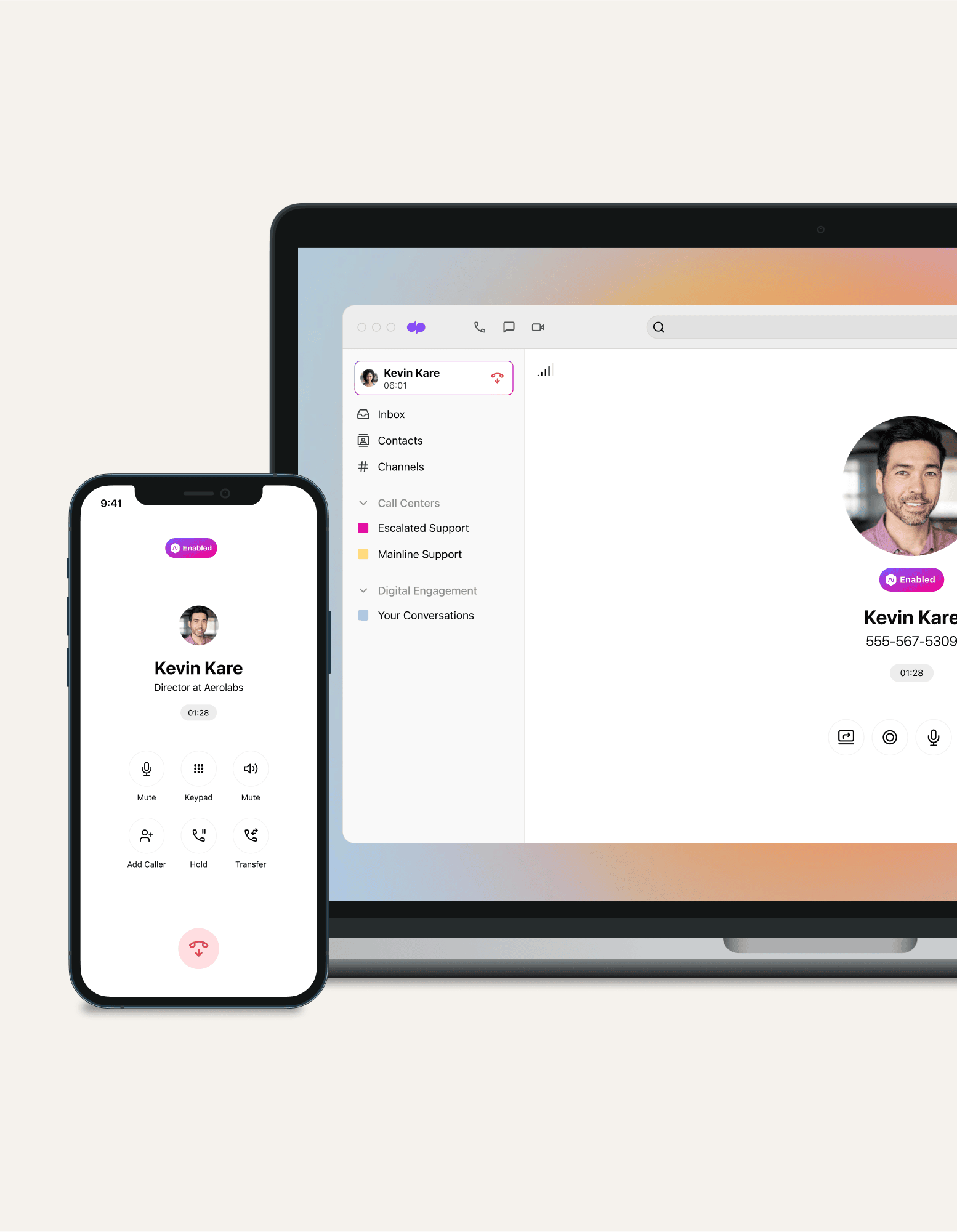 key features to look for
Sales call center
Looking for a sales contact center platform or sales call center software? Dialpad's AI-powered sales engagement solution comes with built-in functionality that transcribes calls for sales reps, pops up Real-Time Assist cards, and much more. See how it works!
What is call center software for sales?
Outbound sales call center teams typically make phone calls for lead generation, telesales, telemarketing, appointment setting, or other promotional activities. Because of this, these outbound call centers require communication tools that streamline sales to help agents hit their numbers.
Good call center software lets sales reps communicate with prospects, and should also include integrations with CRM tools like Salesforce and HubSpot. Both inbound sales agents and outbound sales call center teams can use these tools to handle outgoing and incoming calls and messages.
Call center vs. contact center software: Today, most solutions have evolved from call center to contact center platforms to allow sales reps to do high volumes of outreach across different channels like phone calls, text messaging, social media, and more.
Not just your typical sales call center service
Dialpad isn't just an outbound call center service or sales dialer. It gives you everything contact center platform does, with industry-leading AI built right in. Here are just a few things it empowers sales teams to do.


Talk to prospects on any channel, from a single app
Dialpad brings all your business communications together neatly in one place so that voice calls, SMS messages, video conferencing, and sales call center features are no longer spread across multiple channels and devices. No more switching between different apps and windows.

Reach more leads with the sales dialer
Dialpad's Salesforce power dialer elevates your reps' performance by eliminating manual dialing. More automation, more at-bats, more opportunities to book meetings and close deals.


Voicemail drop to save time
Dialpad's voicemail drop feature lets reps drop prerecorded messages into calls that go to voicemail instead of wasting precious time reciting the same message over and over on prospects' answering services.
Coach reps in real time, at scale
Also known as RTA cards, Dialpad's Real-Time Assist cards automatically trigger when specific keywords and phrases come up during sales calls. Create an RTA card with tailored notes, and set it to trigger on reps' screens whenever a certain keyword or phrase is said on a call.
See the sentiment of all calls, live
Dialpad Ai not only transcribes calls in real time, it also powers the live sentiment analysis feature, which lets managers see whether calls are going well, not well, or neutrally—in real-time. This way, they don't have to personally sit in on every single call, but they can still quickly see at a glance if a call is going south and the rep needs help.

Help sellers hit every step in a call
With Dialpad's Ai Playbooks, coaches and supervisors can track rep adherence to sales methodologies like BANT, SPICED, and SPIN more easily. Dialpad Ai can automatically suggest questions and phrases that they need to say during a call (for example, asking about budget or purchase timelines), understand whether the behavior was met, and check the task off the list (or notify managers if this isn't being done).
Learn faster with coaching playlists
Take care of new sales reps and level up existing ones with Spotify-like coaching playlists in Dialpad. Just pull call recordings of your sales team's best calls into different playlists and let them listen and learn on their own time.
Looking for sales call center software?
Get a personal walkthrough of Dialpad's AI-powered sales engagement platform with our team, or take a self-guided interactive tour of the app first!
Integrate your whole sales tech stack
From Outreach to Mixmax, to Salesforce and HubSpot, Dialpad has a wide range of integrations with not only CRMs but also a ton of other tools like Miro, Google Workspace, and more. Want to build your own custom integration? You can do that too with its APIs!
Record calls automatically
Start and pause call recordings with just a click from your call screen. Plus, Dialpad's post-call automation will email attendees after every call with call notes, a summary, action items, and more.
Set up in minutes
Add reps to a contact center, manage phone numbers, and more—all from your online dashboard in Dialpad. Do your daily admin tasks with just a few clicks, no need to wait for IT or reach out to Customer Support.

Keep data secure
Dialpad protects your customer communications and business data with built-in enterprise-grade security. There are role-based and granular access permissions, and also built-in security controls in the video conferencing screen. Mute and remove attendees, block screen sharing, let guests in through the virtual waiting room feature, and more.
3 ways to improve sales in your call center
1. Review analytics regularly
To know how your salespeople are performing, you need to know basic metrics like calls made, call duration, and so on.
But beyond the quantitative metrics, you should also be gathering qualitative insights from your prospects and conversations. For example, Dialpad Ai Sales Center can transcribe calls, and also track how often certain keywords come up!
Say you want to see how often Competitor X's name comes up in prospect calls. Just create a "Custom Moment" from your dashboard, and set it to track Competitor X's name:
Dialpad will then track how frequently your competitor gets mentioned, which you'll be able to see from your analytics dashboard.

📖 Further reading:
See how SpotOn, an enterprise point-of-sales solution provider, uses Dialpad Ai to empower its outbound sales team!
2. Equip your team with the right tools
Even if you hire only the most tenacious and talented reps for your sales team, they still need the right technology to support them.
A good contact center platform will let them handle high volumes of outbound and inbound calls, messaging, and sync all their activities to their CRM. This is essential for a good prospect and customer experience—and can be a significant time-saver for your team too.
3. Go omnichannel
Today, both your current and potential customers are probably using a variety of communication channels to interact with businesses.
Phone calls are still important, sure, but SMS text messaging is quickly catching up, and social media is another popular channel that your sales team will want to be on. (For B2B SaaS companies, LinkedIn is an essential channel.)
If this sounds familiar, you'll need an omnichannel contact center platform that brings together all of these channels into a single ecosystem. This way, even a rep who's never spoken with a prospect before can pick up the threads of the conversation smoothly when a teammate is on vacation. Otherwise, you'll have a ton of siloed data in different apps and software, with no way to see everything in a holistic, centralized view.
Want to increase call center sales?
From helping businesses improve customer satisfaction to empowering reps to close more deals with its unique AI-powered features, Dialpad is designed for business communications, pure and simple.
Whether it's outbound or inbound communication, phone calls or text messaging, businesses across a wide range of industries are using Dialpad to help their sales teams crush their quotas, every month.
See why.

See how Dialpad can get your reps more at-bats
From the power dialer to real-time transcriptions and coaching, Dialpad is designed for high-performing Sales teams. Get a personal walkthrough of the product!
FAQs about sales call center solutions
Why use sales call center software?
If you want to truly empower your sales team instead of just micro-managing the number of calls they generate, you have to equip them with the right technology. For example, if your call center uses multiple communication platforms to reach out to customers, you'll want to set yourself up with robust contact center software instead of call center solutions.
Choosing scalable solutions for your tech stack that align with your business activities is crucial. Do you have a distributed team of reps? Do you have a mix of seasoned and new sellers with varying degrees of experience? These are all good reasons to invest in a well-built piece of sales call center software.
Choose something that can grow with your business, with a wide range of integrations so that you'll be able to keep using your favorite apps within a single platform. Don't forget about built-in contact center analytics and reporting to maximize efficiency and rep performance.
What are the key sales call center metrics to monitor?
What do you do in a sales call center?
What is a sales representative in a call center?
What is a BPO call center?