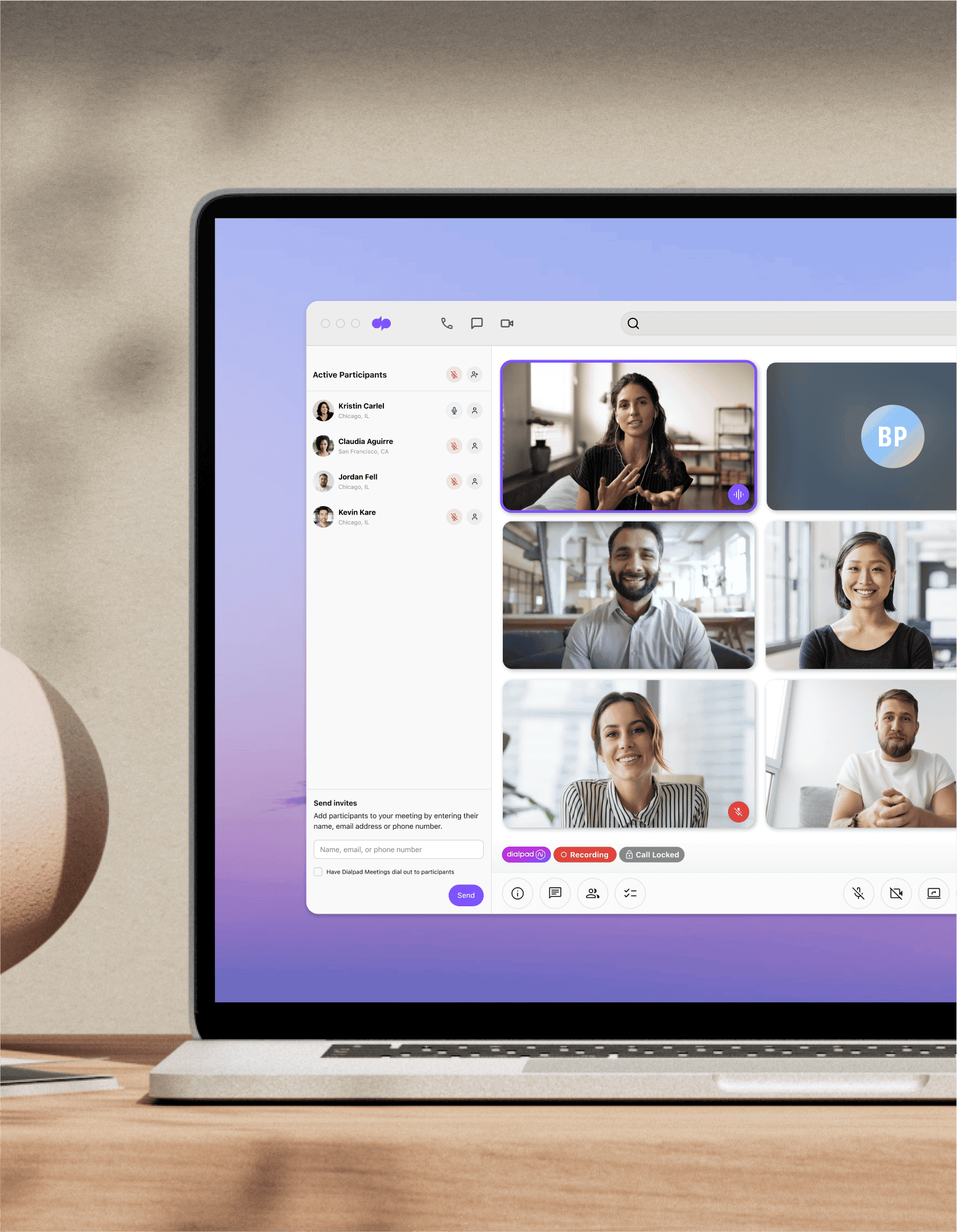 Hybrid workplace solutions
Events like pandemics and cultural shifts have accelerated growth in remote work, and now, many companies are looking for hybrid workplace solutions to provide the best of an in-office and remote environment. Interested in supporting a hybrid workspace? See how Dialpad's AI-powered collaboration platform is designed for exactly that!
What technology do you need in hybrid work solutions?
Hybrid technology solutions typically include two main pieces:
Robust communications platforms that give you phone calls, messaging, and video conferencing, screen sharing, and online whiteboard options for remote collaboration
Cloud storage and file-sharing tools with document synchronization for easy access
In terms of nice-to-haves, some hybrid workplaces may also need workforce management to keep track of everyone's schedules, and performance management and analytics tools to ensure the business is operating effectively. And when the whole team needs to come together, you'd need to set up a physical, virtual, or hybrid meeting room with smart conferencing solutions.
Dialpad: More than just your typical hybrid working solution

HD audio and video
Dialpad's global voice network and unique dual-cloud architecture are designed to give you excellent call quality on conference calls and video meetings.

All your communications in one place
A good hybrid work solution should come with phone calls, video meetings, and SMS/MMS + instant messaging. With Dialpad, you can send 1-on-1 messages, team messages, and texts all in the same app, and even share files, photos, and videos. Create dedicated channels for any project, team, or topic, meaning you can chat in groups without having to remember to copy everybody in.
Unlimited call recording
Call recordings let you keep records of conversations for reference and training purposes—and protect your business. Start and stop recording with just a click in Dialpad, and configure settings to comply with more stringent regulations in your state. Not only that, Dialpad also provides real-time transcriptions (so you don't need a separate meeting notes app).
A hybrid workplace solution designed for a modern workplace
Sign up for a 14-day free trial of Dialpad to get set up with a virtual business number and try it for free—or, take a self-guided interactive tour of the app!
"
So many people took off—without asking questions—to set up their own conference lines and meetings in their own groups without instructions, which says a lot for how the UI is set up.
"
Jeremy Cumbie
IT Director at Blue Cliff College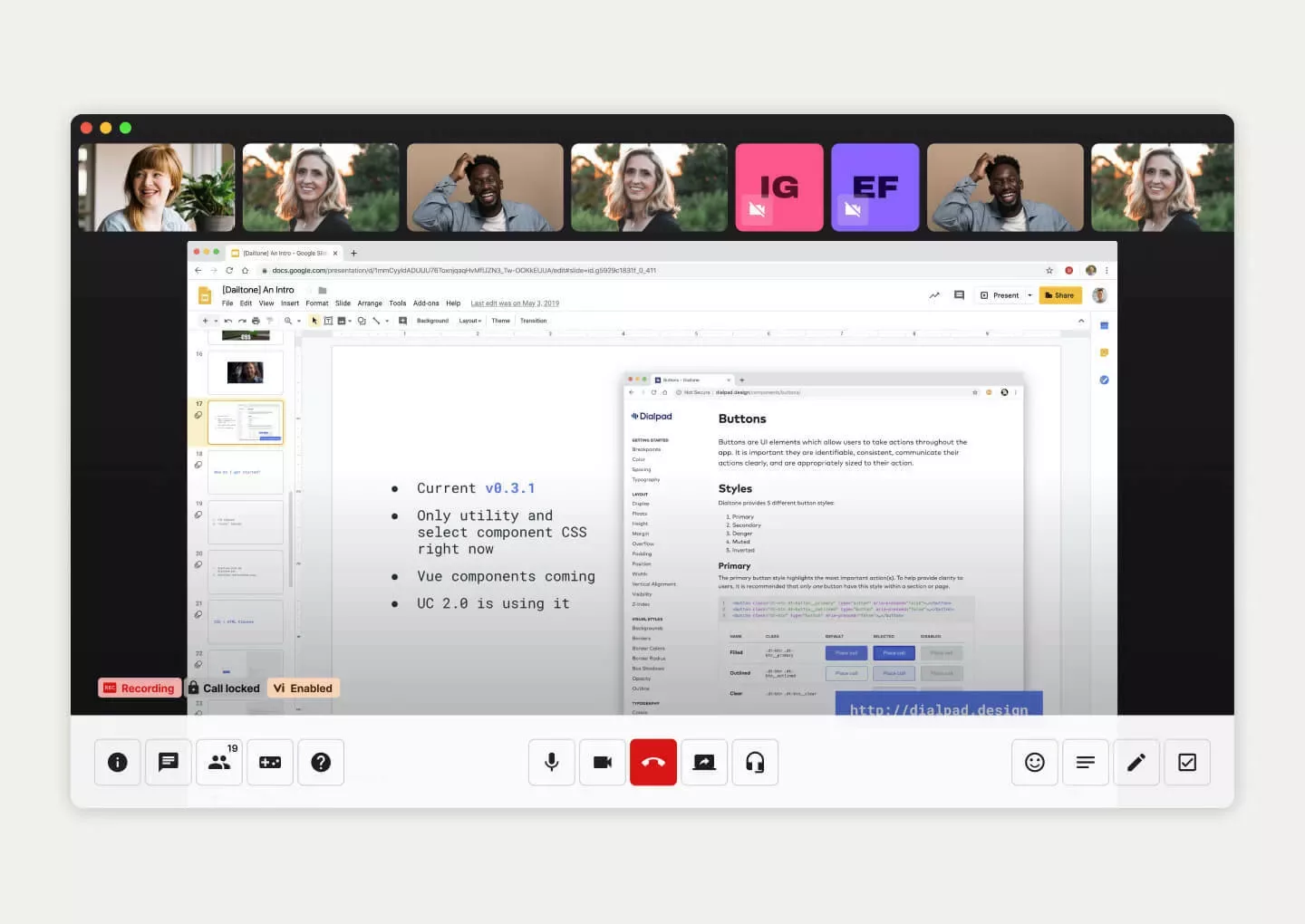 Easy screen sharing
Screen sharing is an essential feature for hybrid workforces that need to collaborate. Dialpad lets you share your entire screen or a specific window, tab, or document on desktop and mobile. You can even send out a screen-sharing link via SMS and invite someone to join via web browser.

Powerful security settings
Dialpad uses WebRTC technology and Secure Real-Time Transport Protocol for encryption and authentication on every call. There's role-based access at company, office, department, and user level, plus integrations for access management. You also get host controls for meetings, including locks, muting, and passwords.
Integrations with popular tools
A good hybrid work solution should integrate with the tools you already use. Dialpad boasts a growing ecosystem of app integrations for improved productivity. The Miro integration gives you a smart whiteboard, and you can also connect to Salesforce, Google Workspace, Microsoft 365, workforce management tools—or build your own custom integration with the API!
Hybrid work software use cases: How these companies have found flexible work styles
Camino Financial
Dialpad's unified communications platform made it easy for Camino Financial's staff to work remotely during the pandemic—and now it's helping them transition to a hybrid model. With offices located in LA, Mexico, and Colombia, they need to be able to communicate from anywhere.
With Dialpad, their team can easily manage scheduling for a distributed workforce, including different holiday schedules for agents in different locations. Plus, the employees love working with the native Salesforce integration and call analytics.
In fact, the company boosted customer satisfaction up to 97% and cut resolution time from 48 hours to just six hours!
Stax
Payment processing provider Stax has also embraced hybrid working in order to support the fast-growing company. Stax has offices across the US and is expanding around the world, so they need a scalable system that keeps everyone connected.
Because Dialpad works across iOS, Android, PC, and Mac through its mobile and desktop apps, their employees can stay connected no matter what devices they're using. (Plus Dialpad also works on web browsers, no downloads needed.) Stax's supervisors can also remotely help agents with screen sharing and Dialpad's Real-Time Assist cards.

Xero
Accounting software giant, Xero, has thousands of employees and offices on four continents, with a global network of anywhere workers. As well as hybrid workplace software, Xero needed to consolidate company-wide conversations into a single enterprise communications platform that works on any device.
Enter Dialpad, which provides one global platform for all offices and staff. They can all access tools like call analytics and seamless integrations, and the rapid deployment engine can provision users and create new offices in minutes. Dialpad also saved Xero $500,000 in annual telephony costs!
Blue Cliff College
It's not just the business world that's handling hybrid working challenges and solutions—schools and universities are also moving to a new way of learning. Blue Cliff College has six campuses in three states and uses Dialpad to operate a flexible workplace with remote and hybrid learning.
The necessary switch to a remote model in 2020 made the college realize that their existing PBX phone system was outdated. With Dialpad, they saved thousands each month on conferencing, and enrolment has actually increased.
Today, Blue Cliff has found new ways to communicate with students and faculty. (Like through text messaging!)
Improve your workforce productivity with the best hybrid workplace solution
Hybrid workplaces need to give their employees a great communication and collaboration experience, with easy access to all tools and data through a centralized system. If that system is also scalable, reliable, and secure, you'll wonder why you didn't move to hybrid work sooner.
Dialpad gives you all this, alongside HD audio and video, unlimited call recording, and integrations—if you're looking for the best hybrid workplace solution, why not check it out?

An easy to use, intuitively designed hybrid workplace solution
Try Dialpad for free before choosing a paid plan! Sign up for a 14-day free trial to take it for a test drive or, take a self-guided tour and play around with Dialpad on your own!
FAQs about hybrid workplace solutions
What is hybrid work?
In a hybrid work model (which is quickly becoming "the future of work"), the workforce consists of in-office and remote workers.
Some organizations let employees divide their time between working on-site and at home. Others have some staff working full-time in the office and some who are permanently remote. Hybrid work often involves hot desking and BYOD (bring your own device).
Lower employee occupancy means you'll need less physical space for your office, which makes hybrid work a cost-effective option. You can recruit from anywhere in the world, and staff are typically more engaged and motivated when they have flexible working hours.
However, to make it work, you'll need to reimagine your work environment and technology, and ensure you treat your in-office and remote workers equally.

How can hybrid work be improved in the workplace?
How do you engage employees in a hybrid workplace?