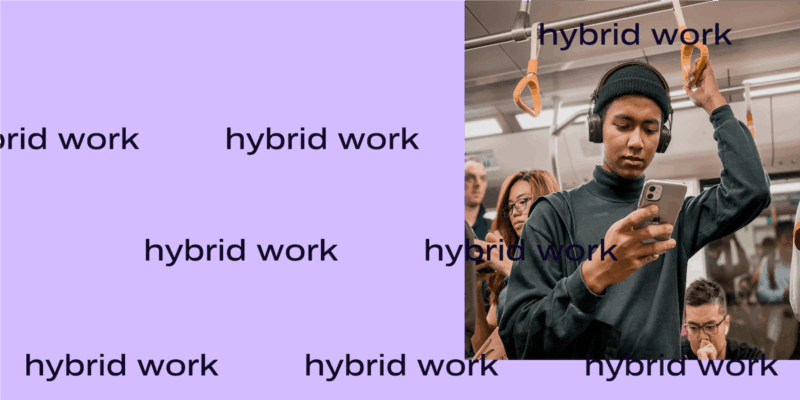 Today, there's a ton of meeting jargon to keep track of: in-person meetings, remote meetings, and now—hybrid meetings. Having been in probably hundreds of meetings (both in-person and remote) over the years myself, and now helping to build a hybrid meetings platform, I can tell you this—hybrid meetings are the future.
But many companies still aren't prepared yet to make the switch to hybrid meetings. It does require a bit of planning, but in the end, it can strengthen your workplace and bring your team together in interesting new ways.
In this guide, I'm going to go over everything you need to know to switch to a hybrid meeting workplace, including best practices and what to look for in a video conferencing platform to drive your hybrid meetings.
What is a hybrid meeting?
A hybrid meeting definition is pretty straightforward: It's a meeting with a combination of in-person attendees and virtual, remote attendees.
In terms of hybrid meeting technology, in-person attendees will often be in a physical meeting room with dedicated video conferencing software and hardware, while remote attendees will be using personal devices to connect to the meeting software.
How to incorporate hybrid meetings in your team: 5 best practices
While transitioning to hybrid meetings, whether from all remote work or entirely in-person attendance, you're going to hit the occasional speed bump. But don't let that scare you—here are seven hybrid meeting best practices I've come across as a senior product marketing manager:
1. Decide what work will be done in and out of the office
First, decide what will be done in and out of the office. Take some time to think about how your space is currently being used, especially when it comes to meetings. Then break down how many employees work outside the office, how many come in every day, and how many do a combo of both.
Once you know what you're working with, you can transition your office to an "activity-based" workspace, where there are no assigned desks and employees can choose where, how, and when they work.
This is a new approach to planning office workspaces, and it complements hybrid meetings nicely—if you're transitioning from one, it makes sense to go for both.
2. Allocate funds to support the hybrid work transition
Funds for your hybrid work transition aren't going to magically appear—they need to come from somewhere.
As you create your "transition to hybrid meeting checklist," (something I highly recommend), zoom in on your rough costs of having meeting spaces for in-office team members and compare that against how much you could save from moving to hybrid work.
For example, how much could you save from renting or leasing a smaller space? There are also the intangibles, like employee happiness and a larger candidate pool when you're recruiting new hires.
Dialpad's video meetings platform, for example, has a free plan that comes with unlimited meetings, and the paid plan is only $15 per user per month and adds on real-time transcriptions, unlimited video recordings, and much more:


3. Implement the right infrastructure, software, and systems
Speaking of video conference platforms, once you know what your team needs, you can narrow down the list of infrastructure, software, and systems you'll want to implement.
For example, if you want to take this hybrid meeting opportunity to streamline different apps and tools into a unified communications system, you might look into Dialpad as an option.
Not only do you get video conferencing with hybrid meeting features, but you also gain access to dozens of integrations, a business phone system, a cloud contact center platform... Basically, a robust, virtual workspace for your entire team.
Here you can see how easy it is to send someone a meeting link in Dialpad—attendees just need to click the link:

Once you click that link, it'll open up your mobile web browser and let you join the video call from there, no downloads needed: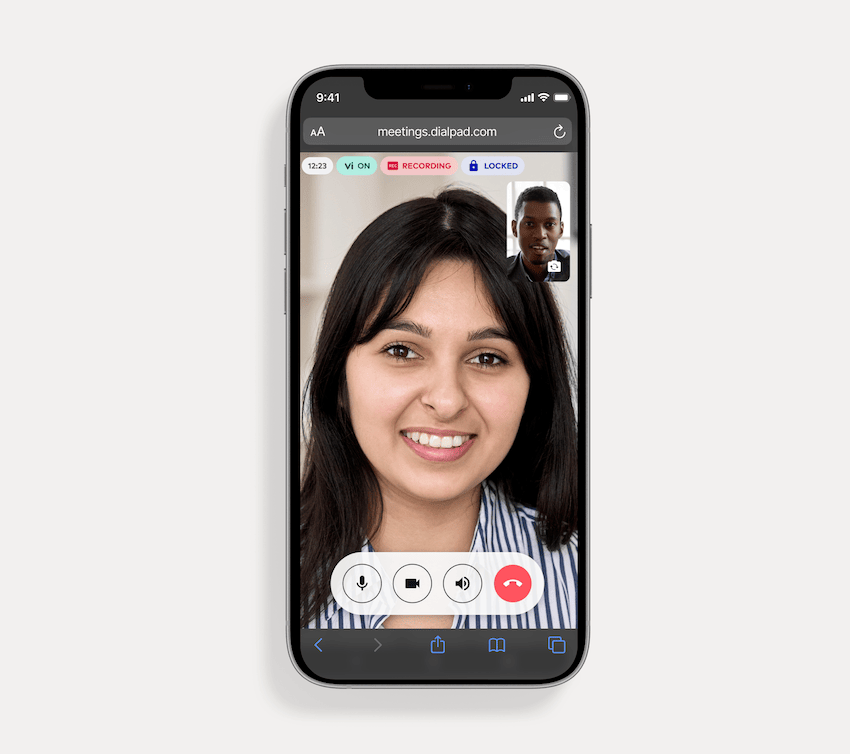 4. Build a company culture that engages all employees, both inside and outside the office
It's easy for remote meeting attendees to feel isolated when everyone isn't physically in the same space. To alleviate this and create a company culture that engages all of your employees, no matter where they work, keep the following in mind:

Your remote team members may already feel left out, so if you're going to incorporate snacks or fun office perks for in-person meeting participants, try to have an equivalent for your remote attendees. One idea I Iike is to send out coffee gift cards in advance of meetings so everyone has a treat.

Assign a meeting facilitator to keep things on track. In my experience, a good hybrid meeting tends to have a strong facilitator and a clear meeting agenda, which makes sure that both in-person and virtual attendees have a successful meeting experience.

Make sure you're using equipment and technology that gives your remote employees a screen presence on par with in-office employees. (Think dedicated conference rooms with enterprise-level video calls.)
5. Get feedback and suggestions from your team
Get feedback and suggestions from your team whenever possible. Before implementing hybrid meetings, gather a brainstorming group of remote and in-office employees to see what they're looking for in an online meeting solution.
Once you've had a few meetings, check back in with participants to collect feedback. Create a hybrid working culture that allows workers to share ideas so you can constantly improve upon both what's not working and what is.
Key considerations when shopping for hybrid meeting solutions
A key component of successfully switching to a hybrid workplace is to have a good hybrid meeting platform that provides a good experience for your in-office and remote workers. Here are a few things to look for.
Capacity for small and large meetings
You have a lot of options in the video conferencing sphere. If you need to support a hybrid workplace, though, then you need a solution that can handle face-to-face meetings for both small and large groups.
Does your company mostly have one-on-one team meetings, or larger meetings with 10 or 20 (or more) people? Whichever it is, make sure you choose a hybrid meeting solution that can support that.
HD audio and video
Not all of your remote colleagues will always have strong internet connections, so it's critical to choose a hybrid meeting solution that can optimize both video and call quality in heterogeneous network environments. One unique thing about Dialpad is that it can automatically calibrate the audio and video quality of a meeting in real-time to compensate for a poor internet connection.
This way, you might get slightly more pixelated video, but you'll still hear everything people are saying as opposed to your teammates cutting in and out while they're talking.
Fun fact: Dialpad + Poly's partnership is designed to help you create a great hybrid meeting room. With Poly's Ultra HD camera (featuring a super-wide 120-degree field of view) and Dialpad's HD video, your meeting participants can collaborate, no matter if they're in the office or working remotely: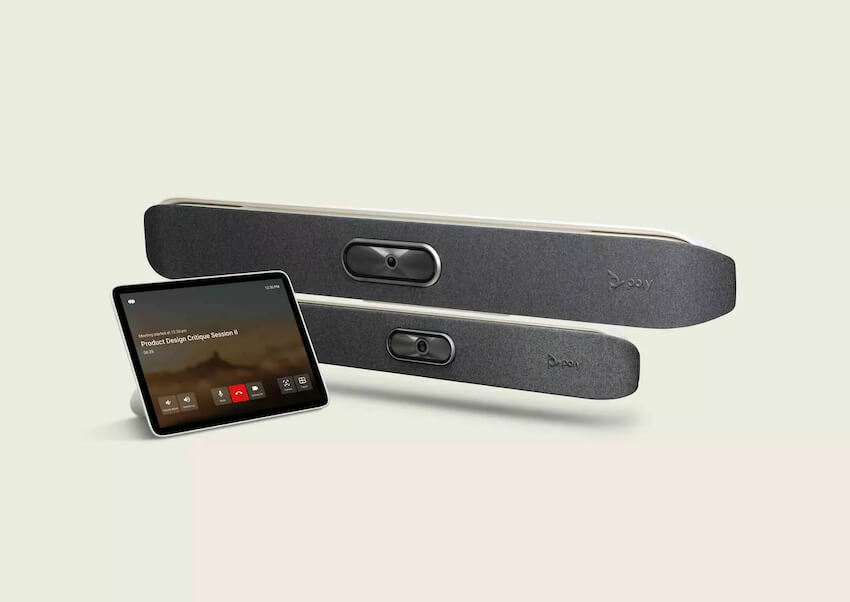 Digital whiteboard
One of the most popular team brainstorming and collaboration tools is probably the giant notepad that you typically see in conference rooms. They're great for writing notes down and coming up with ideas as a team.
Well, the good news is you can still get this teamwork experience with hybrid meetings! Dialpad, for example, integrates with Miro (a whiteboard tool) to let your in-office and remote participants brainstorm together over video: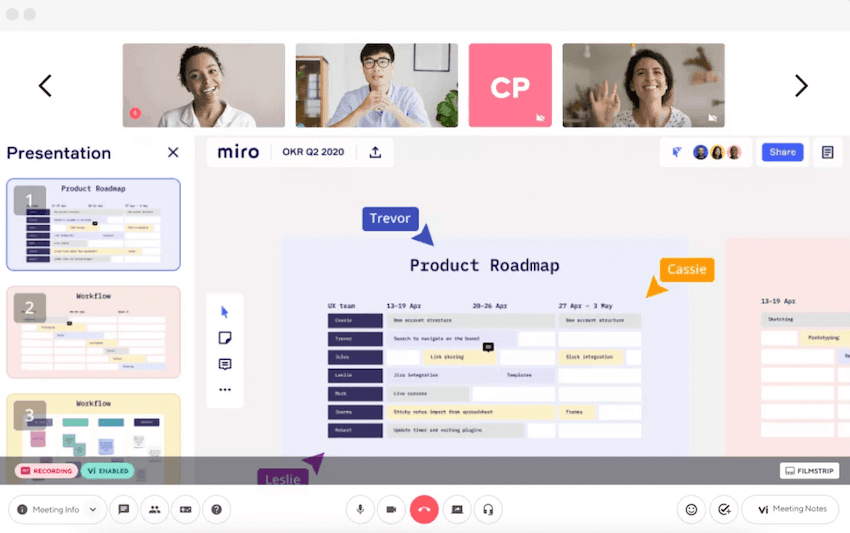 There are a ton of project templates to choose from, and it's as close to recreating that in-office brainstorm session as you can get.
Different meeting controller options
Having different controller options at your fingertips can make hybrid meetings a lot easier to manage and control as they're happening.
The Dialpad Meetings for Rooms solution allows you to control meetings from a meeting room with a web controller or a hardware option like the Poly TC8. The Dialpad app is built right into the Poly TC8 controller, so there's no frustrating setup. With these controller options from Dialpad, you can easily mute users, turn cameras on and off, and control tap-to-join meeting features:

Calendar integrations
It's important to choose a hybrid meeting solution with plenty of integration options, and key among those should be a calendar integration.
Integrating your calendar with your hybrid meetings solution gives you complete control over meeting invites. With Dialpad, for instance, you can connect Microsoft Teams and Outlook, and Google Calendar, giving you full access over how you plan, schedule, and organize meetings.
Dialpad's integration can auto-populate call details and even dial out to remind your attendees when the meeting is about to start.
Ease of use
And finally, you want a hybrid meeting solution that's easy to set up.
Dialpad is incredibly easy to get up and running. Depending on your company size, you can be rolling with Dialpad within one day. Once you sign up for a plan, you can start adding users in minutes with Dialpad's easy-to-use, intuitive platform.
And if you need a little help? Dialpad has deployment specialists that can help your team get started.
Have more effective hybrid meetings with Dialpad
I fully believe that hybrid meetings will be a game changer as businesses transition to more flexible work situations. And now, you know all the hybrid meeting basics, best practices, and what to look for in a hybrid meeting solution.
If you don't have the hardware and software yet, though, why not check out Dialpad Meetings? It gives you everything you need for hybrid meetings—along with phone calls and messaging—with its unified communications platform.

Want to have more inclusive hybrid meetings?
See how your team can have phone calls, video meetings, instant + SMS/MMS messaging, and more with Dialpad's easy-to-use platform! Sign up for the free plan now or, take an interactive self-guided tour of the app!