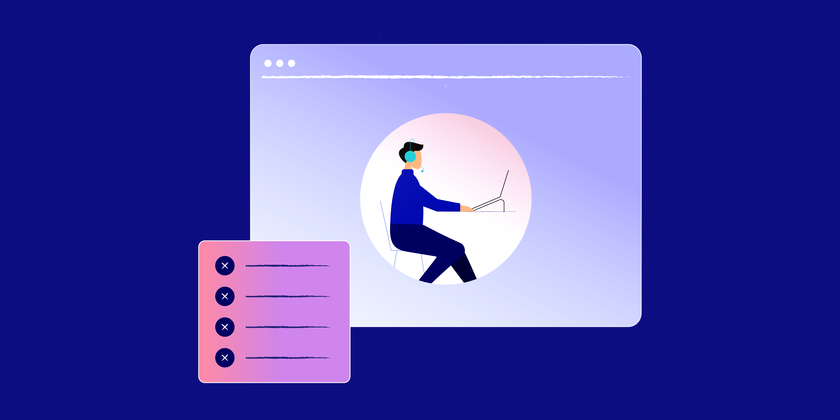 March 19, 2021
A successful business needs to do more than just attract customers: it needs to maintain them. In fact, an increase in customer retention of just 5 percent can help businesses increase profits by 80-95 percent, so it's vital to keep customers satisfied. The saying "there's plenty more fish in the sea" may be true to an extent, but attracting a new customer is five times more expensive than retaining existing ones, and why shouldn't a business want both? Nurturing your existing customer base is just as important as new customer acquisition for revenue and reputation alike.
This is where call centers can make a big difference. While companies often think of call centers as just "cost centers," they can in fact have a huge impact on the organization as a whole. That's why it's especially important to avoid making common call center mistakes, which you can learn all about in our new webinar.
1. Ignoring the Customer Lifetime Value
The contact center is key to creating your connections with each customer. When a customer calls in, you have the opportunity to forge a stronger relationship with them, which requires a degree of empathy and understanding.
Eighty percent of customers expect businesses to understand them, in terms of the specific issues they're encountering and the frustrations it may cause. Call center agents should be able to sympathize with the customers while providing helpful solutions to their problems. That's why Dialpad uses Dialpad Ai to provide pop-up assists. These can help present solutions to issues based on keywords, as well as provide coaching for agents to ensure they're making the right connection with the customer.
A customer who feels heard and understood is one who will keep coming back. If you don't focus on retaining them, you'll lose out on the value of returning customers.
2. Failing to Leverage Customers as Advocates
Loyal customers can become your spokespeople. While there is, of course, great value to be found in marketing campaigns, advertisements, and salespeople, a positive reputation and word of mouth can do wonders for your brand.
Every customer has the potential to become an advocate for your brand. If your call center can provide them with a positive experience, they'll be more likely to recommend you to friends and colleagues. Call centers should view every interaction not only as something that's necessary to retain a customer, but as an opportunity to reach even more people through that customer.
No interaction is truly in a vacuum, especially in a world connected and dominated by social media. Word of mouth can do amazing things for a business if they provide a positive enough experience.
3. Relying on AI in all the Wrong Ways
Artificial Intelligence is a fantastic tool that's been growing smarter and more effective over the years. Yet until a company releases one that can pass the Turing Test (a test wherein an AI and human converse at such a level that an observer cannot tell which one is artificial), AI cannot replace a human touch in call centers.

How many times have you tried to get help using a chatbot, only to grow more frustrated as it does nothing but point you towards articles that don't address your issues?

How often do you request to speak with a representative the second you enter an automated menu?
Companies that use chatbots to respond to problems are likely to further upset customers when they're already searching for help.
People want to talk to other people, and the value of person-to-person interactions cannot be overstated. AI still has a place in the call center, but it's to help agents, rather than replace them.
You can use AI to supercharge your agents. Quickly provide answer prompts to your agents and automatically take transcripts during the call with AI like Dialpad Ai. Let your agents focus on the conversation, and understand what your customer is feeling with sentiment analysis. AI assists agents so they can maintain that strong personal connection while still benefiting from all that AI has to offer.
4. Ignoring the Agent Experience
Your call center agent is your first line of defense when customers need help, and with any luck, also the only one you'll need. Yet oftentimes, call centers neglect to properly train their agents and offer them lower pay than they deserve - it's not easy to deal with customers all day! (Learn more about how you can manage shrinkage.)
When a customer calls in to your call center, they're probably going to be unhappy. You want to make sure your agent provides a good experience, which means investing in your team to ensure they're fully equipped and ready to tackle customers' problems.
Happy agents help make happy customers. Investing in your agents will ensure they can provide better service to your customers, resulting in better retention and better reputations.
These are some major mistakes call centers can make, but there's so much more to ensuring your call center and agents keep your customers satisfied. To learn more, watch our webinar on "Contact Center Mistakes That Impact Customer Retention."