Back to Blog
How to find the right PBX replacement for your company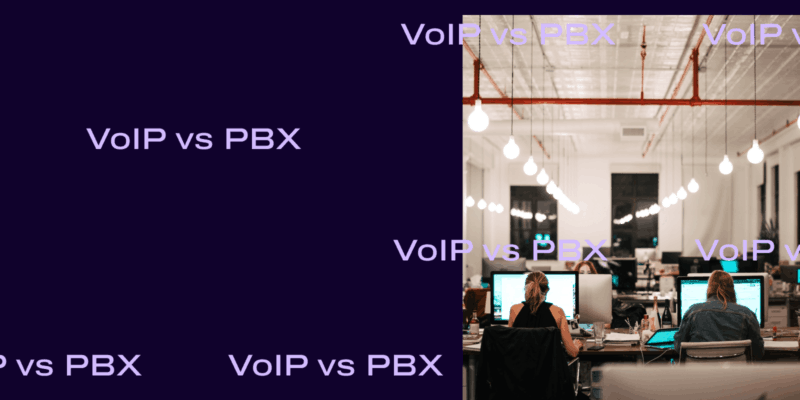 Gone are the days when companies depended solely on an old PBX phone system. More businesses are switching to the cloud and seeing significant benefits—including cost savings, greater flexibility, additional features, and easier maintenance.
A cloud business phone system is the way of the future. With everything else moving to the cloud and more and more business functions going digital, it makes sense that phone systems are also becoming web-based. These systems use VoIP (Voice over Internet Protocol) for phone calls, which can boost quality and ease of use.
When you decide to go this route for your business, there are many things to consider when finding the right solution that will best serve your needs. What should you look for when shopping for a PBX replacement? Here are seven critical considerations for your hosted VoIP service.
7 essential considerations when you're looking for a PBX replacement
1. Ability to port existing phone numbers
One of the first things to consider when replacing your PBX system is whether you can easily take your business phone number with you. You don't want to switch numbers with the new service since many of your customers and prospects will still associate your old number with the business. Switching can create confusion and frustration.
A service like Dialpad allows you to port your existing phone numbers from your current PBX provider to your Dialpad account. You won't experience any interruption in service during the transfer.
2. Ease of setup
When you start your hosted VoIP search, think through how simple the new solution will be to set up and integrate into your business. The company won't stop running just because you're changing your phone service. It would help if you had a solution that will be seamless and straightforward with no downtime.
Ask the tech support team from the new service to walk you through how the setup and implementation will go. Involve other team members to assess the impact on your company entirely. Don't commit to something that will be complex and time-consuming.
3. Hardware requirements (ideally, there's none—or very few)
One of the most significant benefits of switching to a hosted VoIP service is that there isn't much maintenance or hardware required. Make sure you can take full advantage of this benefit before you decide to go with a provider. Don't sign up for a service where you and your team will have to learn many new systems and have new hardware requirements.
Hosted VoIP providers will usually manage the system's installation and take care of the maintenance needed to keep things running, including routine updates. It's worth outsourcing these tasks so that your team won't have a big learning curve to provide the same phone service level.

Thinking of replacing your PBX phone system?
Learn about Dialpad Ai Voice, which gives you a phone system with video conferencing, team + SMS/MMS messaging, and even contact center functionality built in (if you need it!)
4. Cost-effectiveness
Compare cloud service providers before making a decision. Which will give you the services you need at the lowest price?
Phones that use VoIP are typically more affordable than traditional PBX phones (not to mention the calling rates), and the service overall will probably help you save money. Just make sure you look at all your options so you can find the provider that meets your budget and priority list.
Dialpad, for example, starts at only $15 per user per month, and even the least expensive plan comes with unlimited calling in the US, Canada, and your country.
5. Scalability
Another major plus of cloud services is that you can easily scale if you need to. You can start by paying only for the business phone licenses you require at the moment and add on additional seats when your business starts to grow and you have more employees.
For example, if you need more lines or an added toll-free number, all you have to do is click a few times to add services and try them out. And you can always scale back if you need to. This is a meaningful way that VoIP makes your phone system easier, so make sure you go with a PBX replacement that gives you many opportunities to scale and adapt as your business changes.
6. Integration with other tools
Make a list of all the other tools your team uses, both for daily tasks and phone calls. How will your new cloud phone system provider fit with these existing solutions? Choosing an option that will integrate seamlessly means your team won't have to deal with a steep learning curve upon implementation.
Address these questions right away when you start shopping. Talk to potential providers about the tools you currently depend on and ensure there won't be issues when integrating the VoIP solution. It would help if you had everything to work together to provide excellent phone service to your customers.
7. Call quality and reliability
What are your company's standards for phone service? These shouldn't change just because you're switching to the cloud. Make sure you won't have to sacrifice call quality to get a cheaper rate or package. Ensure you emphasize the importance of optimal voice quality and service reliability in your agreement with the new provider.

Finding a replacement for your existing phone service requires time and careful planning. Ensure you don't sign up with the first provider you're presented with if it doesn't meet all of your quality needs or budget priorities. Switching to cloud PBX can help your business save money while gaining more flexibility, so make sure you take advantage of these services in a way that works best for you.
Making the transition to the cloud?
Dialpad isn't just a VoIP phone system. It lets you make phone calls, have video meetings, send instant + SMS/MMS messages, and more—all from an intuitive desktop or mobile app.
Provide better customer service and win more deals—we'll even help you port your existing business phone numbers over!
Need a PBX replacement?
Sign up for a free 14-day trial to test out Dialpad and see how easily it can be integrated with your current setup! Or, take a self-guided interactive tour of the app on your own first!