Back to Blog
Dialpad and Intercom: Chat and voice get even better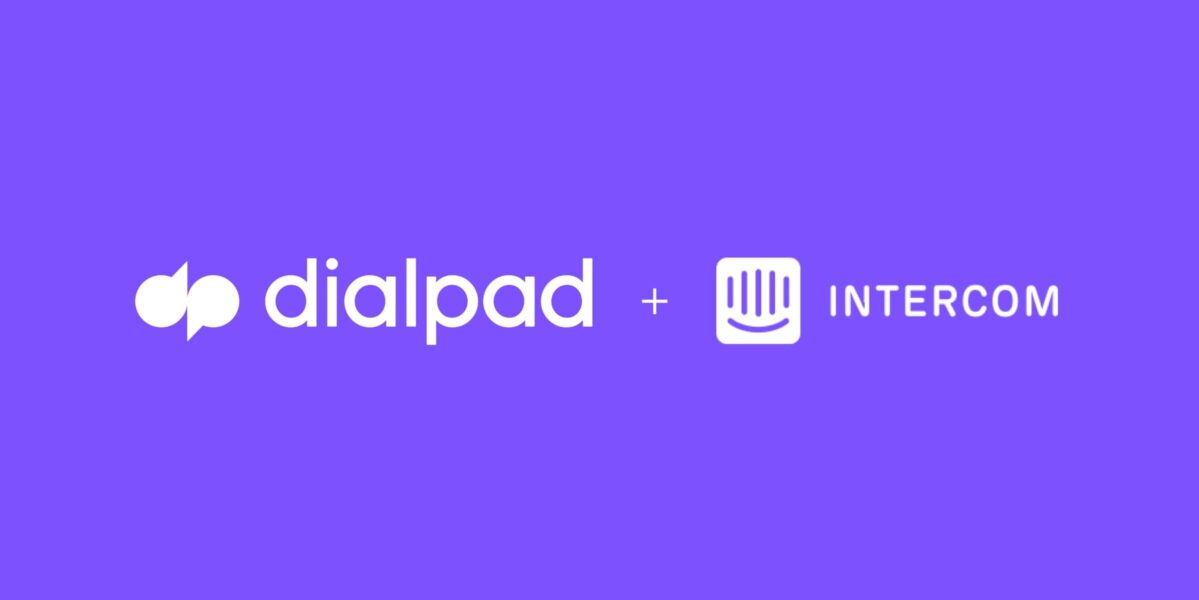 We're always striving to bring you the best communications experience possible with Dialpad, and that's made possible in no small part thanks to our app integration partners.
Now, Dialpad and Intercom are bringing your agents a more comprehensive and seamless experience with an integration that's designed for better customer support and sales interactions.
It's the best of both worlds: Intercom's great website- and mobile-based chat, and Dialpad's voice and business text messaging experience. The end result? Your agents can provide even more personalized and immediate support—without having to leave the Intercom inbox.
This new Intercom integration gives agents more ways to communicate with customers and a holistic view of customer activities, including:
For agents: Need to hop on a voice call while using Intercom? You can switch to HD-quality voice seamlessly and log that interaction and link to the transcript inside Intercom. 📞
For sales teams: When it's time to close that deal, you can launch phone calls right from the live chat and get everything squared away.
Create more personal conversations and connections
Companies using Dialpad can add website and mobile app chat, instant messaging, and email to the list of ways customers connect with them. And if you're using the Intercom app, you can use the "Call Me" Dialpad widget to quickly start a call from your chat and messaging channels. You know, for those situations when some extra effort, empathy, or escalation is needed.
Together, Dialpad + Intercom gives you everything you need to reduce call resolution times and increase CSAT.

How does the integration work?
Good question! For the one sentence explanation: Dialpad lets you start voice calls right from within your Intercom environment.
For a longer explanation, it's still pretty simple. While using Intercom, you can instantly initiate a call right from your chat conversation by sending a "Call Me" card. Customers can enter their number, and just like that, you're on the call: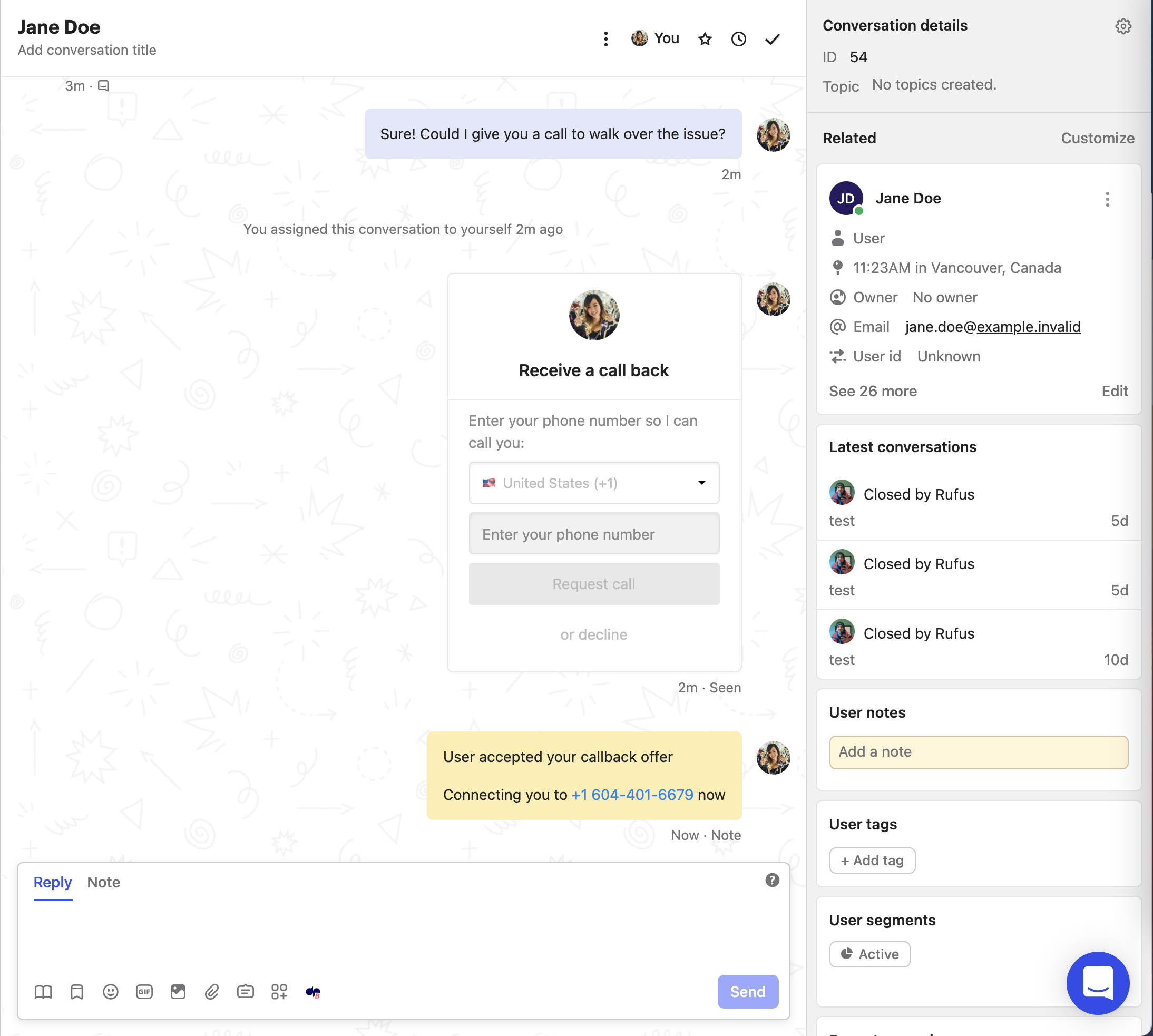 What's more, Dialpad transcribes each call live, along with real-time coaching prompts to keep agents focused and informed. The transcriptions and prompts will appear in the Dialpad Everywhere widget, and are made possible thanks to Dialpad Ai, which features super-accurate speech recognition.
After each call, details are logged in the Intercom chat history. This will include a link to the call recording, summary and transcript, so you can access the call and find important information any time.
Long story short, this helps bring agility to your workday by adding Dialpad's calling and artificial intelligence to Intercom, creating a single point to engage and support customers.

What are the benefits of integrating Intercom and Dialpad?
There are so many benefits that can help across teams! But to be more precise, we've highlighted a few of the biggest ones:
Our real-time transcriptions and AI-powered coaching tools can help your sales and support teams keep customers happy on every call. Here are a few examples of how you can use it:
For Support teams, you can bring resolution times down and CSAT up with the ability to seamlessly switch between Intercom chat and phone calls. Now you can speak with your customer and say: "I'm glad we were able to resolve this so quickly, is there anything else I can do for you?"
As for Sales, you can close high-intent deals quickly by going from live chat to a quick call. There's a kind of connection that comes from voice conversations that text chat simply can't replicate—and now it doesn't need to.
Being able to instantly start a call from the Intercom messenger lets you engage with your customers the way they prefer, all in the same convenient window.
No more switching to a different app when a customer wants to talk instead of type, no more hopping on a call to talk with your support team about any issues they may be encountering.
What early adopters are saying
It goes without saying that every Dialpad integration is thoroughly tested before it goes live, and our Early Adopter Partners (EAP) have gotten a sneak peek at the benefits of Dialpad + Intercom.
One of these early adopters is Inside Real Estate, which started by testing out the Intercom integration to see how they can use it to improve the customer support process. Now the customer support team can make calls spontaneously from customer chats, which shortens their response times—and makes for more satisfied customers.
According to Victoria Deubler, Director of Customer Support at Inside Real Estate: "This integration allows our live chat team to better solve problems right in the moment via channel switching in a single app. This will enhance our customer experience as well as cut down resolution time."
As a result, Inside Real Estate has been able to offer better support faster. The AI-powered transcripts and real-time prompts have helped them provide better customer service, while being able to contact a customer through chat or phone has been a time saver. (Which is huge because their customers are busy real estate agents.)
"Now, both our phone and live chat teams can utilize this integration to work out of Intercom directly instead of jumping back and forth between apps throughout the day. It may not seem like a big win, but any little thing we can do to reduce clicks is huge as our teams work 25,000+ customer tickets a month. Anything we can do to save time and implement efficiencies is helpful."
Now that the Dialpad + Intercom integration has launched, you don't have to wait as the early adopters enjoy its benefits. Make Dialpad a part of your Intercom workflow and see how it can help your sales and service improve.

See how Dialpad Ai Contact Center works!
Get a personalized walkthrough of how Dialpad can help agents and supervisors communicate with customers and prospects, from anywhere. Or, take a self-guided interactive tour of the app!