Back to Blog
Keeping up with customer experience trends [2023 edition]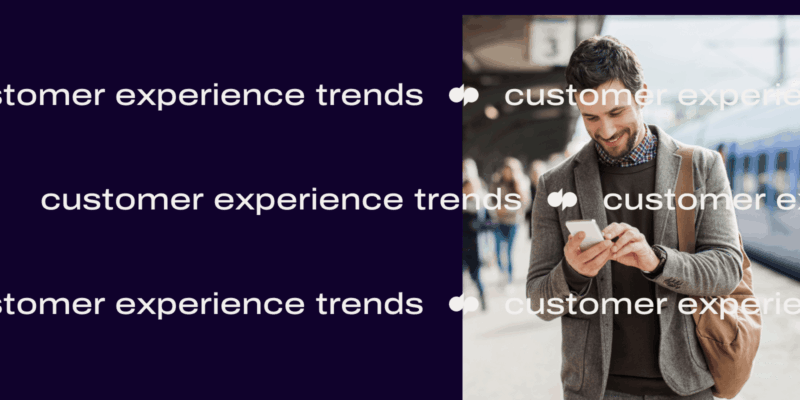 Customer expectations are constantly changing. And by extension, so do customer experience trends. For example, consumers now prefer to connect with businesses through a larger variety of channels including digital chat or even self-service chatbots, instead of traditional voice. New communication channels are popping up every day, as well as new marketing strategies, automation that helps customers find information easily—the list is never-ending.
Long story short, there's no shortage of customer experience trends to stay on top of. In this guide, we'll look at what's been trending in 2023, and more importantly, what to anticipate in the foreseeable future.
Quick overview: What has customer experience been like in 2023 so far?
Due to the pandemic, hybrid work has made gains in almost every industry in 2022. With this shift comes challenges in 2023—for example, how do you provide the same level of service when your contact center agents are working remotely? How do supervisors keep track of escalations and coach their teams effectively?
This macro-environment has influenced many of the trends cropping up this year, like the adoption of AI technology, automation, and omnichannel strategies.
4 top customer experience trends to stay on top of
If your business is going to stay ahead of its rivals, you need to keep track of the following trends:
Artificial intelligence
Artificial intelligence (AI) is a CX trend that looks to be around for the long haul. So far, we've only really scratched the surface of what AI technology can do.
More and more contact center platforms are starting to use AI to identify customer service issues more quickly, empower agents to provide a positive experience, and help supervisors better understand how to support their teams.
According to PWC, industry leaders report that AI has improved customer service by 40%.
As of right now, there are already many key applications of AI in CX. With Dialpad's cloud contact center platform, for instance, AI technology not only transcribes calls in real time...


... But also tracks how often certain keywords or topics come up in calls via "Custom Moments." On top of that, Dialpad Ai listens to every customer call and automatically surfaces RTA (Real-Time Assist) cards to guide agents through tricky questions from customers—live on the call:

The result: Quicker resolution times and happier customers.
Chatbots and self-service options
Customers want to reach out at all hours of the day with a variety of questions, which can be challenging for several reasons. The two biggest challenges:
Many customers contact companies with relatively easy questions, which causes a lot of strain on contact centers. Say you have 10 contact center agents and 50 people calling in, which means 40 people are waiting on hold. If 30 of those people just want to know the hours of operation for the business or something similar that a simple chatbot response could answer—then you could simply add a chatbot to your website. This will help shorten wait times, keep customers happy, and reduce strain on your agent queues.

You may not be able to have agents staffed around the clock (which gets expensive). In these cases, the best alternative is to invest in chatbots—a growing trend that's set to keep climbing for the foreseeable future.
According to a recent report, the global conversational AI market is expected to grow from roughly seven billion USD in 2021 to more than 18 billion USD in 2026.
And a McKinsey survey found that 65% of respondents reported improved self-service as a critical driver of decreased call volume. It's becoming increasingly clear that for both customers and organizations, self-service options contribute positively to the customer experience:


If you're considering a chatbot or self-service tool, Dialpad Ai Contact Center lets you build chatbot response flows in the intuitive drag-and-drop builder—right out of the box, with no coding needed:
👉 Fun fact:
Dialpad Ai Contact Center's self-service options are unique in that the technology is fully integrated into its unified communications platform, and its chatbot functionality doesn't just provide simple preset answers to preset questions. It can also crawl unstructured sources of data, like knowledge bases and even past customer conversations for answers.
Besides chatbots, self-service options like a knowledge base, FAQ page, and community forum are vital to improving the customer experience for many companies. Not everyone wants to talk to someone on the phone, and often it's more convenient if you can find your own solution to a problem through, say, an online help center page.
Omnichannel experience
If the future of customer service is focusing on fostering customer engagement and a great customer experience, then the trend toward omnichannel strategies makes a lot of sense.
In a recent Shopify survey, 54 percent of consumers surveyed said that over the next year, they're likely to look at a product online and buy it in store, while 53% are likely to look at a product in store and buy it online.
Customers want a good user experience no matter which channels they're using to communicate with businesses. Because of this trend, an omnichannel approach will become key, since it lets customers choose how they interact with your company, whether via mobile apps, social media, websites, or offline in a physical store.
However, this also presents a unique challenge: The difficulty with creating an omnichannel experience is that you need to be able to recognize a customer or prospect across different channels (Twitter, in-app, and so on) and your agents also need to be able to easily communicate across all those channels. This is why a truly integrated platform that combines UCaaS and CCaaS functionality is so beneficial.
👉 Did you know:
Even though many software providers claim that they provide "unified communications," they're often whitelabelling or reselling a third-party vendor's software, which results in disjointed user experiences and complicated workflows and even processes for accessing technical support.
Customer experience trends in different industries
Customer experience trends in retail
Hyper-personalization
Customers want retail and ecommerce businesses to meet and anticipate their needs. Personalization should be practiced in marketing, on the sales floor, while browsing the website, and during every step of the sales cycle.
Think personalized recommendations based on browsing history, invites to personal shopping experiences in-store, or customizable shopping lists based on past favorites.
Immersive "phygital" experiences
In simple terms, phygital marketing concepts aim to combine the digital world with the physical to create unique, interactive customer experiences.
Being able to buy a product online and pick up in-store in a good example of a phygital experience. Another example is the use of augmented reality (AR) smart mirrors in fitting rooms that let you see the product details of the clothes you're trying on, and also to see what a piece of furniture would look like in your house.
Omnichannel retail
A true omnichannel retail experience gives customers not only multiple channels to shop from but multiple choices along the customer journey. From browsing to purchase, the messaging and experience should be seamless.
Think of the buy online, pick up in-store (BOPIS) strategy I mentioned earlier. This customer-centric omnichannel offering allows customers to shop online and then pick up at a store, providing a seamless experience between the digital world and the physical.

✨ Want to provide a better customer experience?
Grab the Contact Center Playbook, which breaks down everything you need to know, from setup to staffing to optimizing—with examples from real contact center teams across different industries.
Customer experience trends in insurance
Speed through live chat
Signing up for insurance can be an aggravating and time-consuming process. Customers don't want to deal with the hassle, but they still want quality insurance. That's why one of the big CX trends in the insurance industry is a renewed focus on speed and convenience.
Policygenius is one company leading the way here. Customers can compare personalized quotes from top insurers, and when they're ready to start the purchasing process, live agents walk them every step and answer any questions they might have. It's a masterclass in using live chat to speed up the buying journey, without sacrificing the customer experience:

Embedded insurance experience
Another way insurers can provide a better customer experience is by offering an embedded insurance experience. This insurance trend sees insurers partnering with other companies, like banks, retail stores, and car companies, to provide insurance in partnership with companies customers already know and trust.
Insurers can use customer data to create more personalized customer interactions and offer insurance products when customers need them most, like after buying a new home.
Digitalization
Digitalization is the process of moving from on-premises tools and processes, to a more flexible way of working in the cloud.
Not only does it allow insurance companies to meet customer needs more effectively with 24/7 availability, more accessible data analytics, and real-time updates, this trend is also transforming the insurance industry in two ways.
Firstly, it helps small and medium-sized enterprises provide better CX and increases insurers' ability to offer personalization to their customers.
Secondly, by extension, this increased personalization empowers insurance companies to provide a more seamless digital customer experience—for example, by allowing customers to save money and get better rates if they share relevant information like their driving history. Many innovative insurers today are making this process fully available through their websites online, which makes for a more convenient experience for their customers.
Customer experience trends in healthcare
Patient personalization
What could be more critical in healthcare CX than patient personalization? This CX trend allows healthcare personnel to see every aspect of a patient's medical history in one complete picture, like past surgeries, visits, health risks, allergies, and more.
With all this data and related customer experience analytics in one place, providers can offer the best care for their patients and track any potential issues with better insight.
Data security
Healthcare data is extremely sensitive and, unfortunately, widely targeted in data hacks. As these kinds of breaches become more widespread, healthcare data security has seen an uptick in innovation, and rightly so.
For the best data security, healthcare providers should partner only with HIPAA-approved services. For example, look for a communications platform that meets HIPAA compliance standards. Dialpad, for instance, gives you the option of having custom data retention policies and Business Associate Agreements give you the highest level of security on all of your devices.

📖 Further reading:
See how healthcare contact centers like Fenway Health and Metropolitan Pediatrics are using Dialpad Ai Contact Center to provide a better patient experience while working from anywhere.
Smart technology
Smart technology, like advanced sensors, simulation devices, and remote technologies, makes every patient journey's touchpoint safer, easier to manage, and more personalized.
Take, for example, diabetes management. Automated Insulin Delivery (AID) systems that connect to a wearable patch pump and continuous glucose monitor allow users to go about their day without having to track and monitor metrics like their insulin doses. The AID system automates insulin doses and adjusts accordingly throughout the day, giving people with diabetes one less thing to worry about.
Customer experience trends in banking
Proactive engagement
As customers look for more personalized experiences, banks can use customer data to proactively engage with products and services their customers will want. With proactive outreach, banks can educate customers about products to help them make an informed decision, or collect important feedback without even stepping foot in the door.
Banks are beginning to send out more notifications to not only keep customers in the loop, but also find out if customers would be interested in a new product, service, or educational asset.
Digital assistance
As consumers move away from in-person banking experiences to digital banking interactions, financial institutions must provide customer support on par with other online experiences. That's why live digital assistance is a growing trend in the banking world.
When customers need help with their accounts, many banks are now offering live digital assistance that users can access through self service bots. Users can easily connect to customer service agents and even transition to video chats that provide friendly face-to-face interaction.
And immediately after those interactions happen, financial institutions are also able to gather customer feedback through tools like CSAT surveys and find ways to optimize processes and improve customer satisfaction.
Customer experience trends in utilities
Mobile access to customer utility accounts
A significant pain point with utility companies is that their websites tend to be desktop friendly but not mobile-friendly. In a major shift, utility companies, large and small, are beginning to offer better mobile access for their websites and customer portals.
This change allows customers to pay their bills more easily, access their account info, or update their choice of service.
Mobile access for field utility workers
Most utility customers understand the negative impact of a service outage, and the stress of not knowing when things will get fixed. With the rise of UCaaS and CCaaS technology, this may not be an issue for long.
By empowering field workers with mobile UCaaS capabilities, it's entirely possible for a contact center agent to contact a field worker in real time to get an estimated fix time, or even patch you through to speak with the field worker and ask questions. These methods will eliminate a great deal of guesswork for the customer, and dramatically improve the relationship with the utility.
More focus on cybersecurity
As with most other industries, utility companies are focusing more and more intently on cybersecurity issues.
And while it may seem less important than protecting one's private information, consider this report from Forbes about water security: In 2021, a group of hackers gained access to a water treatment plant in Florida and attempted to poison the water supply. Luckily, employees were able to stop the threat. But this incident highlights how vulnerable utility companies are to cybercrime and why utility cybersecurity is trending.

Execute customer experience strategies at scale with the right CX solution
No matter your industry, there will always be existing and emerging trends that you need to stay on top of to compete and remain relevant to your customers. The differentiator in your customer experience strategy is choosing the right CX solution to execute your big plans.
With Dialpad, you can deploy your knowledge of dozens of CX trends in a single platform. Set up a truly omnichannel customer and employee experience with the built-in business phone system, messaging, video chat, and contact center functionality. Offer customers live assistance and hyper-personalization through Dialpad's contact center tools and AI-powered chatbot, which give you robust virtual agents and self-service solutions.
With stringent privacy and security measures, a wide range of customer interaction management features, and dozens of integrations, Dialpad can help your company, no matter your industry, meet the demands of changing customer needs and CX trends.
See how you can provide a better customer experience with Dialpad Ai Contact Center
Get a personal walkthrough of the product, from the easy setup process to the unique AI features. Or, take a self-guided interactive tour of the app first!
FAQs about customer experience trends
What are the 3 essential pillars of the customer experience?
In general, the three essential pillars of customer experience are: meeting your customers' needs, providing a good customer experience to everyone, and effective problem solving.
Before you even think about going "above and beyond," your business should at least be meeting the bare minimum of your customer needs. Satisfy those baseline customer requirements first, then work on going the extra mile. Secondly, loyal customers and new customers will want a good customer experience. Make sure your interactions, from signup to getting support, are easy for your customers and that your team can resolve most queries effectively.
Finally, besides solving customer problems quickly, agents should be able to think on their feet and provide solutions when one seems hard to come by. This is perhaps the most challenging pillar, and to do this successfully, you'll need to keep agents well trained, systems functional, and processes tested.

What is the future of customer experience?
How do I stay current on customer service trends and techniques?