I know it may feel like a big step, but if you're ready to leave the legacy hardware behind and migrate to the cloud, then you've come to the right place. And it's something you'll never regret.
While the thought of making the shift can be daunting, the rewards are immense. A successful cloud migration process will save you money, tighten security, and improve the scalability of your business.
Having worked in technology for over a decade and now as a CIO, I'm going to share some tips for a successful cloud migration and help you get there.
Cloud migration: A quick overview
So, what is cloud migration?
Migrating to the cloud is the process of moving your critical processes from on-premises hardware to cloud-based providers. Cloud migration involves shifting workflows that run on a local network to the cloud. For example, switching your business phone line from the public switched telephone network (PSTN) to an online cloud communications provider like Dialpad.


How cloud migration benefits your business
Migrating to the cloud comes with tremendous benefits. By migrating to the cloud, businesses save money, free up time, and teams can work from… Well… Pretty much anywhere. In addition, cloud-based services require less maintenance and close to no IT infrastructure.
And that's not the end of the story, either. Let's dig a little deeper into the biggest benefits of cloud migration.
Scalability
One of the best features of the cloud is its capacity to scale. By migrating processes to the cloud you'll be able to scale up or down to meet your IT requirements as your business grows or as demand fluctuates.
With traditional hardware, any such scaling is a very expensive and complicated process. This means that, in essence, within as little as a year or two businesses often find themselves with technology that no longer meets their needs, but is too expensive to upgrade.
By migrating to the cloud, your tech can adapt with you as your business' needs change over time. That means better resource management, less wasted money, and one-size-fits-all cloud solutions that can grow with you after a summer growth spurt.
Dialpad's customers get the best of scalable, flexible enterprise VoIP communications. With Dialpad you can set up a new call center in a matter of minutes from anywhere and enjoy the flexibility to manage your call center according to your business needs. Need to connect an international office? No problem. Dialpad makes it easy to set up an office virtually anywhere there's an internet connection.
Fun fact: With Dialpad, it's easy for admins to add and remove users in line with demand. It takes just a few clicks from your online dashboard: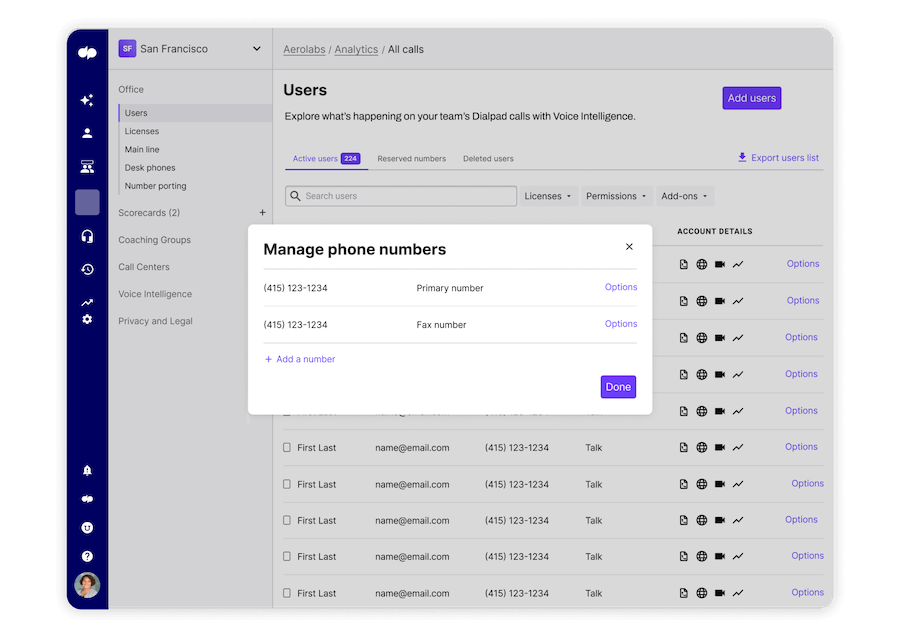 Integrations
Most cloud-based applications allow you to integrate with other tools so that your work systems are seamlessly connected. That means you'll save all that time and frustration of switching between separate apps, and create more efficient and productive workflows.
Cloud integrations break down data silos and unify operations by allowing your apps to communicate with each other and share data across platforms. This level of connectivity improves performance visibility and helps to optimize business processes.
Dialpad, for example, integrates seamlessly with a host of third-party apps, including CRMs, productivity apps, and ticketing tools (to name just a few). That means you can connect to the tools you already use and love for an enhanced Dialpad experience.
For example, the Salesforce for Dialpad integration means you'll be able to view and log your Salesforce activity for all of your contacts and all active calls will automatically log in to Salesforce as completed activities. Neat, right?


Access
With traditional hardware solutions, data loss was a real threat if physical devices were tampered with or broken. But when data is stored on the cloud it's guaranteed that your business will be able to access it from any device, anywhere, no matter what.
Yes, the cloud provider is still storing your data on their own physical servers, but these are usually protected with both on-site and cyber security, and maintained by dedicated staff.
By making data accessible, the cloud also liberates businesses to expand and grow geographically, while still meeting their operational needs. The cloud is freeing teams up to embrace hybrid and remote working, and allowing distributed workforces to collaborate and thrive from all over the world.
Security
A more important benefit of cloud migration is improved security. Used correctly, the cloud provides more security than traditional networks.
One reason cloud security is so good and all cloud security issues are solved seamlessly is that it uses a "shared responsibility" model. This is when the different security obligations are split between different parties depending on the type of shared responsibility model involved. In an Infrastructure-as-a-Service model (IaaS), for instance, the provider is responsible for the security of services and storage, but the user is responsible for the security of the data. In a Software-as-a-Service (SaaS) environment, the provider is responsible for nearly everything.
The cloud stores data and information centrally with security measures that are much stronger than those used in traditional on-premises data centers. Cloud providers will tackle big-picture security threats like unwanted traffic on your behalf, and many also offer built-in security features and functions that provide users with increased visibility and advanced security analytics.
Dialpad, for example, uses enterprise-grade security on the Google Cloud Platform. With Dialpad, your data integrity is always protected with a 256-bit Advanced Encryption Standard applied inside redundant storage at several physical locations for optimum security and availability.
In practice, what that means is that with Dialpad you can have a secure conference call, online meeting, or video chat with the peace of mind that your data is always protected. You'll be able to make use of robust in-meeting controls, too, like participant muting, a virtual waiting room, and optional password protection.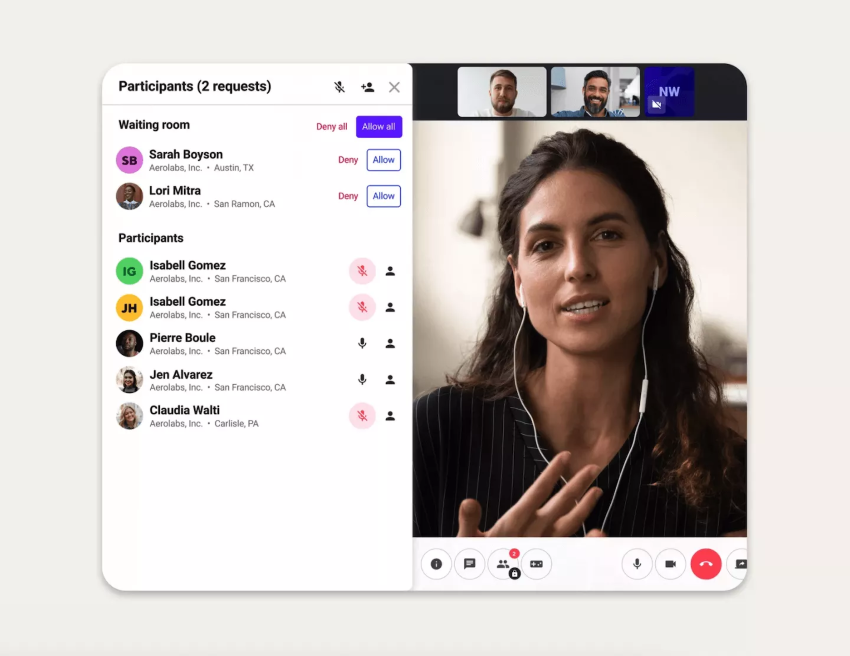 4 Important phases of your enterprise cloud migration strategy
Whether you're running an enterprise organization or a small business, the building blocks of an effective cloud migration strategy are the same: Assessment, planning, execution, and adoption. The key difference between enterprise and small business cloud strategies is in scale and complexity.
The four phases of a cloud migration and cloud adoption are, by nature, going to be simpler in a small business setting than in an enterprise organization. Enterprise organizations will have far more systems and processes to migrate and far more employees that need help transitioning to a cloud-based system.
Enterprise organizations will also need to decide what type of cloud system they want to adopt. There are various options available to enterprises including public, private, a hybrid cloud architecture, and multi-cloud environments:

Public cloud: Users access all apps and resources via the internet

Private cloud: Data is stored in a data center with proprietary architecture

Hybrid cloud: A combination of public and private cloud modelMulti-cloud: A combination of IaaS (Infrastructure as a Service) options across multiple public cloud providers.
I'll run through each of the four principal phases in more detail below. You can then use this guide to help frame your own cloud migration strategy moving forward:
Phase 1: Discovery/assessment
The discovery and assessment phase is about understanding the current state of your business and identifying your core objectives for the future. This is when you need to think about what you want to accomplish with a cloud migration.
During the discovery and assessment phase, try to come up with a list of key objectives. For example, you might want to boost scalability, lower IT overheads, increase security, reduce downtime, streamline deployment, or simply modernize your setup for the future.
Once you've considered all of these factors, it's time to assess what cloud migration model will work best for you. For some businesses that will be a 100% cloud migration, for others it might be a hybrid or multi-tenant model (cloud computing architecture that allows customers to share computing resources).
Before shopping for different cloud providers, outline your chosen model, its use cases, and perform a proper request for information (RFI) on all of your shortlisted tools. This will help you find a reputable solution that fits the needs and budget of your business.
Phase 2: Migration planning
When planning your cloud migration strategy, you'll need to analyze the use cases that you've already identified and plan how your chosen software will be applied to your existing work streams and workloads.
During the planning stage, design a series of best practices for using the cloud that employees can refer to. Take this time to define and design your migration plan in full, making sure you're provisioning for things like expertise required, resources, deployment strategy, timelines, and overall budget.
Finally, finalize which approach to data migration you will adopt and create your roadmap.
The three main approaches are:

Lift and shift: Moving an application and its data to a cloud platform without redesigning the app.

Lift and optimize: Automate migrations and translations of complex application workloads.

Modernization: Transferring data from legacy applications and operating systems to your new cloud-based databases.
Phase 3: Execution
The final stage is the execution stage. By this point, you will have chosen your cloud provider. Cloud providers should provide instructions and support to help you migrate over to their platform, as well as information about the relevant Professional Services (PS) they offer.
It's always advisable to opt for service provider PS and have your in-house team shadow them to better understand the details. After a period of shadowing, start with a phased release approach. Avoid "Big Bang" changes. It's best to start small and work iteratively.
Start with the least intrusive workload and apply your application migration strategy to that process first. Let's call it your tester workload. Reassess your migration strategy and then move your tester workload to the cloud.
Once complete, play around with it. Test it. Optimize it. Set up a maintenance process. Then, reflect on what did and didn't work, and figure out where you can improve when you repeat the process with your next workload.
During the execution phase, it's important to remember your best-practice guidelines and to also adhere to industry best practices as much as possible. And remember, you can utilize other native cloud tools and integrations to optimize, modernize, and enable your business processes in a cloud environment.
Throughout, you should be continuously working on improving migration processes and adoption. Your company should build two teams for success: A strategy & migration team, and a cloud adoption team.
The adoption team works on operationalizing and helping the organization adopt the processes deployed in the cloud. The strategy team, meanwhile, plans and executes the next phase of cloud migration.
Phase 4: Adoption
Now is the time to talk about adoption and getting your users on board the new cloud platform. This includes employee training, learning resources (blogs, videos, and guides) and KPIs. Leadership has to support this by enforcing use of the new technology and phasing out the old.

✨ Get the Guide to On-prem vs Cloud Contact Centers
Learn why you should be moving away from on-premises solutions to the cloud!
Cloud migration considerations
Cloud migrations come with great rewards, but that's not to say it's always a straightforward process. Cloud migrations can be complex and there are lots of things you should consider along the way.
Things like:
Future-proofing / strategy planning
One of the biggest causes of cloud migration problems can be failing to spend enough time on assessment and strategy planning prior to execution. It's crucial for businesses to account for all business needs, including future ones. A big reason to move away from PBX-based infrastructure to the cloud is to provide greater flexibility to respond to future needs. You must, however, give these due attention when planning a migration.
Cost management
Another common challenge is cost and pricing management. It can be tricky to determine whether or not a cloud migration has been financially successful if you don't monitor appropriate KPIs along the way.
In order to overcome this, set clear KPIs in your planning phase to monitor spending and cost savings prior to and post-migration.
Key costs associated with the migration process itself include:

User licenses and setup costs

Investing in people needed to ensure a successful migration

Onboarding users onto the new system

Cost of bandwidth

Performance issues like latency and downtime—these will lead to customer churn and, inevitably, damage to your bottom line.
Another issue that some businesses face after migrating to the cloud is cost fluctuation. Cloud services are dynamic and scalable, meaning that service costs can change as you add new features, functionalities, or increase usage.
The solution?
With proper financial planning, migrating to the cloud can be a cost-effective option long term. You just need to make sure that you've scoped your project out and performed a rigorous cost-benefit analysis.
Ways to save money when undergoing digital transformations like this include following a batch adoption process (this involves migrating to the cloud incrementally and requires less upfront investment) and implementing hybrid cloud environments (this often makes sense for businesses who already have key applications in consistent use).
Compliance and security in cloud migration
Transferring sensitive data (often in large volumes) across different applications increases risk exposure. That said, cloud platforms are arguably more secure than traditional legacy systems. However, you still have to be careful.
As I mentioned earlier, cloud providers use what's called the "shared responsibility model," which means the vendor and the customer share the responsibility for securing the cloud infrastructure. Depending on which service you pick, the provider will either only be responsible for web services or it will handle virtually all of the security on the platform.
Luckily, most cloud software providers are on the ball when it comes to security and compliance. Cloud collaboration software providers like Dialpad make a concerted effort to ensure data protection for their users.
With Dialpad, you'll always have full control over your data and the added protection of industry-leading security standards to ensure that only authorized parties are able to access that data.
What's more, Dialpad adheres to a wide range of advanced security practices, including:

Customizable retention policies

Personalized call recording and transcription settings

Secure sign-on and integrations

Encrypted calls

Demonstrated compliance with multiple security standards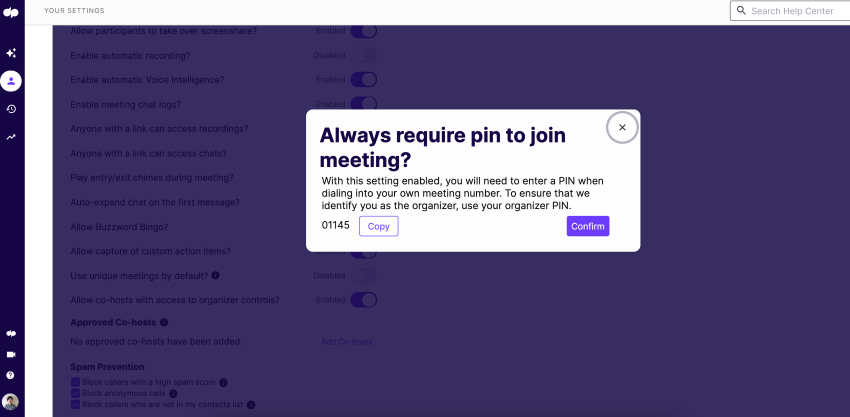 Getting started with cloud migration
Migrating to the cloud comes with tremendous benefits and can add real value to your business. Remember that successful cloud migrations are based on detailed research and planning prior to execution, as well as close, real-time monitoring throughout.
Make sure that you've got a strategy, migration, and adoption plan in place so that you can start preparing for your digital transformation well in advance and ensure a smooth transition to the cloud.

Migrate to the cloud and grow your business
If you want to find out how migrating to the cloud can both solve your security problems and give you business growth opportunities, then book a demo to find out. Or, take a self-guided interactive tour of Dialpad's app!