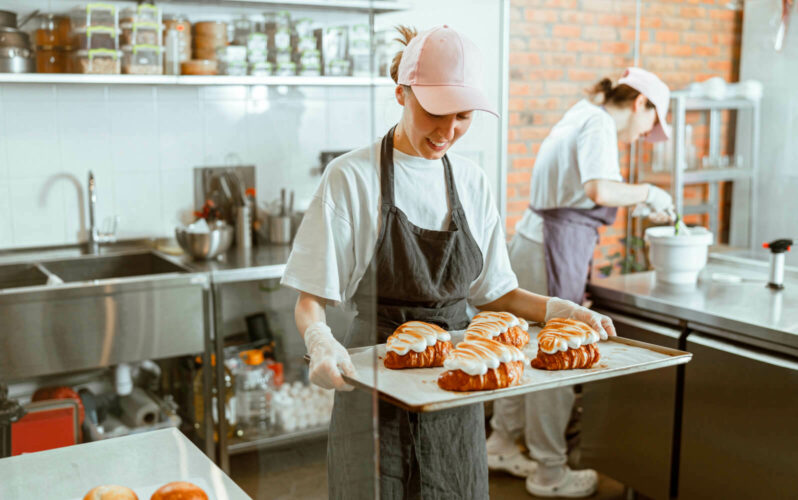 Segment
Industry
Integrations
---
In 1903, Marc O'Leary's great-great-grandmother immigrated to the United States and founded Strawberry Hill Baking Company. Today, Marc carries on the family tradition as a baker, while his own children manage the company's contact center and customer service. As Marc puts it: "old world pastry meets new world technology."
Except… one piece of technology still had some catching up to do: their phone system.
Actually, their phone systems. Strawberry Hill used three different phone systems for 48 lines, and according to Marc: "I just couldn't make an installed phone system as efficient as I needed it to be—our needs changed too fast."
This was especially difficult during the holiday season, when demand shot way up. But without a flexible contact center solution to help them keep up with that demand, they were missing calls and losing business.
"We just couldn't keep up with the number of calls, and we couldn't get reporting on how many calls we were missing," Marc explains. "It turns out we were missing around 700 calls a day, because we only had 48 phone lines coming in, and we all had desks with only enough seating areas for 20 agents. So it was difficult."
What were they to do? "We had to evolve," Marc said. "We found Dialpad, signed up for the free trial, and by the next holiday season we were taking 1,000 calls a day."
Bringing AI to the contact center
What was it that made Strawberry Hill choose Dialpad? "There are two things that won us over," says Marc.
The first was Dialpad Ai (artificial intelligence), which helps contact center agents out on every call. For Strawberry Hill, the Real-Time Assist (RTA) cards were particularly helpful.
They work like this: during each call, the AI listens for certain keywords. When it hears a preset keyword or phrase, it instantly pops up a card containing relevant information on the agent's screen. In Strawberry Hill's case, this means agents don't need to try every pastry in the shop to be able to tell customers about it.
"When a customer mentions one of our pastries, like an English Walnut, Dialpad pops up a box describing what it tastes like," Marc explains. "None of the other solutions had anything that worked as quickly as that."

The second thing? Dialpad not only records the conversations, it transcribes them in real-time. So after the call, Marc or any of the managers at Strawberry Hill can go through the calls and gain important insights for their business and contact center.
"
I can actually say 'show me all the English Walnut phone calls' and listen to them. Dialpad gave me the ability to manage our contact center in a way that I'd never had before.
"
Marc O'Leary
Co-Owner/Executive Director
Plus, they can use the call recordings for training and remote management. Managers will even grade other managers' phone calls to make sure that everyone is at the top of their games.
"It's kind of a fun way to learn from somebody else's mistakes or achievements," Marc adds. "Our agents are becoming better by listening to their peers and learning how other people interact."
"Dialpad paid for itself on day one"
The first real test for Dialpad came during the holiday season, when Strawberry Hill is at its busiest. In previous years, they'd missed hundreds of calls a day due to getting more calls than their contact center could handle. This year? They were taking 1,000 calls a day.
"We saw double-digit growth the first year, because we were able to handle those calls," Marc says. "Dialpad paid for itself on day one."
In fact, one reason everyone at Strawberry Hill knew they were catching all the calls they used to miss was because of Dialpad's call analytics. Now they can see how many calls they get, how many they miss, and even how long callers have to spend on hold (hint: it's a lot less time now that they're on Dialpad).
"I had no idea we were missing those calls until we turned on Dialpad and started seeing our volume of phone calls," Marc says. "I can't calculate how much business we lost over the last decade before Dialpad."
Saving money on calls and add-ons

They say "a penny saved is a penny earned," and after switching to Dialpad, Strawberry Hill is saving, well, way more than pennies.
For starters, they've brought all their communications—including calls and contact center—into a single platform. And while previous providers would charge for every add-on, Dialpad includes everything Strawberry Hill needs in one package.
"I used to get a $2,500 a month bill for miscellaneous telco or support services," Marc reminisces. "I don't spend that money anymore—Dialpad handles it all. On a dollar to dollar basis, I save money with Dialpad and get better service."
Then there's the savings on long-distance calls. Strawberry Hill used to use an 800 number, and when their contact center was busy, callers could be waiting on hold for a while. All the while, those calls kept adding to their long distance phone bills.
Now, though, they can use Dialpad's customer callback feature to get back to the customers without leaving them on hold.
According to Marc: "In our previous phone systems, we'd have 100 people sitting on hold, and our long distance bills would be $10,000-15,000. With Dialpad's callback feature, that $15,000 bill disappears because they're not sitting on hold and the meter isn't running."
All that adds up to big savings. Overall, Marc estimates Dialpad has saved Strawberry Hill tens of thousands of dollars each year compared to what they used to spend.
"
In just one month around Christmas, I paid for the entire year of Dialpad just by not having to pay long distance fees from having people waiting on hold.
"
Marc O'Leary
Co-Owner/Executive Director
Reaching more customers across the country
Not only is Strawberry Hill taking more calls, but they're taking calls from customers around the country. When everyone was working from one contact center, they opened in the morning and closed at night. Now, though, they can all work remotely—and that opens up new opportunities across time zones.
Plus, the team has expanded its contact center by adding employees across the country. This means that their Kansas City agents can keep working their hours, while agents on the West Coast can pick up the slack later on.
As a result, they managed to work almost entirely remotely over the last holiday season without missing a beat—and without their agents needing to cover crazy hours. Now Strawberry Hill is taking more calls, helping more customers, and making sure more people are getting the tasty pastries they want all year.
"
Dialpad just works. It helps me reach all of my customers and bolster the next generation of bakers, and we look forward to a lot of growth in the future.
"
Marc O'Leary
Co-Owner/Executive Director
Are you spending too
much on a phone system
that misses too
many calls?
Check out a demo of Dialpad Ai Contact Center and see how much time and money you can save!