Back to Blog
17 essential virtual training tools and techniques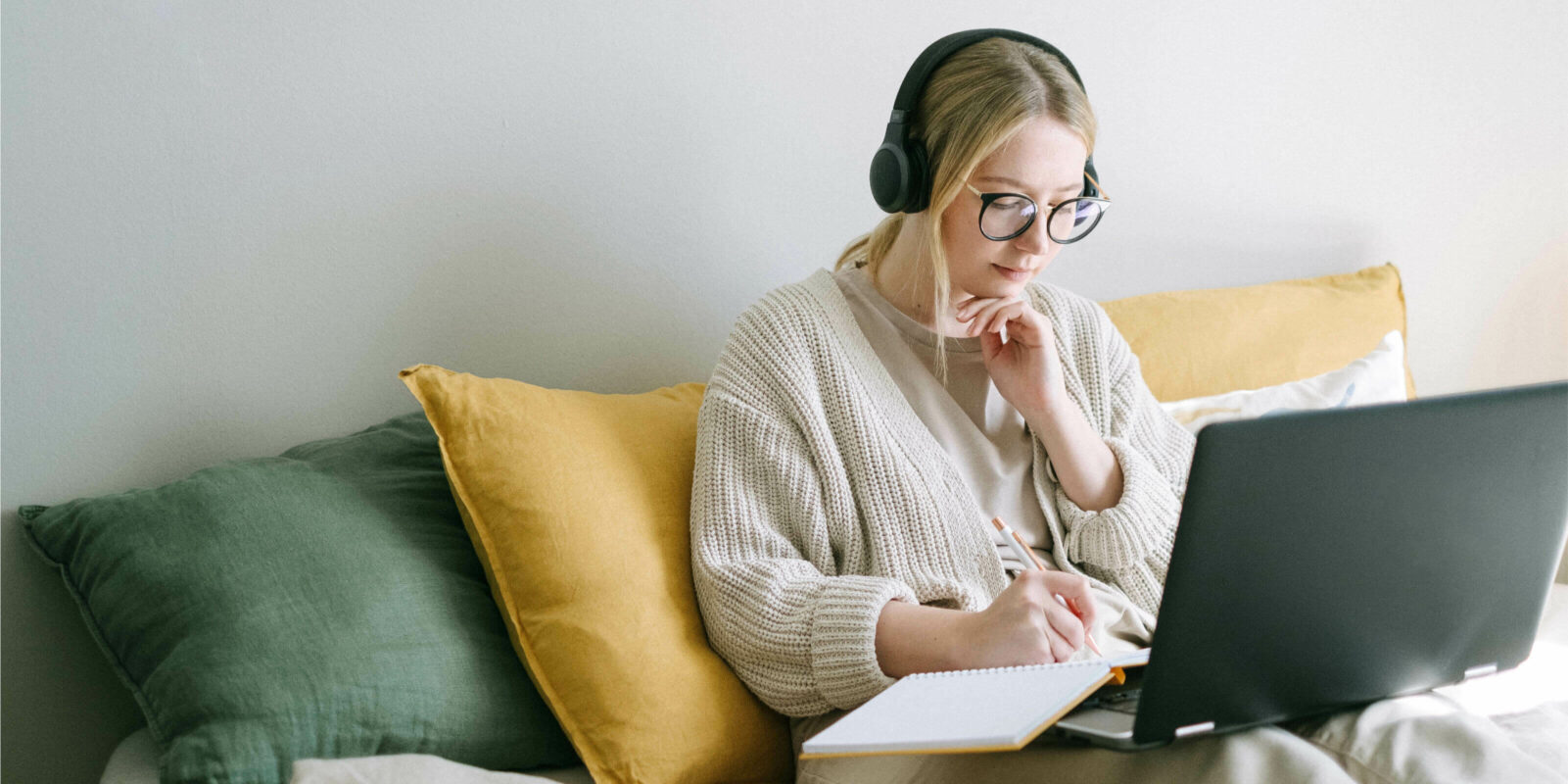 Communication technologies have enabled us to make remote learning more engaging than ever, and virtual training has become an essential part of today's learning landscape.
From college students and recent graduates to working professionals, there are plenty of reasons why people are turning to interactive online classes.
Using virtual training tools and effectively preparing your virtual classroom will enable you to take your online training experience to the next level.
What is virtual training?
Virtual training is training done in an online environment using tools where the instructor and student don't have to be in the same location.
Also known as e-learning, virtual training effectively duplicates the foundations of face-to-face training, but through learning platforms such as Microsoft Teams, Google Hangouts, Zoom, or Dialpad.
What are the benefits of online teaching?
Virtual training tools are gaining ground both in demand and in recognition over the last couple of years, in part thanks to the global pandemic. They're the ideal learning solution for student that require flexibility and accessibility—and great for teachers, instructors, and trainers too.
Here are the key benefits of teaching online:
Flexibility
One of the biggest benefits that virtual training offers is its ability to overcome geographical obstacles. This allows people to gain access to a learning environment that would have otherwise been impossible.
For teachers, it means that you can literally teach from anywhere and adjust your teaching schedule to times that suit both you and your students. You can also make course materials accessible online and train asynchronously.
Participation & engagement
For students, virtual training is usually less intimidating than in-person classes, which helps increase participation through chat logs, forums, and instant messaging tools. This can contribute to a more enriching experience for both students and teachers alike. Thanks to the exchange of ideas, learners have more time to process the information they receive, reflect on what they want to say, and then contribute.
As a teacher, you can also reach a larger potential pool of students who wouldn't ordinarily be able to attend the class in person.
Lower admin overhead
From filling in attendance registers to completing on-site admin, teaching in an IRL classroom can have plenty of administrative overhead for teachers.
By teaching online, not only is this automated, but you also have a record of all your lessons to share with students. It's easier to update class materials as they're all digital and, most importantly, you don't have to spend your spare time trying to get the printer to work!
17 tools & techniques to deliver online training
Because engaged learners are better learners, here is a list of different tools and techniques I'd recommend, with different functionalities created to promote interactivity between teachers and students.
Presenting tools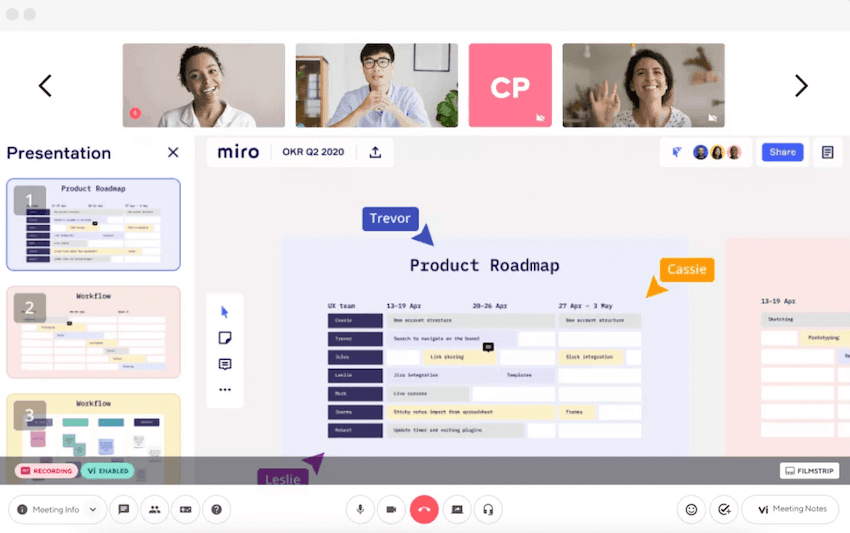 1. Virtual whiteboards
A virtual whiteboard is a blank screen that can be used to type, write, or draw upon. For example, you can use Dialpad Meeting's Miro integration to collaborate virtually on a whiteboard with your students. One way to do this is to divide students into two groups and ask them to list their learning objectives on the whiteboard and discuss them.
2. PowerPoint
For your virtual trainings, you can use PowerPoint templates to create more professional presentations. By carefully mixing high-quality images and eye-catching video clips, a webinar or presentation can appeal to a number of different learning styles.
3. Video conferencing tools like Dialpad
Dialpad is a great tool for teachers because it provides the infrastructure to establish great ways of working within your training sessions. This includes the ability to screen share with just one click from a desktop or mobile device. You can also set a countdown timer to make sure that your classes end on time.
For students that may not be able to attend a class, Dialpad allows you to provide them with access to an audio recording, video recording, and even a transcript to ensure that your students won't miss a beat—no matter what their preferred learning style is.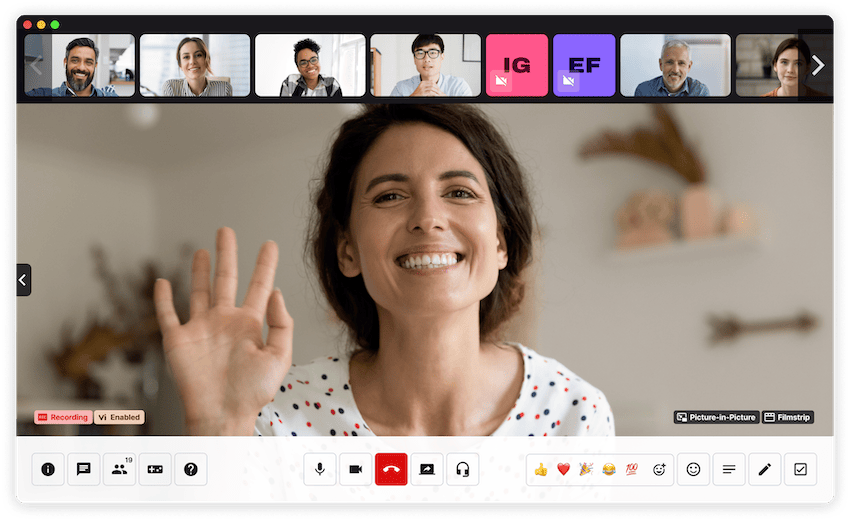 Communication tools
4. Project management platforms
Quick, simple, and targeted communication means that learning teams, facilitators, and learners all get to say what they need to when they need to. You can create different groups for each course or subject to develop a sense of community.
5. Email
Using emails for messaging is still a very effective mode of communication for classrooms. It's a great place to share key details like start dates and the schedule of your course, or other important information.
6. Instant messaging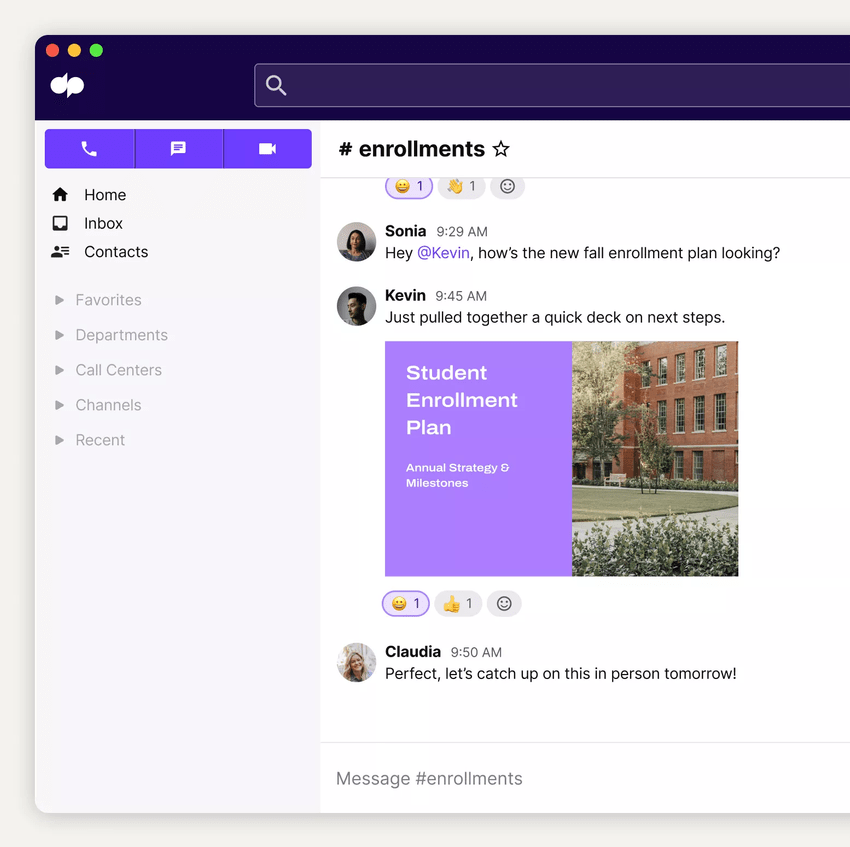 Chat makes it easy to communicate with students individually or as a group. From direct messages to group conversations in dedicated virtual channels, instant messaging tools like Dialpad's, WhatsApp, and Facebook Messenger can help teams get things done by providing a central place to discuss and collaborate efficiently on specific topics.
Tools and techniques to gamify learning

Virtual training pioneer, Cindy Huggett, recommends interactive trivia and games as a way to create a sense of community within a virtual classroom. These techniques can also help facilitators build relationships with students by having brief discussions in-between games. After each session, allow students to have a quick break to relax and retain more of what was discussed.
7. Short quizzes
Research shows that frequent testing helps people improve how they recall, retrieve, and apply new information. In online learning, having frequent quizzes help students apply their knowledge in a learning environment with few opportunities for practical learning. You can create quizzes for your classroom using quiz templates, such as trivia, multiple-choice, true or false, and fill-in-the-blank questions.
8. Leaderboards
Leaderboards are a great way to stimulate increased student involvement in the virtual classroom. Leaderboards help remind everyone that they aren't alone — others are also completing the same training. They also create some friendly competition and let learners see how they rank among their peers. And often, if they rank low, they will be motivated to go back and try again on their own.
Interactive learning techniques

In most online classes, you will probably find learners who are difficult to draw out. Instead of moving on with zero engagement and lack of response, you can encourage them to become more active in several ways:
9. Give them time
Let your participants know that it can take some time to type their responses, so you're happy to wait a few minutes to share. Also, try reframing each question to make it clear that it's a Q&A setting.
10. Ask simple questions
You can also try asking questions that require "yes" or "no" answers in the chat box. However, if a more complex answer is required, asking participants to use their microphone to respond is great for hands-on group discussion and learning engagement.
11. Get learners involved
An essential part of virtual training programs is to have students become the teachers, quite literally. For instance, you can plan a group workshop that requires your students to give a quick five-minute presentation on their favorite topic using easy and customizable presentation templates.
12. Interactive assessments
Interactive online learning is all about instructing the students in a way they're actively involved with their learning process. By having planned assessment tests, instructors can help students to develop their own opinions and critical thought, while keeping them engaged and interested during the classroom training.
13. Polls
Polls are another helpful resource, as they offer immediate, real-time feedback that can identify any problem areas. For example, if the pace of the lesson is too fast or participants are having difficulty processing and retaining the material being presented, a poll offers a quick and accurate assessment of where they think they are and what they want to know.
Virtual training content

14. Microlearning or bite-sized content
As an instructional learning solution, microlearning focuses on the design of activities through small chunks of information in digital learning environments. And with fewer things to write, that means quicker course delivery times. Microlearning courses can cover any subject that regular eLearning classes do; just in a bite-sized way. You can create courses that give a broad overview of a subject or even cover more complex topics in digestible chunks. Up to you!
15. Podcasts/audio
Many instructional design workshops emphasize the value of using alternative learning methods to provide varied and multiple options for students.
Podcasts are a great place to start. Not only will exploring these resources give facilitators new ideas about improving online design and delivery, but it will also encourage diversity and differences in opinions of learners and increase accessibility.
Creating internal podcasts tailored to your organization's specific needs can foster a sense of community and shared knowledge among team members, promoting collaborative learning and enhancing communication within the organization.
Video content

16. Webinars
Webinars are another great option to bring people together to inform, lecture, update, or discuss with them online. Additionally, webinars allow people to easily attend only the parts of a conference or online training they are subscribed to.
17. Tutorials
Another interactive and innovative technique is to create tutorial videos that complement existing materials for online lectures. You can either rely on other public channels and creators or, even better, you can create your own tutorials using video templates that are quick and easy to customize, including slideshows.
How to set up a virtual classroom for online learning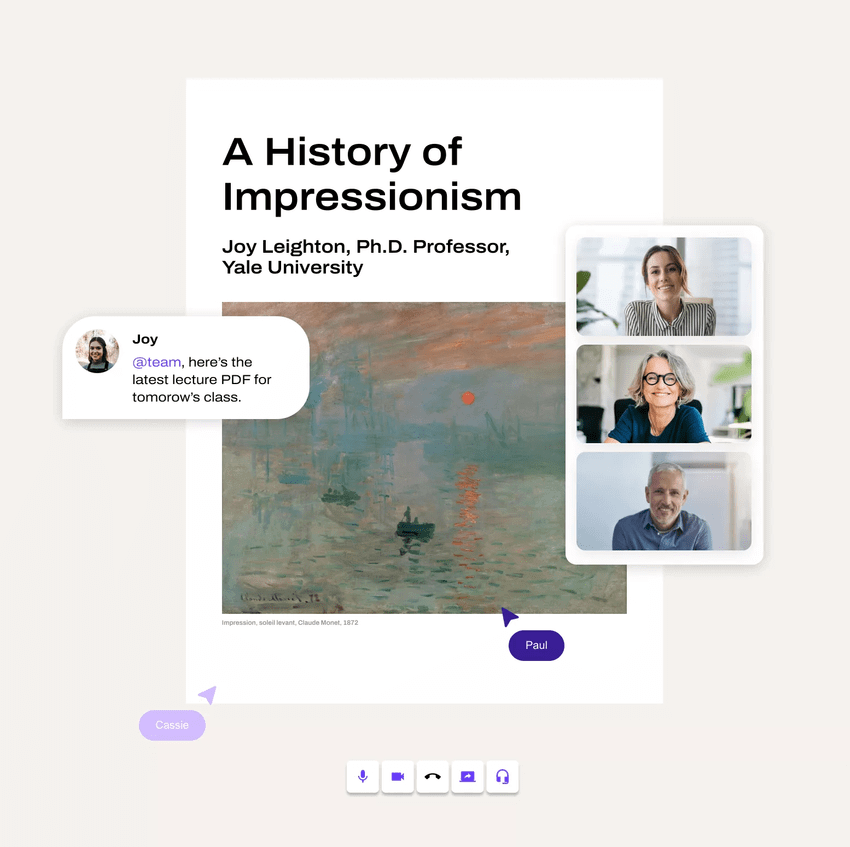 As a facilitator, setting up your virtual classroom involves preparing both the physical space you'll be providing your online training from and setting up the online space where your class will be conducted. While it may sound complicated to designate a space in your own home, you have many customization and planning options that are entirely within your control.
1. Create a designated space
Creating a space where you can host your classroom training is crucial for virtual instructors. Doing so can help you stay productive and focused throughout the day and minimize distractions that may disrupt the process of online learning and development. One option is to use Dialpad Meetings, which enables you to chat, share, and keep ideas flowing in online classrooms.
2. Check your tech before starting
Whether you own a PC, tablet, or smartphone, the first item you need is a device ​​that will be capable of streaming live content and, in general, provide what you need to create your online training material and teach or coach remotely.
It probably seems like a given, but the second thing you need is a good internet connection. Constant buffering and lag can hijack all attempts to deliver effective training for your students, especially if you're giving a live talk.
3. Share tools and documents
When it comes to distributing content and sharing virtual training materials, avoid using solely email. It's hard to follow up on and is not really designed for keeping track of documents in any kind of organized manner. There are cloud storage providers like Dropbox, Microsoft OneDrive, and Google Drive with free plans that should give you enough storage to share what you need to.
4. Set classroom expectations/rules
It's crucial that your students pay attention to what the virtual instructor has to say. You can ask everyone to close other open tabs irrelevant to the online training and put away their other devices.
Additionally, encourage them to ask questions via the chat messaging box within your video conferencing tool. Don't forget to let your learners know beforehand if there will be assessments or quizzes during the online training so that they can prepare in advance.
Upgrade your virtual classroom
Today's virtual training software provides a nearly identical in-person teaching experience and, in some ways, a better learning experience for all learners. The innovative virtual training tools that make up virtual training programs have taken the online learning environment to a whole new level, allowing instructors, students, employees, and experts to further their education in a fun and engaging way regardless of their location.
With the proper virtual training tools and techniques, virtual learning is becoming a great alternative to the traditional form of learning.

Looking for the right virtual training tool?
Sign up for Dialpad's 14-day free trial to get phone calls, video meetings, and instant + SMS/MMS messaging in one place. It only takes a few minutes to get started!