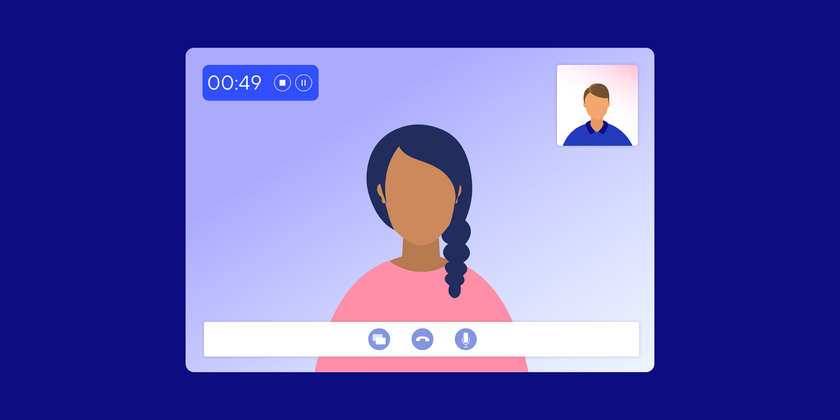 March 12, 2021
Don't think you're escaping 'meeting fatigue' easily. Remote work is here to stay, right?
Brainstorming sessions, town halls, onboarding programs, and more are all taking place through webcams and earbuds these days. The major issue isn't necessarily the virtual nature of such activities, though. Professionals feel stressed and on the verge of burnout due to countless long, unorganized meetings whether in-person or on a screen.
Everyone knows the saying, "quantity doesn't equal quality." Apply this logic to your meetings by creating an environment where meetings deliver value, not noise.
Inefficient meetings are more harmful than you may realize. Professionals don't earn enough time to work on other tasks or projects, and poorly-organized meetings also generate confusion rather than action. In 2019, Doodle's State of Meetings Report revealed that professionals spend an average of 2 hours in pointless meetings every week. Not only does that mean less productivity for each individual, but ultimately less productivity for the entire business. With productivity at stake, businesses need to reconsider how employees manage meetings.
Dialpad Meetings is introducing Meeting Countdown Timer to drive efficient discussions. It allows a user to set and start a timer for all other participants in a meeting to follow.
Host Timely, Productive Meetings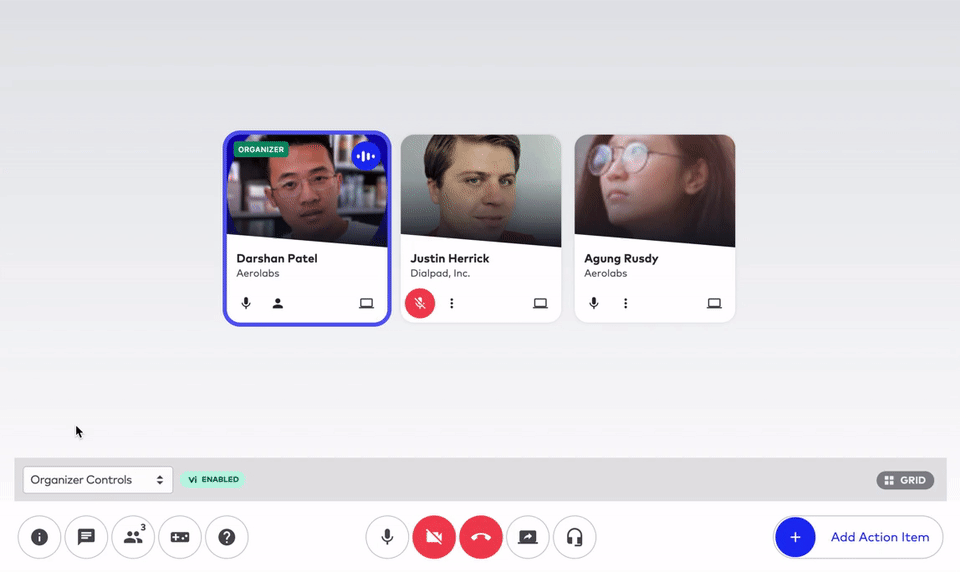 Organizers often think they're hosting the most important meeting of the day. The truth is that priorities vary, and a co-worker or client may not value the same meeting similarly. So that's why every meeting needs to adhere to an agenda with relevant topics and goals. Yet that's not enough to cultivate efficient discussions. There needs to be a defined length, too.
Meetings should run for around 30 minutes, according to Doodle. Perhaps it doesn't appear as a very large time slot for discussion, but that's due to the fact that people often waste time throughout a meeting — participants join late, or some speakers take time away from others who really need a chance to present.
With a meeting timer, you're encouraging all participants to remain engaged as speakers are less likely to ramble courtesy of the real-time countdown forcing efficiency. Meeting Countdown Timer also pairs together with Dialpad Meeting's 5-minute reminder capability, which notifies everyone when a meeting scheduled directly or through Google Calendar is reaching the end of its designated time slot.
Avoid Meetings Running Into Overtime

Busy doesn't even begin to describe the workday, and the last thing you need is to lose track of other tasks and projects because a single meeting ran into overtime. Harvard Business Review proclaimed in 2016 that meetings should include a 'shot clock' of sorts. Fast-forward to this era of Work From Anywhere, and it's clear that businesses and their employees need a meeting timer more than ever before.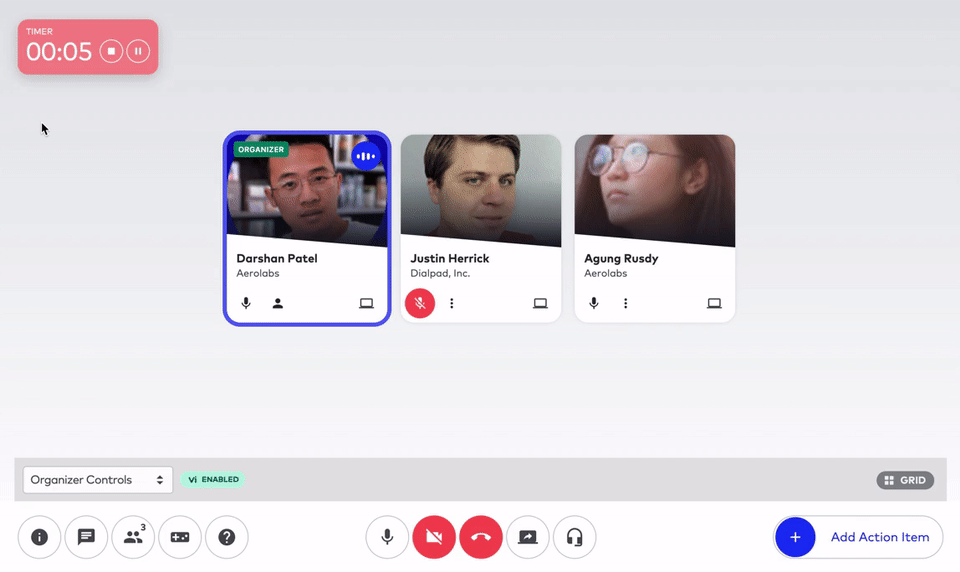 Dialpad Meeting's Meeting Countdown Timer acts as the official timekeeper for all meetings. Start it as soon as the discussion kicks off, and the timer will expire with an alert playing for all participants to recognize the meeting is over. Everyone then gets to return to their workflows and achieve maximum productivity for the business.

Speakers Make Every Minute Count
While you can't control exactly what other participants say during a meeting, you're actually able to control the allotted time they have to speak.
Meeting timers in Dialpad Meetings ensure that, during the course of a meeting, the organizer assigns equal opportunities for participants to speak and engage with the audience. Speakers aren't left guessing if they spoke far too long as Dialpad Meetings displays an always-visible countdown. Seeing the meeting timer approach its expiration, a speaker understands they need to wrap-up and return the microphone.
Overall, a meeting timer trains organizers and speakers to use time wisely. Organizers determine exactly who needs to speak during meetings and for how long while speakers learn to communicate effectively in their allotted time.
Meeting Countdown Timer — How It Works

First, you'll need to enable Meeting Countdown Timer in Dialpad Meeting's Settings menu. Keep in mind that anyone in a conference with this feature turned on may set, pause, or stop meeting timers. Now you're ready to start the clock during meetings and uphold the agenda, running an efficient meeting from start to finish.
Meeting Countdown Timer is available in the Meeting Info panel. Both the organizer and any participants may navigate there to turn it on. Determine the length of a meeting timer, which may run for as long as 99 minutes. If you're using the meeting timer to limit speakers, you'll instead aim for a shorter length. At any point, Dialpad Meetings lets you pause the meeting timer or stop it early.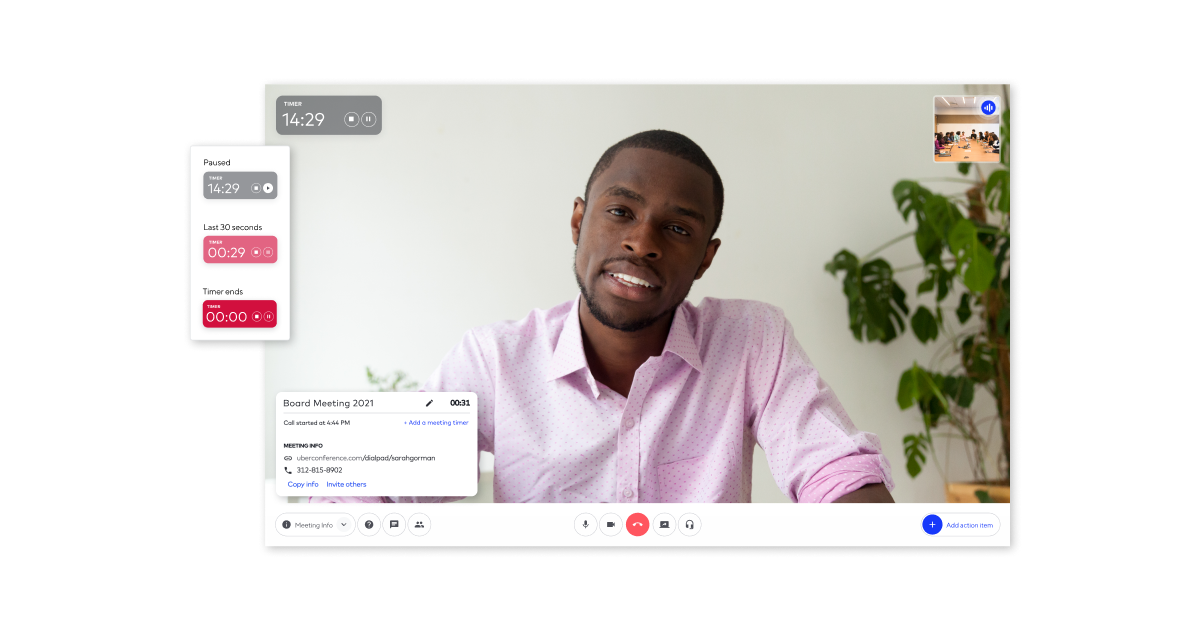 Notice that, as a meeting timer falls within 30 seconds of expiring, the countdown transitions to red and notifies everyone that time is almost up. When the countdown finishes, an alert plays. Dialpad Meeting's Meeting Countdown Timer does this to hold all participants accountable during their allotted time, both for the meeting itself and speakers needing to stay on-topic.
Only customers with an Dialpad Meetings Business license may enable a meeting timer for their conferences. Looking to upgrade? It'll take just a few clicks to go from an Dialpad Meetings Free license to an Dialpad Meetings Business license and unlock Meeting Countdown Timer along with an array of other premium features.
Reduce meeting fatigue, and feel empowered to get more done by making every minute count. To learn more about Meeting Countdown Timer in Dialpad Meetings, visit our Help Center.