November 15, 2016
A new survey from Dialpad and its partners reveals how IT leaders can thrive in the era of anywhere sales, anywhere service, and anywhere marketing. Download your copy today.

There's a chance you're reading these words while seated at your desk. But there's an even better chance that, as a modern worker, you're reading this somewhere else—be it your home, a cafe, or even the bathroom.

Though people used to be tied to their desks, today we truly work everywhere.

To learn more about the anywhere worker and the future of work, Dialpad, Lab 42 Research, and Altimeter conducted a survey of over 500 professionals across a diverse set of roles, company sizes, and industries. See the results of that survey by downloading your copy of The Era of the Anywhere Worker — essential reading for CIOs and other IT leaders.

The results were interesting - sometimes surprising, sometimes obvious. For example, 81.2% of respondents confirmed that they work at their desk fewer than 40 hours a week, if at all. Thanks to the mass proliferation of softphone apps and powerful cloud technologies like Dialpad, people are working from nearly every place you can imagine: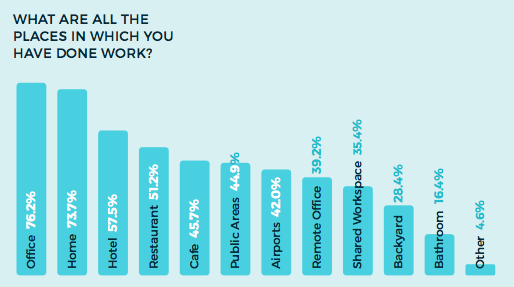 The majority of people are still doing some work in the office, but they're also working in a wider range of places.

In some cases, people are checking their inboxes before the morning commute, just to make sure there's nothing urgent to address. While on the road, business travelers are doing work on the go, whether at the airport, in their hotel room, or in an Uber on the way to a meeting. Additionally, as more and more businesses employ independent contractors and remote workers, there has been an increase in people working out of remote offices or shared workspaces.

Work even happens on the way to the office. In fact, only 16.4% of respondents have not communicated with colleagues or customers while commuting to the office, which means most of us have. The majority have done so while commuting in a car, but, again, it's the sheer variety of responses that stands out: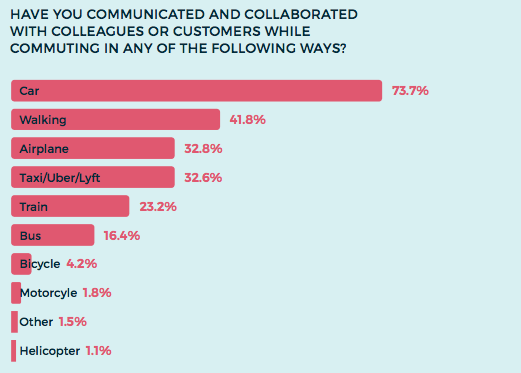 It's that diversity that characterizes anywhere workers and the modern workforce. As our ways of working have changed, we have sought out new technologies and systems to complement those changes.

Some older tools, like the phone tethered to your desk, simply don't make sense anymore. Traditional technologies like the desk phone are rapidly being replaced by innovative cloud-first solutions that deliver the right information and connect you to the right people at the right time. Dialpad is the perfect example of this, ushering in a new era of modern business communications with a phone system designed for the way you work today.

The advances illustrated in these fascinating data points aren't just anomalies; rather, they're indications of a seismic shift in the way people work. It's only natural that the technology we use to support this way of working should undergo a seismic shift as well and free everyone to do their best work wherever they happen to be.