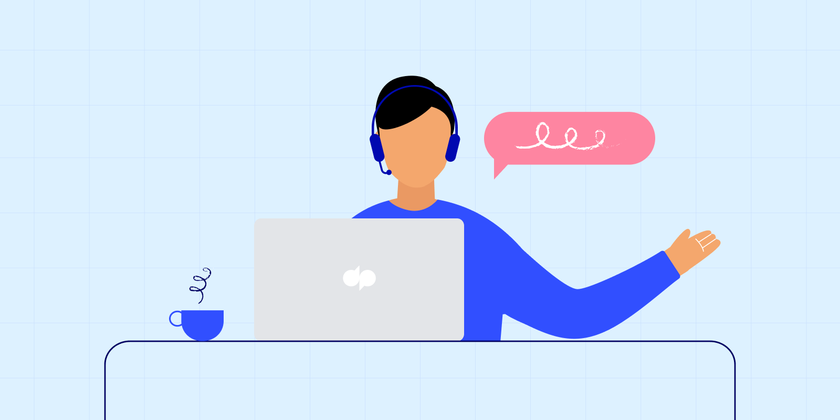 April 01, 2021
If you're looking into using a virtual receptionist in your business, you're at the right place. It's a great idea, and there are several reasons why. Below, you'll find all the information you need—what a virtual receptionist is, its use cases, and the benefits of using a virtual receptionist as part of your business phone system.
‌What Is a Virtual Receptionist?
A virtual receptionist, or auto-attendant, is an automated voice menu system that helps sort incoming calls based on custom call routing options.
You've probably encountered them before. It's the voice that answers and prompts you to dial the number that corresponds to the department you're trying to reach. A virtual receptionist offers this menu and routes the call appropriately based on caller input.
‌What Are the Use Cases of a Virtual Receptionist?
There are many cases in which you might want to use a virtual receptionist, but here are some more important ones.
*24/7 Receptionist
If your business runs 24/7, you may have trouble scheduling human receptionists to work around the clock. And if you can, it's going to be very expensive. Because you are likely to have windows of time that are typically much slower than others, it can be challenging to recoup your investment in these types of scenarios.
‌Using a virtual receptionist, however, you can ensure that your callers always receive a friendly greeting, no matter what time they call, which can help any business, from hotels and airports to retail stores.
‌With that said, most businesses don't operate on that kind of 24-hour schedule. Still, in such cases, a virtual receptionist can stand in to inform callers of your business hours, then direct them to the correct department.
‌*Call Routing
Callers want to speak to the right people when they call, and they don't want to go through too much trouble to reach them. No one wants to call a business and, after explaining why they are calling, find out that they were looking for another department and then have repeat themselves after reaching the correct department.
Having to do that is might be a minor inconvenience, but the seemingly small things you can do to improve the customer experience compound into something significant when packaged into a unified system. With a virtual receptionist, you can use call routing to send calls to team members, departments, voicemail, or an automated response menu or message.
‌Large organizations or businesses with several departments—that callers might be looking to reach—typically make excellent use of this capability. Still, even small teams can use it to direct callers to individuals based on any factors you choose.
*‌Quick FAQ
Depending on the nature of your business, you may have some questions that you receive frequently. Even if you have a live receptionist during your workday, you still may want to use a virtual receptionist to help callers get answers to simple questions about business hours or pricing on popular items or services.
‌This approach helps callers get the information they need during all hours. If everyone at the office has gone home, calls can be handled by the auto-attendant. But even during business hours, it can help cut down on the number of calls that need to be fielded by your staff.
‌*Professional Appearance
If your business could benefit from a boost in professional appearance, a virtual receptionist could be a valuable part of your solution.
People typically think of companies that make the most use of available technology as being well-established. Having calls routed via an auto-attendant helps your organization appear more professional and elevates your company's status in the minds of your callers.
‌What Are the Benefits of Using a Virtual Receptionist?
Now that we've discussed some use cases, let's look at some of the benefits of using a virtual receptionist.
‌*Available Anytime
In a world where 80% of callers will hang up without leaving a message if no one picks up, it's difficult to overstate the value of having a way to route calls that can be online at all times.
‌Whether you're on a tight budget, don't have room for someone to answer calls, or want to have a receptionist for after-hours, you'll be glad you set up an auto-attendant. With a business phone service like Dialpad, a virtual receptionist feature comes standard on every plan with no extra cost.
*Consistent Quality
Even the best-trained receptionists sometimes get distracted or need to step away. Like the rest of us, they are prone to having off-days and rarely deliver the same level of work every day. To make mistakes is simply a part of being human, which makes consistent quality an area in which a virtual receptionist shines.
Because an auto-attendant can't change on its own, you always know what you can expect. If you like, you can even get feedback from your customers on their experience with your auto attendant that you can use to continue to make improvements.
*Customizable
Auto attendants wouldn't work without at least some customizability level because every organization has different places for calls to be routed. But the benefits of customizability go beyond base functionality.
You can configure your virtual assistant to use language that your customers can relate to, which often comes across as more professional and well thought out than standard, recorded messages. You also don't have to stop at customizing your company's main number.
‌With Dialpad, you can also customize the virtual receptionist message for departments, adding to the perceived polish and professionalism over the phone. What's more, your messaging can vary based on the time of day or week.
‌If you need your virtual receptionist to route calls during the workday and review business hours on nights and weekends, you can configure these settings from any browser, any time of day, and any device.
‌*Help Customers More Efficiently
When many customers queue up to place calls to your business, there will be times when the line is busy and some callers have to wait.
‌Fortunately, virtual receptionists can help alleviate this issue when your callers are looking for different people. If two callers dial simultaneously, both will be greeted by the automated assistant and routed to their respective destinations.
‌Even in single caller scenarios, a well-designed virtual receptionist can get callers to the department or person they're looking for faster, which provides a better experience for the caller and more time for a live receptionist to work on higher-value tasks.
‌*Coverage on Holidays or Vacations
Virtual receptionists do not take time off for vacations and holidays. You can use them to enhance the customer experience when they happen to call during holidays or popular vacation times.
‌Quickly and easily send a holiday message or let callers know about special limited-time seasonal events by recording messages that correspond with the time of year, which can warm customers up before a call and even potentially lead to more sales depending on your messaging.
‌*No Training
While it's true that a virtual receptionist will require some initial configuration, the hard work stops at that.
‌Unless you decide to make tweaks and changes down the line, your virtual receptionist will continue to work precisely how you set it up as long as you continue using the service. This is convenient, but it also saves money in the time spent training people to handle calls and potential losses due to inexperience.
‌*Save Time and Money
A virtual receptionist will save businesses money by cutting the equipment and technology costs associated with having a live telephone attendant. From the phones and computers to IT support, the expenses can quickly add up to a significant investment, and this is not including the salary and benefits needed to employ a staff member.
Ready to Try Using a Virtual Assistant With Dialpad?
Virtual attendants can add to the service already delivered by your receptionist, or they can act in their stead in a pinch. Dialpad is happy to provide desk phones for organizations that need them, and the virtual receptionist feature comes with every Dialpad plan.