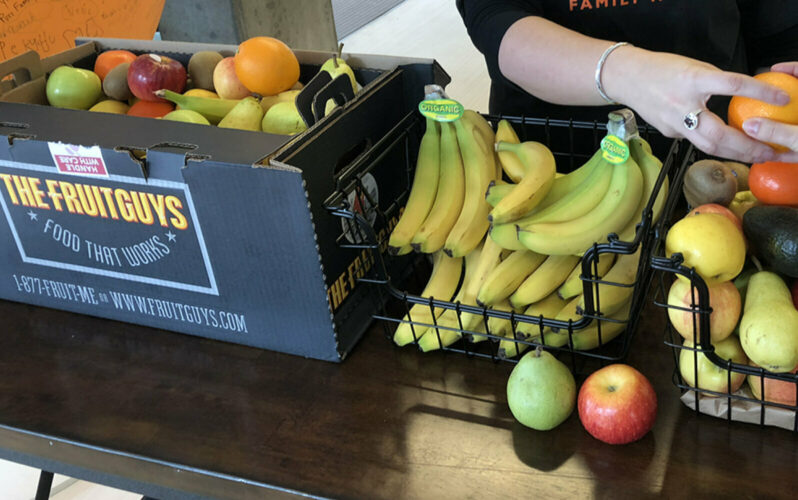 Segment
Industry
Integrations
---
For 25 years, businesses, schools, and homes across the United States have trusted The FruitGuys as their source of healthy produce and snacks. As a family business that's been operating for almost three decades, The FruitGuys has seen lots of ups and downs, like the dot-com crash and financial meltdown of 2008.
In 2020, the pandemic brought about a new set of challenges—they had to shift their operations to the cloud. And they had to do it fast.
Ernesto Perez, IT Manager at The FruitGuys, was tasked with selecting a cloud-based voice provider for the team.
"Our biggest problem was scaling to remote work quickly"
For Ernesto, removing high-maintenance devices like desktops was key in their shift to remote work. "We were spending lots of money on on-prem equipment," says Ernesto.
That meant The FruitGuys needed a cloud-based voice provider to support their use of mobile devices and Chromebooks.
"I really wanted a cloud-based voice solution. Our previous hosted voice provider wasn't reliable, was hard to manage, and didn't have a lot of functionality," says Ernesto. "Although we looked at other providers, when it came to functionality versus cost, Dialpad had exactly what we were looking for. Onboarding and assigning new users was also easy. Dialpad had really great resources for onboarding and training users on the new software."
In addition, their previous voice system was tedious to use and hard to manage. Setting up call routing and removing users took too much time. To make matters worse, Ernesto had to make all these changes himself.
FruitGuys' technology advisor, Packet Fusion, recommended Dialpad, which provided the ability to move the team to the new cloud-based solution within minutes and start adding users:

The department heads can also make changes in the system themselves, instead of needing the IT Manager to make every update.
"Now, I can focus on discovering and testing other Dialpad features and add-ons," Ernesto says.
Empowering a customer service team of just four reps
It might be hard to believe, but out of the nearly 80 employees of The FruitGuys, only four are in the customer service team. By using the Department feature in Dialpad Ai Voice, The FruitGuys can provide excellent customer support, even with a small team.
The main benefit of the Department feature is the increase in productivity and efficiency, thanks to the extraordinary time savings for The FruitGuys' team. "The Department feature is so easy for our four reps to use. Managing users from a specific department and, setting up call routing, saving call recordings—it's all so easy. Previously, even setting up simple things was hard to do and manage in our old system," Ernesto says.
Seamless calls from within Netsuite with Google Chrome CTI and Dialpad ChromeOS Desk Connector
For The FruitGuys' customer service team of four, productivity and efficiency are imperative when helping customers. With multiple apps, tabs, and windows open at a time, it can be cumbersome for agents to constantly flip through windows or tabs to effectively work their calls.
With the Google Chrome CTI dialer, they can click-to-dial right inside Netsuite, which The FruitGuys use as their CRM, and make and receive calls without leaving their Chrome web browsers. They can even choose to set their call center status, set themselves to do-not-disturb, manage contacts, and view all their recent communications history within the dialer:
"We really like not having to move between different tabs when we're on a call," Ernesto says.
The Fruit Guys also plan to use Dialpad's ChromeOS Desk Connector, which will enable their agents to easily manage, close out, or save these desktops and browser tabs when taking calls:
Once the call has finished, the Desk Connector asks the agent to close all windows and tabs associated with that call, which helps instantly clear up their desktop and prepare for their next call.
10 hours saved per week with Dialpad's Google Workspace Integration
With the Google Workspace Integration, The FruitGuys' team has access to all of the files, emails, and events they need right inside Dialpad. They no longer have to waste time toggling through multiple tabs and windows, and can view emails against contacts within Dialpad. Everything is right there in front of them, making it easier to stay focused on the conversation at hand:

"I love being able to see what emails our contacts are interacting with within Dialpad, if any documents are shared with the contact, and making calls within the Gmail app," Ernesto says.
Ernesto estimates that the Google Sidebar integration has saved him at least 10 hours per week on average from not having to switch between applications. In fact, Ernesto loves Dialpad's integrations so much that he checks Dialpad's App Marketplace regularly so he doesn't miss out on new integrations and updates.
"I have a notification on my Google Calendar to check the Dialpad App Marketplace at least twice a month to make sure I'm on top of all the new integrations and updates that might be useful for myself and the team," Ernesto says.
Real-time analytics and call insights
Using Dialpad's built-in call analytics to track conversational insights, The FruitGuys can now drill deeper into key performance indicators like calls dropped, calls missed, call volume, and call duration, something they've never been able to do before:
The team can then use these valuable insights to adjust their workflows to reduce operational costs and increase customer satisfaction.
"The customer service supervisor can see how many calls we're getting, how many calls are dropping, who's getting more calls, and who's not picking up calls," Ernesto says.
With Dialpad Ai Voice, The FruitGuys' team has also noticed higher call reliability. And it's no wonder—since Dialpad runs on the Google Cloud Platform and our worldwide data centers, service is always on. "It's been about a year since I've heard of major call issues," says Ernesto.
Next up: Ai Contact Center, Chrome WebHID, and Google Progressive Web App integrations for an omnichannel CX
Now that The FruitGuys has swiftly and seamlessly moved its operations to the cloud, the team plans to take advantage of more of Dialpad's contact center AI features. "I think Dialpad Ai Contact Center's features, like Ai transcriptions, will be helpful to the team. We're also interested in learning how Chrome WebHID can help our team provide an omnichannel customer experience," Ernesto says.
The FruitGuys are also excited to start using the progressive web app and WebHID integration to optimize how they use headsets.
We can't wait to see The FruitGuys continue to scale their operations and take advantage of more features in Dialpad Ai!
Is your contact center
managing multiple
business locations?
See how Dialpad Ai Contact Center can make life easier for your agents and supervisors. Book a demo, or take a self-guided interactive tour of the app on your own first!