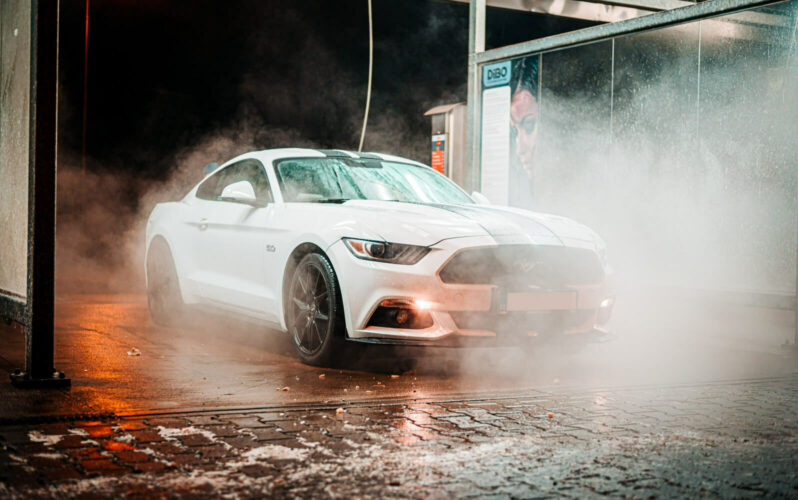 ---
If you've ever taken your vehicle to an express car wash, you've probably used products and services from one of Sonny's Enterprises' car wash solutions. From car wash equipment to vacuums to marketing and signage, Sonny's Enterprises has been a one-stop shop for car wash businesses since 1949. Today, they're the world's largest conveyorized car wash manufacturer operating in 33 locations in the United States.
In the last two years, Sonny's has seen tremendous acquisition growth—22 acquisitions, to be exact. They needed a voice and contact center solution that could scale with them, and one that their 1,200+ employees could use no matter where they were located.
With such a complex offering of products and services, Sonny's also needed something that was easy to implement across all their locations. Sonny's technology advisor, AdvancedBITS, recommended Dialpad's solution to fulfill these requirements.
That task fell to Dave Richardson, Vice President of IT for Sonny's Enterprise.
Although Dave and his team evaluated other providers, Dialpad Ai Voice and Ai Contact Center came out on top. "Dialpad is a true cloud-based platform. We didn't have to build a different VPN in all our different locations," Dave says.
The team also loved that their technicians could use Dialpad on iOS and Android from wherever they were located.
"
Being able to call our 700 technicians in the field from the head office is a game changer.
"
Dave Richardson
Vice President of IT for Sonny's Enterprise
Using Dialpad's Azure Integration, they could easily add new employees to the system. "With Azure ID, Dialpad is very easy to administer as a Dialpad license gets automatically populated when creating new users," Dave says.
One robust contact center solution that services 33 locations
Although Sonny's Enterprises is in 33 locations, they've set up interactive voice response (IVR) to route calls automatically to their respective regional areas. That way, the IVR can serve as an around-the-clock support solution, even when contact center agents aren't available.
With Dialpad Ai Contact Center, Sonny's main corporate office can serve all their distribution areas, according to their languages and equipment sales segments. Dialpad Ai Contact Center is especially important for supporting Sonny's OneWash™ members—businesses that trust Sonny's for their suite of car wash solutions and benefits.
"Our central customer support center at our corporate office answers questions from over 800 customers who pay an ongoing subscription fee for Sonny's OneWash™," Dave says.
Saving 2-3 hours of an agent's week with Ai-powered coaching and sentiment analysis
With Sonny's complex products and services, some customer calls could go on for hours and touch on a variety of different issues. But because Dialpad Ai can transcribe calls and analyze call sentiment in real time, it makes it easier for Sonny's contact center supervisors to oversee multiple simultaneous calls:

If supervisors notice calls with negative sentiment, they can pull up the running transcript to get more context instantly before deciding whether they need to jump into a call to help an agent. And this way, agents also don't have to manually message a supervisor for help.
After the conversation is over, Sonny's team can also use the transcript to review how it went and pinpoint how to better solve customer issues:
"
Dialpad Ai has saved two to three hours a week for each agent — we didn't have these AI coaching and sentiment analysis features before. It's made our jobs a lot easier.
"
Dave Richardson
Vice President of IT for Sonny's Enterprise
Sonny's contact center at the head office also uses Dialpad to track their contact center analytics through wallboards. "We love looking at the dashboards because you can see analytics from the last eight hours," Dave says.
These insights are especially useful for analyzing calls and informing Sonny's product innovation roadmap.
"Now we can see what's going on and find out what customers are saying about the product," Dave says. "We can see call volume, call duration, and see what customers are complaining about the most and what they like about our products. The more we can understand our contact center data and harness that data, the better."
Fun fact: You can easily track how often certain keywords and topics come up in customer conversations with Dialpad Ai—just create a "Custom Moment" and add the words you want to monitor. For instance, Sonny's team can see how often their customers ask about their ceramic coating product by creating a Custom Moment to track every time "ceramic " or "coating" is said:

A convenient and easy voice solution that salespeople love
Dialpad Ai Voice's all-in-one workspace also lets Sonny's sales team seamlessly transition between prospect conversations, team calls, meetings, and messaging from a single app. And not only that, the Dialpad app also lets them choose which phone number to use when making work calls from their cell phones:

"The Dialpad app is so convenient for everyone. Our salespeople love that their personal numbers don't get exposed. They can be out on the road taking a call, then go back into the office to look at the live transcription to take note of the call details to see if there's anything they need to address."
What's next: Growing internationally with Dialpad
With 22 acquisitions in two years under their belt, Sonny's plans to grow internationally, with Dialpad by its side. "Dialpad will go everywhere with Sonny's," Dave says.
The team is also looking to use the Dialpad and Playvox integration, so that Sonny's contact center can seamlessly sync agent data with engagement activity to optimize scheduling and quality—all in one unified solution. Workforce Engagement management (WEM) can improve real-time agent forecasting and scheduling, reducing attrition, improving efficiency and boosting customer retention and loyalty.
In addition, Sonny's is anticipating using Dialpad's Ai CSAT feature to get CSAT scores—inferred by AI—on 100% of calls. That way, they can automatically collect CSAT scores on every call, gain predictive call insights, and improve CSAT all in real time.
Sonny's sales team also plans to use Dialpad's Salesforce integration to get features such as Dialpad's AI transcription right inside Salesforce and click-to-dial, which will enable them to build custom quotes easily from inside Salesforce.
We're excited to help grow Sonny's Enterprise business worldwide and enable their global teams to leverage even more Dialpad Ai features and integrations that are vital for their business needs.
Are you spending too much on a phone system that misses too many calls?
Check out a demo of Dialpad Ai Contact Center and see how much time and money you can save!