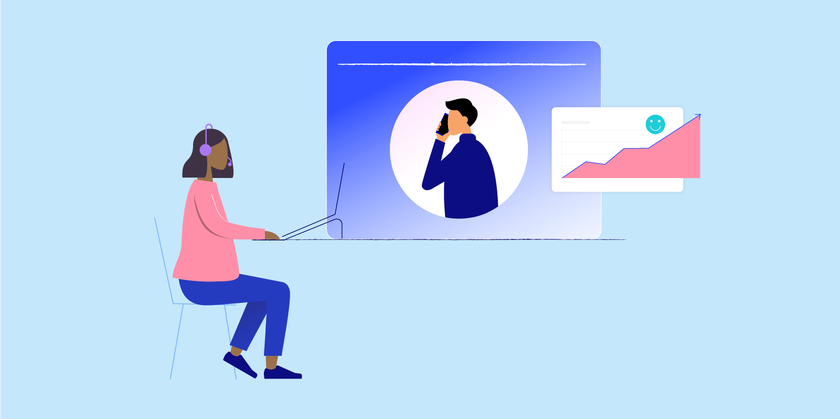 February 03, 2021
Customer satisfaction scores, also known as CSAT scores, are essential tools for understanding how people perceive your company. And running CSAT surveys is one of the best ways to measure those experiences on an individual level.
If your CSAT scores aren't where you want them to be, there are several things you can do to improve them. You can dig into individual customer responses and determine if any particular teams, agents, products, or services are responsible for a bulk of negative feedback. Or you can look at averages or trends and see what's common between high scores and low scores.
Most importantly, it would help if you looked at the processes and tools you have in place for your customer service departments. CSAT scores are individual, so raising them means ensuring that every customer interaction is as positive and productive as possible. Here are six things you can do to make that happen.
6 ways to improve your CSAT scores
1. Reduce wait times
In today's instant communication world, waiting on hold isn't something that customers are willing to do. Back in 2014, according to an American Express survey, consumers were willing to wait 13 minutes for a customer service agent before hanging up.
Fast forward to 2019 and in a Google Customer Survey of more than 15,000 people, nearly two-thirds of respondents said they wait just two minutes on hold before hanging up. More than 13% said they wouldn't wait on hold at all.
Therefore, the shorter you can make your wait time, the more callers you can hold onto, and the happier those callers will be when they reach you.
2. Use smart call routing
Gone are the days when companies had to hire more customer service representatives to decrease wait times. Now, thanks to advanced call technologies like interactive voice response (IVR), customers can get an immediate and appropriate response to any call.
IVR technology can take a call, find out what the customer needs, and route the call to the right person. With Dialpad, you can set your own call routing rules, sending individual calls to specific agents so that each agent has the best possible chance of success. It's even possible to send your most important customers to your most experienced or qualified agent.
An automated call distributor will place each caller in the right queue and tell the person how long the wait time will be. The customer can choose whether to wait out the time or receive a callback. Sometimes, to make a customer happier, all you have to do is make them feel like they're in control of the experience.
3. Provide omnichannel support
Then you have customers who don't want to talk to your customer service team on the phone at all. They still want support, preferably from a live person, but they want to get it through a different channel.
To better serve customers and earn their loyalty today, businesses need to offer omnichannel customer service. Omnichannel is a lot like multichannel in that it provides service across multiple platforms like phone, chat, and email.
The difference is that omnichannel offers a more seamless experience. With omnichannel, the customer mentions something in a social media chat, and when they call the next day, the rep who handles the call can reference that chat and pick up where the customer service chatbot or live representative left off.
It used to be that only the largest companies could offer an omnichannel customer experience. Now, thanks to integrations like those available through Dialpad, companies of any size can meet customers where they are. For example, with the Salesforce integration, teams can automatically log text message conversations and continue the same conversation via phone or email.
4. Empower your call center agents
First, make sure agents have access to customers' service histories. Customers hate repeating themselves. It's one of the most common frustration with service calls. Integrated platforms, like the Salesforce–Dialpad integration described above, is one of the best ways to make this happen.
Next, make sure representatives have the freedom to take action to resolve a customer's issue. Maybe for your company, that will mean the ability to issue returns or overturn late fees. The important thing is that an agent can listen to a customer and respond immediately to make the customer feel heard and valued.
Finally, make sure your agents know that you're there to help. Offer targeted coaching, ideally using statistics and call recordings. Ensure the agents know that they can come to you with questions or feedback so you know when they need extra support.
5. Ask for customer feedback
Your CSAT scores come directly from customers' survey responses, so it's only logical that the customer should be the one to tell you how to improve.
You can use your existing CSAT survey technology to get this feedback. Just add an open-response question like "How can we improve the customer experience?" or "What would have made this turn out better for you?"

You'll get a range of different responses, and that's okay. Look for common threads in responses and pay particular attention to comments that come up repeatedly from various customers. If someone says that the service needs to be friendlier, staff training is probably in order.
6. Act on scores and feedback immediately
The quicker you can respond to a customer's feedback—especially if it's negative—the better.
With the right tools, you can empower your service team to act on issues as they develop, sometimes during the conversation itself. One such tool is Dialpad's contact center sentiment analysis feature, which screens conversations with words that suggest how a caller feels.
This way, call center managers can get a real-time view of how callers are feeling, and step in to de-escalate calls if necessary or choose to offer real-time coaching to the agent. Real-Time Assist cards can also help create a more consistent customer experience and reduce the risk of a negative outcome.
---
Taking control of your CSAT scores
A better customer experience starts with your communication tools. Dialpad provides you with an integrated communications system that lets you deliver personalized service to every customer. From real-time sentiment monitoring to CSAT survey technology, you can track customers' experiences and provide the best possible service. Sign up for a free trial today and see the difference excellent service technology can make.