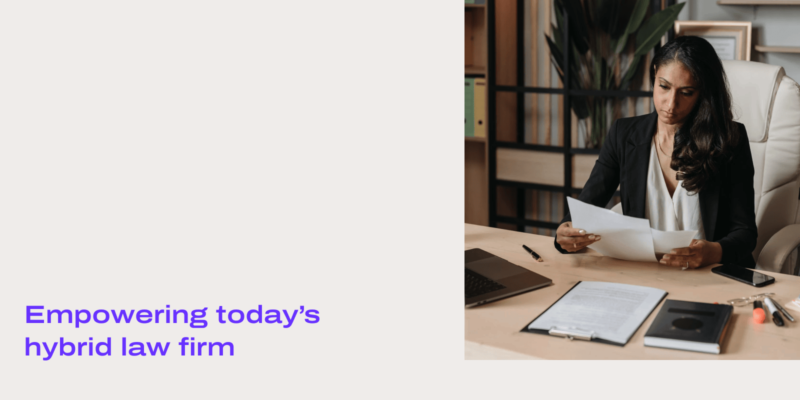 Almost overnight, the pandemic forced many law firms and legal departments to close their physical offices and work remotely. Most had to scramble to figure out how to keep attorneys connected to their clients and caseloads just to maintain their practice. Now, firms are looking to enable remote work that can do a lot more than keep the lights on—they are looking to create hybrid work environments that can help them compete and grow their practice.
Demands are high for attorneys
It is no secret the competition for top legal talent is fierce. Reuters recently reported "associate moves between U.S. law firms were up 51% in 2021 over the average from the previous four years… and partner moves were also up 8% nationwide," according to data from Decipher Competitive Intelligence.
In response, firms appear to be open to doing whatever they can to improve their ability to attract and retain the talent they need. Compensation packages, partnership paths, and growth and development opportunities are all being re-examined, as well as how and where attorneys do their work.
Flexible work arrangements give attorneys more control over their work experience, empowering them to work from anywhere, at any time, which can ultimately drive up productivity and satisfaction. Hybrid work also allows firms to harness the talent they need to meet surges in client demands, helping them get creative in the way they manage resources to handle heavy workloads.
The American Bar Association noted firms are increasingly complementing permanent hires with contract talent to "round out their teams, bolster productivity, and keep costs in line." More lawyers also seem enticed by these opportunities, as more are leaving their permanent positions to join the contract talent pool.
The key is to create a seamless hybrid work environment that ensures attorneys, whether permanent or contract, can be available to clients at a moment's notice. Luckily, this doesn't require being in the office each and every moment of each and every day. In fact, many clients don't want to go into their lawyer's offices—79% of consumers see the ability to meet with a lawyer remotely as a key factor in deciding who to work with, with 58% wanting the option to have a consultation via a video call. Your firm needs to make sure it is easy for clients to connect with their attorneys, no matter where they are, to keep cases on track to everyone's satisfaction.
Challenges with remote work
Wanting attorneys to be accessible from anywhere and making it so is a lot easier said than done. With years of experience working remotely, you probably know (and have felt) how difficult it can be to connect and extract value from your different enabling technologies.
Long setups, clunky interfaces, and incompatibilities can quickly make a remote work environment a frustrating one for your IT staff, attorneys, and clients, alike. It can also make it an expensive one with Thomson Reuters reporting that overhead expenses continue to grow rapidly in a work-from-home environment.
It doesn't have to be this way. There are tools that you can use to optimize your productivity and reduce your costs to create the kinds of experiences your clients and attorneys want. When done well, hybrid work environments can help you attract and retain your attorneys, while driving efficiencies that allow you to differentiate and grow your book of business.
Top 5 capabilities you need to successfully enable remote work for your law firm
To make a remote working environment work better for your law firms, look for these five capabilities:

1. A single, unified communications platform for all calls, SMS messages, and virtual meetings
Consolidating everything onto a single platform makes it easy for your IT and attorneys to manage all communications. IT can quickly and easily onboard and deactivate attorneys to scale resources to meet current client demands, while your attorneys can view, manage, and track all their calls, SMS messages, faxes, and virtual meetings from a single pane of glass:

2. Specific features to help streamline legal tasks, such as automatic logging and transcription of communications

The legal industry is unique, so it's important the communications platform you are relying on can support your law firm's specific needs. A solution that can log all calls, SMS messages, and virtual meetings, and/or instantly deliver call summaries and post-meeting transcriptions can rack up significant savings, since attorneys (or paralegals) no longer need to take notes or waste their time trying to capture and track all their billable hours. (This is actually one of the biggest use cases of AI for lawyers.)
For example, here's what Dialpad's real-time transcription feature looks like:


3. Enterprise-grade security that keeps digital communications reliable and private
All communications need to be protected to maintain the reputation of your firm, as well as compliance with applicable rules and regulations. Look for built-in capabilities, such as data backup and redundancy, role-based administration, encrypted communications (data in transit and at rest), and call/meeting controls (e.g. locks, virtual waiting rooms, screen share restrictions, etc.) that keep your remote work environment secure:

4. An intuitive solution that anyone can use
Make sure clients don't have to download anything and attorneys don't have to do anything different to connect. The goal is to optimize productivity, which takes a solution that is quick and easy for everyone to use, right away. Features such as virtual assistants and customizable call routing can make sure your attorneys never miss a call and are always able to meet on-demand.
5. Seamless integration to enhance (not change) the way you work with existing systems
You are going to want a solution that integrates with the existing tools your law firm relies on, whether that's Microsoft Teams or popular legal software such as Clio. Integrations should add value to these tools to help your firm realize even greater productivity and efficiency gains.

With Dialpad, your hybrid law firm can work from anywhere

Dialpad provides a unified communications platform that offers all these capabilities and more. Learn more about how we are helping close to 400 legal customers make their remote work environments work better below.
We're confident we can enable your attorneys to work smarter, faster, and more efficiently from anywhere to drive your ongoing profitability and competitiveness.
See how Dialpad can help your law firm work from anywhere
Get a personal walkthrough of Dialpad's cloud communications platform, from the security features to the integrations with legal practice management software!