Back to Blog
Dialpad & Playvox bring new AI power to your contact center workforce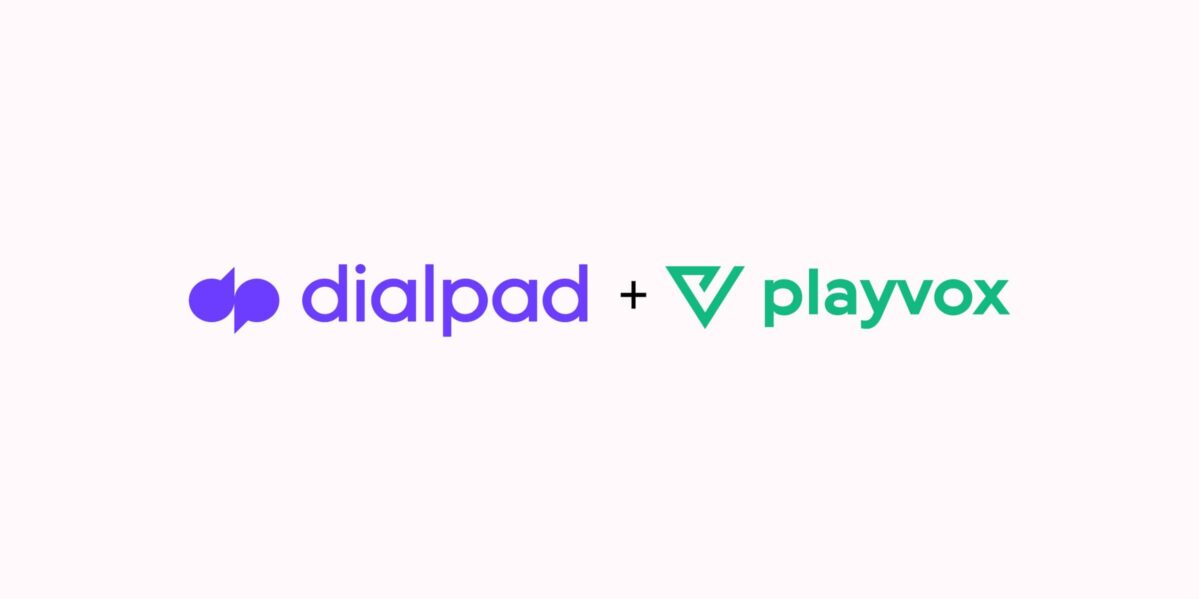 Are you managing a contact center team of 50 agents or more? Do you need a better way to do staff forecasting and scheduling, streamline team learning and coaching, and improve quality assurance to deliver better customer experience and agent satisfaction?
If you said yes, then keep reading to learn about how we've extended Dialpad Ai Contact Center with new Playvox technology, bringing AI-powered agent workforce and quality management capabilities to our customers!
Don't just manage your workforce—engage them
Contact centers can be challenging environments, with agents needing frequent training and coaching to keep customers happy and schedules needing constant adjustment to match service volumes and support coverage. It's no wonder that contact center agents are typically the employee group with the highest turnover rate in any company.
Fortunately, there are ways to make their jobs more rewarding, and to optimize agent teams and their performance.
For smaller businesses, Dialpad Ai Contact Center already includes a wide array of workforce management capabilities to help contact center managers improve engagement with their customers while empowering their agents.
These include skills-based call routing, real-time coaching and conversational guidance, post-call analytics, and heatmaps: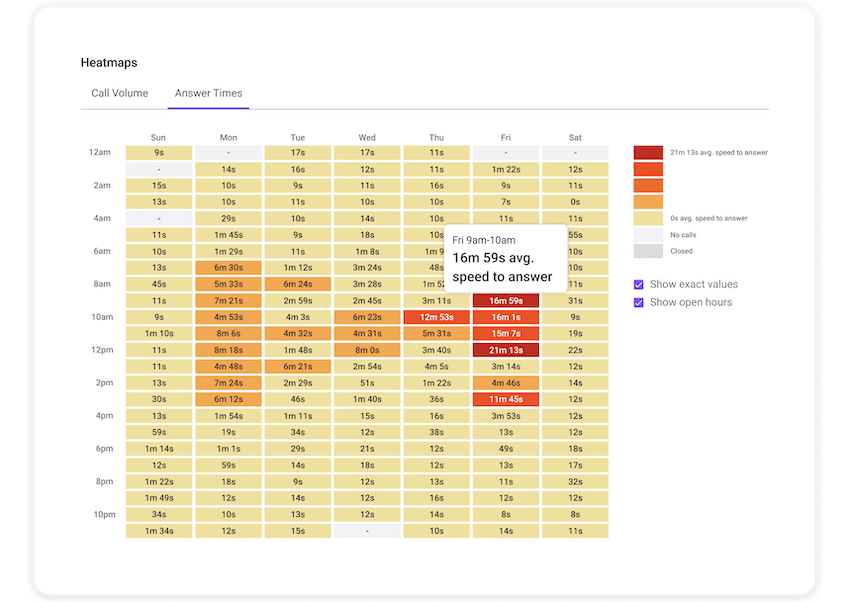 Yet we've found that larger companies with 50+ agents often need more. That's where advanced workforce management comes in, using AI to forecast the number of agents required at different times and to help with people scheduling—working with both contact center demands and personal calendars.
Enter: Dialpad + Playvox.
Our newest partnership
Dialpad and Playvox have partnered to provide advanced, fully integrated WEM capabilities for Dialpad Ai Contact Center.
Now, Dialpad Ai Contact Center managers can more efficiently manage their agent teams and reduce staffing costs while improving productivity (and morale!) across their contact center.
Playvox WFM and Playvox QM provide the most comprehensive, AI-powered WEM solution suite for contact centers with 50+ seats. Playvox brings together seven workforce solutions into a single suite, and has earned G2's leadership position as the top-rated Quality Assurance software for contact centers in 2021. Now, you can access it all as a part of Dialpad Ai Contact Center.
Just sign on using your Dialpad credentials, and Playvox will instantly synchronize Dialpad agent data and status, customer interactions, and call events. With the two together, you'll get a single and unified contact center solution for customer engagement, workforce management and quality assurance.
Playvox WFM
Playvox WFM brings all the features you'll need to help with planning, scheduling, reporting, and workforce analytics for your contact center:
Scheduling: Automated omni-channel agent scheduling is based on your specific business rules and priorities. It takes your KPIs and demand forecasts into account to create the most efficient schedule (for both you and your agents):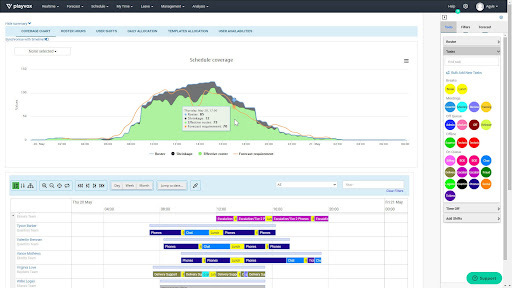 Forecasting: Improve the accuracy of your agent demand forecasting based on real-time data and self-adjusting algorithms.

Adherence: Monitor adherence and occupancy throughout the day with real-time data from voice, chat, social, and ticketing platforms.

Reporting and analytics: Dashboards and reports provide a center-wide picture, down to the agent-level, helping with performance management and agent engagement. Drill-down functionality provides deeper insights into adherence, occupancy, service levels, workstreams and forecast accuracy:

Mobile apps: Enable agent self-service for leave requests, work availability, timesheets, and shift swaps, so you spend less time on administration, with rule-based approvals and calendar leave thresholds.
Playvox QM
If you want to go beyond forecasting and scheduling, there's Playvox QM, which is designed to help agents stay educated, motivated, and in-touch with how customers are feeling—without needing to hold constant meetings and training sessions.
Learning management: Continuously improve your agents' skill sets with instructional courses and learning paths. Track agent results and skill improvements or deficiencies over time, thanks to learning comprehension checks within videos and rich text content that maximize learning effectiveness.

Motivation and recognition: Customizable and gamified motivation tools keep your workforce operating at peak levels. Create and customize your own "Karma Store" to award your agents for their performance. Use the built-in social Community Wall to create a cohesive agent team where everyone inspires one another.

Coaching: Create training courses, quizzes, and interactive coaching cards to easily organize your coaching sessions, track the progress of sessions and agents' improvement levels over time, while enabling agents to offer feedback:
Quality and performance: Centralize all your customer service interactions, integrating seamlessly with a myriad of customer service and CRM platforms, including: Zendesk, Salesforce, and Intercom, to name a few. Create and set KPIs for your customer service while tracking agent performance and measuring quality:

Don't just take our word for it
While it's easy to tell you how great the Playvox integration is, it's better to show you exactly how it's helped businesses. For that, let's take a look at Smart Autocare, a major player in the vehicle service contract industry.
Smart Autocare serves dealerships across the U.S. They were struggling with low customer ratings on Google and needed to improve the customer experience. They needed a new, modern software platform for their 150-seat contact center, including a new workforce management tool for planning and scheduling. Up until that point, the company had been using Excel in lieu of a formal WFM solution, so there was a clear need for better automation.
Smart Autocare chose the Dialpad + Playvox solution—the combination providing all the capabilities they needed, with a simple user interface. Thanks to Dialpad's cloud-based self-configuration and scaling, they could onboard the new contact center and operate at a much lower total cost of ownership (TCO) than options from other vendors.
Now, Smart Autocare can provide its customers a superior customer experience, with AI-powered agent scheduling, coaching, and analytics behind the scenes. Not only has this made work easier for the agents, it's allowed them to provide better service to their customers.
Get started today
It's time to enhance your contact center with modern Workforce Engagement Management, using a comprehensive, AI-powered solution suite. Playvox and Dialpad bring together the value and power of customer engagement and team workforce solutions into a single, easy-to-use platform.
See how Dialpad Ai Contact Center works!
Get a personalized walkthrough of how Dialpad can help agents and supervisors communicate with customers and prospects, from anywhere.