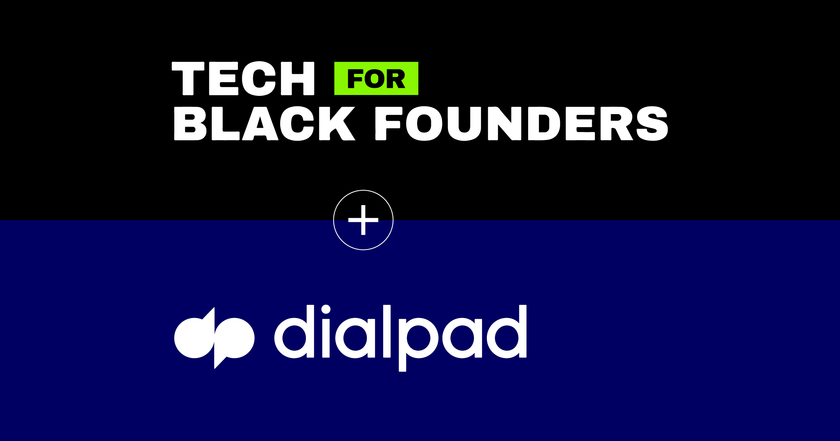 September 17, 2020
As the U.S. continues to struggle with race relations, we're all grasping for ways to help make an impact. Earlier this year, in the wake of the tragic and senseless murder of George Floyd and so many others like him, many in Silicon Valley banded together to take action within our own community.
"Today, only 1% of founders backed by venture capital in the United States are Black. This is appalling and shows how the odds are stacked against Black technologists and entrepreneurs. The onus is on us in the tech community to start evening the odds," cites the mission statement of the #TechforBlackFounders program, founded by Michael Katz, CEO at mParticle, Coby Berman, Co-Founder at Radar and Will Crocker, VP of Customer & Partner Marketing at Braze.
Dialpad is proud to have been one of the first technology companies to join #TechforBlackFounders—a program providing concrete, long-lasting support to U.S.-based, early-stage startups led by Black founders, by offering completely free or heavily discounted software to help their businesses grow.
"At Dialpad, we strive to deliver the best possible diversity and inclusion experience to our own employees," said Daryl Graves, Dialpad's Director of Equity, Balance, and Belonging (EBB). "Participating in programs like Tech for Black Founders allows us to extend that same experience to groups outside our company."
"Tech for Black Founders is a great program and definitely a move in the right direction," said Niger Little-Poole, Founder & CTO at Constellation Analytics. "Raising capital is an active struggle for Black founders and opportunities to reduce capital expenditures absolutely helps. Brands participating in programs like these are more likely to gain my loyalty as a customer and retain my business as we scale." Niger is one of over two dozen Black founders that have taken advantage of Dialpad's offering in the program in the first few weeks of launch.
Access to the offers in the program are reserved for U.S.-based companies led by one or more Black founders, that have raised less than $30M in venture capital, and have fewer than 150 employees. Founders are encouraged to apply personally and share how else their selected vendors can help them. The benefits of the program will be available to Black founders in perpetuity as long as they continue to meet the criteria listed.
"I had not heard of Dialpad or most of the vendors on TechforBlackFounders.com prior to seeing their offerings, but it was a driving factor for signing up. In the case of Dialpad, I feel like given the current times with COVID-19 we were looking for a more effective way to communicate without much contact and this was a perfect solution," said Stephan Walters, Founder & CEO at Mako, another beneficiary of the program. "I definitely think the offering itself provides instant benefits towards Black startups because lowering expenses for small businesses definitely helps. But continuing to provide a two-way channel for feedback between vendors and Black startups is critical because the hurdles and struggles aren't just financial. Nonetheless, offers on TechforBlackFounders.com are definitely a step in the right direction."
Today, nearly 30 tech vendors have offers listed on TechforBlackFounders.com, and more are getting added every week. This "growth stack" empowers Black founders to scale their businesses in ways they may not otherwise have been able.
"I am already using or planning on implementing eight services offered on TechforBlackFounders.com. I can't speak for all founders, but it is definitely helpful for our pre-launch startup to have access to premium services. It's the same as capital to me." - Dennis Schultz, Founder & CEO at Paparazzme.

If you're a SaaS business that also wants to do your part, reach out to info@techforblackfounders.com to register your offer to Black founders.