Back to Blog
Custom Ai Playbooks: Ai Playbooks just got a whole lot more powerful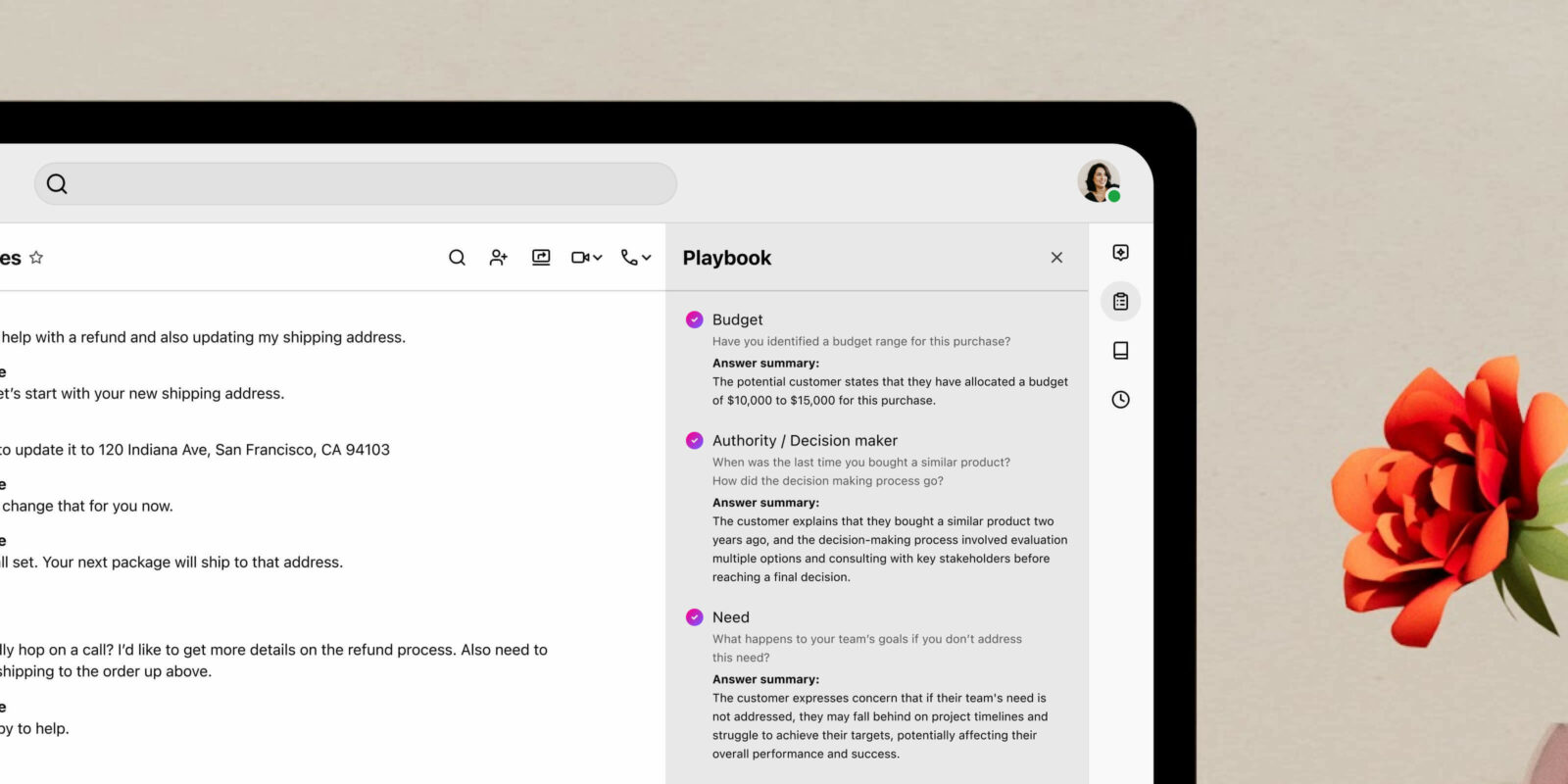 In the world of business, where every call counts, maximizing efficiency and ensuring adherence to best practices is paramount. For over five years, Dialpad has been at the forefront of this mission, harnessing the power of AI to drive top and bottom-line results.
Today, we're thrilled to introduce a game-changing feature to our platform: Custom Ai Playbooks. An iteration to our existing Ai Playbooks tool, this dynamic update is the 7th in Dialpad's 12 Months of Ai product series.
Custom Ai Playbooks are here to transform the way sales and customer service teams operate by offering real-time insights and guidance, ensuring adherence to best practices, and empowering sales leaders with a valuable resource for enhancing team performance.
Custom Ai Playbooks: What are they?
Sales and customer service teams often have standardized processes for their reps to follow during calls. However, it's virtually impossible for managers to monitor every call in real-time, leading to concerns about adherence to these processes—this is where Custom Ai Playbooks come into play.
When we first released Ai Playbooks, the tool came with three built-in templates (BANT, SPIN, and SPICED) that tracked rep adherence during live sales calls and in post-call sales reviews.
Custom Ai Playbooks continue to provide these valuable insights for both reps and managers and simplify post-call analyses, only we've now expanded our template library and provided the option to add in your own personalized sales templates.
MEDDIC user? Check. Secret in-house sales formula for success? No problem, Custom Ai Playbooks can support it.
Key features of Custom Ai Playbooks
1. Playbook questions & custom templates
Choose from a menu of playbook questions from a variety of subjects and build a unique, customized template. Save that custom sales playbook as a template that can be used repeatedly by a single user or team to create efficiencies and customized methodologies that align to the unique needs of your business.
2. Ready-to-use playbook templates
Sales leaders and managers can select templated playbooks from a number of the most common sales methodologies to increase the speed at which playbooks are adopted.
3. Ai-based adherence
When a rep uses an Ai Playbook recommended phrase or question, Dialpad's generative Ai and speech recognition capabilities understand that the behavior was met and check the playbook item off the list. This helps speed up QA review for managers in post call reviews and ensures a full and accurate view of behavior.
4. Live playbook guidance for sales reps
Sales reps can see the Playbook in real-time as they interact with prospects and customers to ensure they hit all the mandatory behaviors, questions, and scripted phrases that are expected of them. They can also choose between available playbook templates to view the most relevant prompt questions for each call in real time.
5. Post call coaching & support
Coaches, managers, and leaders can easily see which reps are following or not following playbook behaviors to better understand who needs additional coaching and in which steps of the prescribed methodology. Analytics and dashboards provide a detailed view of Ai Playbook adherence over time to show leaders, managers, agents and sales reps their improvement in specific skills.
Empower teams with Ai-based insights
Dialpad's Custom Ai Playbooks are a revolutionary tool to enhance your sales and customer service operations. Contact your Dialpad sales rep to add Custom Ai Playbooks to your Dialpad Ai Sales Center account, and schedule a demo to witness first-hand how Ai Playbooks can elevate your revenue and customer service to new heights.
Stay tuned for the next Ai release
Custom Ai Playbooks is 7th in the series of Dialpad's 12 Months of Ai product series. Each month, Dialpad releases a new Ai-powered capability to drive innovation and transform the way businesses support, activate, and connect employees from anywhere in the world, all in one platform.
Since announcing the initiative in April, Dialpad continues to drive momentum with record-high ARR growth, a $50M investment in research and development in AI, and the rollout of new AI products including Ai Recap, Ai Scorecards, Ai Playbooks, Ai Coaching Hub, and more profoundly, DialpadGPT, the first generative AI built for the enterprise.
Get a hands-on look at Dialpad Ai
Book a personal walkthrough of Dialpad Ai with our team, or take a self-guided interactive tour of the app first!