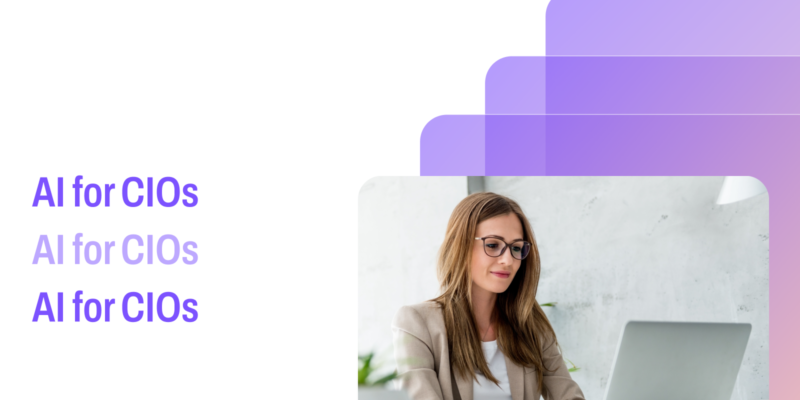 AI is already a game-changer for business productivity.
But with the frenzy surrounding the technology, there's a risk some businesses will rush into solutions without fully understanding what they need—and how to get the most bang for their buck.
I think this is a particularly big risk for smaller businesses that may not have the resources and expertise to get the best results from AI.
The hardware, software, and training needed for successful AI adoption can be complex and pricey, so it's important to really think through how to choose a solution.
Here are my thoughts on how you can do that and get the results you want.
A 5-step guide to buying AI for CIOs
1. Write a problem statement
Before looking for a solution, take some time to define the problem. Depending on what you're trying to solve for, certain (non-AI!) tools may be a better, more economical fit for your needs.
This process will involve a thorough analysis of your organization's current state, its strategic objectives, and the specific problems hindering progress in achieving those goals. The key here is to be precise, as this will enable you to find the most targeted solution.
For example, "our customer service reps spend a lot of time on after-call work" is okay, but "the majority of our customer service reps' time is spent on writing notes and call summaries after every customer conversation" is better. In this case, the solution could be AI-powered customer intelligence platform (like Dialpad) that automatically transcribes voice conversations:

…And automatically generates a recap at the end of each call:


2. Go back to basics
Your selection process for AI solutions should be as thorough and comprehensive as possible. Shop around—don't rush out and buy a shiny new solution just because it sounded great in a sales presentation.
Generally, at this stage, you should put out an RFP (request for proposal) for at least 2 to 3 widely
adopted business communications vendors that can solve your business needs. This will help get the best product for the best price.
Always look for ways to negotiate—not only to get the best price possible, but also to get the most favorable terms for your company. For example, you could request to combine post-sale services and support as part of your product purchase to get the best discount.
Oh, and customer references are non-negotiable. Ask for case studies or customer testimonials that demonstrate other organizations' success with this particular AI product.
3. Establish your ground truth
It's crucial to consider what data you'll need to train and improve your AI model—what's known as your ground truth. A general AI tool or LLM like ChatGPT likely doesn't have the specific ground truth that would be needed for a model focused on business use cases or customer service in healthcare, for example.
Go for AI tools that give you the option to build your own ground truth with inputs based on the roles or industries you need, or purchase an off-the-shelf solution if it fits your specific use cases and can grow with you over time.
Dialpad's Ai Agent Assist, for example, searches all of your connected knowledge sources (even unstructured sources like PDFs and past customer conversations) to instantly pull the right answers for a rep during live conversations—and becomes more and more effective as your knowledge sources build over time:

4. Get help
You don't need to go it alone. The best approach for most small- and medium-sized businesses new to AI is to hire professional services to implement the solution and help educate your staff on it.
Some vendors may offer implementation and training services as part of the overall deal or as add-ons. By exploring these options, businesses can make the most of their investment in AI and have a smoother transition into the world of AI technologies. So be sure to bring this up during the negotiation process when exploring a potential new platform!
5. Don't get locked in
The AI space is evolving so fast that there is no downside and plenty of upside to keeping your options open. The continuous advancements and innovations in AI technologies mean that new and improved solutions are constantly emerging. By remaining open to exploring different AI options, CIOs can stay ahead of the curve and embrace cutting-edge tech that better align with their evolving needs and objectives.
Ask for proof of concept (POCs) and be sure of your decision before signing multi-year contracts. This will allow you to test and evaluate the practicality, functionality, and effectiveness of an AI system before committing to long-term contracts or substantial investments.
In conclusion: Don't panic-buy your AI
In summary—don't rush, be very thorough, get support, and meticulously consider your problems and use cases. The AI space is only getting bigger and better, so blue sky thinking is totally okay here too.
Good luck!

CIOs and IT teams love Dialpad Ai Contact Center!
Book a walkthrough with our team, or take a self-guided interactive tour of the app first!