July 31, 2019
Quick show of hands: how many of you jump out of bed in the morning, race off to work, and eagerly log into your CRM to spend hours manually entering data? Anyone? Bueller?
Yeah, we figured. No surprise here, but CRM adoption is still pretty low—less than 40% of CRM customers have end-user adoption above 90%.
So what's the hold up? According to HubSpot's 2018 State of Inbound report:
Manual data entry is the #1 CRM adoption challenge.
32% of sales reps spend over an hour every day entering CRM data.
Only 45% of organizations use a CRM to store their lead and customer data.
So how can managers who see the value of a CRM fight back against these trends? Two words: data automation. And that's where we come in.
Introducing Dialpad + HubSpot
Thanks to our latest partnership and integration with HubSpot CRM, sales managers can now fight back against manual data entry woes and data synchronization issues.
Not only can reps log every call (inbound and outbound) to HubSpot, but voicemails and full call transcripts are captured too. And the best part? It's all automatic. No extra clicks or extra hours required.
Not only do reps get back time they could use to be selling (around 5.5 hours a week, per rep according to one study) but managers get peace of mind that the tools they've invested in are working for their team and not against.
And since your tools can talk to one another, you get a more accurate forecast of how deals are developing and where or when you need to take a closer look.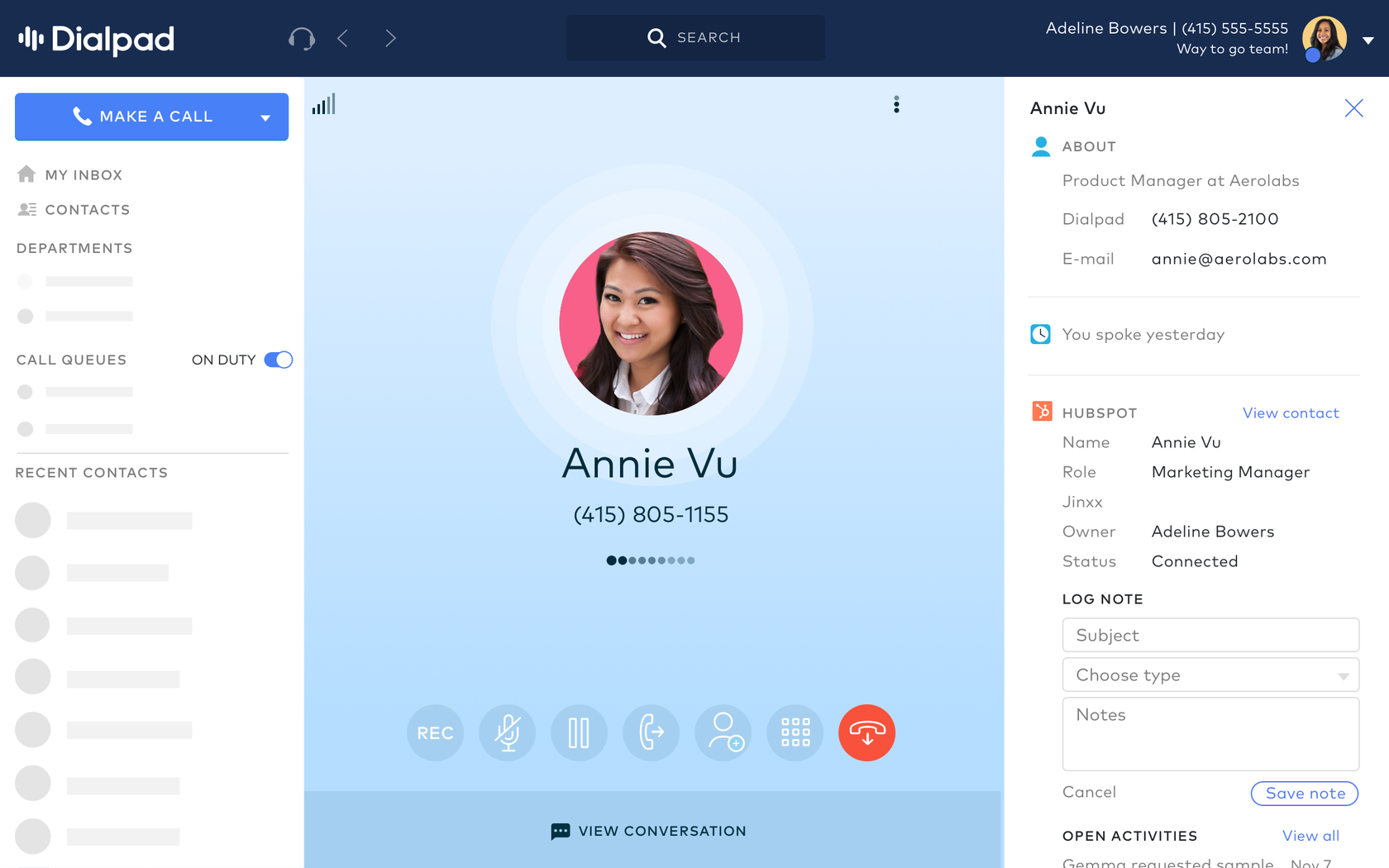 Feature highlights include:
Native sidebar within Dialpad apps (desktop and mobile)
Automatic call (inbound and outbound) and voicemail logging
Ability to tie calls to existing deals within Dialpad
Ability to set call dispositions
Ability to add call notes
Automatic call transcript logging including moments and action items
Ability to create new HubSpot contacts from Dialpad
Ability to match existing HubSpot contacts to Dialpad contacts
To learn more about the integration, reach out to a member of our sales team. Already a customer? Find HubSpot in your Integration Settings page to turn it on for your team.
The Dialpad + HubSpot CRM integration is automatically included as part of the Pro and Enterprise plan type listed on www.dialpad.com/pricing/