VIDEO CONFERENCING SOFTWARE
Host effective meetings from anywhere
Takes notes, captures action items, and keeps your meetings on track.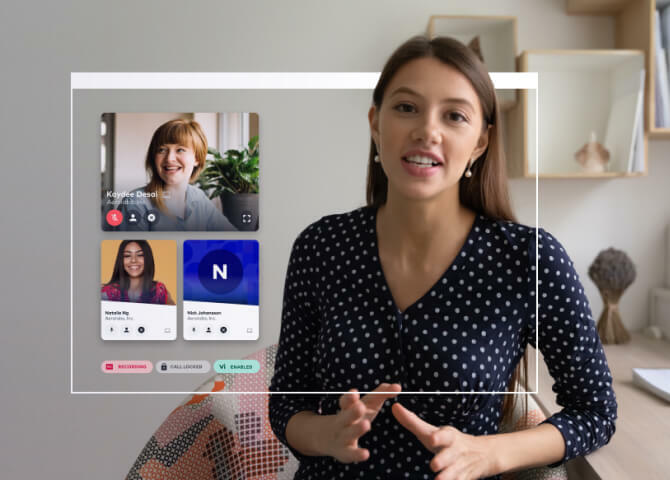 Make every meeting meaningful
Easy-to-use browser-based video conferencing


Meet easy
One click and you're in—no hassling with downloads or PINs.
Take control
Turn on your camera, present your slides, and mute the barking dogs.
Create action
Assign action items in real time so nothing slips through the cracks.
Innovative teams need reliable collaboration tools.
Dialpad Conferencing makes it easy for our global agency to feel close-knit.

Mariam Maldani
Editor, HUGE

Read Their Story
Overnight, Dialpad Conferencing became an essential tool in connecting our leaders across NYC, Boston, Seattle, and rural Nepal.

Mark Arnoldy
CEO, Possible
The annoyance of dialing in was eliminated, and that's actually a huge deal for us.

David Bowman
CFO, BlueBottle

Make meetings more productive
With built-in Voice Intelligence (Vi) that captures meeting notes for you, you're never left asking "can you say that again?"
After the call, Dialpad generates and delivers an automated call summary that includes key takeaways, action items, and more so you're always clear on next steps.
Learn more

Our video conferencing software plays well with others
Native integrations allow you to schedule meetings with one click from Google Calendar or Office 365, and automatically log meetings to your CRM.
Join meetings from any device on your favorite browser or through the app.
Learn more

Take control of your meetings
Whether it's a one-on-one or an all-hands presentation, moderators have the necessary tools to manage meetings so it goes off without a hitch. Controls include muting, screen sharing, and the ability to lock and unlock the meeting for security.
Learn more

Switch up the view
Control how you engage with participants by using a variety of layout options:
Dynamic: See the current speaker
Grid: Give every participant equal screen time
Filmstrip: View the screen share and participants at the same time
Spotlight: Focus your view on one participant
See all Dialpad Conferencing features