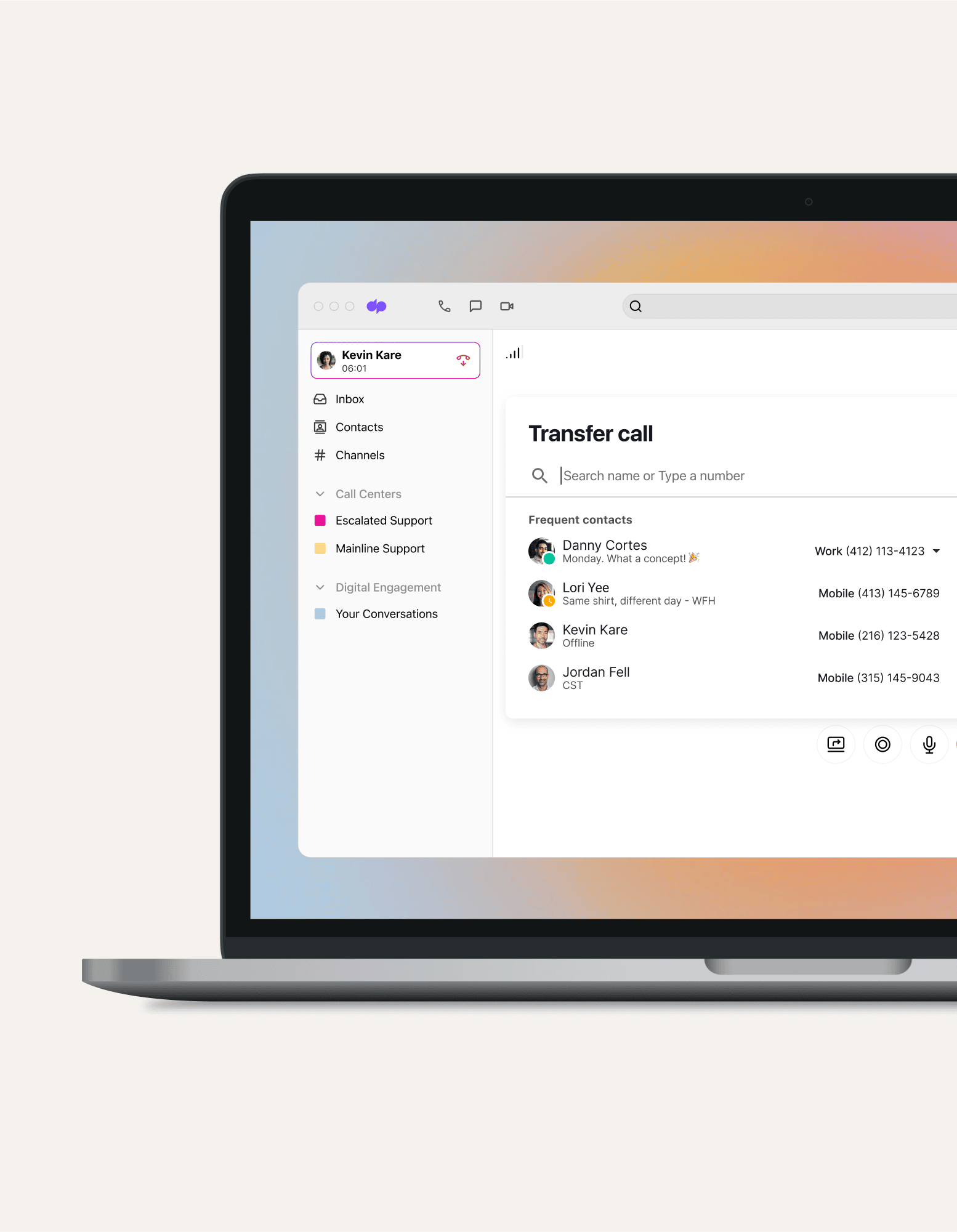 VoIP phone for recruiters
Managing a recruitment agency? With Dialpad, you can run interviews remotely, do high-volume outreach, and provide an excellent customer experience. See why firms like Randstad use Dialpad with a demo!
The best VoIP phone system for recruitment isn't a phone system

Set up in minutes
Unlike with traditional PBX business phone services, you can make phone calls from anywhere with Dialpad—all you need is an internet connection. Want to add more phone lines or users? You can do all that with just a few clicks online.

Full call management control
Route calls however you like! With Dialpad, you. can easily update your call routing and IVR menu options (route by skill level, who's been idle the longest, and so on). Not only that, it also has built-in analytics showing you how often callers are using different IVR options so you can continuously improve that customer experience.

Built-in analytics
See how many phone calls your recruiting team is making, along with other key metrics like call duration, missed and abandoned calls, and more—right from your online dashboard.

Industry-leading AI
One of the most unique things about Dialpad is its artificial intelligence: Dialpad Ai. Not only can it transcribe calls in real-time, it can also analyze sentiment (again, in real time), track keywords and topics that come up, and help you glean valuable insights more easily from every conversation with clients and candidates.
Unlimited call recording
From general customer support training to improving onboarding for new recruiters, call recordings are some of the most important sources of insight you have. With Dialpad, you get unlimited call recording on even the least expensive pricing plan. Just start recording with a tap or click from your call screen!

Voicemail
Dialpad's voicemail feature doesn't just save voicemails for you—it automatically transcribes them too. Because hey, sometimes when you're in meetings, it's easier to read a visual voicemail than listen to it. Not only that, you can even forward a voicemail to a teammate.
See why staffing agencies like Randstad love Dialpad
Sign up for a free 14-day trial to try it out! It takes just a few minutes and you'll be set up with a virtual phone number too. Or, book a personal walkthrough with our team!
Provide a better candidate experience
Integrations with your favorite tools
Streamline your workflows with Dialpad's library of integrations. From CRMs like Salesforce and Zoho CRM to essential recruiting tools like Bullhorn, and everyday productivity tools like Microsoft 365, there are lots of automations to reduce repetitive tasks—and help you focus on getting more candidates through the door.
A fully integrated contact center platform
For recruitment agencies that have sales teams and/or inbound call center teams, Dialpad also has a robust contact center product that's fully integrated into its phone system product. There's a Salesforce power dialer, advanced call analytics, custom reporting, and more.

Truly unified communications
Phone calls, video conferencing, and team + SMS/MMS messaging, all in one place. Dialpad has both a desktop app and mobile app (and works on browsers too). Whichever business communication channel you prefer, you can do it all right from Dialpad without having to switch between different tabs.

Customer support when you need it
Whether you need help with setup or general troubleshooting, all of Dialpad's paid plans come with customer support via phone and live chat included. Or, use our detailed online Help Center to find answers to common questions on your own!
See why recruitment agencies love Dialpad
From being able to interview candidates from anywhere, to communicating with clients and doing high volume outreach, you'll be able to recruit more qualified candidates, more quickly. See how recruiting firms like Randstad are using Dialpad to do all of this and more!
Not just a cloud-based phone system
Try Dialpad for free with a 14-day trial, or book a demo with our team!
What is VoIP?
VoIP, or Voice over Internet Protocol, is a type of telephony technology that lets you make and receive phone calls over the internet without needing landlines. Today, VoIP services are becoming more and more popular with both small businesses and large recruitment agencies because of its lower costs, greater flexibility, and scalability compared to traditional PBX phone providers.
How does VoIP improve staffing agencies' productivity?
How do I set up a VoIP phone system for my recruitment agency?
What business phone system should I use if I have a contact center?