Toll-free number
Having a toll-free number or 1-800 number for your business helps customers (and potential customers) get in touch directly with you for free. All of Dialpad's business phone plans come with toll-free phone number support. Sign up for a 14-day free trial to try it out!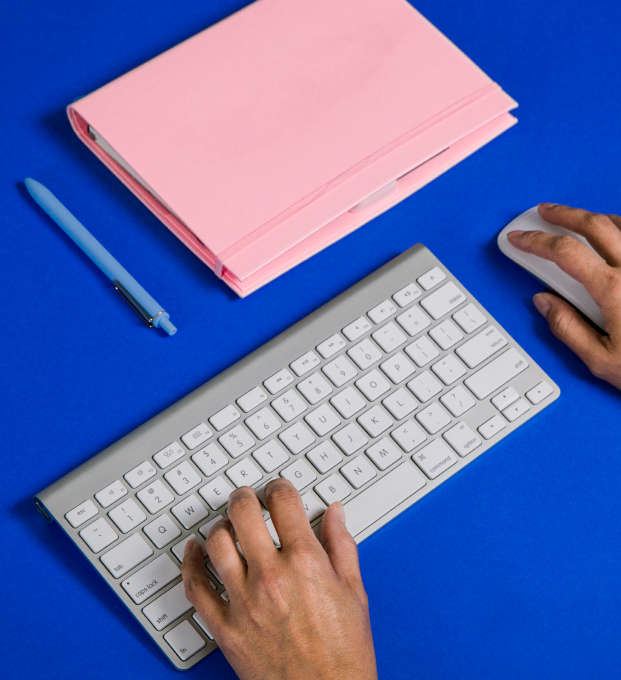 What is a toll-free number?
Well, toll-free numbers are pretty much exactly what they sound like. They're telephone numbers that allow customers to call you free of charge instead of paying a "toll". The owner of the number (that would be you, the business owner) is billed for incoming and outgoing calls.
Toll-free numbers always start with a three-digit code. The most well-known prefix is 800, the original code released way back in 1966. That's why many people refer to toll-free numbers as "800 numbers."
800 isn't the only choice, though. Due to demand, 888 was launched in 1996. Since then, five more toll-free prefixes have been created: 877, 866, 855, 844, and 833. All of them work exactly the same way: with you footing the bill for your customers' calls.
And if it sounds expensive, that's actually not always the case! Many companies (both large and small businesses) buy toll-free numbers as part of a unified communications platform, which can drastically reduce call costs. (Pricing varies, but usually, toll-free numbers count as local phone calls in the US and Canada.)
Dialpad makes it really easy to add a toll-free number. You just log into your account and go to "Add a number" in your settings. No IT help needed: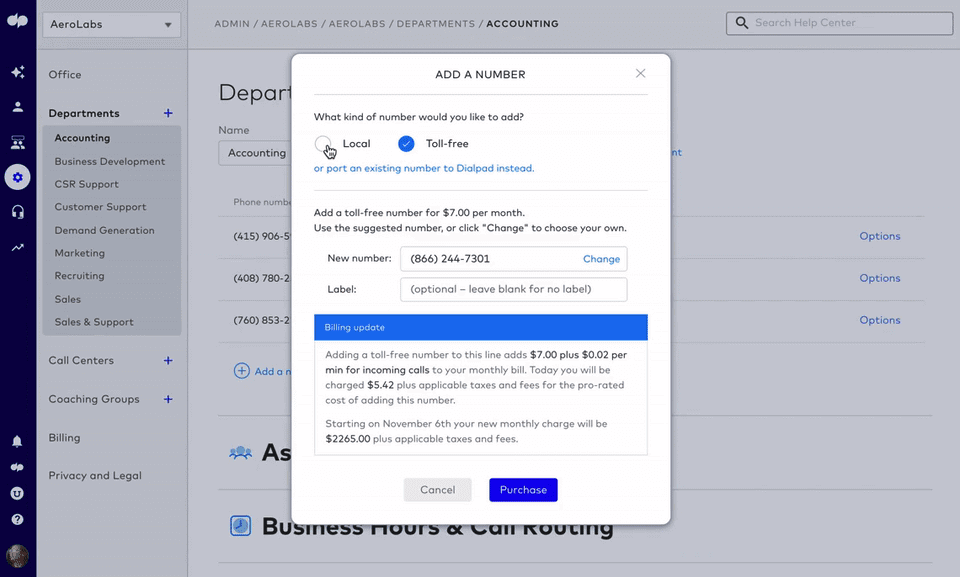 How does a toll-free number work?
From the customer's end, toll-free numbers work the same way as other phone numbers. They're still getting in touch with you by dialing the number (or using your website's click-to-call feature, if you have one).
Toll-free calls used to be handled by contact centers, but now you can manage them just like any other phone number. If you have a VoIP phone system, for example, inbound toll-free calls are routed to your team of agents like any other calls.
(Plus, with providers like Dialpad, you can have calls routed to your cell phone or another device if you're away from the office.)
You might have also heard of "vanity numbers" in connection with toll-free calling. These are a type of toll-free number, but instead of just digits, they're customized to spell out words on a phone's keypad (like your business name or a related phrase).
The most famous example is probably 800-FLOWERS, which helped its florist owner build a billion-dollar brand.
Get an 800 number with Dialpad
Not sure if you actually need to give your customers (and potential customers) a free way to reach your business through phone calls? Below are a few benefits of having an 800 toll-free number (or any other prefix, really).
If any of these resonate with you, then you may want to check out one of Dialpad's business phone plans. They start at $15 per user per month, and you can add toll-free numbers to any plan: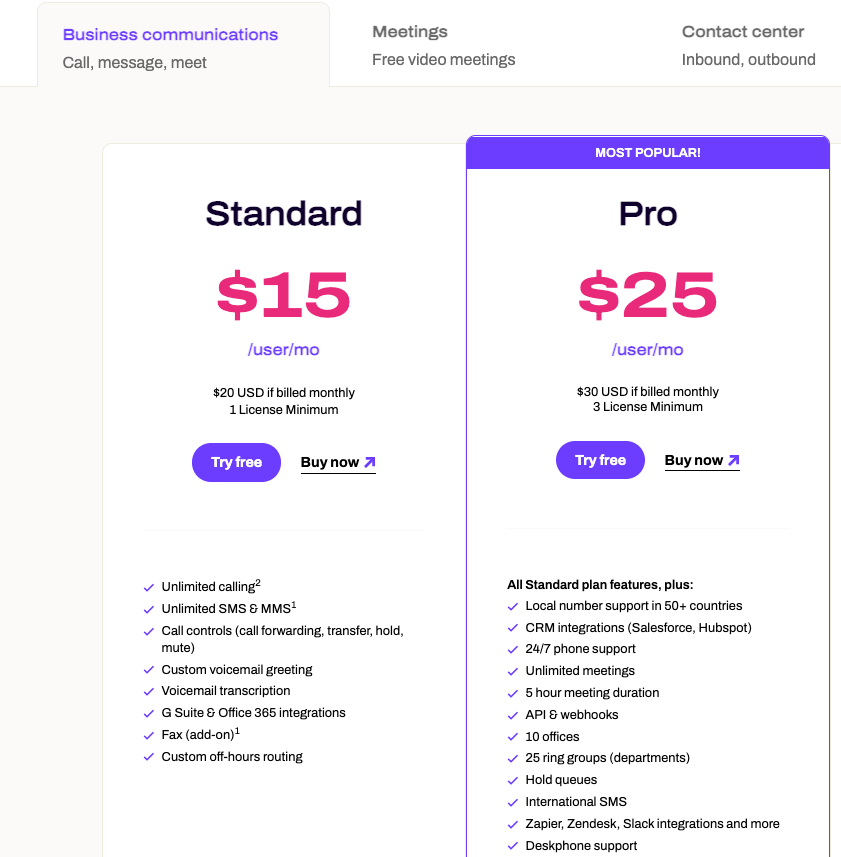 Establish authority and credibility
A toll-free business phone number makes your company appear more established and trustworthy. That's because toll-free codes are so well-recognized, and people still associate them with larger businesses.
If your company is just starting out, a toll-free number can help you establish some brand credibility—and a landline looks far more professional than giving your personal cell number to clients (not to mention it's better for your own privacy).
Even if you don't have a business "headquarters," you can still get a toll-free number and have it routed to your mobile phone. And when you make calls using your toll-free number, it'll display as the caller ID on the recipient's phone. With Dialpad, you can choose which phone number you want to show in the caller ID: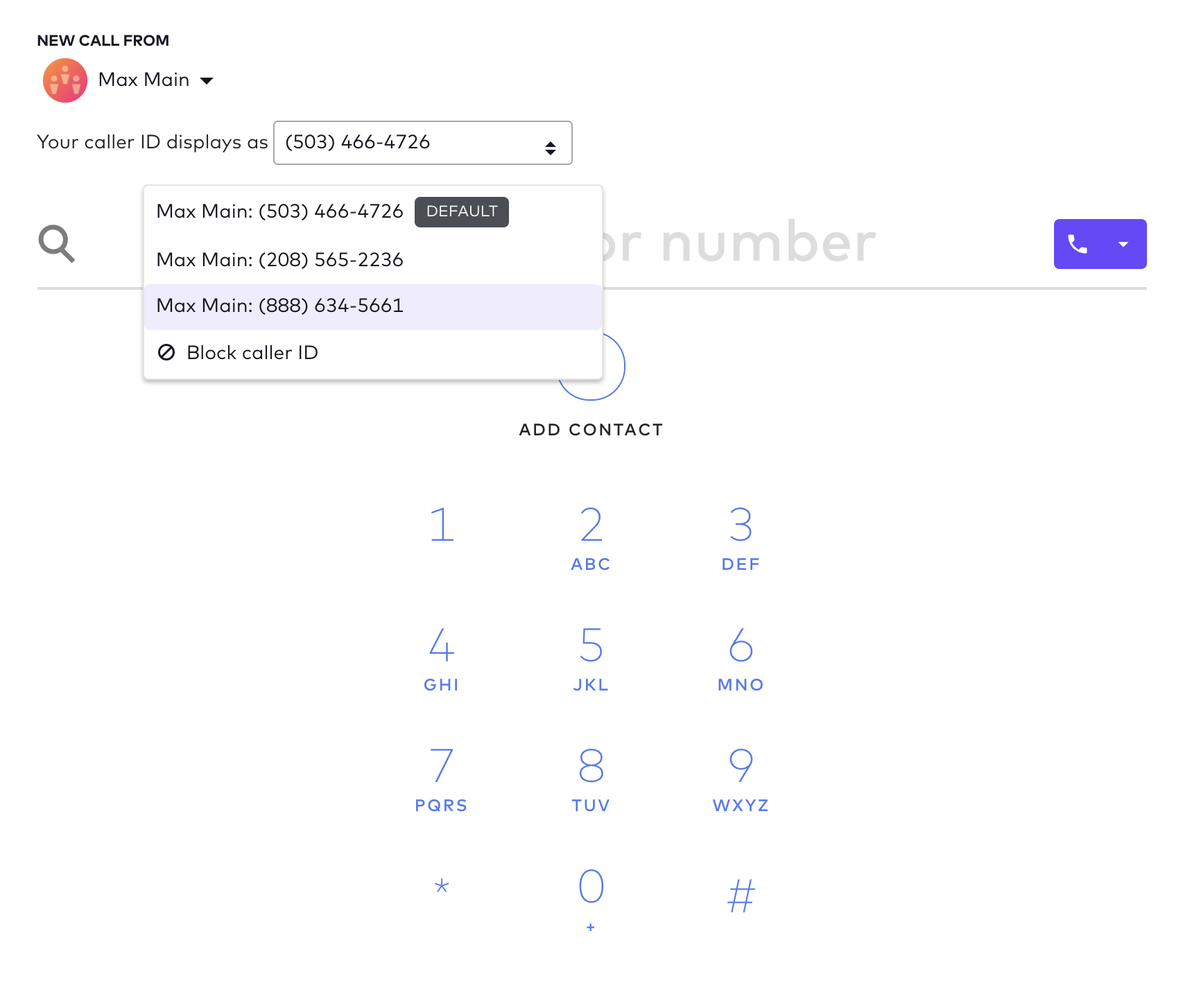 Make it easy for prospects and clients to get in touch
Yes, many folks are gravitating more and more toward other communication channels like SMS and instant messaging. But in certain industries, customers may still prefer to contact businesses through phone calls.
Even when you're not in the office, a toll-free service lets customers get hold of you thanks to call forwarding. You can also use an auto-attendant to field inbound calls outside of business hours, route calls to voicemail, and more:


It shouldn't cost your prospects and clients money to talk to you. A toll-free number offers a better customer experience, and it's pretty much expected nowadays for larger businesses.
A toll-free service is available 24/7, so you can take business calls anytime, anywhere. And customers won't be charged for long-distance calls if they call you from another part of the world.
As well as making your business more accessible, toll-free numbers help customers recognize and remember your brand—especially if it's a vanity toll-free number (like 1-800-HIGHER-ED or 1-800-NEW-BIKE).
Increase your exposure across different regions
One benefit of toll-free numbers is that they increase your national presence to help you gain traction beyond your local area code or city.
Like we said earlier, toll-free numbers have no geographical restrictions. If you open a new office in another location, you can use the same number for both, which makes life easier for everyone. (Most toll-free numbers are considered local calls within North America.)
Many providers offer toll-free numbers for other countries as well. For example, Dialpad's international calls are charged at a set rate based on the caller's country location. This way, if you're a global brand with customers overseas, they can contact you on a US toll-free number.
Attract callers, new leads, and drive sales
Having a toll-free number is great, but how do you know if it's working (and worth the investment) or not? Some VoIP phone systems come with built-in analytics that let you measure things like phone traffic, call duration, and more. This way, you can track if people are using that number and how long they're talking to you for.
With toll-free numbers so widely accessible, you could even use a different one for each marketing campaign to tell which was most successful.
Bring it with you anywhere you want
As well as the flexibility of call forwarding, toll-free numbers are fully portable. If you move your office across town or set up a remote team, you can easily take your number along.
With Dialpad, there's no hassle in getting a new number or porting existing numbers, so your day-to-day business and customer communications can continue undisrupted.

Frequently asked questions about toll-free numbers
What plan level do I need in order to have a toll-free number?
We can't speak for other phone service providers, but adding toll-free numbers to your account is available on any Dialpad plan!
Can I purchase more than one toll-free number?
Yes! You can add as many toll-free numbers as you want. And it's super-easy to do with Dialpad.
How are toll-free numbers assigned?
There is a national registry of toll-free numbers, maintained by a company called Somos, Inc. They give permission to other companies, called RespOrgs (Responsible Organizations), to assign the numbers. The rules around toll-free numbers are controlled by the FCC (Federal Communications Commission), which prohibits purchasing them for the purpose of resale.
How can I get a vanity toll-free number?
Vanity numbers are available on a first-come, first-served basis. This is the case regardless of which provider you buy the number from. Bear in mind that your first choice may already have been snapped up, so it's a good idea to have a backup. Call us to discuss setting up a vanity number.
What happens when a customer calls a toll-free number, but no one is available to answer the call?
That depends on how you've set up your call routing rules. Generally, you have the option to send that caller to voicemail, a different department, or a greeting without voicemail. Either way, the important first contact has been made.
How much does it cost to add a toll-free number?
Adding a toll-free number to your Main Company Number, Department, or Call Queue is an additional $15 per month on an annual plan or $17 per month on a monthly plan, plus $0.02 per minute for incoming calls. (Prices listed here in USD and there's no set-up fee for US customers. If you're in another country, contact us for quotes in your local currency.)
I have an existing toll-free number. Can I keep it?
Absolutely! Dialpad administrators can initiate a toll-free port request by filling out and submitting a Letter of Authorization (LOA) to our customer support team. Learn more about how to port a toll-free number here.
How long does it take to transfer my toll-free number to Dialpad?
Not long! Toll-free ports can take five to 10 business days to process, if there are no issues with the submitted LOA form.
How will I know when my transfer is complete?
When your toll-free numbers port successfully, we'll send an email to your Dialpad Administrator.
Are toll-free numbers tied to certain locations?
Nope! Toll-free numbers aren't tied to any particular location. Whether your customers are across town or across the world, they can use the same number to reach you.
My question about toll-free numbers wasn't answered here. Where can I go to learn more?
Check out this in-depth Help Center article about toll-free and local numbers.