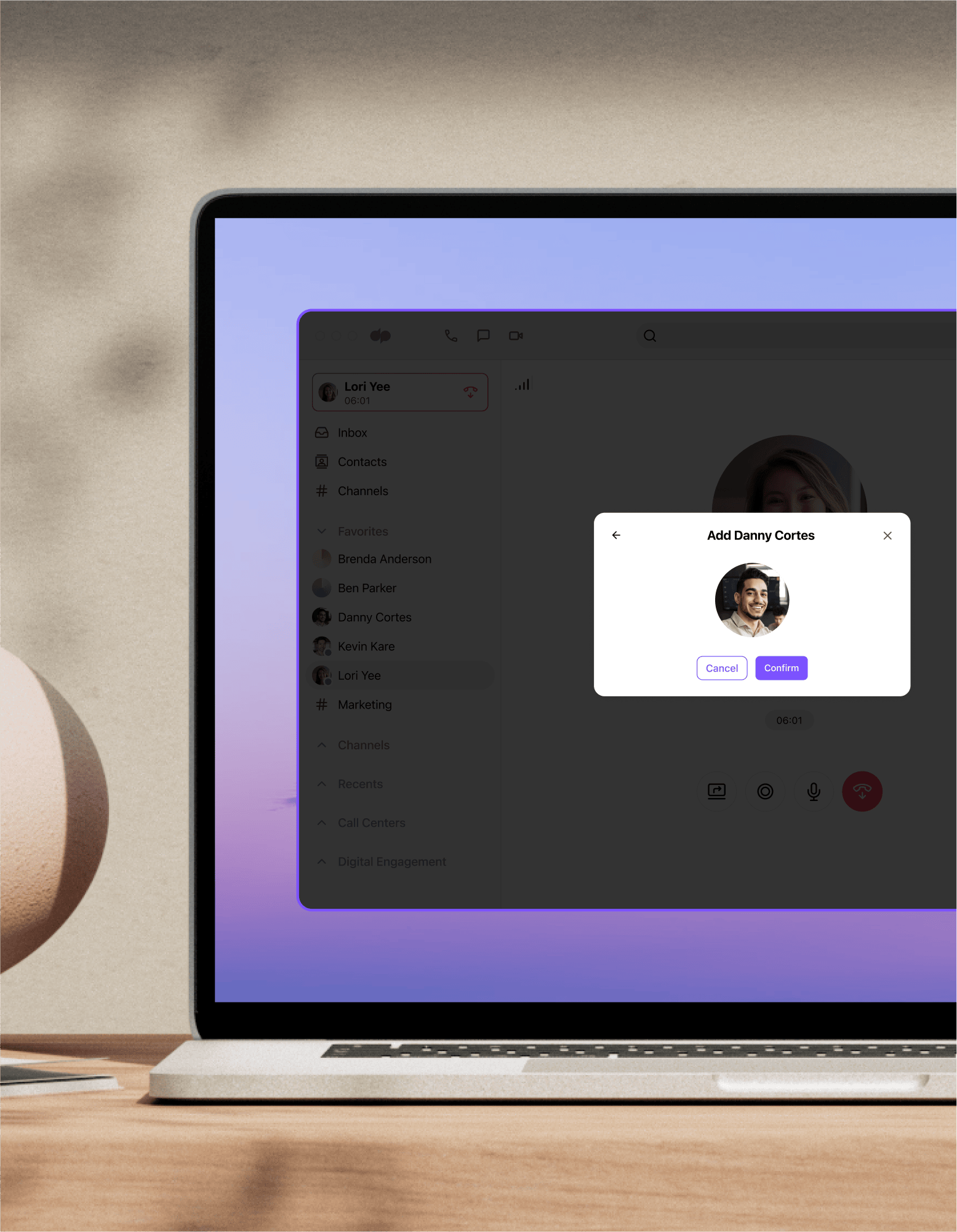 PINless calls
Fed up by having to coordinate PINs and dial-in numbers? Good news: You don't have to go back to the days of prepaid phone cards and landlines. With Dialpad's AI-powered collaboration platform, calling without PINs is safe, secure, and simple. (But you can still set one up a PIN if you want!) Sign up for the free plan to try it out.
What are PINless calls?
PINless dialing is exactly what it sounds like: calls that don't require participants to dial an access number and provide a PIN number to join the call. Traditionally, conference calling required all participants to enter a four or six-digit number, and sometimes they even had to wait to receive a notification by email or SMS allowing them to join the private call.
With PINless calling, we don't have to do this anymore. With some solutions, like Dialpad, the host or moderator can admit participants from a virtual waiting room and screen them using their caller ID. This way, they can connect to the call without punching in a PIN, making conference calling much more convenient and efficient.
How does PINless calling work?
Making a PINless call with Dialpad is very straightforward. Just log into your account in a web browser and go to the Settings screen. You should see your business phone number, hold music, and the option to toggle the PIN requirement on or off: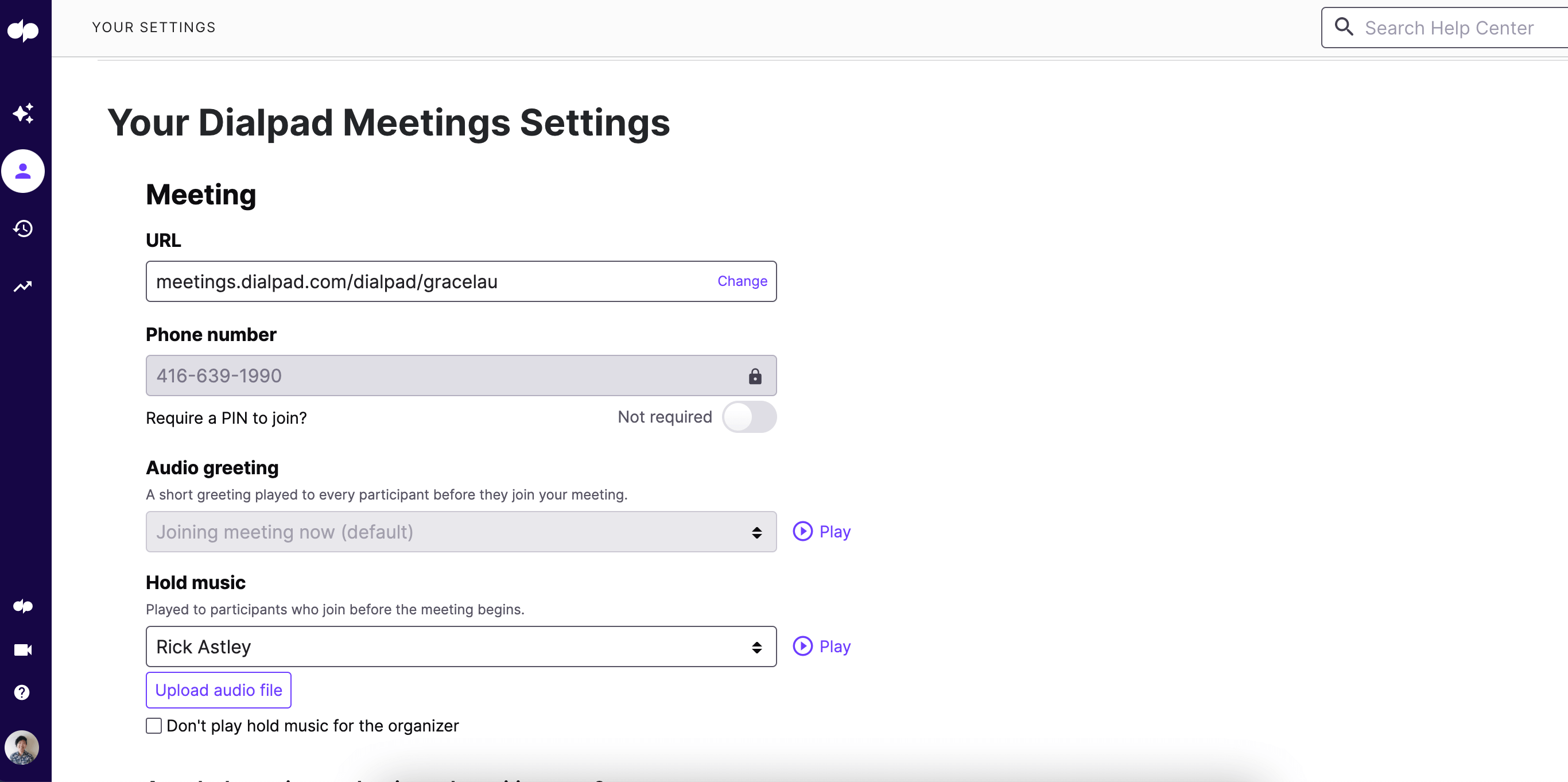 If you toggle that on, you'll see:
👉 Quick note:
If you just want to have PINless video meetings, you can do that on a free Dialpad Ai Meetings plan. On the other hand, if you want to have PINless conference calls (that involve dialing actual phone numbers), then Dialpad's pricing plans start at only $15 per user per month—and come with unlimited VoIP calling in the US and Canada!
Conference calling features for small businesses and enterprises
Thinking of updating your conference calling setup? Here are a few essential features to look for in a business phone system or unified communications platform:

Call recording
With Dialpad's unlimited call recording feature (yes, even on the free pricing plan), you can log and save a record of your calls to archive for future reference, training, and compliance.

Built-in AI
Dialpad Ai is built right into our products, and can transcribe your calls—in real time, more accurately than almost all leading competitors. Not only that, it can automatically log action items from your meetings, pick up on keywords you want to track (say, maybe you want to see how often "refund" comes up on customer calls), and more.

Excellent call quality
With a unique dual-cloud architecture and global voice network, Dialpad is designed to give you awesome voice quality, all over the world.

Plays nice with different devices
Your calling service should be compatible with different desktop and mobile devices. Dialpad's desktop and mobile app works across iOS, Android, PC, and Mac—and even works on web browsers, no downloads needed!

Robust security
PIN number or not, Dialpad keeps your personal information and call data safe with 256-bit Advanced Encryption Standards. Our customers include businesses and organizations across regulated industries like healthcare, insurance, and higher ed—and conference call hosts have a wide range of in-call security controls.
Make PINless calls from anywhere
Want to start making PINless calls? Dialpad Ai Meetings lets you have unlimited video meetings from your computer or cell phone, for free. Try it out now, or book a demo with our team to see how it works!
"
Because a lot of our people are in rural places and we've got a lot of older people, we needed something that just worked. And Dialpad Ai Meetings? It just worked. You don't even have to put a PIN in.
"
Steve Williams
President of the National Juneteenth Observance Foundation
Who can use no-PIN calling?
Really, anyone who regularly takes part in conference calls or international calling can benefit from no-PIN calling (whether it's for business purposes or calling loved ones).
With no-PIN calling, it's a lot easier and faster to join conference calls—and if you have a good phone system provider, it can be just as secure as using PINs.

How many PINs does a conference line have?
Is it better to PIN or not to PIN?
What about making international calls?
Are there connection fees with Dialpad Ai Meetings?