Omnichannel
Connect the channels and platforms your team uses to support customers no matter where you interact with them.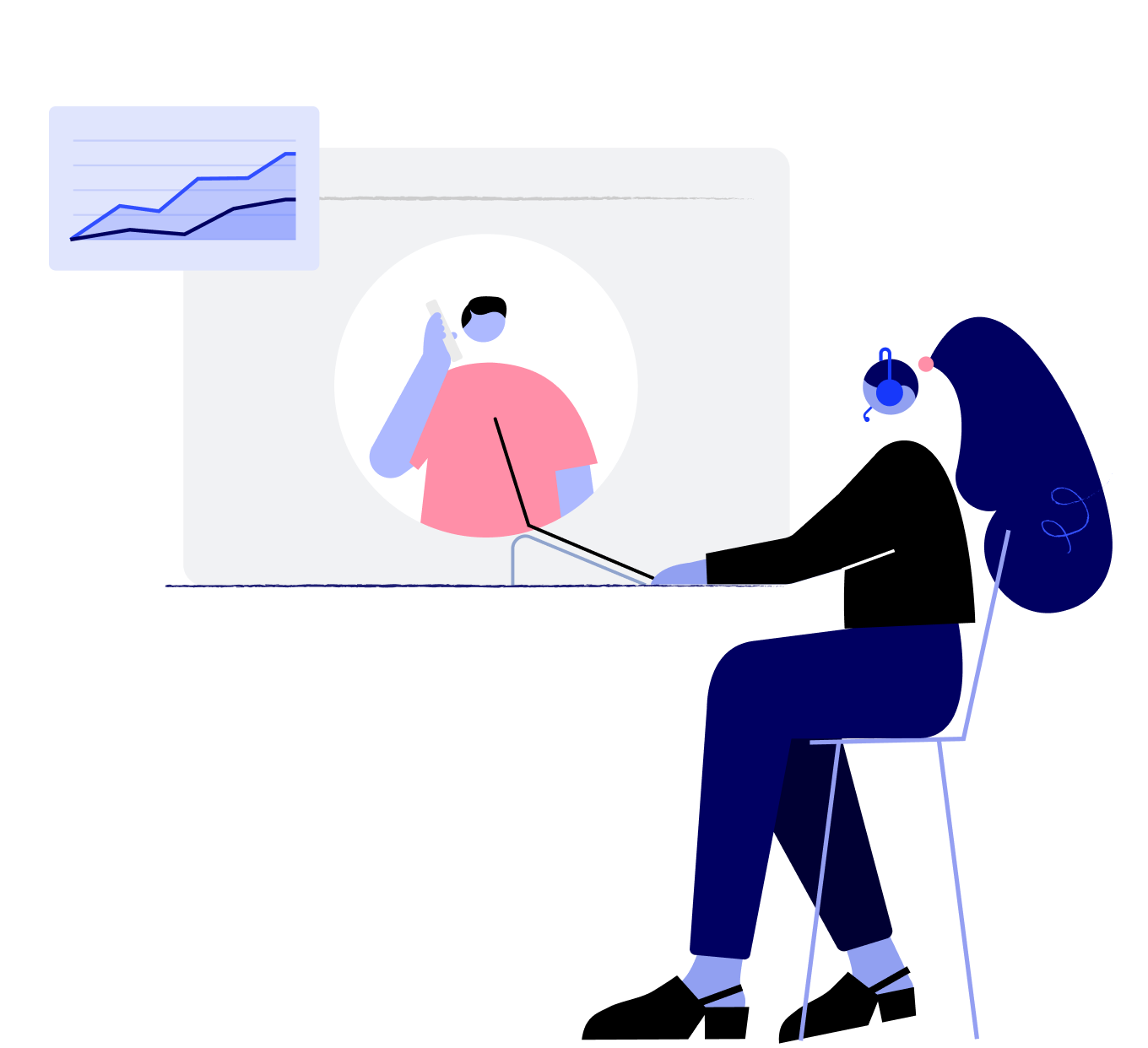 What is Omnichannel?
Omnichannel support means leveraging multiple channels (chat, phone, emails) to provide a seamless experience for customers. Where it differs from multichannel is that with omnichannel, the information and history of your customer aren't siloed in that one channel—just like your customer, it's fluid and passes through multiple channels to ensure both agents and managers have all the information they need to provide personalized support at scale.

Not sure if omnichannel strategy is the right fit for your business? Our blog post highlights what to consider, the benefits, and key steps to successfully deploying.
Why Does Omnichannel Matter?
Today, customer expectations have never been higher. Not just in terms of how quickly they can reach an agent but that agents are available when, and where, they want to interact: be it phone, chat, email, or social.
Support organizations need to be able to not just meet customers where they are but exceed those expectations. Offering omnichannel capabilities is just one important step in the right direction. The other is having the tools and insights to provide personalized support, at scale, that helps resolve customer inquiries and leaves them happier for it. And that's where we can help.
Dialpad's Omnichannel Capabilities
With Dialpad's contact center solution, omnichannel functionality is supported through integrations with best-in-breed partners and platforms such as:
Answer or place calls directly inside Zendesk and automatically generate a new ticket to log agent notes and call recordings.
Sync agent statuses between Service Cloud and Dialpad so agents are able to focus on one channel at a time. Answer or place calls directly in Service Cloud and automatically log against existing cases including notes, recordings, and dispositions.
Answer or place calls directly inside Front and give agents a single place to answer emails, chats, and calls.
Click to call from inside Kustomer to launch the Dialpad Everywhere, the always on top call widget that includes controls, integration quick links, and Voice Intelligence™ features like transcriptions and agent recommendation cards.
Log call events back to Slack, like when a missed call or voicemail is received, and keep up with activities in real-time without fear of missing important interactions.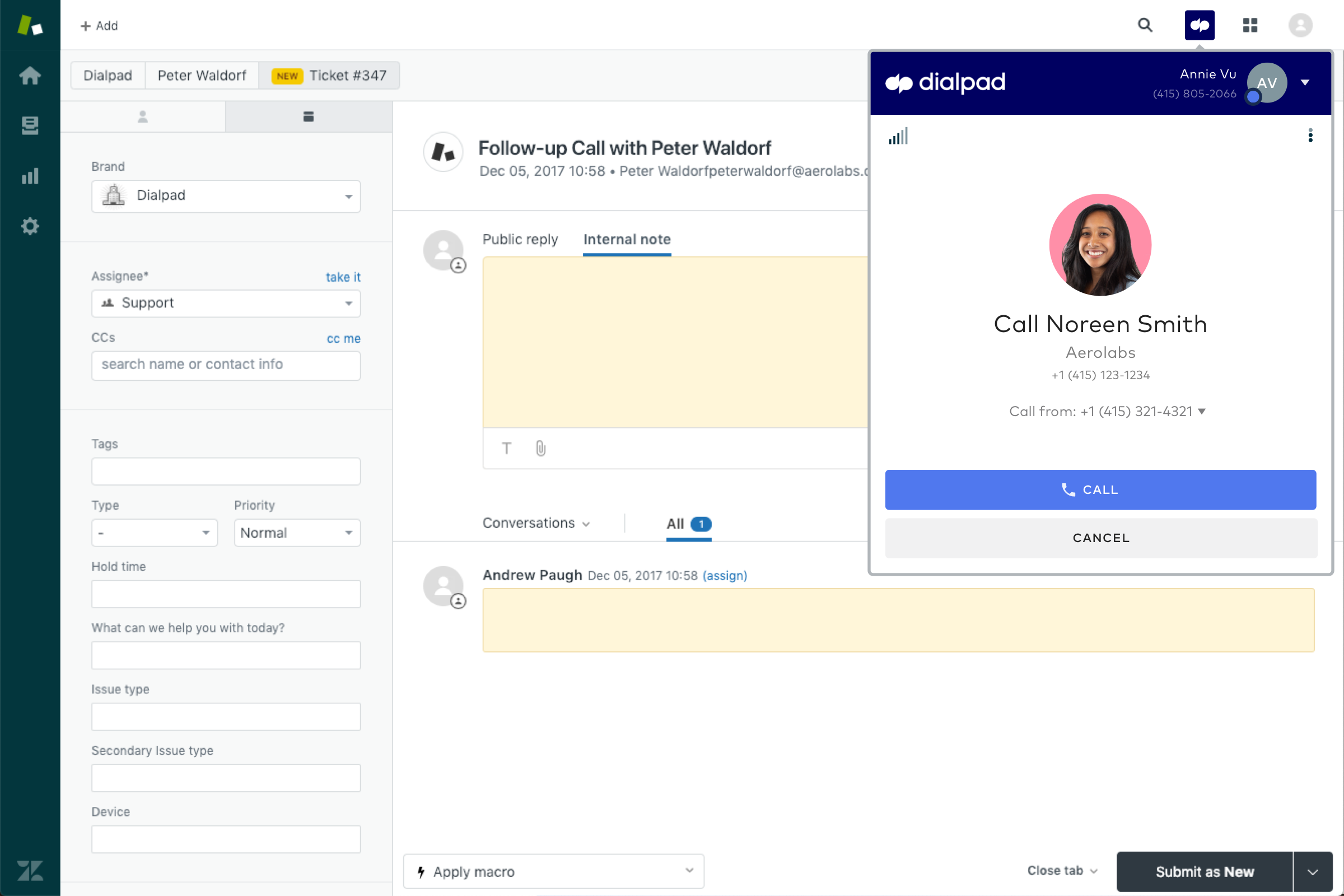 Frequently Asked Questions
Is Dialpad a ticketing system?
Dialpad Contact Center is not a ticketing system, but we make the help desk ticketing system functionality available through our integration partners.
Do I still need Dialpad if I have Salesforce Service Cloud?
Salesforce Service Cloud offers great solutions for chat, email, and social when it comes to customer support but you can rely on Dialpad Contact Center for your telephony needs. Dialpad integrates seamlessly with Service Cloud including Salesforce Omni-Channel routing.
Does Dialpad offer an all-in-one omnichannel solution?
While it is not an all-in-one omnichannel solution, Dialpad Contact Center integrates with other platforms to provide omnichannel functionality, like answering calls inside of Zendesk's ticketing system or syncing statuses between Dialpad and Salesforce's Service Cloud.