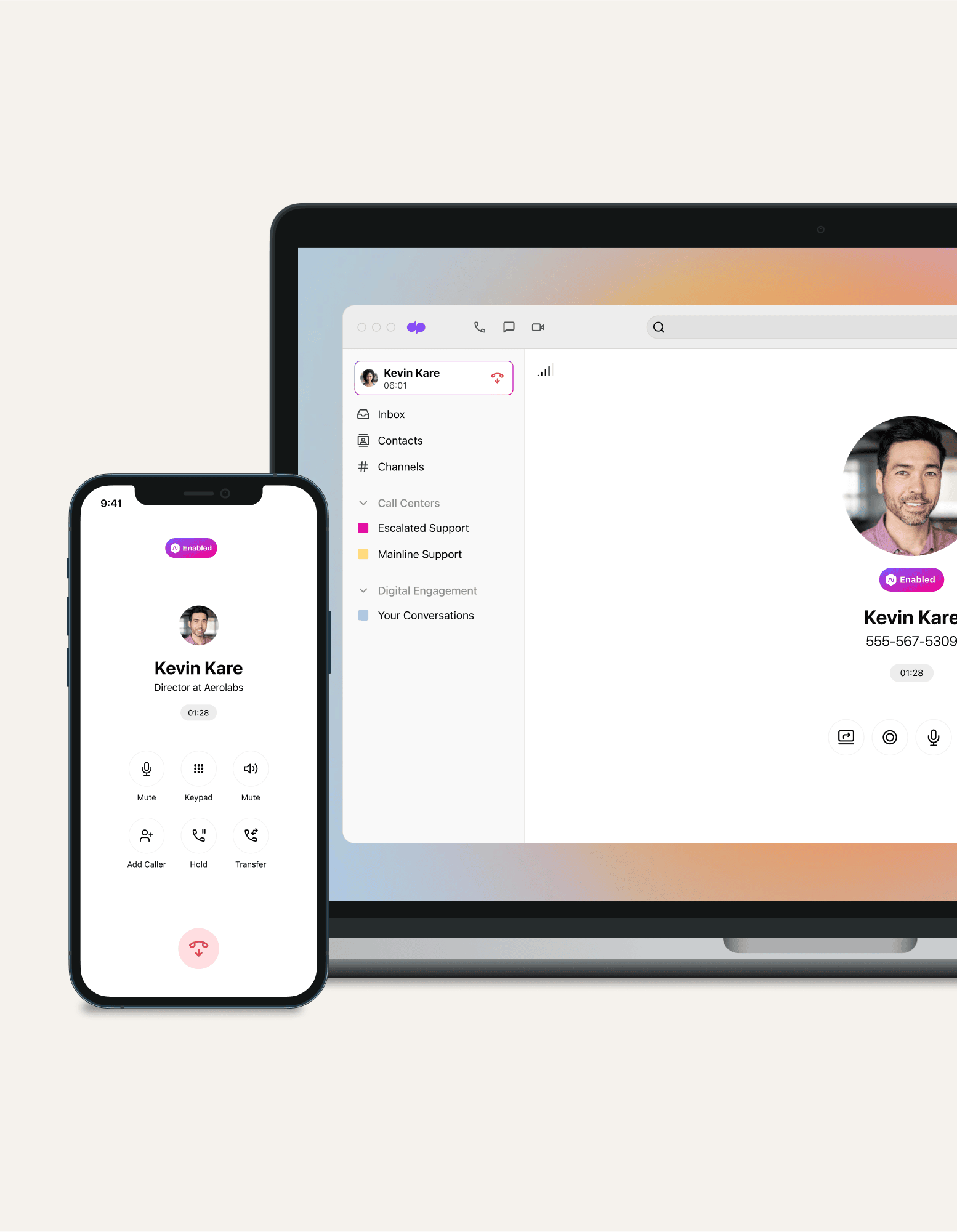 Call masking
Making calls with clients and prospects regularly? Call masking is a great way to keep your contact details safe. With masked calls, you can make phone calls from your cell phone while displaying your company number—and protecting your personal number. With Dialpad, you can make masked calls, have video meetings, and send team / SMS messages, all from a single app. Try it free!
Sign up for a 14-day free trial!
How does call masking protect your number?
Call masking lets you hide your contact information by displaying a "proxy" phone number on outbound calls. If you're making calls from your office desk phone, this isn't as important, but what if you want to work on the go and make phone calls from your cell phone? That's when this feature really comes in handy.
Some call masking software will give each participant a temporary or virtual number for a specified time period, after which the phone numbers are recycled.
Call mask features are essential for protecting your privacy. Specifically, call masking a cell phone number means remote workers can use their own devices without having to give out their personal contact details.

How to mask a call with Dialpad
It's pretty easy to mask a call with Dialpad's unified communications platform, which lets you make phone calls, have video meetings, and send instant + SMS/MMS messages from the desktop or mobile app.
Want to make a business call from your personal mobile phone? All you have to do is:
Open the Dialpad app on your phone
Hit the phone icon to start dialing or enter a contact's name to call them
Select the phone number you want to display
That's it—the person you're calling will see that number you chose instead of your personal number!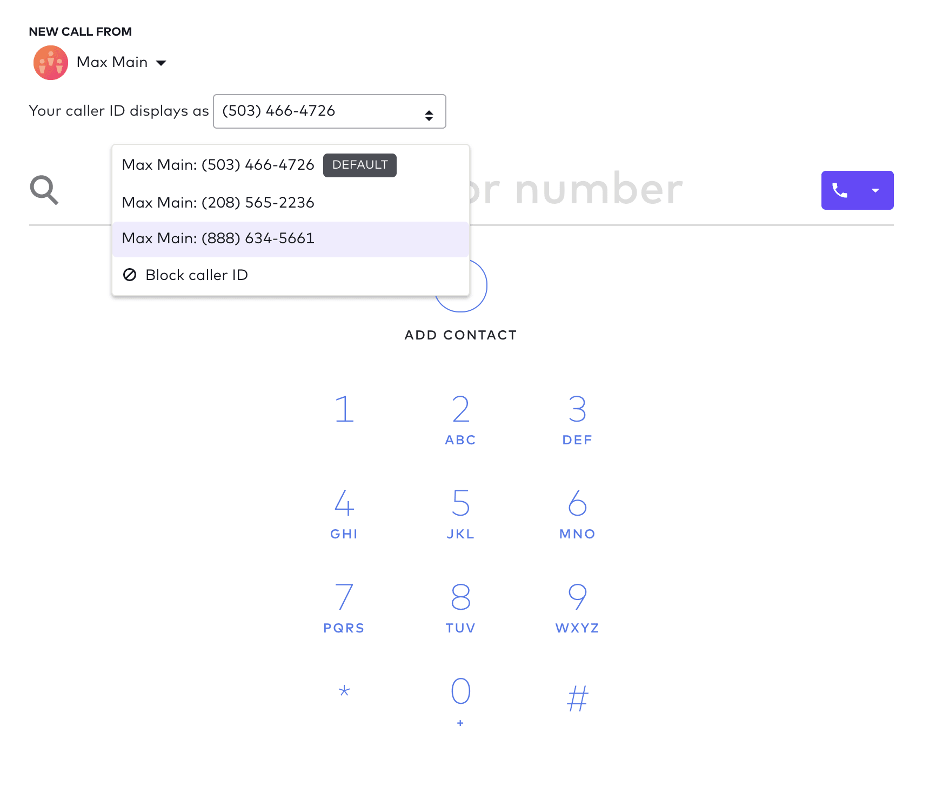 A unified communications platform with a built-in call masking solution

Choose your caller ID
Dialpad's caller ID feature tells recipients who you are, with info like your company name and department. You can set up any number of profiles to display, block, and unblock your number, and even set your own incoming caller ID to distinguish between work and personal calls on your mobile. All with a few clicks!

All your communication channels in one place
Dialpad offers a fully unified communications platform, with HD voice and video calls, business SMS, team messaging, and even an integrated contact center. This way, you don't have to switch between different apps or systems. (Plus, it's more cost-effective and easier for your IT team to manage.)

Easy call routing
Call routing is a must for businesses and contact centers that take a lot of calls. Dialpad's intelligent system enables you to set your own rules for routing, based on agent skills, availability, or idle time. This reduces wait times for your callers, and helps each call get to the most suitable person (which also increases the chance of first-contact resolution).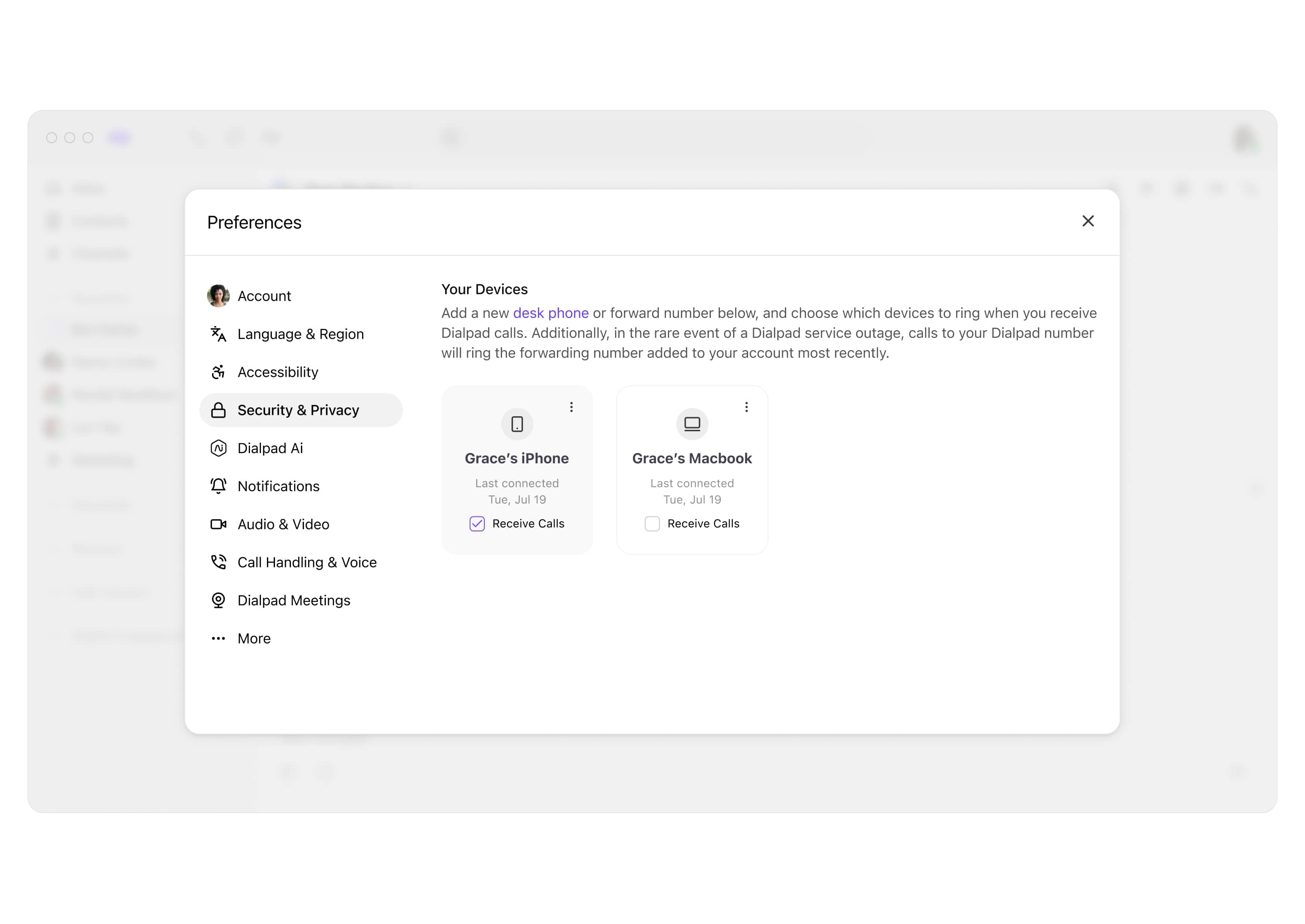 Call forwarding
The phone doesn't stop ringing just because you're out of the office. Dialpad lets you choose up to five alternative numbers where your calls can be forwarded, including to your mobile device, a coworker, or a different department—or leave a voicemail. Update your numbers right from your online dashboard!

HD call quality from anywhere
Dialpad's global voice network and dual cloud architecture are designed for one specific thing: crystal-clear, HD quality for both voice and video calls. Plus, Enterprise plan customers enjoy 100% uptime, guaranteed!

Real-time transcription
Fed up with scribbling notes during conversations? Dialpad Ai can transcribe calls and video meetings—in real-time—and even log your action items automatically. Not only that, it also emails you a post-call summary with action items and the transcript.
Looking for a call masking feature?
With Dialpad, you get not just a call masking tool or business phone system. It's a unified communications platform that gives you phone calls, video meetings, and messaging, all in one platform. Try it free with a 14-day trial! It takes just a few minutes to get started, and you'll get set up with a virtual phone number too.
How different types of businesses leverage call masking
Outbound contact centers
Sales reps can mask a call with a local number to encourage prospects to pick up, since most people are more likely to pick up a call from a number with a local area code. Most call masking solutions also enable call monitoring and recording of interactions, plus, you don't need to set up multiple contact centers or buy separate phone numbers for all the areas where you do business.
🚨 Watch out:
Call masking numbers can be tempting, and lots of sales teams talk about this, but be careful—many leaders and especially C-suite folks are wary of this type of local presence feature now. And often, they don't appreciate feeling like they're being tricked by an unscrupulous sales rep who's manipulating them into picking up their call.
Law
Attorneys especially need a cell phone call masking service to keep their personal information safe when they're communicating with clients. The added challenge is they typically charge based on billable activities, which means that in addition to call masking, a cloud phone system or communications platform also needs to have call log and tracking features.

Healthcare
Security and patient confidentiality are important issues for the healthcare industry, especially with so many consultations now taking place via phone or video. Learn more about what to look for in HIPAA-compliant phone systems and communications platforms.
Ridesharing
Ridesharing apps rely on interactions between riders and drivers, and it's much safer for everyone to use a business or central number to mask personal cell numbers for calls and texts. The good news is most apps automatically protect your personal number, whether you're a driver or a rider, without a separate phone call masking app.
The easiest to use, best call masking feature—and more
Dialpad's call masking feature is built right into its phone app, and lets you quickly choose which profile and phone number you want to display on outbound calls.
And because it's a part of a unified communications solution, you also get enterprise-grade security for all interactions and Ai-powered features like call transfer, visual voicemail, and live coaching. Try it now!

Is call masking legal?
Yes, it's perfectly legal to mask your number when calling someone. However, the Truth in Caller ID Act of 2009 makes it illegal to use the method with fraudulent or malicious intent.
How does number masking work?
Is number masking essential for all businesses and teams?